Daybreak
| Martin House Brewing Company
BA SCORE
84
good
15
Reviews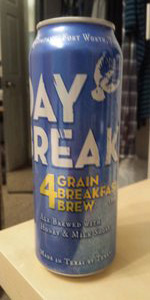 BEER INFO
Brewed by:
Martin House Brewing Company
Texas
,
United States
martinhousebrewing.com
Style:
American Blonde Ale
Alcohol by volume (ABV):
5.00%
Availability:
Year-round
Notes / Commercial Description:
No notes at this time.
Added by gtermi on 05-22-2013
Reviews: 15 | Ratings: 132
4
/5
rDev
+9.3%
look: 4 | smell: 4 | taste: 4 | feel: 4 | overall: 4
Hazy amber in color. Malty aroma. Flavorful but not assertive. Sweet and bready, very slightly citrusy, hardly bitter at all. Very smooth and pleasant.
151 characters

4.08
/5
rDev
+11.5%
look: 4 | smell: 3.5 | taste: 4.25 | feel: 4.5 | overall: 4.25
Very approachable, yet complex enough to be rewarding.
Creamy—very creamy—yet balanced bitterness and carbonation.
I want to say, "It's not just for breakfast anymore!"
174 characters
3.53
/5
rDev
-3.6%
look: 4 | smell: 3.5 | taste: 3.5 | feel: 3.5 | overall: 3.5
Martin House Day Break blonde. 16 oz pint on tap at the Flying Saucer in Ft Worth.
The beer is a chill hazed gold with pretty impressive lacing.
The beer has an aroma of malts, grains/oats and some floral notes.
It is mild blond with a slight twist. As expected, not overly hopped and there are nice caramel malt notes. The twist is the sweetness and slight nuttiness from the oats (I think that's what they are).
The mouth is fine for what it is.
Always glad to try some local options when traveling. This one went well with my food.
547 characters

4.5
/5
rDev
+23%
look: 4.25 | smell: 4.75 | taste: 4.5 | feel: 4 | overall: 4.5
bought this b/c I love the idea of beer for breakfast!!!
in fact had it around noontime...
A:
light amber color, more than a bit cloudy and...OVER 4 fingers of head!! settles to a nice half finger of foam that tastes Very nice.
S:
nice - a bit "fruity" but not bad at all.
T: herre goes: ....INTERESTING. good but unusual. a citrus bite
F: to too much on the body a bit oily
d VERY drinnkable, call this a session beer
427 characters
4
/5
rDev
+9.3%
Lightly hazy golden pour with a dense white one-finger head and medium carbonation. Aroma is sour and bready. Taste is rather smooth with a bit of honey and grain upfront. Medium bodied with a solid and dry malt base with a very strong bread, biscuit and cracker flavors coming through. Has a slight sweet honey edge, as well. Drinks very easy.
345 characters
4.1
/5
rDev
+12%
look: 3.25 | smell: 3.75 | taste: 4.5 | feel: 4 | overall: 4
16 oz. can poured into nonic
(canned on 6/3/14 -- sticker on plastic 4-pack "ring")
L: murky yellow-gold, tons of sediment ... looks almost like a Belgian quad, that sandy-jello look; percolates nicely but only pushes up 1/3-inch head of white foam; no stick or lace; for a blonde ale = ugly
S: grain bomb -- sour grain, cooking rice, milo, corn, wheat ... can smell a bit of the honey and a bit of the sweetness
T: sweeter than the nose ... a full-on assault of grain sweetened nicely -- it's like a bowl of cereal with beer in it ... so much sugary grain; at times you get just a hint of wheat in there with the rice and maize and corn (unpopped popcorn kernels), the wheat offering a slight fruity twang
F: solid all around, good carbonation
O: all I had to do was read the can to know I'd love this brew ... I mean, a grain bomb with sugar in it? come on! that's cheating. it's great-tasting and super drinkable with decent aroma notes. and who says you can only add sugar to stouts? it's a milk blonde ale, and it's super good. it's also a smart move by Martin House, brewing a beer too sweet to deny. everybody will love it.
1,135 characters
3.97
/5
rDev
+8.5%
look: 3.75 | smell: 3.5 | taste: 4.25 | feel: 4 | overall: 4
16 oz can poured into imperial pint glass.
A - Pours a semi-clear golden yellow with 3 fingers of creamy white head.
S - There is an intense aroma of sweet honey followed by some bready grains.
T - Honey is the most prominent flavor to me, with a good grainy and bready malt backbone. I also get a good amount of the milk sugar, which lends it a taste similar to that of milk stouts. This is sweet and easy drinking, and I can definitely see how this is a breakfast beer.
M - Thin-to-moderate body with moderate-to-high carbonation. Despite the large amount of carbonation, this is still creamy. There is a lot of honey and milk sugar in the aftertaste.
O - I wasn't sure what to expect when I bought this beer, but I was pleasantly surprised. It's very easy drinking, and the honey and milk sugar make it very distinctive. I could see myself drinking this for breakfast more often.
887 characters

2.19
/5
rDev
-40.2%
look: 3.5 | smell: 2.5 | taste: 1.5 | feel: 3.75 | overall: 2
Tallboy can poured into an English pint glass. It pours a clear gold with a white head that can't decide if its going to be creamy or frothy. The head settles down to a thin layer of bubbles with a ring around the edge. The smell is oats, brown bread, and sort of fruit loops. Definitely a breakfast beer. Taste is a shot of citrus then really strong kind of sourdough bread. That flavor kicks hard at the end and you just get walloped with sort of corn flakes sort of bread, a bit metallic...hmmm. Just way too much for me. The mouthfeel is creamy but carbonated. Overall, this may be the breakfast of champions, but its not my breakfast. Just too assertive grain stuff going on. I like the attempt, I like the creativity, I do not like the beer.
747 characters

2.46
/5
rDev
-32.8%
look: 2.5 | smell: 2.75 | taste: 2.25 | feel: 2.5 | overall: 2.5
Truncated impressions from a can:
A: Slightly vigorous pour yields a four finger wide head of white colour. Fluffy, with okay thickness and an airy consistency. Not real creamy. Decent froth. Retains well - for about 5-6 minutes. Okay lacing.
Body colour is a clear pale blonde/copper. Thin and weak looking. Watery, almost. Clean; there's no visible yeast particles or hop sediment. Appears overcarbonated.
Sm: Sweet honey, clean barley, nectar, floral hops, blonde malts, lactose, beeswax, buttery character. Sticky and wet. Raw, with low attenuation and plenty of remaining young sugars.
Above average strength aroma. No yeast character or alcohol is detectable.
T: Honey dominates, lending the flavour profile a raw, young feel. Beeswax complements. The foundation is easily intruded upon - clean barley, blonde malts, lactose. It's sweet, probably a bit too much so. Hops offer little bitterness to balance it; I get some mild generic floral character and that's it. Not boozy by any means, nor is it yeasty, but I also wouldn't call it clean.
There isn't much depth of flavour here. It's a rather simple flavour profile of average intensity and duration. There's no real balance per se, but it has so few notes to balance that it still comes across as pretty cohesive. Can't say I'm really liking it all that much for what it is.
Mf: A bit too thick and weighty on the palate considering the relative lack of flavour. Unrefreshing. Overcarbonated. Smooth and wet.
Not oily, gushed, hot, boozy, or astringent.
Mouthfeel does a decent job at suiting the taste.
Dr: Very forgettable stuff. I wouldn't buy this again. The premise sounded interesting when I saw the label in the grocery store, but I guess I was imagining a balanced milk stout, not a half-baked blonde ale. I can't say I'm impressed, and I'll be in no hurry to purchase other Martin House beers in the future. A subpar brew that I'd caution friends against picking up. I'll finish the can without much complaint, and it does hide its ABV okay, but overall this is absolutely well below average.
D+
2,077 characters
4
/5
rDev
+9.3%
look: 4 | smell: 4 | taste: 4 | feel: 4 | overall: 4
Straight up 4's for this one, a fine and tasty brew.
Perhaps a bit on the odd side, although not in a bad way, but the milk sugar is notable and different. Otherwise the malty backbone is good, bitterness low, and flavor high.
Drinkability is high, this would be really easy to pound on a hot summer day, although it's also easy to sip and enjoy on a cold day (like today).
Body is fairly thick, finish is sweet milk sugar. Very different and enjoyable.
459 characters

3.63
/5
rDev
-0.8%
look: 4 | smell: 3.5 | taste: 3.5 | feel: 4 | overall: 3.75
Pour is lightly hazed bright gold with lots of a thick white head. Nose is heavy grain, cereal and wheat bread, light cream note and some grassy hops. Taste has some whole grain bread up front with a stronger cream note, slightly like cream soda. Cereal is strong in finish, hops faintly herbal and spicy. Medium body with a soft feel and good carbonation.
356 characters
4.36
/5
rDev
+19.1%
look: 4.5 | smell: 4 | taste: 4.5 | feel: 4.25 | overall: 4.5
Pint can poured into a tulip shaped glass.
Huge fan of this beer and my current choice for the running debate between best summer drinkin' blonde ale out of Texas. (Fireman's 4 and Bombshell Blonde were the other two contenders.)
I don't have time for a full review right now, and hopefully will be able to come back and give this more detail, but for now I wanted to say that this beer accomplishes what it sets out to do. Wonderful bready and biscuity flavor balanced with a fairly low bitterness level. Very clean on the nose letting the malt do the talking without being sweet in any way.
Wonderful beer in my opinion.
625 characters
2.38
/5
rDev
-35%
look: 4 | smell: 4 | taste: 1.5 | feel: 1.75 | overall: 2
PIcked up a single can at Total Wine on Hulen. Had really wanted to try this one, but did not want an entire 4-pack, so was happy to find the single.
Was excited upon pour, as the beer looked and smell great. One sip in, and I had a feeling this one was going to the drain. Started with a soapy taste on the tongue followed by a metallic after taste.
Maybe I had a bad can. Maybe the dishwasher did not clean the glass well. Either way, it will be a while before I buy another Daybreak.
489 characters

4.45
/5
rDev
+21.6%
look: 3.75 | smell: 3.75 | taste: 4.75 | feel: 4.75 | overall: 4.75
Pours a straw yellow, with towering white soapy head, and a cloudy body with plenty of carbonation (Blue Moonish in appearance, but robust). Head fades soon and lacing is nearly absent.
Smells grainy with some spice , malt, bready, slight honey.
That first sip solidifies what I was skeptical about, and that is the cereal flavor this brewery was going for. Low and behold, yes. The milk and everything. The flavor of flakes of grain. The honey is subtle, but plays its role in creating a juicy-malt-mouthfeel. More milky, less medicinal. Impressed. With each sip i take there's a point where that cereal taste briefly pops..it just works. I hope everyone who can get their hands on this picks up that aspect.
Not dry, medium full mouthfeel with ample carbonation, the sugar milk brings sweetness to the grains, and a nice blend at that (4 of them per the can's description). Ive only heard of the "breakfast" concept as far as stouts are concerned, but this one sure lived up to its name. I dont recall ever enjoying grains more than i have with this ale. A new brewery here in TX from what I understand. Nice sized pint cans. Could be a session I suppose. I really enjoyed the profile of this beer. Give it a try.
1,218 characters
3.8
/5
rDev
+3.8%
look: 3.75 | smell: 3.75 | taste: 3.75 | feel: 4.25 | overall: 3.75
A: Pours a golden body with a thick white head
S: I am picking up a bit of malt and some wheat and a bit of sweetness from the milk sugar.
T: The taste is nice with a decent amount of malt and some nice sweetness.
M: Beer goes down super easy with a nice amount of carbonation.
O: A very solid beer from a brand new brewery.
336 characters
Daybreak from Martin House Brewing Company
3.66
out of
5
based on
132
ratings.