Trappist Westvleteren Dubbel
| Brouwerij Westvleteren (Sint-Sixtusabdij van Westvleteren)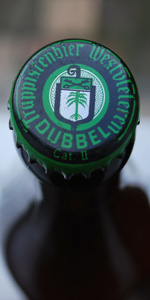 BEER INFO
Brewed by:
Brouwerij Westvleteren (Sint-Sixtusabdij van Westvleteren)
Belgium
sintsixtus.be
Style:
Dubbel
Alcohol by volume (ABV):
4.00%
Availability:
Limited (brewed once)
Notes / Commercial Description:
No notes at this time.
Added by Brabander on 05-16-2011
This beer is retired; no longer brewed.
Ratings: 15 | Reviews: 10

4.53
/5
rDev
+11%
look: 5 | smell: 4.5 | taste: 4.5 | feel: 4.5 | overall: 4.5
Who gets these things? Who even knows they exist? Leave it to Thijs to find Westvleteren beers even the head brewer at the monestary himself has never heard of. Thijs has written a long and questionable tale below about how he found this beer, but I am convinced he simply brewed this himself last week, forged a cap, and nu ons allemaal voor de gek houd! However, this was such a fun time that I don't care. Thanks a ton Thijs. We opened these bottles at a crazy fun day at Beerpirate's house. Absolute insanity! =)
From a bottle into a mini-snifter
Vintage: ca.1990
Note: Reviewing this as an aged beer.
APPEARANCE: Opens just like any beer should and pours out just fine. Pour yields a medium sized white head with pretty good retention. Light amber in color with light carbonation evident. A light wisp remains the whole way and leaves touches of lacing down the glass. This thing looks better than most fresh pales. I swear this was brewed last week.
SMELL: Lots of pale malts, green fruits and sweet, pure honey notes. Very malty with no hop presence detectible at all. Not a hint of oxidization.
TASTE: Pale malts, grainy notes and quite bready up front. Lots of sweet, pure honey in there that compliments the grainy malt quite well. No hops whatsoever and a touch watery in flavour. The hops are gone, but all things considered, this beer is in pristine condition. Unreal.
PALATE: Medium body and medium carbonation. Light and fluffy on the palate, goes down smooth and finishes slightly dry. Again, this was brewed last week.
OVERALL: So many beliefs were shattered with these two little bottles. The fact that this 4% pale ale has held up this unbelievably well for 20+ years defies logic. Good brewing is timeless I guess. While there was absolutely no hop flavor left, the malt flavor was great and there was no sign of oxidization at all. Man this brew has held up incredibly well. This is so rare I can't even bring myself to recommend it, but if you ever do get the chance to open one that's been stored correctly, you will be in for the ride of your life. Thanks again Thijs for doing the crazy things you do, and thanks to Beerpirates for hosting such an enjoyable event. This was amazing.
2,223 characters

3.25
/5
rDev
-20.3%
I was told this bottle was from the mid 80's had side by side with special 6, blond, 8 and 12
Look: pours a copper brown color with zero head
Smell: raisin candy sugar tobacco
Taste: this is where the age of the beer really shows up. The flavors worth mentioning are raisin and brown sugar but it's all muddled with some oxidation
Mouthfeel. Thin body almost watery zero carbonation
Overall: again truly a pleasure to try this beer. For what it is is was a very nicely aged beer especially at 30ish year and 4% alcohol.
532 characters

4.38
/5
rDev
+7.4%
look: 4 | smell: 4.75 | taste: 4.25 | feel: 4.5 | overall: 4.25

4.4
/5
rDev
+7.8%
look: 4 | smell: 4 | taste: 5 | feel: 4 | overall: 4
This is quit an epic story to tell you all. Where to begin? At the beginning of course.
About twenty years ago the monks brewed their own monks table beer. They had two beers, both blond, one with 2% and one with 4%.
Somewhere in the early 90's they stopped brewing this table beer and the blond as we know it now came in place around 2000.
When i got into Westvleteren two years ago i had never heard about this tablebeer. Later i read something on the forums but there were no pictures of this beers.
In november 2010 i reacted on an advertisement from a Dutch guy (Ton) in Gouda who wanted to sell some old empty Westvleteren crates. I got in contact with him and bought the old crates. I picked them up and he told me he went to the abbey in the early 90's and that he still had some old bottles left in his house.
I asked him if he would like to trade these old bottles and thats what he did. For 24 bottles of the Westvleteren 8 i got two redcaps and THREE incredibly rare dubbels of 4%.
Last sunday we had an epic beertasting at Beerpirate's place in Belgium. Wim was there with his wonderfull wife, Jeffo (my lifetime beerbuddy), Bierschenker (Tim) and Claark13 (Sean) with his lovely wife Amber.
I brought two bottles of this dubbel and to be honest i thought they would be undrinkable.
Boy, was i (or should i say we) wrong. Poured in our glasses the beer looked as if it was one year old. Nice yellow fluid and good carbonation after twenty years!! The hops were a bit gone but the taste was superb, lemon with some bread. We were all blown out of our socks with this very rare dubbel.
It will be very hard to get this one in your cellar but if you see one you can give your right arm for it, it will be worth every drop.
1,742 characters
4.51
/5
rDev
+10.5%
look: 4.25 | smell: 4.5 | taste: 4.5 | feel: 4.75 | overall: 4.5
I aquired this from a guy whos Grandmother had a crate sitting in her cellar, in Poperinge. This beer is circa 1976 i was told.
A - Pours a cloudy gold colour an amazingly had a head that retained ok and also laced.. Amazing
S - Aromas were very sweet honey / malt like, not unpleasent.
T - Wow. how refreshing for such an old beer. Bits of citrus, followed by honey. The finish easy and smooth. Impressive
M - Light to medium body with decent carbonation. Not bad for a beer that is 37 years old !
O - Well how can you possibly mark this beer down ? a 4% ABV beer that has well and truely stood the test of time. I absolutely recommend this beer if you are lucky enough to get your hands on one. Brilliant !
714 characters

4.3
/5
rDev
+5.4%
look: 4 | smell: 4 | taste: 4.5 | feel: 4 | overall: 4.5
Thx Thijs ( brabander ) for bringing this very old boy to the tasting, thx buddy!
33 cl bottel poured into my tastingglass @a tasting with some awesome BA's -:)
Yes , where to start , Thijs was talking about this beer for some time , i never heard of the beer and didn't know what to expect ,
A tablebeer?? 20 years old ??? Hmmm. I don't know i've that will be drinkable ,
Then the day came that the tasting @ my house took place and there they are , 2 bottels westy dubbel ! Bottel's are in perfect condition ,
Ok , here whe go , 1 st bottel opens , no sound of carbonation ( same for the 2nd bottel ) i tought , oeps , thats not a good sign ,
But o man was i wrong !!!
The beer was poured in the tastingglasses and stil had a small head , after 20 years , with only 4 % alcohol , and still looking sooo good , woow , very impressed , really !
The color looked like cloudy yellow , nice
The smell was very much honey , but not regular honey , more the pure , strong honey , very nice
The taste follow's the nose , very nice honey taste , a bit of lemon, no hoptaste , very easy to drink , very refreshing , i could drink this the whole day , there is a bit of a watery finish where the taste falls away , not a big aftertaste , but i could still taste the honey , not complex but very special ,
The mouthfeel is super , ok , it's a tablebeer , so it's not creamy or a thick beer , it's a bit watery , but in a good way for this beer/style , the 1st bottel had a little bit of carbonation , the 2nd one was perfect , just like it was made yesterday , wow , what a suprise !!
I'm very impressed with this beer , so old , a very easy beer , a tablebeer from 4. % and still in such a good condition after 20 years ,
1 word
Woow
1,734 characters

4.32
/5
rDev
+5.9%
look: 4 | smell: 4.5 | taste: 4.5 | feel: 4 | overall: 4
I was lucky to find a guy in Belgium who sold me this extremely rare Westvleteren beer. Shared this beer with PapaEugene after a nice bbq.
Vintage: late 80's
The bottle looked beautiful (old style bottle with Westvleteren abbey written on the side). The cap was a bit rusty but still clearly readable and intact.
The bottle opened with a bit of gas escaping from the bottle, indicating the presence of at least some carbonation.
Look: poured into a de molen sniffer. The beer poured a dark amber color with almost no head, but a nice lacing covering the inside of the glass.
Smell: Lot of malts, caramel, honey, some hints of dark fruits and this typical sweet vintage smell. No oxidation, wet paper, fungal smell at all. This beer was very well preserved!
Taste: Malts, grain, caramel, candy sugar, honey and dark fruits. There was no hop present at all in this beer. Aftertaste is sweet but missed the hops, making it a bit simple.
Mouthfeel: A bit thin and watery in the body (but hey, it is a table beer only) and low carbonation (not surprising for a 25 year old beer)
Overall: What to say about this beer; this beer has past its prime, let me be clear about that. The total absence of hops make it is bit single dimensional in the taste and the body is a bit watery. But having said that, the taste is still very nice, with lots of malts and sweet components there. If we keep in mind that this beer is a 25 year old table beer, the quality is amazing. A must try for any Trappist-beer enthusiast!
1,509 characters

4.82
/5
rDev
+18.1%
look: 4 | smell: 4.5 | taste: 5 | feel: 5 | overall: 5
Ok Thijs, here you go, my first review! Side note, that was my wife. She hasn't been my girlfriend for a while, haha. Also, I will rate this as a table or light beer, not as a Dubbel.
A - it looks exactly like someone just poured a Budweiser into my Oerbier tasting glass. Luckily, it wasn't the case. I couldn't believe it, but there was a normal amount of carbonation with head retention. One of the two bottles served had more coronation, but both were impressive. Overall, its like this beer was brewed a week ago. However, the looks fall in line with other light beers. I couldn't pick this one out next to a BMC light.
S - Surprised again. Slight honey at first, then crushed caramel malt, then some sort of earthy/plant/grass towards the end. I couldn't put my finger on it, as it quickly faded back to the mild but sweet honey.
T - Wow. This is +20 years old? Refreshing comes to mind at first. Bubbles slightly sting the tongue with a light bread taste that is more evident in other trappist beers. This bread fades to a fantastic lemon flavor that sticks around for a minute after each sip. The lemon isn't tart/sour, which makes me wish I could try it fresh. Honestly, I would buy this now off the shelves if it were available. It's almost offensive that others can't make a light beer with this flavor. No, it is offensive. I could sip this with every meal.
M - Well,the fact that carbonation was so evident boosts the score. I hate to maintain a high score in every category, but for the style this was top notch. Carbonation touched the tongue, body was light and refreshing to the pallet.
O - I hate to do it because its a table beer, but this one was amazing. So much flavor, so much carbonation, no evident oxidation in the flavor. I would honestly buy a crate for mowing the lawn. Fantastic brew, thank you Thijs for sharing this treasure. This makew me want to age a case of Bud Light with Lime for 25 years and hope for he best. There is no way that another beer of similar style has even come close to this one.
2,037 characters

2.51
/5
rDev
-38.5%
look: 3.25 | smell: 2.75 | taste: 2 | feel: 3 | overall: 2.75
Thanks to Will for this one.
Poured into a chalice. This is a dark flat brown - looks like a dead beer. Much darker than I would have expected from the other reviews; I suppose its being sick could account for that, in part. Smell is moldering books, dirty basement, bad tobacco - in short, an old beer. Taste is about the same, but less pleasant. No carbonation whatsoever, though it's nice in body. A big disappointment, but that's the luck of the draw with old rare beers.
476 characters
2.3
/5
rDev
-43.6%
look: 3.25 | smell: 2.5 | taste: 2 | feel: 2 | overall: 2.5
'85 vintage, well past its prime
32 characters
4.56
/5
rDev
+11.8%
look: 4.25 | smell: 4.5 | taste: 4.75 | feel: 4.25 | overall: 4.5
306th Review
33cl bottle poured into Crooked Stave tulip
Early 90's I gather from discussions with friends and the individual who passed this my way. Cheers!
I shared this at a random Wednesday afternoon tasting at Crooked Stave (thanks Chad for welcoming us!) as part of "December to Remember - 2012". Drank alongside Westvleteren Special 6 (Red Cap), amongst others.
A: Medium brown. Nearly no head - just a few light mocha bubbles - on brisk pour.
S: Notes of caramel, honey, and faint malt. Touch of dark fruit and soft nuttiness. Sweetness is very welcoming and forward.
T: Wow! Great stuff here. Loads of candied dark fruit, caramel, brown sugar, and honey. Soft grain/malt character as well. Rounded, smooth, and rich!
M: Medium bodied with almost no carbonation.
O: Very impressive considering the age! At first I thought this was a bit too sweet, but it grew on me as I drank it. Fun stuff! Good luck finding it though.
934 characters


4.38
/5
rDev
+7.4%
look: 4 | smell: 3.5 | taste: 5 | feel: 4 | overall: 4.5
Yes, RvDoorn managed again... never thought that I would drink this one.
A: Amber color with no head, just a ring of lacing
S: Upfront is the vintage smell (its a late eighties bottle) that reminds me of Madeira more than Porto. No paper smell so that menas no fungus, what a relieve. Roasted malts and slightly dark fruits.
T: Wooden tones, madeira, caramel, molasses and bit of dark fruits.
M: Light to medium body which was a bit of a surprise to me for 4% alcohol, very light carbonation.
O: Great experience. I was a bit skeptical about a vintage 4% beer, but it was a pleasant surprise.
597 characters
Trappist Westvleteren Dubbel from Brouwerij Westvleteren (Sint-Sixtusabdij van Westvleteren)
4.08
out of
5
based on
15
ratings.