Bakusyu Club Popeye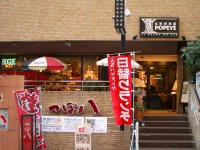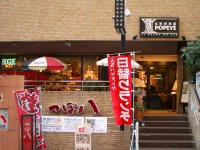 PLACE INFO
Type:
Bar, Eatery
2-18-7 Ryogoku, Sumida-ku
Tokyo-to Tokyo-shi
, 130-0026
Japan
03 3633 2120 |
map
dti.ne.jp
Notes:
No notes at this time.
Added by UncleJimbo
PLACE STATS
Reviews:

26

Ratings:

pDev:

7.03%
HISTOGRAM
View: Place Reviews
Ratings: 34 | Reviews: 26
4.47
/5
rDev
-1.8%
vibe: 4 | quality: 4.5 | service: 4.5 | selection: 5 | food: 3.5
The main draw to Popeye is their forty taps, two or three of which deliver gravity-pumped real ale. Most bars and restaurants in Japan serve only one draft beer, so the sheer quantity of taps is reason enough to pay Popeye a visit. But it gets better: all forty taps pour craft beer, mostly Japanese with a handful of American offerings thrown in for good measure. Not only that, but their range of styles is remarkably wide: mighty barleywines, lively IPAs, mellow wheat beers, balanced pale ales, crisp pilseners and rich stouts have all found a home at Popeye, not to mention the deliciously bold "IBA" ("India Black Ale"), a sort of porter-IPA blend brewed by the bar's proprietors.
I must say that Popeye's real ales were disappointing; the Yona Yona, so creamy when I had it on cask in Osaka, was weirdly watery and stridently carbonated, and the Swan Lake didn't deliver the cask-conditioned nuance I was hoping for, either. But the real ale letdowns were easy to forgive and forget after a glass of Hakusekikan's brandy-esque Hurricane Barleywine and a pint of Baird's hop-charged, nitro-tapped, smooth-as-velour Shimaguni Stout. Mmm!
Upon leaving Popeye, I had successfully fulfilled my beer goals for the week, and it was only Tuesday. This is absolutely your one-stop shop for draft beer in Tokyo - no, in all of Japan. Easily, and highly, recommended.
1,365 characters
4.05
/5
rDev
-11%
vibe: 4.5 | quality: 4 | service: 4 | selection: 4 | food: 4
Visited Popeyes during my recent visit to Japan. Had a dickens of a time finding the place. We went around and around it, but kept missed the place and had to ask directions. Their street address situation is hard to understand for foreigners. But when we got there and walked through the front door we got the usual warm Japanese welcome topped with an English pub style boisterousness. That softened our sore feet a bit!
Great selection of beers, most impressive was the Belgians. See Rogue on a beer list thousands of miles away for where its made was an eye opener! But I was more interested in trying Japanese beer, so a got a cask conditioned Echigo Stout. It was good stuff, if a little light in flavor compared to the stouts I know and love.
The food is "pub grub" of a sort. I mean, there's a Japanese flair of course, but also they do a few neat variations on the standard stuff. Most memorable was that their fries tasted like they'd been battered in beer-making grains! And they were quite tasty! I got one of the appetizers, the mini lamb steaks w/bacon which was great, and my wife got the fish and chips which she said was delicious.
If you're in Tokyo and hankerin' for good beer this is your place. Just make sure you have reliable directions before you go!
1,283 characters
3.93
/5
rDev
-13.6%
vibe: 4.5 | quality: 4 | service: 3.5 | selection: 4 | food: 4
Best beer location I visited in Tokyo, by far. A wide variety of interesting Japanese micros on tap, from which I sampled eight:
Isekadoya TripelHop Pale Ale
Yona Yona Pale Ale
Fujizakura Rauchbier
Divine Vamp 3 "India Black Ale"
Shimaguni Stout
Baird Wheat King
Baird Workingman's Dark
Hakusekikan Hurricane
Happy hour specials are great, and include a choice from about eight different dishes when you order certain beers. Essentially, I tried a bunch of smaller pours (all of the above were half pints, except for the BW which was 100mL) and got more than enough food for free to make a dinner out of it.
Nice looking bar, too, with lots of parapernalia. Service was OK, although this is understandable since I speak about 10 words of Japanese and there were obvious communication issues.
Definitely, DEFINITELY visit this place if you are in Tokyo. It's worth going out of your way.
906 characters
3.95
/5
rDev
-13.2%
vibe: 4 | quality: 4 | service: 4 | selection: 4 | food: 3.5
This bar has the best draft selection I've seen in my limited experience in Tokyo. There were 40 taps, 3 hand pumps, and a selection of American and Belgian beers in bottles.
Like most places in Tokyo the place was small and crowded. There was table seating for maybe 40 people tightly packed and seats at a small bar for maybe 6-7.
The Japanese microbrews (ji-biiru) were pretty good, much better than the Kirin and Asahi I'd had with dinner most of the week.
If you're in Tokyo I recommend you try this place. It's relatively easy to find near the Ryogoku station on the Sobu line.
592 characters
4.54
/5
rDev
-0.2%
vibe: 4.5 | quality: 4.5 | service: 5 | selection: 4.25 | food: 4.25
I had the opportunity to visit this pub on a recent trip to Japan for my brother in law's wedding. We spent a few days in Tokyo before the wedding and I was able to persuade the family to go to this fantastic beer bar.
Popeye's was easy to find even with our limited knowledge of the Tokyo subway system. It is only a couple of stops from Tokyo Station.
The pub was small with a relaxed atmosphere. To our surprise we happened to show up during "Happy Hour" where you can get a free appetizer with each beer on that day's menu. The food menu was pretty decent offering various pub food favorites. This was nice for some of the less adventurous eaters in our group.
I don't think I need to say this but the service was excellent.
They have a nice selection of Japanese micros as well as some world beers. Here are some of the beers that we had during our visit. The prices were a little steep for some of the beers but as I understand it typical for Tokyo.
Baird Brewing Co (Divine Vamp III Black IPA, Rising Sun)
Yona Yona Ale
Hakusekikan Hurricane (Barleywine, Brown, Crystal)
Echigo Stout
Swan Lake (Amber Ale, IPA)
Fujisakura (Weizen)
If you are in Tokyo you must make this on your list of things to do.
1,219 characters
4.3
/5
rDev
-5.5%
vibe: 4 | quality: 4.5 | service: 4.5 | selection: 4
On the 15th of October this year (2005), I visited "Bakusyu Club Popeye", which is close to the sumo stadium in Tokyo. Their webpage can be found at http://www.lares.dti.ne.jp/~ppy/english/EnglishTopPage.html .
The place is quite easy to find if you take the time to check the directions on their website.
I was due to meet some of my "gaijin" friends in Tokyo, both of whom have spent a frightening amount of time there - Kevin from Oklahoma has been there for 17 years, while Tim from Australia has been there for a mere 14 years.
"Popeye" claims to have 40 beers "on tap", but that is in the American sense, where most of it is in keg form. They do, however, have 3 handpumps, which is probably the largest number of handpumps found in any one bar anywhere in Japan. On the evening I was there, all the handpumps were devoted to beers from the "Yona Yona" brewery ("Pale Ale", "Best Bitter" and "Black Porter"), so I expressed a firm intention to try them all, starting from the top (which was the Pale Ale).
I arrived a bit earlier than my friends, having set aside ample time to make it to the place and find it, so I was on my own for about 20 minutes or so.
So I sat down and started my pint of pale ale, and a very fine pint was, too. Strongly hopped, but not too much, in a fine balance with some quite fruity flavours. Suddenly this guy popped up and asked if he could join me, and I said why not. It turns out that he was the owner and chief brewer of the "Yona Yona" brewery. We had a very nice chat until my friends turned up.
The brewer is Japanese, but speaks excellent English. He has learned the craft working in a brewpub in San Diego for several years, and also spent some time visiting UK breweries before starting out on his own. He said that he was the first to brew "real ale" according to the Camra definition in Japan. There are a handful of other breweries in Japan which do occasionally brew real ale, but since the real ale tradition is completely unknown in Japan, there is an uphill struggle to get public acceptance for real ales.
He also told me that he is the organiser of the "Tokyo Beer Festival" - this year's was the third, which is held every year in March . During the festival, they will have real ales from perhaps 10 breweries in Japan (not all of which do real ales on a regular basis). He was quite impressed when I told him that we do 75 beers at the Aberdeen beer festival.
A couple of links:
http://www.yohobrewing.com
http://www.realale.jp
Back to the beers. The "Pale Ale" (which the brewer described as an American-style pale ale) was excellent. Of the "Best Bitter", the kindest remark was made by my friend Tim, who called it "unremarkable" - personally I have a suspicion that the cask may have been past its best (but my new-won brewer friend had left at that point). The "Black Porter" was a good example of its kind, it just happens that it is not my favourite type of beer.
- The Horrible Helge
2,987 characters
4.28
/5
rDev
-5.9%
vibe: 3.5 | quality: 4.5 | service: 5 | selection: 4.5 | food: 2
I like this place. Not "easy" to find, but with a little study, you can get there. "uncle jimbo" posting below has good directions - it is NOT near Tokyo Station as the other poster says. From Tokyo Station you'll change trains once to get there, but that is easy.
I had several beers, but the one I really liked was their own - IBA - India Black Ale. It is a highly hopped beer, like an IPA, but it is as black as a stout!
Don't miss this unique bar. It shows the Japanese Beer Culture quite well - a far cry from the bland pils you think of from Japan.
Happy hour is a very good deal and you'll get a 50% off on a return visit.
enjoy
647 characters
4.85
/5
rDev
+6.6%
vibe: 4.5 | quality: 5 | service: 5 | selection: 5 | food: 4
This by far the most amazing beer pub in Japan.
Extremely convenient from tokyo station. Just two stops from Akihabara.
Very relaxed izakaya (pub) style establishment. Everyone very friendly, the waitress even gave me a hug goodbye. Service is excellent.
Food is good, but it uninspired.
40 beers on tap, half a dozen cask, half a dozen real ale. Amazing stuff. Most of the beers are japanese craft brews, but maybe a third are not.
Just as an example of their selection, this is what I had:
Sam Adams Utopias
Old Crustacean
Taiko Ale
Special Echigo Ale
Swan Nitro Porter
Rogue Brutal Bitter
Hiroyuki Special Espresso Porter
648 characters

4.58
/5
rDev
+0.7%
vibe: 4.5 | quality: 4.5 | service: 4.5 | selection: 5 | food: 4
Popeye "beer club" is a pub serving a large number of Japanese micros on tap, as well as quite a few imports on tap (e.g., Rogue Ales and Hair of the Dog). This place is almost one of a kind in Japan in that regard.
If you don't speak much Japanese, ask for the English menu. The owner, usually behind the bar, speaks some English, and the staff usually understands English to some extent.
They run "happy hour" type specials in the evenings from 5-8 pm: get a free appetizer with each beer on that day's list. Prices are typical for Tokyo. You can become a member of the club, entitling you to a 2% discount on your tab (free membership).
It is located near the Ryogoku JR Train station on the street that runs parallel to the train station and to the south(?) (it is also an easy walk there from the Ryogoku subway station). If you exit the JR station at the West exit, turn left, walk a very short block, then turn left again, Popeye is on the right 40-60 meters.
If you visit Tokyo, you really should try to visit Popeye!
Some of the brews that were avail. in Oct. 2002:
Eichigo (Pilsner, Stout, Pale, Kolsch)
Asahi (Super Dry, Stout)
Shinano (Dragon Ale)
Nasu Kogen (Scotch Ale, 9-Tailed Fox)
Wao (Old Scotch Ale)
Minami Shinshu (Dunkel Weizen, Crystal)
Ohotsk (Mild Stout)
Hakusekikan (Marriage Ale, Brown, Barleywine, Crystal)
Fujisakura (Weizen)
Yona Yona Ale
Hinotani Kogen (Weizen, Barleywine)
Iwate Kura (IPA)
Ise Kodoya (Pale)
Hida Takayama Karumina
Baird Brewing Co (Teikoku IPA, Kurofune Porter)
In addition they had:
Hair of the Dog (Ruth, Fred)
Redhook IPA
Rogue (Barleywine, Brutal Bitter)
Wolaver's Organic (Pale, Brown)
as well as various Belgians and other European standards.
June 2003. Still great. 45 taps + 3 cask beer engines. Prices are up, though.
1,817 characters
Bakusyu Club Popeye in Tokyo-to Tokyo-shi, Japan
Place rating:
4.55
out of
5
with
34
ratings