Rhöner Imperial Pilsner
| Pax Bräu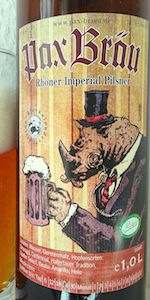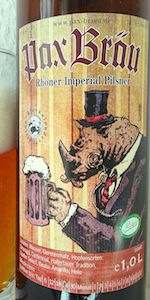 BEER INFO
Brewed by:
Pax Bräu
Germany
pax-braeu.de
Style:
American Double / Imperial Pilsner
Alcohol by volume (ABV):
8.50%
Availability:
Fall
Notes / Commercial Description:
No notes at this time.
Added by boddhitree on 09-17-2013
HISTOGRAM
Ratings: 1 | Reviews: 1
None found.
More User Reviews:

5
/5
rDev 0%
look: 5 | smell: 5 | taste: 5 | feel: 5 | overall: 5
September's here and that means a new beer from Pax Bräu's Bierkalender. This month is a real treat: Rhöner Imperial Pilsner.
First let's dissect that name. Die Rhön is name for the region where Pax is located, a semi-mountainous area that lies in the very northern part of Bayern. My guess is that this name is due to the malts grown in the area, which are well known in the beer industry (someone [Einhorn?] correct me if I'm wrong) alluding to the malts used as ingredients. Imperial: duh, it's 8.5%! What else would you call it? Pilsner… let's guess that it's a Pils style.
Now the label… maybe someone can help me here… what do you think? A rhino, looking like a British lord or a old German Bürger, an upper crust type? That alludes to the Imperial part, and maybe the 8.5% butts you with the power of a rhino? Again, I love the Etiket, or label. These are absolutely revolutionary in Germany. No other brewer that I know of uses such wild and cool images on the labels. It breaks absolutely with the German beer industry SOP (standard operating procedure) and makes them unforgettable in a German setting. Again, these labels set Pax apart as being in the craft beer, á la American revolutionaries, transferred and translated into the German setting.
I almost forgot to drink the beer. The appearance isn't typical Pils. It's close to light orange with yellow highlights, darker than a few Märzen I've come across (Paulaner Oktoberfest, anyone?) and decidedly not a weak color. The picture doesn't do it justice above. It's snow-white head sits under this appetizing color… lovely.
The aroma is virtually a blast of Pils malt. It jumps out of the glass and doesn't let go until the end of the glass. I get some lemon and/or grapefruit floating around in the aroma, which when combined with the Pils malt is a heady smell. You can also smell the alcohol when you swirl it around, giving it a Starkbier-like or Bock-like kick to the nose.
Before we talk taste, look at the label and check out the number of hops used: Smaragd, Centennial, Hallertauer, Tradition, Spalter Select, Beata, AND Amarillo, that's 7. Of the German hops, you see most of the usual suspects for a Pils: Hallertauer, Spalter, Tradition. Smaragd is a new German hop which I've used as well, quite bitter at 8.7% AA.expected results.
So quite an interesting combo of hops.
The flavor is overall quite strong. The mouthfeel is not typical Pils, rather more like a Bock or Märzen in thickness - impressively viscous flowing over the tongue, hearty and meaty all at once.
The front of the tongue gives you lots of bitterness, both of the Noble hop variety and some American bitterness. you also get some tart and astringent notes up front, going into lemon but not at quite sour.
The middle gives way to toasted Pils malts and more bitterness, slightly biting on the tongue. This isn't a Norddeutschpils, but it's a powerhouse of bitterness over the middle, maybe the effect of Smaragd, Centennial or Beata, but it's not too much Noble hoppy flavor. Nonetheless, the closer the glass gets to empty, the more assertive the Noble hops are and the more I pick them up here on my tongue and overall. The back is typically Pils in flavor, but also with a caramel, sweeter side, mixing though with fruity flavors of orange, apricot, a little grapefruit. Also in the back you get the punch of alcohol, not overwhelming but just enough to tell you this is an Imperial, damn it. It's not at a Märzen-type caramel, but it's not only a Pils malt flavor, but a mix of 30/70 here. The aftertaste is citrus hops with sweet Pils malts and a oh so slight burn of alcohol. Mostly the high alcohol is hidden but it peeks out at times, which is good, but it's not so strong that you wish you could age it 6 months before drinking.
Overall, this may be the best Pils I've ever ever had. Really. It's complex as all hell, throwing citrus, orangey and fruity flavors, toasty pils and some caramel, hard Noble hop bitterness and alcohol flavors at you in different parts of the tongue. And then there's the aroma! This part is important, for when you drink it, you could be fooled into not thinking it's a Pils, but the nose tells you yes, we're still drinking a Pils. It's an wonderful adventure simply sloshing around the mouth looking for the different flavors with every sip. This is another WOWOWOW beer. WOW. Like almost all of Andreas Seufert's beers, I've never tasted anything like this. If someone has come across a beer like this, let me know, for this again is the perfect cross of German, British and American styles to make a unique beer that really stands up, salutes then rocks out with complex flavors and aroma. Then, the aftertaste is there like a siren luring you to take the next sip.
4,799 characters
Rhöner Imperial Pilsner from Pax Bräu
Beer rating:
5
out of
5
with
1
ratings