Morgan & York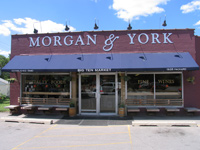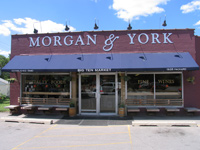 PLACE INFO
Type:
Store
1924 Packard Street
Ann Arbor
,
Michigan
, 48104-4765
United States
(734) 662-0798 |
map
morganandyork.com
Notes:
None provided.
PLACE STATS
Reviews:

12

Ratings:

pDev:

5.64%
HISTOGRAM
View: Place Reviews
Ratings: 14 | Reviews: 12
Reviews by MbpBugeye:
3.79
/5
rDev
-7.1%
vibe: 4.5 | quality: 4 | service: 4 | selection: 3
There is plenty of space inside this little shop. It's essentially a big, open floor plan split into two. The walls are lined with nice, tall, built in shelving. The rest of the main room is scattered with wine on display in crates or boxes. Their low height allows for an open, airy feel and lets you see the store. It alleviates the cramped feeling most liquor stores have.
The store is almost all wine. There's only a short wall of beer and a few cooler doors of 6 packs. The beer out on the shelves is all bombers and larger, IIRC. There seemed to be a preference towards the more "wine-like" styles such as fruit lambics.
The back half of the store is a deli and bakery. It looked like they had a lot of really good foods that you would really want to pair with beer and wine. Back in this room is where the coolers for 6 packs and other drinks are.
I didn't buy anything here. Nothing really stuck out at me, aside from some expensive Hanssens fruit lambics like Experimental Raspberry and Experimental Cassis 375mls for $15. The selection looked thought out, just not impressively wide.
I guess this would be a good place that's better suited for locals who know they can find a specific beer here. But as an out of towner who's looking for some quick locals it didn't fit the bill.
1,297 characters
More User Reviews:



4.23
/5
rDev
+3.7%
vibe: 4.5 | quality: 4.5 | service: 4.25 | selection: 3.75
Morgan and York is where I found my first bottle of Dogfish Head 120 Minute IPA. They have a unique beer selection, though it's not huge. Lots of Belgian beers and some organic beers. I usually stop by when I'm on Packard to see if they have anything that Wine Seller doesn't carry right then.
There is all kinds of gourmet food here, and an enormous wine selection. Fresh cured meats and good cheeses. Overall, it's a little expensive (it is a specialty shop after all). A definite choice for wine, but there are better places around for the beer selection. Overall, a neat atmosphere that sort of makes you feel like you're at a winery or some place like that. Good selection of liquor as well, but nothing to rave about.
724 characters

4.5
/5
rDev
+10.3%
Tom York and his staff have to be the most courteous and helpful group I have had the pleasure of dealing with. Each and everyone of them were more than willing to share their knowledge and help us make our beer decisions, as well as suggested food pairings.
The Deli selection is fantastic, with one of the best meat & cheese collection in the state. The beer selection may be a bit small but makes up with quality and proper care. There is a small selection up front near the wine as well as a larger selection in the coolers by the deli. Michigan brews are represented very well with Bell's, Founder's, Shorts, Jolly Pumpkin, Dark Horse, etc. as well as Imports. Wine is their main focus, and they have a nice selection.
They also have their own choclotier and a nice selection of specialty candy. If your into special balsamic and specialty vinegars and olive oils they carry these as well.
Proper Glassware is also available from Riedel. A nice selection of specialty kitchen and Barware is also available.
1,028 characters

4.15
/5
rDev
+1.7%
Yeah buddy. This place is pretty cool. Well laid out store with wads of wines, an enormous selction of liquors (some over 2500.00 a bottle!), a large selection of cheeses and breads, and most of all; BEER. A small nook of the store is reserved for beer, and the selection is pretty good. All of Unibroue was well represented, as were local selections like Dragonmead and Kuhnhenn. Regional micros like Rogue and Dogfish Head were well stocked, as were other brews from the far reaches of the world. I carried on a nice long converstation with a young woman who seemed quite interested in beer and very knowledgeable in what the store had to offer. Some six pack selections were in coolers, but a majority of the beers were in the nook. Temp and lighting seemed proper as to not hinder the beer in any adverse ways. The prices were good, as Fantome was only 10.99 a bottle, and others were lower than even Merchant's in Dearborn. All around, this is a good store, and i'm sure I will be back.
991 characters
4.15
/5
rDev
+1.7%
Nice surprise on my visit to Ann Arbor. This store is completely anonymous, if not tacky from the outside. Inside, it's a treasure. Great selection of wines up front. The beer selection, while not huge, was over the top on quality. Great selection of Belgian beer, nice selection from the UK and Germany including JW Lee. All of the Michigan beers I was looking for including hard to find Founders, Dragonsmead, Kuhnhemm, and others. They also had the best selection of Hitochino I've ever seen in the States. 6 of their beers in total. I will definitely pick some up next time I'm in town. Only selection complaint I had was a lack of west coast and Rocky Mountain beers. I'm not sure of MI availability. The staff was helpful, and even gave me a hint on ways to save money (I only had to buy 1 more 4-pack to get a 10% discount). Overall this place is a must-stop if you have time, and are in Ann Arbor for more than 1 day.
929 characters
4
/5
rDev
-2%
I stopped in hoping to find a good selection of local singles. They do have a decent amount of singles, but mostly imports. A light selection of local singles was available cold, but they had a decent array of six packs available. Prices seemed to be fairly in line with a few other places I stopped. I picked up a few items, and the staff was very helpful. When I told them what I was looking for, they showed me what they had along those lines, and then simply chatted about beer. No trying to sell me stuff. Nice experience, even if they didn't have everything I was looking for.
583 characters
4.2
/5
rDev
+2.9%
This place is definatly not what it appears to be from the outside. It's a bit more upscale and devoted to the gourmet side of things than you might expect from the initial appearance. You'd think it was just a run of the mill party store, but it's a lot more than that! A fairly extensive wine selection, lots of small estate wine etc. The beer selection in terms of sheer number is smaller, not large by any real measure, but what they do have is top notch and some quite hard to find! They carry some of my very favorite locals like Dragonmead and Dark Horse. I even found a sixer of the very hard to find GLBC Conway's Irish Ale in the cooler here. They've got a good bit of selection warm on the shelves and a good bit refrigerated as well, some macros and the like but also some micros in the refrigerators as well. Most things are offered as singles as well which is always a plus as far as I'm concerned. Service was great, friendly and plentiful. The place is kind of hard to spot if you're southbound because of the way the building faces, but that's not a big deal. A little parking in the front with plenty in the back.
Overall a good beer stop, I'm sure I'll be back.
1,183 characters
3.6
/5
rDev
-11.8%
I bought a case of vinegar masquerading as Celis White here last Summer, which I'm still bitter about (Ann Arbor is about 2 1/2 hours round trip for me).
Now that I've got that off my chest, I've always liked and shopped at Big Ten whenever I'm in Ann Arbor. I believe new owners took over a few years ago (rumor has it some of the Zingerman's gang), and they really cleaned the place up. Excellent cheese selection, good wine and specialty foods lineup, and a pretty good beer list as well. A good stop.
507 characters

4.15
/5
rDev
+1.7%
This is yet another fine beer destination in Ann Arbor! Looks like one of the typical "party stores" that are all over town, but inside you will be pleasantly suprised by the upscale look and feel of the place. Its a fine stop for pleanty of classy imports, regionals, and tasty Michigan micros. They also sell tons of wine, gourmet oils, vinagars, cheese, breads, and other stuff I'm forgeting about. The staff was all super friendly and helpful. They had some nice beer glassware to boot. Well worth a visit
509 characters
4.3
/5
rDev
+5.4%
I try to stop Big Ten when I visit family that live nearby for the nice selection of regional beers. This review was written in November 2004. The selection of both beer and wine has decreased a small amount within the past year. The outside has a rather dumpy appearance, like it's a typical "beer-run" store in a University town. It's located in a strip mall next to a dry cleaners in a cinder-block building. Inside "Big Ten", it's a totally different story. Wood floors, well lit, and a spacious display of selections. I've always been immediately attended to by staff that is knowledgable of the beer selections they offer. The front of the store is devoted to wine selections, American and international. Liquors are located behind the counter and many premium selections are available. Half-way through the store, on the lefthand side, is an alcove which displays a large assortment of singles for international and regional craft beers. Still further into the store, on the right, are the coolers that contain 6-packs of many beers not available as singles in the alcove. This is where the selection of "Big Ten" really shines. Many different Mid-west breweries are represented. Tough to make a selection, as the staff can suggest so many different beers ("If you like that one, then you'll find this one enjoyable, too"). Also in the back part of the store is a deli where fine cheeses and meats can be obtained. Actually, the back part of the store is more devoted to the deli than to the coolers of beer. "Big Ten" is an upscale fineries establishment that is a refreshing breath of culture. I highly recommend "Big Ten" if you visit Ann Arbor.
1,655 characters
3.95
/5
rDev
-3.2%
Reading over some previous reviews of this store, it seems as if they've gone through quite a few, and varied, iterations. As of right now The Big Ten is quite the classy joint, with the service staff dressed in the long coats most often found in European package stores. Actually, my first though when I walked into the store was how much it looked like a nice marche I visited North of Paris. More than surprising given the name of the store is an college athletic conference - in fact, I'd compare the situation to naming a Nouvelle Cuisine restaurant the Locker Room.
Though long and narrow, Big Ten does a great job of making their space feel airy. The merchandise is liberally spread-out, and all of their liquids (from beer to wine to spirits) are tastefully displayed in wooden cases or on horizontal racks and shelves. An effect is that they appear to have wider of a selection than they truly have because its so spread out on both a small and a large scale (the opposite of how the Beer Depot carries more than you think because they're cramped).
Another can't miss aspect is the service - they keep you covered like a parka, as about 8 staff members are on at a time, each probing and hovering around their section (wine, chocolate, cheese, beer, etc.). Not annoying, but in the traditional Europen garb the attention and knowledge is way out of character for a package store. In a good way.
Toward the back is a decent cheese selection and some charcuterie. The prices are ridiculous, as even the notoriously pricey Zingerman's beats them out for, say, a simple chorizo at a digestible price. Yet the cheese is well cared for, stored properly and cut carefully by a good fromagere. The beer runs the same as the selection is decidedly classy, showing off Belgians to a strong degree. In fact, the first time I stopped in they had held a tasting with Jolly Pumpkin Brewing of Dexter. Like with their food, the prices are a little high. Sure, the sixpacks of Bell's and Founders are right around what you'd expect, but some of the choice Belgians like Rochefort are a notch above the typical price. Also, all of the low alcohol imports, like the many German lagers and English pale ales, are kept at room temperature. Many a great session import is left to bake under the lights, as if they can be treated the same as a bottle-conditioned 9% dubbel.
A very nice store in terms of ambiance and seems to carry a few Belgians I can't find elsewhere. Enjoyable to stop by when I feel like being pampered by attendants and spending a little extra to feel luxurious. On a day to day basis I'm not sure I would visit here for my beer or other fine food needs - Whole Foods and Beer Depot continue to endure as purveyors of choice in Ann Arbor.
p.s. As of Nov. '04 they no longer break singles out of six or other sized packs
2,844 characters
4.05
/5
rDev
-0.7%
(new review, 4/25/03) WOW! I don't know where they hid all their beers during remodelling, but it looks like their selection is back and better than ever. They've got all sorts of hard-to-find beers including some from Rodenbach that must be left from the last shipment they got before Rodenbach stopped coming over here. Their homebrew stuff is still gone which is unfortunate. But the beer selection is downright enormous. Most of it, including all the microbrewed six-packs, is refrigerated. A lot of the belgians and high abv beers are just shelved, however. The only BIG drawback is the pricing. A bottle of Cuvee Rene, for comparison, is like 8-9 bucks at Cloverleaf, but it costs 13 bucks here. That's just ridiculous. It was like almost $6 for a bottle of Melbourn Bros Apricot. I mean, come on. That's just stupid. But if you need something fast, the chances are good that they'll have it; they definitely have one of the bigger selections in the Detroit area.
(original review, 2/4/03) I used to do all my beer shopping at Big Ten. But then a few things happened:
1) They seemed to cut their selection. The advantage of this was that all their beers ended up in the fridge. The disadvantage was that, well, they stopped carrying like 30% of their stock.
2) They stopped carrying homebrew supplies and became a straight up food/wine/beer shop. That's certainly fine, but considering the prices they have on beer, it lost its appeal.
So I stopped going just a short while back.
I will say, however, that they have a number of helpful people on staff. The service is pretty good there, and they had a guy who left there to go study under a brewmaster in England -- so most of their staff knows their stuff.
1,728 characters
Morgan & York in Ann Arbor, MI
Place rating:
4.08
out of
5
with
14
ratings