Rum Barrel Belgian Dubbel
| Brothers Craft Brewing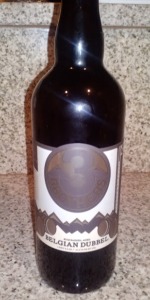 BEER INFO
Brewed by:
Brothers Craft Brewing
Virginia
,
United States
brotherscraftbrewing.com
Style:
Dubbel
Alcohol by volume (ABV):
10.30%
Availability:
Rotating
Notes / Commercial Description:
Belgian Dubbel aged in rum barrels
Added by ygtbsm94 on 12-05-2013
Reviews: 8 | Ratings: 61

4.16
/5
rDev
+6.7%
look: 4.5 | smell: 3.5 | taste: 4.5 | feel: 4 | overall: 4.25
Bottle number 177, mfg 05/21/14. Brown to amber in color with a fair amount of head. Smell is weak rum with sharp alcohol notes. Also am picking up a bit of fruit. Taste is spice, rum, fruit and booze. Mouthful was a bit thin with a higher amount of carbonation. Overall a very easy drinking beer. As it warmed up, the spice and fruit really came out.
★
358 characters
3.76
/5
rDev
-3.6%
look: 3.5 | smell: 3.75 | taste: 3.75 | feel: 4 | overall: 3.75
Faint whiff of nail polish remover, fusel alcohol, underlying vanilla, belgian yeast and something earthy. Not getting much of a classic belgian dubbel flavor. Almost no sweetness. Lots of oak, molasses, vanilla. Very dry.
★
226 characters
3.32
/5
rDev
-14.9%
look: 3.25 | smell: 4.25 | taste: 3 | feel: 3 | overall: 3
Poured from the bottle into a globe/tulip style glass just like the one on the label. Bottle number 1003-2000, packaged May 21st 2014.
A murky garnet like red, deep dark orange rust colored when held to the light and opaque. Barely a finger of tan head is made but manages a thick collar with a big bubbled whispy top. Looks a little lifeless, but a real interesting color I must say.
Real interesting aroma. Hints of clove and quad like warmth, huge fig notes and chewy dark fruit. Boozy aroma with a sense of liquored flavored dark cherries and molasses. Thick sensing a bit of a hint on the aroma also.
Palate manages to be quite thin for barrel aging, with a spiced watery mix. Mid palate washes and rinses with a bit of spiced wood while much of the Belgian sweetness disappears. The dark fruits are nowhere to be found on the palate either surprisingly, and there is an almost chalky aftertaste that comes from the finish. Extremely flattened body. Some fruit cherry like character manages to peak out with a hint of caramel but it's extremely wet and watery. Where is the rum character on this anyway?
Overall this is drinkable but has really become flat and quite lifeless on the palate unfortunately, with no hint of its rum aging origins it seems.
★
1,274 characters
4.24
/5
rDev
+8.7%
look: 4.25 | smell: 4.5 | taste: 4.25 | feel: 3.5 | overall: 4.25
A: This poured an opaque mahogany with a little tan head.
S: It smelled like oak and sweet caramel and leather, with some spicy Belgian yeast and a little raisin.
T: It tasted like earthy pumpernickel and sweet raisin, with some oak and leather and a little spicy Belgian yeast. It had a clean earthy bittersweet aftertaste.
M: It was watery with fine natural carbonation. Nice smooth body.
D: This was a nice dubbel, and the rum accented the scent and taste perfectly. Wish it came out more in the taste. The body was a bit weak, but the finish was really smooth, so it was easy to drink. Age may help, but it's already well integrated and mellow. Solid brew.
★
660 characters

3.46
/5
rDev
-11.3%
look: 3.75 | smell: 3.25 | taste: 3.5 | feel: 3.5 | overall: 3.5
Poured from a 750ml capped brown bottle into a clear glass tulip. Handwritten bottle number on label from 2014. Purchased at Wine Warehouse (Charlottesville, VA).
A: Burnished mahogany with short cap of light beige, tightly bubbled head with low retention but a bit of lacing does stick. This beer definitely has legs simlar to spirits or wine.
S: Aroma is dominated by the rum and oaky barrel sourness with some dark fruity esters thrown in. The maltiness is slightly caramelly with some vinous malty qualities.
T: Flavor is also a little overwhelmed by the booziness and rum overtones although the dark,vinous malt notes standout more than in the aroma. There are some figgy, raisiny flavors that come through too with warming. Much more of the oaky sour-ish character comes through with warming as well. Bitterness is low. I would say this beer is a poor but better fit for BSDA. It is certainly not typical for a dubbel with all of the heft and booziness. Interesting idea but this incarnation doesn't fail but is pretty rough around the edges.
M: Medium-full mouthfeel with low carbonation and long finish.
O: An interesting idea but I think it might work better with a more substantial base beer. NOt at all to dubbel style despite the name, more of a BSDA in my opinion, but kind of in between dubbel and a good BSDA.
★
1,329 characters
4.5
/5
rDev
+15.4%
Purchased in VA. This was a well-made beer and true to type although the EtOH was a bit high for the style. Rum barrel-aging was nice and did not overpower the overall quality of the beer.
★
188 characters
3.83
/5
rDev
-1.8%
look: 4.25 | smell: 3.75 | taste: 3.75 | feel: 3.75 | overall: 4
Poured from a brown 25.4 oz. bottle. Has a pretty mahogany color with a 1/2 inch head. Smell is of rum, yeast. Taste has a bit of rum to it, but less pronounced than the smell. there are some dark fruits, malts, smooth and easy drinking for such a high abv. Feels medium bodied in the mouth and overall is a quality and enjoyable beer.
★
335 characters

3.74
/5
rDev
-4.1%
look: 4 | smell: 3.75 | taste: 3.75 | feel: 3.5 | overall: 3.75
Bottle re-review 3/25:
A: pours auburn brown with nice fluffy head. (Original review, highly questionable: pours a nice translucent golden amber, with medium size head on edges, minimal lacing).
S: you get the rum barrel in the nose, but it's not overpowering. There is a hint of white raisin, currant, or apricot, something just a bit tart (edit: less tart, more raisin and dark fruit notes, also some banana notes)
T: light brown sugar, raisin - actually reminds me a bit in overall taste as raisin bran. I think that also speaks to the bready grain flavors and their dark nature.
Original: especially given the ABV, I might think this a barley wine versus a dubbel. Dark fruit, tart in nature (like the nose). Quite smooth and almost fortified wine in nature. The rum-like taste I noted early mellowed later on the taste. I emphasize "dubbel"-checking the ABV when you order, and maybe even be thinking barley wine. It's hard to rate in the category b/c I am not overly versed in either.
O: my original review must've been an off or old batch, or they've improved this over time. This pour actually doesn't have much rum to it, but there's a light woodiness. A fine beer in a style I'm learning more about.
★
1,215 characters
Rum Barrel Belgian Dubbel from Brothers Craft Brewing
3.9
out of
5
based on
61
ratings.