J. Barleycorn's Wine & Spirits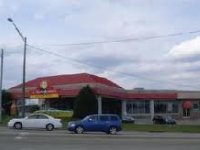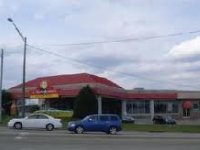 PLACE INFO
Type:
Homebrew, Beer-to-go
5000 Harding Pl
Nashville
,
Tennessee
, 37211-4159
United States
(615) 837-8500
// CLOSED //
Notes:
Growler fills on the low ABV side.
Added by BeerAdvocate
PLACE STATS
Reviews:

14

Ratings:

pDev:

10.11%
HISTOGRAM
View: Place Reviews
Ratings: 14 | Reviews: 14
Reviews by Bonhoeffer:
4
/5
rDev
+6.4%
Nice place, worth the effort to stop by. As noted in most reviews of Tennessee beer stores, the high ABV stuff is on the liquor/wine side. It's actually in the far corner on your right as you walk into the liquor side. I had to ask since it's such a small area compared with the rest of the store, but apparently that's standard for Nashville; perhaps all of TN.
Anyway, the usual Belgian representatives were present, along with Stone Arrogant Bastard and IPA, Celebrator Dopplebock, limited Dogfish Head, etc. I actually picked up the last six pack of Dogfish Head Indian Brown Ale, which is simply an incredible beer.
I also hit the regular beer side, which featured a copious amount of Rogue bombers as well as stuff from Young's, Black Sheep, and others. Not a massive selection, but some pretty good quality stuff.
Everything was well packed in empty liquor or wine cardboard boxes.
897 characters
More User Reviews:

4.44
/5
rDev
+18.1%
vibe: 4 | quality: 4.5 | service: 4.5 | selection: 4.5
This place is right down the road from the school that I attend, so I am a frequent visitor. The selection is pretty decent, nice selection of Schlafly, Ola Dubh, Stone, Terrapin, the usual brews that we get here . Prices are pretty damn decent, and the guys there are helpful. They also have some bombers and a assortment of other beers in the coolers over to the side of the registers. They tend to get special releases a week after Midtown does.
**** Overall this place is a must stop if you are passing by this area.
520 characters

3.73
/5
rDev
-0.8%
vibe: 4 | quality: 4 | service: 3 | selection: 4
J. Barleycorn's is one of my regular stops for beer. They have both a high and low alcohol store as many shops in TN, with wine and liquor sharing shelf space on the high gravity side.
Quality is good for the most part. I like that they have started marking beers down that are either out of date or out of their season.
Service is usually good. On several occasions I've had lengthy discussions with staff about beer, on both sides of the store. They seem to know their stuff.
Selection is pretty good. There is more to choose from on the low gravity side for sure. They also just started having growler fills from 4 taps, which I've used a couple of times.
Updated 01-29-11
The last few times I've called to ask what they had on tap for growler fills, they've been pretty rude so I've updated the score for service.
822 characters
4
/5
rDev
+6.4%
Located not far from the Nashville airport down Donaldson Drive to Harding Place.
+6 side has a strong corner of beer in the back right of the store. Also one cooler door on the far left of the store.
Very nice selection for Nashville. Mostly micros with a smattering of imports. Boulevard was the featured beer.
Service was way above average. Willing to talk and aware of their stock, including dates of most of the bottles.
-6 side was a little less friendly. Great selection, though, with 80 or so sixers and roughly the same number of bombers. Mix a six rack near the register. Point and O'Fallon's were two new finds in this part of the country.
Well worth a stop, especially if you can swing south out of the airport.
729 characters
4
/5
rDev
+6.4%
I usually fly into Nashville since it is cheaper than flying into Huntsville to get home. I pass this place often and never stopped until my last visit home back in June. Located on Harding Place which is one of the backways to the airport, it sits just off the road and with the sig you really cant miss it. Walking in I will say i was much surprised at the size of the store and the selection overall. I knew I probably would not see this selection in Huntsville so I took advantage. I ended up with DFH India Brown, Yazoo Pale Ale and Terrapin stuff. Prices were reasonable, staff was nice and its great beer stop on the way home or after a long flight. Other stuff I notcied was Victory, SN, Stone and so on.
712 characters
3.55
/5
rDev
-5.6%
Happened to be out on the east side of town so I figured I would drop in the last big beer store in town that I had yet to visit. Very easy to find right off of I-24. First dropped in the beer side and while it was rather small, they had a nice selection. Probably the best under 6% store I have found in Nashville (the best would be International Beer Market out in Gallatin). Big selections of Rogue, Terrapin, Sam Adams, Sierra Nevada, Sweetwater, BBC, Yazoo, etc. The crafts/micros/imports easily outnumbered the BMC stuff which is almost inheard of in Tennessee. Went next door to the over 6% part of the store and it is much much larger. Too bad it is almost all wine and liquor. Beers were stuck on a few shelves back in the corner, right by the window. Rather hit or miss on their selection and they certianly didnt have anything you cant find at almost every other store in town. Kind of a let down after how good the <6% side was. All the beers looked to be fresh if need be and I picked up a 4-pack of Terrapin Rye Squared.
A decent store if you are out close to the airport, but Frugal, Midtown, Mr WHiskers, Grand Cru, and Maryland Farms are all better choices for the beer geek in my opinion.
1,210 characters

3
/5
rDev
-20.2%
You can find everything they offer here plus lots of other things at either Frugal MacDoogals or Midtown.
This isn't a bad place or anything. Just nothing great or rare here.
Most of the Stone offerings, a few Belgians (Chimay) some Sierra Nevada stuff but nothing that can't be found at other stores.
A little disappointing. I was looking for some Terrapin stuff but didn't have any luck here.
If I was in the area, it might be worth a stop but it is worth the drive downtown to check out your other options.
514 characters
4.15
/5
rDev
+10.4%
This place is directly on Harding Place as you head towards BNA from Rte 24. Doing this allows you to miss the suckass traffic on Rte 40 just about any day and time. I've passed this at least a half dozen times. I guess I'm usually anally fixated on getting to the airport or just gazing around. Hard to miss, since it is Redskins maroon and yellow, with a Cruzan rum boat and a faux distillery on the front lawn. Ample parking for around two dozen or so.
Quality: Everything was fresh. Checked a few dates, and they had some limited edition summer 2005 brews up, including the Stone Imperial.
Service: Very friendly folks on both sides. Plus, they appeared to know what they were talking about. Got a lot of nods and smiles of approval after my cache of Stone and Left Hand brews (they aren't available in MD). They then told me that they were amazed at how people were paying crazy money for rare brews on ebay.
Selection: The low test side, like just about any place I've been to in Nashville, is slightly better than average with one or two selections from the various breweries that are available. A good selection of Germans (including the upcoming seasonals), loads of singles from the UK, and a good collection of local and regional microbrews. Your Yazoo, Blackstone, Stone, Rogue, Bar Harbor, and Left Hand were abound.
Overall, worthwhile to pick up brews you can't get at home. The friendly staff and closeness to the airport give you reason not to worry about travelling downtown. Two quality bombers set me back $11 and some change.
1,559 characters
3.15
/5
rDev
-16.2%
This is another Nashville shop that is slightly off from downtown, so I had to drive a bit to get here. I was looking forward to some good brews here. Very cool outside decorations.
Again, separate entrances for beer and wine/liquor/craft beer. I wandered around for some time before finding the beer selection area in the far back right of the store. It was a fairly small area with not many beers. I was unimpressed with their selection and their prices. Too high on the prices. I did find a four pack of Dogfish Head Au Courant, but that was all they had. The staff knew very little about their beers. In the regular beer area they had some nice micro brews such as Rogue and Stone. Nothing wonderful, but there are some ok beers here.
742 characters
4
/5
rDev
+6.4%
For a city the size of Nashville, it has a relatively small number of places offering a diversity of beer. Barleycorn's is one of top three or four in town I've come across so far. The typical liquor store/beer store physical separation. The high-gravity beer selection on the liquor side is fairly good, some nice Belgian representatives, along with Rogue and Dogfish Head. On the beer side, your basic semi-macro offerings from RedHook and the like, along with Pyramid, several Dogfish Head, Rogue and Stone. Some lesser seen European offerings from Russian republics were available. So far, Barleycorns', Frugal McDougal's and Midtown are the prime places to check out.
The salesclerk was very attentive to carefully packing the goods.
741 characters
3.85
/5
rDev
+2.4%
J. Barleycorn's a large, spacious place. Very clean and well lit. As was stated earlier, there are two separate entrances: one for the beer and one for liquor. The beer side offers a good amount of variety, though where J. Barleycorn's shines -- at least, relative to the rest of the Nashville market -- is in the high gravity beer area.
The high gravity beers are located on the liquor side. The options there are relatively varied. Chimay, Stone, Dogfish Head, and Rogue make up the backbone of the selection and there are always at least a few Aventinus and Celebrator around. I've seen many other beers that seem to rotate like Abbaye des Rocs, La Chouffe, Corsendonk, Delirium Tremens and Nocturnum, and the most popular Unibroue offerings.
The staff isn't overly knowledgeable about beer, but they are quick to offer service and they pack the precious payload well in boxes.
Overall, J. Barleycorn's is a solid place to find good beer and the stock varies enough to make repeat visits interesting.
1,012 characters

3.5
/5
rDev
-6.9%
J. Barleycorn's gets a 4 for selection mainly because it had the largest higher alcohol selection I found in Nashville. It is laid out like all the other stores with high alcohol beer in the liquor store and lower alcohol beer in a beer store. They had some older bottles of Samichlaus, but had new cases of Bigfoot and Celebration Ale.
On the beer side the aisles are laid out by country of origin. It is a nice touch. They did have a few beers that were not seen elsewhere in Nashville. The casier was nice, but not particularly helpful. The quality was slightly above average, but many of the bottles were showing dust.
J. Barleycorn's also sells a few homebrewing supplies and cigars.
694 characters
3.55
/5
rDev
-5.6%
I searched this place out because I was sick and tired of all the swill that groceries and supermarkets have, and in comparison this is an impressive place. Due to TN law, the store is divided into the liquor and wine half and the beer half. Since beers 6.9% ABV are in the liquor half, that's where I spent most of my time, and found quite a few of the good ones well represented. There was also a nice showing of international beers.
My biggest gripe about this store - and I'm sure it's every store in the area - is the lack of selection of local / regional beers. They had the Market Street / Bohannan choices, but nothing else from TN and nothing at all from KY, AL, MS, or AR, all neigboring states. (OK, so maybe AR and MS don't brew beer, but I was only 39 miles from KY!!) Bummer...
In addition, service wasn't overly impressive - the two people I spoke with were eager and helpful, but not terribly knowledgable. But they did try...
Overall, if you're looking for beer in the Nashville area - the land of macro beer lovers - I wouldn't waste your time anywhere else.
1,085 characters
3.65
/5
rDev
-2.9%
This is a relative newcomer on the Nashville liquor/beer store scene, divided between liquor/wine store and beer store with separate entrances (thanks to TN state law!). Both halves of the store have good selections (beers over 5.9% must be sold in the liquor half of the store). Stone, Rogue, Unibroue, Dogfish Head, Traquair House Ale, Duvel, North Coast, SN, Butte Creek, Abita, Sam Smith and many others are well represented including local brews from Bohannon Brewery/Market Street. The homebrew section is disappointing and cost the store a 1/2 point in selection. But for beer (as well as liquor or wine) the selection is one of the best in Nashville.
658 characters
J. Barleycorn's Wine & Spirits in Nashville, TN
Place rating:
3.76
out of
5
with
14
ratings