Vin Lee
| de Garde Brewing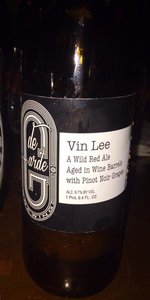 BEER INFO
Brewed by:
de Garde Brewing
Oregon
,
United States
degardebrewing.com
Style:
American Wild Ale
Alcohol by volume (ABV):
9.70%
Availability:
Winter
Notes / Commercial Description:
No notes at this time.
Added by anteater on 02-03-2014
Reviews: 11 | Ratings: 149
4.01
/5
rDev
-0.5%
look: 3.75 | smell: 4 | taste: 4 | feel: 4.25 | overall: 4
Poured and shared with the wife on 3-1-17. Pours a translucent light reddish brown. Some funk and wood on the nose, but mostly acidic in the profile. Ever so slight sweetness on the initial presentation, and there is a real burst of the same acid flavors upon tasting, but not the typical accompanying heartburn feel that I normally get with sours.
351 characters

4
/5
rDev
-0.7%
look: 4 | smell: 4 | taste: 4 | feel: 4 | overall: 4
Purple raspberry color.
Nice grape flavors. Not too grape forward though. Very sour and tart. A little acidic.
Medium bodied. Mouth puckering.
Solid dG beer but not my favorite.
181 characters
4.2
/5
rDev
+4.2%
look: 3.75 | smell: 3.75 | taste: 4.5 | feel: 4.25 | overall: 4.25
My first real beer-wine hybrid!
My bottle is labeled 7.4% abv, so the recipe must have changed substantially from what's pictured above and, I assume, reviewed by most of the folks below.
Garnet colored and slightly cloudy. No head.
Smells like Lambrusco (mi piace lambrusco)
Tart off the bat then follows with a burst of Pinot before the tannins and oak hit hard.
Oh, yeah! This is a beer frontier worth exploring.
Molto buono!
431 characters

1.89
/5
rDev
-53.1%
look: 3 | smell: 1.5 | taste: 2 | feel: 2 | overall: 1.75
Pour is a brownish ruby red with tons of bubbly light brown head. Nose is heavy wood and muddled malt with a chlorine and salt, a bit of grape skin, some acidity, and moderate mineral. Taste is super sweet, dominant fleshy cherry and acetic acid. Sour dark red grape skin, faint wood. Syrupy feel and light carb, heavy.
323 characters
3.92
/5
rDev
-2.7%
look: 3.5 | smell: 4 | taste: 4 | feel: 4 | overall: 3.75
750 mL bottle poured into a snifter.
Appearance - Brown body with some reddish tint. Big off-white head. Thick collar.
Smell - Cherry and grapes. Lots of red wine. Some brown nutty malts. A little bit of acetic notes.
Taste - Same blend of cherry and red wine. Really sour. Oaky. Caramel malts, reminiscent of a Flanders.
Mouthfeel - Really sour, just about too sour. Well carbonated. Medium body.
Overall - Excellent, but a little too sour for me.
463 characters
3.61
/5
rDev
-10.4%
look: 3.5 | smell: 3.75 | taste: 3.5 | feel: 4 | overall: 3.5
Muddy cherry with tan film.
Raspberry balsamic, wood, red berry.
Cherry and wood, lots of sourness, some lemon zest, and maybe a touch of vanilla. Heavy on the acetic acids.
Fizzy, crisp, light.
Bracing, to say the least. ALL vinegar – where's the barrel? A bit much.
276 characters
4.62
/5
rDev
+14.6%
look: 4.25 | smell: 4.75 | taste: 4.75 | feel: 4.25 | overall: 4.5
Bottle opened on 2.9.14
Thanks C!
A - Pours a murky dark brown with a red hue. A gushing, active tan-pink head forms then fades fast.
S - Strong pinot-wine, some oak and tartness comes through.
T - Very tart, oaky, fruity, grape, red wine.
D - Tons of carbonation with a lighter body.
O - Lots of fruit and wine make this tart one work. Awesome beer.
355 characters

4.11
/5
rDev
+2%
look: 4 | smell: 4.25 | taste: 4.5 | feel: 4.5 | overall: 3
750 ml bottle, served into a Hill Farmstead stemmed tulip.
FULL DISCLOSURE: This bottle was stored in a refrigerator for a few hours after receiving before consumption. Upon opening, the bottle literally gushed like a fountain (think Diet Coke & mentos experiment). I lost about 2/3 of the bottle to my table and floor. For this, I will reflect the "Overall" section accordingly. It sucks because this beer is really good.
A: Dark red body with a foamy, fluffy white/off-white head sitting atop. Minor lacing.
S: Red grapes, oak, dry red wine tannins, funk and some slight lactic notes.
T: Plenty of funk and tartness up front. Juicy red grapes, oak with hints of vanilla.
M: For as carbonated as the bottle was, the mouth feel is spot-on. Soft carbonation that leaves a mild dryness on the palate. Complementary to the flavors and style.
It's a shame my bottle gushed almost to the point of no return because all-in-all this beer is wonderful. Recommendation: leave sit in a refrigerator for at least 48 hours before opening. Next time, I'll follow my own advice. I was just too eager to taste my first De Garde.
1,119 characters
4.37
/5
rDev
+8.4%
look: 3.75 | smell: 4.25 | taste: 4.5 | feel: 4.25 | overall: 4.5
Thank you, Brian.
I dreamed last night of drinking a clear de Garde beer. When I pulled this out of the cellar (carefully!) Tonight, I noticed a clear beer, and my palms turned sweaty in anticipation. Then, as I (carefully!) proceeded to open the bottle, my hopes were cruelly dashed. Churning like my stomach would on a crossing of the Drake Passage, this is rather messy. But not to fear! an hour later, this has quietened considerably, resulting in a hazy, murky reddish brown beer with no head.
The nose is great. Lemony sourness, a pronounced grape note with earth, must, musk, tannins and a little mineral, this is one helluva beer. A touch of sulfur is present, amplifying the musk. The base beer with its dusty notes is great too. The palate opens with a clean, lemony sourness, bright and clear. This is followed by a pretty incredibly vinous palate. Musky Pinot Noir grapes moderately fruity and floral palate, earthy, mildly minerally, are present. What, to me, is most surprising is the refinement on the palate. De Garde's beers have always come across as delicious but messy. This one is delicious and clean with pretty good focus. The sourness is clean and the funk complements the beer rather than being a scattershot blend of all things funky. Drying and lemony on the finish with a moderate grape skin tannin, this need is medium light in body and highly carbonated. Allowing the carbonation to dissipate does improve the palate. A particularly impressive effort.
1,487 characters

4.07
/5
rDev
+1%
look: 3.5 | smell: 4 | taste: 4.25 | feel: 4 | overall: 4
Reviewing Vin Lee from De Garde Brewing out of Tillamook, Oregon.
Score: 91
2014 vintage bottle served in a stemmed Schramm's snifter and enjoyed on 03/05/14. Review is from iPhone notes
Appearance: From the second the bottle was opened, this beer gushed like none other. Within ten (10) or fifteen (15) seconds, we lost seventy-five percent (75%) or more of the bottle to the carpet. Be forewarned; have a bucket ready when you open yours! Pours a murky brownish-red color with yellowish fade towards the edges. Not much head or retention. Very cloudy/murky in appearance. 3.5/5
Smell: Smells like your run of the mill sour brown ale with a nice grape twist. Lots of vanilla and oak, vinegar, cherry, and red grapes. Some yeast too, and a little funk. A touch vinous. Graham cracker too as it warms up. As the beer warms up, the aroma increasingly approaches a cherry-grape pie quality. Above average integration. A little PDO at first, but not much and it fades out as the beer breathes. 4/5
Taste: Tart cherries and oak, with a little vinegar toward the finish and an underlying grape flavor. A bit dank for a sour. Mildly bitter finish, good tartness. Some graham crack in the finish too. A sugary-tart grape flavor lingers. Nice integration. 4.25/5
Mouthfeel: Light bodied, good carbonation. Tart, dry. Has a nice sweetness to balance the tartness too. 4/5
Overall: Good, but not great. De Garde makes better beers, but this is a solid example of their deep line up. It is basically a well-made flanders-style beer with a heavy grape twist. I would definitely drink this one again if given the chance, but would not go out of my way to acquire it.
Cost: $14 for a 500 ml bottle.
1,691 characters

4.68
/5
rDev
+16.1%
look: 4.5 | smell: 4.5 | taste: 4.75 | feel: 4.75 | overall: 4.75
A: Semi clear reddish brown with a thin white head
S: Funky yeast and pretty intense sour
T: Big juicy cherry and grape flavors, really nice wine barrel and mouth puckering sour
M: Really juicy at first and ends on a slightly dry finish and tingles the tongue
O: Phenomenal wine barrel sour
294 characters
Vin Lee from de Garde Brewing
4.03
out of
5
based on
149
ratings.