The Lily
| de Garde Brewing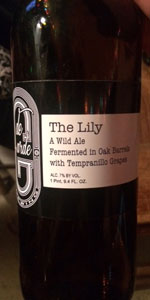 BEER INFO
Brewed by:
de Garde Brewing
Oregon
,
United States
degardebrewing.com
Style:
American Wild Ale
Alcohol by volume (ABV):
7.00%
Availability:
Rotating
Notes / Commercial Description:
One of the oldest barrels from our stock, a lambic influenced sour ale.
We added a hefty harvest of whole cluster Southern Oregon grown Tempranillo grapes from a favorite vineyard. Big rustic and spicy fruit aromas with a bracing acidity, and earthy backdrop.
We expect this beer to evolve positively in the bottle over a long period, but the brightness and fruit character is very enjoyable now!
Added by kscaldef on 02-03-2014
Reviews: 10 | Ratings: 118
4.74
/5
rDev
+5.8%
look: 4.5 | smell: 4.75 | taste: 4.75 | feel: 4.75 | overall: 4.75
Simply one of the best beers ever.
Drank on site early October 2016
L: deep Ruby translucent red to purple like wine except for the persistent pink head
S: killer grape nose, an appealling touch of sweet but well balanced, berries - straw and rasp notes throughout.
T: does 'Yes' count? Berries for days. Wine notes with way less sour than expected, neither a juice bomb just perfectly balanced grapes, berries and light moderate tart
F: dry with only light funk. No lingering tart. Very impressive.
Elegant, a real treat, drinking brilliantly
543 characters

4.25
/5
rDev
-5.1%
look: 4.25 | smell: 4.25 | taste: 4.25 | feel: 4.25 | overall: 4.25
Pours a dark ruby red color with pink colored head. Oak, tempranillo wine notes, some dark fruits, funk, and tartness on the nose; follows onto the palate. Medium bodied. Finishes tart and dry with plenty of fruit.
214 characters

4.81
/5
rDev
+7.4%
look: 4.75 | smell: 5 | taste: 4.75 | feel: 4.75 | overall: 4.75
Finally! Been wanting to try this for so long. Batch 2.
Appearance is beautiful, deep red/purple wine color with a pink head. It looks more like wine due to the clarity.
Nose is unreal. Sweet, rich wine grapes. Hint of funk but these grapes just smell incredible.
Taste isn't as intense as the nose, but more balanced. Grapes, some funk and a nice, subtle lemon quality towards the finish.
Feel is no where near as acidic as I expected, and I love it. Really just a moderate tartness to me. Slightly lighter side of medium and effervescent.
This is a fantastic beer and lived up to my expectations. So different from the other de Garde juice bombs, which I absolutely love, but this is much more elegant and refined.
721 characters
4.93
/5
rDev
+10%
look: 4.75 | smell: 4.75 | taste: 5 | feel: 5 | overall: 5
Absolutely phenomenal beer at all levels. Perfect carbonation and mouthfeel. Clean blonde appearance with nice effervescence. The grape is there on the nose like champagne or a moscato. Dry finish. Big juicy sweet grape scent carries into the body with sweetness on the front, some balancing acidity, and crisp finish. Yeast character continues to change the flavors in each drink. Impressive.
400 characters
4.15
/5
rDev
-7.4%
look: 4.25 | smell: 4.25 | taste: 4 | feel: 4.25 | overall: 4.25
Recently sampled during a bottle share in Oregon City.
The beer is attractive enough, with a lovely light reddish rose color. On the nose there's some noticeable light fruit, wine and a hint of lemon and vanilla. On the palate, to no great surprise, the sour component is intense. You pick up the light fruit and wine as well, but the sours in this beer really dominates. The beer is very light on it's feet, and frankly, I was surprised to see that the abv. was as high as 7%.
Shrug. An interesting beer, but the sour component is just too much for me.
560 characters

3.35
/5
rDev
-25.2%
look: 4.5 | smell: 4.5 | taste: 3 | feel: 2 | overall: 3
Reviewing The Lily, an American wild ale fermented in oak barrels with Tempranillo grapes from De Garde Brewing out of Tillamook, Oregon.
Score: 70
2014 vintage bottle served in a stemmed Perennial wine glass and enjoyed on 06/23/14.
Appearance: Pours a translucent dark ruby color with a light purplish tinge with a half finger of cream color head that settles to a thick ring around the glass. Very good lacing and retention. 4.5/5
Smell: Graham crackers, strawberry jam and grape! Light oak and little raspberry too. Underneath the fruit character is a lactic acid backbone that is not too intense, but adds a nice zestiness and boldness to the nose. This beer reminds me of a better Madame Rose. I absolutely love the graham cracker and strawberry here! As it warms up, the nose sadly loses a little bit of its zing and brightness. Nonetheless, it remains pretty appealing. 4.5/5
Taste: Less lacto on taste than the nose, with the lacto character mostly limited to the finish. Strawberry seed jamminess, oak and grape upfront with a little vanilla too. Finishes with an unpleasantly funky rubber band flavor with unfortunate lasting power. The upfront flavor is really nice, but this beer leaves you with a lastingly, unpleasant taste in your mouth. As it warms, the funkiness softens a bit, but at the expense of some tartness and in tandem with an exacerbation of its under-carbonation. Based on the reviews and reputation of this beer, maybe I got an "off" bottle? 3/5
Mouthfeel: Thin-medium bodied, under-carbonated. Dry finish. Lasting funkiness. 2/5
Overall: Excellent smell and a good flavor absolutely marred by a unpleasantly funky finish and under-carbonation. Bottle variation? Maybe. But given the hype I'll stick to their more consistent bottles.
Cost: $15 for a 750 ml bottle.
1,802 characters
3.79
/5
rDev
-15.4%
look: 4 | smell: 3.75 | taste: 3.75 | feel: 4 | overall: 3.75
750 mL bottle poured into a snifter.
Appearance - Deep red, almost purple. Big white head. Thick collar.
Smell - I wouldn't know Tempranillo grapes without Jester King, and this smells just like that, but milder. Yogurty acidic aroma.
Taste - Tart up front. The grape flavor is very distinct again, but not as strong as Cerveza de Tempranillo. Yogurt flavor is strong again. That De Garde herbal/sour flavor builds into the finish.
Mouthfeel - Medium light body. Nice sourness. Well carbonated.
Overall - The fruit flavor is kinda subtle. Doesn't knock my socks off, but it's nice.
595 characters

4.7
/5
rDev
+4.9%
Reviewed from notes. 750ml shared by a special someone - thanks.
A: Pours a hazy rouge with a thin white head which fades to the rim a leaves spotty lace.
N: Brightly floral, explosive fruits and vinous sweetness.
T: Sharply sour, red grape skins, earthy, funk.
M: Moderate body and medium carbonation. Dry and prickly finish.
O: Stunningly good. Should mature well.
374 characters

5
/5
rDev
+11.6%
look: 5 | smell: 5 | taste: 5 | feel: 5 | overall: 5
UPDATE: Opened a bottle at my birthday party on 5/16/15. Still phenomenal in every way. Very berry forward, not particularly vinous as the flavor continues to evoke strawberries and raspberries more than red wine. Funk and tartness was slightly more pronounced than last time, and the mint qualities have subsided somewhat. Perfect way to celebrate my birthday.
~~~~~~~~~~~~~
Bottle shared with the ever generous Abbbp. Poured into a Prairie Teku glass. Proud to be first to review this ridiculous beer.
Appearance: Gorgeous crimson red and hazy, with a barely pink white head. Sizable at first, but fades relatively quickly into a particularly persistent crown.
Smell: OH MY GOD. OH MY GOD. OH MY GOD. A 5 is too low a rating on this count. This is a 5.25. Loads of fruit, mostly strawberries but grapes do provide some sweetness to back it up. An unexpectedly large amount of mint too. As the beer warms up, the mint fades and a prominent wood, like fresh oak, appears in it's place. The fruit tones change from strawberry to raspberry seeds. It's just ridiculous how amazing this is.
Taste: Beautiful. Beautiful Beautiful Beautiful. Not particularly vinous considering the typical track that grapey beers take. Very fruity, with the same strawberry/grape flavors of the nose. Quite sour, and some light funk, but only a sipper because of how much you want to savor the beer. The mint is stronger on the nose than in the taste, but is still there. Some crackery malts provide a gorgeous backbone to play beautifully with the rest of the flavors.
Mouthfeel: A more perfect level of carbonation could not exist for a beer like this. Perfectly prickly and effervescent. Dry too, which is so nice.
Overall: While rating this beer, I was seriously considering rating appearance or mouthfeel at 4.75 just because I didn't want to give the beer a perfect 5. I didn't want this beer to live up to the hype. Hands down one of the best bottles I've ever had the privilege to try, but I really didn't feel like any beer was worthy of a perfect, across the board all-5 review. Then I realized that perfection does exist. Beer can be this good. 5s across the board is not to say this beer is perfect, or the best I've ever had, but every individual part of the beer, from appearance to smell to taste to mouthfeel, was deserving of something higher than 4.75.
I need more of this.
And once again, FIRST!
2,401 characters
4.91
/5
rDev
+9.6%
look: 4.25 | smell: 5 | taste: 5 | feel: 5 | overall: 4.75
Not quite enough head but pretty great otherwise. Not many American beers that looks as colorful clear and tastes so sharp but with great character. Some funk but a lot of fruit and enough acidity.
197 characters
The Lily from de Garde Brewing
4.48
out of
5
based on
118
ratings.