Charlie's Bar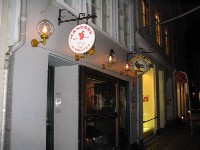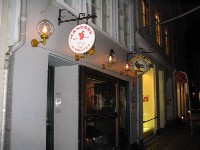 PLACE INFO
Type:
Bar
Pilestræde 33
København
, 1112
Denmark
33 32 22 89 |
map
charlies.dk
Notes:
Offers free WiFi.
Added by BeerAdvocate
Ratings: 9 | Reviews: 8
Reviews by GreenCard:
4.5
/5
rDev
+11.7%
vibe: 4.5 | quality: 4.5 | service: 5 | selection: 4
Fabulous little bar! While I'm in Copenhagen, I'd like to try as many of the bars as are listed in Beerfly. This happened to be the first one. I was only going to have the customary "one beer" tonight, but I ended up staying for four because I actually st arted socializing with the bartenders and the old Danish dude sitting next to me (I don't normally do this, even being the young Danish dude that I am).
Great atmosphere and a great selection of cask-beer. However, since I currently live in England, I hadn't planned on drinking any English beer. Danish beer only! But after the bartender told me that Suffolk Strong Ale (one of my favorite bottled English ales) was on cask for them only... well, I just had to have some. By the time I left I had three fantastic Danish microbrews and a great cask ale from England. All of them in prime condition and served in the appropriate glasses.
The pub/bar is quite small, but the atmospher is great. Just one of those times when it just "feels right". I'll definitely head back there at least once before I leave CPH.
1,073 characters
More User Reviews:

3.78
/5
rDev
-6.2%
vibe: 3.5 | quality: 3.5 | service: 4 | selection: 4
10 taps, 6 hand pumps and 3 nitrous. Seems like a great combo to me!
Charlie's is a nice little pub in the heart of Copenhagen. Not much room to move around but I think that contributed to the overall atmosphere.
Only bar snacks to eat so you might want to fill up before you sit down for a session.
Helpful and knowledgeable staff, with a constantly rotating beer menu make for a must stop if you find yourself in this friendly city.
I had a Dublin Porter and an Admiral's Ale from St. Austell on a recent trip and can't wait to return!
541 characters
3.58
/5
rDev
-11.2%
vibe: 4.5 | quality: 2.5 | service: 4 | selection: 4
A very English pub, placed in the centre of Copenhagen. The premises is small long and narrow with a bar in the centre.
Apart from the 4 cask ales (served in excellent condition) there are some German, Danish and American kegged beers. I don't think I noticed any bottled beers at all. All beer are served at correct temperature in the proper glassware.
No food. In fact, a sign on the wall invites the guests to bring their own food!
The atmosphere is very friendly, the place easily gets very crowded and a bit loud.
And now for the negative part of the review and the reason for the low "quality" rating: The odour. The toilets, located at the back of the room, got doors that are open when they are not occupied, making the damp and crowded pub smell like an airplane lavatory.
But if I ignore that smell, this is a cosy and very inviting pub with an small but excellent selection of beers on cask and keg.
917 characters

4.5
/5
rDev
+11.7%
vibe: 4.5 | quality: 4.5 | service: 5 | selection: 4
Stopped by here with my wife during a visit to Copenhagen. This is a traditional British Pub, owned and operated by Englishmen.
We stopped by on a weekday afternoon as they were opening. We were the only ones there until the end of our visit when some locals showed up for a few pints.
The atmosphere of this place was really cool. It's located of of the main shopping strip in Copenhagen. When you walk in it is pretty dark even during the day time with the bar straig ahead and a seating area to the left. In this seating area there is a tap list, 75% of which is real/cask ale. They had a good selection of British Ales, milds, lagers, bitters and stouts. I asked the bartender to see their bottle list and he replied in a cockney accent, "Bottles are for drinking at home" which is one of the coolest things a bartender ever said to me. In the back of the establisjment there are two large windows that you can look through to see the casks and lines.
As mentioned the bartender was quite colorful but also very friendly and knowledgeable. I told him that my wife and I would be going to London in the next few days and could he give me any recommendations. Well he spent the next 20-30 minutes telling me about cool pubs and actually wrote down a list for me with addresses! This was very handy and extremely accurate. Because of his list I was able to visit some of the coolest pubs in London, including Wenlock Arms which is the coolest drinking establishment I've ever been in.
I didn't eat there and don't know if they even offer food but the beer selection as mentioned above was very good. In addition to the nice selection of cask beers they had a few other British beers on tap as well as a few Belgians and Aventinus, which is always nice. I stayed in here so long that we almost missed our transport to London and got into a big fight with my wife. It was worth it though.
I would highly recommend this place to anyone visiting the area, especially if you like real ales.
1,994 characters
4.06
/5
rDev
+0.7%
vibe: 4.5 | quality: 4 | service: 4 | selection: 4
(From notes)
Visited on a Friday night, and the place was pretty full of people, but had a pretty good vibe and welcoming environment. More along the lines of a British style pub, and seems to cater to an expat and British beer enthusiast crowd in terms of the selection. Definitely cozy when crowded, and shared a table with some folks, which was chill.
Had four casks at the time of visit, and several other taps. Mostly British brews, and a couple of other nicer imports (Aventinus for example). Truer pub feel with a nice din of lively conversation, but no music or raucous levels.
Not really a focus on Danish micros, just a few on hand.
Service was pretty prompt given how crowded it was, and the brews were handled really well. Definitely worth a visit if you are looking for English cask brews.
808 characters
4.03
/5
rDev 0%
vibe: 4 | quality: 4.5 | service: 3.5 | selection: 4
This pub is a piece of England smack in the middle of Copenhagen. Close to the shopping district this is the perfect place for a good pint after a day of shopping, or anytime for that matter.
The pub is quite small and narrow, so it quickly fills up with people during the day. Most of the guests are quite friendly though, so generally it's not a problem to share a table with some strangers. You might even get a nice conversation out of it.
The bar has around 15 different taps, most of them with different Danish, German, and Belgian beers. The real reason you come here though is for the up to 6 different cask ales that are offered here. Generally the cask ales are from different British breweries, but there have been exceptions with casks from Nøgne Ø for example.
In addition to the beer there are generally a couple of ciders offered here as well, including one or two real ciders.
All in all it's a good place to visit if you're in Copenhagen and like cask ales.
980 characters
4.14
/5
rDev
+2.7%
vibe: 4 | quality: 4 | service: 4 | selection: 4.5
Four or five steps down from the pavement takes you into what looks like an old English pub.
Crammed full of beery stuff and six different cask conditioned British Ales to choose from. There was also a selection of Danish beers on tap, which I had (I can get cask ales any old day at home).
It was the Saturday evening during the 1st European Beer Festival and the place was heaving with people, we had to wait for a seat. We were soon joined by a bunch of locals who engaged us in conversation on beer and life in general. They were all Real Ale fans.
The barman was British, as were some of the customers.
Good quality beers and good company, what more do you need?
671 characters
3.93
/5
rDev
-2.5%
vibe: 4.5 | quality: 4 | service: 3.5 | selection: 4
Great little pub on a narrow side street near the center of the city. Cozy place that is perfect to pop into for a pint while exploring Copenhagen. Or to dry off a bit and warm up as was the case when I was there.
Narrow place that goes back a ways. There are tables and chairs on either side of a small bar. Had 5 or 6 nice British cask ales along with a couple of other, mostly British, beers on tap. The bartender did good job serving the pints correctly. Prices for the beers were about average for the city.
515 characters
Charlie's Bar in København, Denmark
Place rating:
0
out of
100
with
9
ratings