Dunkel
| Gunpowder Falls Brewing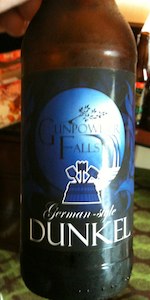 BEER INFO
Brewed by:
Gunpowder Falls Brewing
Pennsylvania
,
United States
gunpowderfallsbrewing.com
Style:
Munich Dunkel Lager
Alcohol by volume (ABV):
5.00%
Availability:
Year-round
Notes / Commercial Description:
Our Dunkel or dark lager is brewed in the traditional Bavarian style. With its pronounced, warm Aroma, malty taste and a finish reminiscent of fine coffee, this beer will please the senses – even for the most generic beer drinker. Don't let the color fool you. This is not a strong or "heavy" beer. The Gunpowder Falls Dunkel is brewed with five different malt types and is lightly hopped.
Added by Tucquan on 05-19-2013
Reviews: 7 | Ratings: 28
3.76
/5
rDev
+10.6%
look: 3.75 | smell: 3.25 | taste: 4 | feel: 4 | overall: 3.75
Had this on 2013-05-10 in New Freedom, PA at the brewery.
A - Mahogany with a 1-finger tan head that fades quickly and leaves mild lacing.
S - Sweet, lightly toasted dark bread and a hint of coffee. Not very strong at all.
T - Caramel, mocha-coffee, dark bread. On the sweet side but there's enough balancing roast and mild hop bitterness that it isn't at all cloying. I quite like the flavor, which does linger.
M - Light-medium body and medium-high carbonation. I really like the feel of this beer.
O - Nice flavor and feel. Easy to drink but not at all boring. Not many folks around here specializing in lagers. I bought a six pack to go and shared it with family members, who also enjoyed it.
715 characters
3.68
/5
rDev
+8.2%
look: 4.25 | smell: 3.75 | taste: 3.5 | feel: 4.25 | overall: 3.5
This is not really a style I seek out, but I have been wanting to try this one for some time now, so I am going to try to keep an open mind and judge to style.
Just like the pils, spectacular clarity. Nose is thick with malty sweetness. Flavor bring a good bit of the same. Toffee seems to hit on the backend. What seems like a mildly overbearing sweet edge smooths out and the more richer aspects of the character show just a wee bit more than at the start. Not too shabby. I'd still throw in just a touch more hops to balance the sweetness. But not too bad overall. I think I prefer the pilsner between the two beers I've had from them.
640 characters

3.51
/5
rDev
+3.2%
look: 4 | smell: 3.5 | taste: 3.5 | feel: 3.25 | overall: 3.5
I was sitting at The Fridge the other afternoon, following another appointment nearby, when a rep from Gunpowder Falls walks in and drops off sample bottles of this and their Pilsner. I have been asked to review them & report back. I always try to be honest & unbiased in my reviews & in fact, my scores tend to be higher than the average. It is when I am under the average that there may be cause for concern. After all, I characterize myself as "The Will Rodgers of Beer" in that I have never met a beer that I didn't like, including Minhas, which provides me with inspiration for some of CaveDave's favorite reviews.
Nothing of note to report from the bottle's label. The color scheme of black, midnight blue & white is dark (dunkel), all right, and there is a CAnnon pictured along the right side.
A Pop! of the cap & I was off & running! An aggro pour raised a finger of fizzy, light-tan head that quickly fell to wisps. Color was Brown to Dark Brown (SRM = > 22, < 27) with button brightness. Nose was sweet with a chocolate maltiness and a slightly earthy character, perhaps from the malt, perhaps from the hops. Mouthfeel was medium. The taste was not as sweet as the nose had led me to expect. In fact, it was more earthy than sweet with a light smokiness. I was reminded in some way of maple syrup, just not quite as sweet. Warming, it began to take on a breadiness that put me in mind of B&M Brown Bread. Finish was semi-sweet with just enough bitterness to keep it from being outright sweet. It was a decent example of the style, but it could have used more carbonation for a bigger body.
1,602 characters
3.38
/5
rDev
-0.6%
look: 2.75 | smell: 3.5 | taste: 3.5 | feel: 3.25 | overall: 3.25
Clear amber in color with a quickly disipating head. Essentially no lacing. A light malty caramel aroma. Light carbonation, nearly a flat feel. Flavors are not overpowering, some roast, some caramel. Decent enough for the style.
233 characters
2.55
/5
rDev
-25%
look: 4.5 | smell: 4.5 | taste: 1 | feel: 4 | overall: 2
I really like dunkels so I was excited to try this beer.
L: nice dark brown, nice cream head that lasts.
S: smells nice malty caramel slight hops
T: this really surprised me. Wow it didn't taste like it smelled. It was fruity and sour which was very over powering. It was not a pleasant taste. It was not like a normal dunkel I get from Germany. I barely tasted any malty caramel coffee notes.
The 6pack I got might have been bad because this does not taste right, even though it smelled and looked good.
507 characters
1.43
/5
rDev
-57.9%
look: 4.5 | smell: 1.5 | taste: 1 | feel: 1.5 | overall: 1.25
If somebody calls this a dunkel, then that somebody has no idea what a dunkel is. This beer, I am sure had some pedio or bret infection. It was sauer, smelled funny and had no dunkel like feel. The brewery should check and re-check their lines, fementers, etc.
260 characters
1
/5
rDev
-70.6%
look: 1 | smell: 1 | taste: 1 | feel: 1 | overall: 1
Stay away!
I consider myself a craft beer enthusiast, but never felt compelled to make a BA account for myself until I had this beer... It was so bad I felt I had to warn others/communicate to the brewery that they need to work on quality control!
It was absolutely foul! As others have said in their reviews, this beer tastes nothing like a German Dunkel. It's salty/sour/vinegary (and not in a good way like with a Gose style). My dad said his bottle tasted fine, but when he tried mine agreed he'd rather drink malt liquor. Had to pour it out (a sin in my book).
...man this beer was terrible. There must be a problem at the facility because I can't imagine someone would willingly bottle and sell what I drank.
I drank from the bottle so can't speak to color or head. Smell wasn't very appealing either and the body was medium light.
839 characters
Dunkel from Gunpowder Falls Brewing
3.4
out of
5
based on
28
ratings.