Patrick McGovern's Pub & Restaurant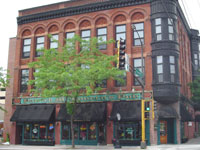 PLACE INFO
Type:
Bar, Eatery
225 7th St W
Saint Paul
,
Minnesota
, 55102-2522
United States
(651) 224-5821 |
map
patmcgoverns.com
Notes:
No notes at this time.
Added by ADR
Reviews: 6 | Ratings: 9
3.33
/5
rDev
-5.9%
vibe: 3.25 | quality: 3.25 | service: 4 | selection: 3 | food: 2.75
This is where people go after the Xcel Energy Center and after an event there it can get crowded and they do use plastic cups which matches the overall ambiance. A BA member can probably find something drinkable among their 15 or so tap handles. Due to the name of the bar, this place can also get pretty crazy on St. Patrick's day. There is an enormous selection of food but you are here because it is crowded and it is after some event and you are with friends. You are not here to eat.
488 characters
3.31
/5
rDev
-6.5%
vibe: 3.5 | quality: 2.5 | service: 4 | selection: 3.5
Been here a couple of times with the most recent being before a Wild game. Needless to say, the place was packed. Still, service was pretty good. Because of the number of people, I had to drink my Summit Winter Ale out of a plastic cup. To be expected I guess, but I've been here after a Wild game when it wasn't very busy and had Guinness served in a plastic cup again. Over 15 beers on tap. It's an Irish bar and have Guinness, Smithwicks, Harp, etc. on tap. Also, they have a couple of Summit's, Finnegans and some Leinie's on tap also. Some macros as well. Haven't eaten here before. Loud music typically played upstairs on weekend nights which isn't really my thing. Old classic bar atmosphere and only a block away form the Xcel Energy Center.
749 characters
3.3
/5
rDev
-6.8%
vibe: 4 | quality: 3.5 | service: 3 | selection: 3 | food: 3.5
Finally made it to this place after years of skipping in support of going to Cosettas (right across the street). Honestly if your looking for food goto Cosettas. The food was good and I enjoyed all the different menu items I had. However, teh beer list did not stack up that well. This place had some good Irish and local offerings. The waitstaff seemed to view all beer as the same and the glassware they serve beer in proves this. I do not want to knock this place to bad though. Its a nice place to grab a bite of food and a beer before a Wild Hockey game.
559 characters
3.8
/5
rDev
+7.3%
vibe: 4 | quality: 4 | service: 4 | selection: 3 | food: 4.5
I stopped by while in town on business. First thing to note is that this is definitely not an Irish Pub, regardless of what the name and exterior may lead you to believe. That's not a pro or con, just an FYI. Food is quite good. I had a burger that was very good, and everything else that went by me looked very good, as well. Just your average selection of Summit and macros, though there may have been others on tap that I did not see. Bottles appeared to be the macros and not much else.
Service was very good. My glass never hit bottom without a replacement in hand and when my bleu burger came with the unexpected (and unwanted) gift of bleu cheese dressing, I had a new one (minus dressing) in a matter of a couple of minutes, so no complaints from me.
Good place for a nice laid-back evening and a good meal, but don't expect anything spectacular in the way of beer.
879 characters

4.1
/5
rDev
+15.8%
vibe: 4 | quality: 4 | service: 4.5 | selection: 3.5 | food: 5
I use to frequent this place alot but with the Xcel Energy center having hockey games and concerts its hard to find a decent day to get in without it being busy and ruining the experience. The selection of beers is O.K., but I've always felt they should add a few more local seasonal brews that aren't Summit and some more from the UK & Ireland. For a Irish pub it has the usual Guiness, Harp, Bass, and the like. They also will pour you a black & tan or many other split stout styles. I always liked the waitresses, I knew most of them by name, Melissa, Karen, Elaine, Kelly, and Megan. Every now and then during slow times they would sit with me and my wife and shoot the breeze with us. Share in stories and chow on free popcorn. Once or twice a year they'd let us stay after closing and have a pint with them as they counted tips and played cards.
And my God the food is awesome! I could eat the hot turkey sandwich any Ol' time. I also like the Thursday night Blackened Porkchops with Augratin taters. Great meat and potatoes type of place. Always great food, but try to get there early on weekends and avoid the yuppy trend of drinking macro beers from a plastic cup, which they do now during events at Xcel.
1,215 characters

3.55
/5
rDev
+0.3%
vibe: 3.5 | quality: 3.5 | service: 3.5 | selection: 3.5 | food: 4
Lots of bottled micros, but here's why this is a beer bar. Not just Summit Pale on tap, but Summit Porter and Winter Ale. Not just Leinenkugel Original, but Leinie's Doppelbock and Creamy Dark (not that these are outstanding beers, but...). So, represents local beers for those with tastes for different styles. Also on tap last night (Jan. 2002) were James Page Amber Lager (while it lasts), Anchor Steam, Caffrey's, Guinness, Harp, Pilsner Urquel, Foster's, and Sammy's Winter. Rounding out the taps were all your macros in their light and "Lite" versions. At least 19 on tap at a time. Located in a four story turn-of-the-century building close to the hockey arena. Woody and cozy but old and dirty wood, suggesting history. Popular (too popular) with many age groups, the service can be spotty when this place is busy (which it often is). Food is "pub-ish", with giant portions in many dishes. When this place is not crowded, people still want to go -- making it an excellent place to try to "convert" buddies who are macro drinkers. This place has a fond spot in my heart because co-founder and namesake Jamie McGovern (later owner of the now extinct Shannon Kelly's Brewpub, my favorite spot since moving to Minnesota) turned its reputation around.
1,254 characters
Patrick McGovern's Pub & Restaurant in Saint Paul, MN
3.54
out of
5
based on
9
ratings.