Vermont Pilsner
| Lost Nation Brewing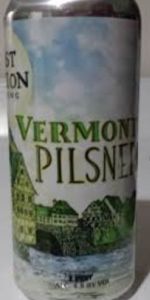 BEER INFO
Brewed by:
Lost Nation Brewing
Vermont
,
United States
lostnationbrewing.com
Style:
German Pilsener
Alcohol by volume (ABV):
4.80%
Availability:
Year-round
Notes / Commercial Description:
No notes at this time.
Added by GermanHero on 07-11-2013
Reviews: 15 | Ratings: 178
4.08
/5
rDev
+7.1%
look: 4.5 | smell: 4 | taste: 4 | feel: 4 | overall: 4.25
a nice and simple beer that is very refreshing, great for summer. nice looking brew- almost clear golden color with a dense white head, decent retention and some spots of lace. notes of slightly sweet bready malts, straw, grassy hops. very clean and crisp, nice brew!
★
267 characters
3.5
/5
rDev
-8.1%
look: 3.5 | smell: 3.5 | taste: 3.5 | feel: 3.5 | overall: 3.5
On tap at Lost Nation - pours pale, clear yellow with thin white head and lacing, aroma and flavor are clean, simple and refreshing - with grain and a light malt flavor. Light bodied.
★
183 characters

3.98
/5
rDev
+4.5%
look: 4.25 | smell: 3.75 | taste: 4 | feel: 4.25 | overall: 4
A- Tallboy into a slim, tall mug with a crystal clear pale golden body and a tall, three-finger white cap. The thick, frothy head displays very good retention and large webs of lace form after each sip.
S- Honey comes out immediately with cracker and pale Pils grains complimented with spicy, herbal and slightly floral hops. Fermentation profile is mostly clean. A touch buttery.
T- The hops seem to gain some ground here presenting themselves up front with herbal, spicy and earthy notes. Light crackers, pale base Pils malts, medium sweetness with honey hints and a slight cereal grain hint.
MF- Extremely smooth consistency to a light-medium body. Texture is fairly chewy even with a substantial creaminess brought on by agitation of high carbonation. Floral bitterness lingers.
Glad this one is so tasty out of the can as I remember it being rather good when I had on it on draft in the past. This might become a semi-regular find in my fridge. Crisp and smooth with a great balance between the floral hops and pale malts.
★
1,031 characters

3.94
/5
rDev
+3.4%
look: 4 | smell: 3.75 | taste: 4 | feel: 4 | overall: 4
Poured from the 16 oz can into a tulip.
Pours a nice medium honey straw with ample head.
Aromas are bready, yeast and a touch peppery.
Flavor is nice and clean with nice bitterness in the finish.
Mouthfeel was solid and quenching.
Overall, while Im not the biggest Pilsner fan, thought this was tasty and well made.
★
315 characters

4.36
/5
rDev
+14.4%
look: 4.25 | smell: 4.5 | taste: 4.25 | feel: 4.25 | overall: 4.5
Pours a bright gold hue with a thin head into my glass. Looks very much like it should.
Buttery, grainy and bitter in the nose.
Very crisp with buttered bread and the right touch of bitterness.
Finishes clean and crisp as well. Flavorful.
It was hard to pin down the hops used in this. It has a different feel to it. I still have yet to see Mosaic IPA up here.
★
367 characters

4.03
/5
rDev
+5.8%
look: 4 | smell: 4 | taste: 4 | feel: 4.25 | overall: 4
Look: Straw color, good clarity (slight chill haze), medium sized head that sticks around.
Smell: Bready, toasty malt with floral (a hint of roses) hops. A hint of that unexplainable 'fresh air' smell that some Czech beers have. Like clothes that have dried on the line on a dry sunny day.
Taste: Malt is a little sweeter than it smells but dry enough for a German pils. Hops blend nicely with the sweeter malt notes. Bitterness could be a little higher.
Feel: Really nice, clean, satisfying. Could be a touch drier but that is splitting hairs.
Overall: Just a really enjoyable beer that is easy on the palate but still very flavorful. Vermont is not just about IPA's!
★
681 characters

3.38
/5
rDev
-11.3%
look: 4 | smell: 3.5 | taste: 3.25 | feel: 3.5 | overall: 3.25
Had at Lost Nation on Saturday, 9/26. Pours a clear straw color with a decent head that sticks around. Smell is mostly sweetness from the cracker malts. Taste is not the best, big sweetness up front followed by a grain note, no hops to speak of but finishes a little bitter and dry. A very average beer that misses the mark for a pilsner. Thankfully the other beers for Lost Nation weren't as disappointing as this.
★
415 characters
4.02
/5
rDev
+5.5%
On tap at Lost Nation Brewing in Morrisville, VT.
Pours a light golden copper color, with a half inch head, and a little bit of lacing.
Smells like grass and straw, with some crackery, biscuity malts.
The taste is similar. The tastes are very subtle, but still complex- there's some grassy spiciness, a bit of sweet lager yeast flavors, some slight honey, and crackery malts. Delicious.
This one is light bodied, with a crisp and clean mouthfeel, and a moderate amount of carbonation.
Another good example of Lost Nation's more understated beers, lots of flavor without bashing you over the head with it.
★
610 characters
4
/5
rDev
+5%
Had on tap at the Reservoir in Waterbury when I was looking for something light to top off a series of VT IPAs. Nice clear deep warm straw color. Crisp and delicious. I don't like the slight skunk aftertaste common in pilsners, but I know others would expect it. Solid; would certainly buy retail at a reasonable price.
★
319 characters

4
/5
rDev
+5%
Had on tap at the brewery today,
A - Golden light pours through a very clean pilsner. A gentle dance of light carbonation bubbles train upward.
S - Floor malts, noble hops right at the start, tinges of lemon, and a hint of tart.
T - A crisp snap of light malt, carbonation is clean and delightful, The hop profile is up for the style.
lightly bitter with again a hint of lemon, no Styrian in this beer.
M - What a delight, the palate is coated gently, a crisp center and clean finish seal the deal.
O - This pils may be a little round to the style, but a wonderful lager and worth seeking out.
Cheers
★
603 characters
3.81
/5
rDev 0%
look: 4 | smell: 4.25 | taste: 3.5 | feel: 4 | overall: 3.75
Interesting... heading up to VT we had to stop for gas, and at the gas station they had a growler filling station. Pretty shady, but what the hell, it's not a road trip without some shenanigans. Glad we did too. Shared with rudzud and Ricky.
Decent smaller but fizzy slight creamy almost 1 finger head, crystal clear golden straw color.
Nose is nice, a nice toasty straw, grassy, little grainy pilsner malt, nice crisp very slightly fruity lager, a nice juicy malt, faint grassy hop.
Taste starts with more grainy malts, straw and toasty pilsner malt, fairly grassy and cracked straw, light juicy malt, and touch grainy bready. mild grassy slight earthy hop with mild to fair bitterness. Mild sulfur note to the lager yeast, little crisp lager. Finish had a bit more sulfur, grassy slight spicy hop, fairly crisp finish.
Mouth is decent, med bod, decent carb.
Overall surprisingly decent. Nice malts, decent hops, just a bit of a sulfur note but otherwise pretty good.
★
974 characters
3.95
/5
rDev
+3.7%
look: 3.75 | smell: 4.25 | taste: 3.75 | feel: 4 | overall: 4
Thanks to JLindros for sharing this after a beer trip. Poured into a dogfish head chalice.
A - Poured a nice crystal clear golden copper hue with a thin half finger head that fades to leave light lacing.
S - Aromas of nice grassy hops, light sweet malts, very crisp and appealing.
T - Taste is very nice, good grassy notes, light sweet malts, light sulfur like notes thanks to the lager yeasts. It's tasty, but not well executed.
M - Mouthfeel is crisp and clean. Solid.
O - Overall I enjoyed this beer, it has its flaws though. Then again, this was bought at a gas station at 9:30 in the morning....hahaha.
★
613 characters
3.67
/5
rDev
-3.7%
look: 3.75 | smell: 3.5 | taste: 3.75 | feel: 3.5 | overall: 3.75
A - Served on tap at Lost Nation. The beer arrived in a nice glass with a fingers worth of light head. Retention was minimal, although there was a little lacing on the glass. The beer is a golden straw color, with a little haze.
S - Bready malt up front. Not a lot of hop characteristics detected.
T - Follows the nose. Seemed overly heavy on the breadiness, although it still tastes good. Could have used some more hops, although there was a hint of German hops.
M - Nothing exceptional. Maybe a little heavier than I would have liked.
O - Nice, comfortable, easy drinking beer from Lost Nation. Certainly worth a try if you're in this corner of Vermont. This might be a nice gateway into some of their more flavorful offerings.
★
733 characters
3.23
/5
rDev
-15.2%
look: 3.5 | smell: 3 | taste: 3.5 | feel: 3 | overall: 3
On tap at Farmhouse Tap. Served in a half pint.
Appearance - Clear yellow body. Small white head. No lacing. A small collar and a few wisps.
Smell - Pilsner malt. Faint sharp hop. Slightly grassy.
Taste - Malty up front. Hops kick in the back with a minimal hoppy bite. Clean, but overly malty in the finish.
Mouthfeel - Could be crisper and sharper in its hop profile. Otherwise good.
Overall - My conclusion with Lost Nation is that they do farmhouse styles much better.
★
477 characters
4.46
/5
rDev
+17.1%
look: 4.75 | smell: 4.25 | taste: 4.5 | feel: 4.5 | overall: 4.5
Color: Golden, like the golden beers that you imagine would be served in heaven.
Aroma: light pale malt, aromatic malt, lager like fruits, light soft layered pilsner malts, hint of grassy hops, fresh, light honey.
Taste: Crisp,,,, I mean CRISP. The clean finish and solid pils malts are what make this beer a knock out of the park!
Mouth: Solid carbonation. great head retention.... medium body but not so much as to over power.
Great beer from a great new brewery!
Solids local pilsner!
★
503 characters
Vermont Pilsner from Lost Nation Brewing
3.81
out of
5
based on
178
ratings.