Stone Brewing World Bistro and Gardens - Liberty Station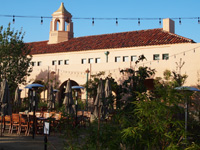 PLACE INFO
Type:
Bar, Eatery
2816 Historic Decatur Rd
Ste 116
San Diego
,
California
, 92106-6164
United States
(619) 269-2100 |
map
stonelibertystation.com
Notes:
No notes at this time.
Added by DeanMoriarty on 05-27-2013
Reviews: 34 | Ratings: 157
4.71
/5
rDev
+6.1%
vibe: 4.5 | quality: 5 | service: 4.75 | selection: 4.5 | food: 4.5
This is an outstanding brew pub. Their beers are outstanding. The food is very good but the selection of dishes is a bit odd for a pub. I prefer the large beer garden for group conversation and dinning. The indoor bar is a bit cold and impersonal. Not a place to meet new people but great for meeting friends. The staff does a good job and I have gone here several times.
★
371 characters

4.49
/5
rDev
+1.1%
vibe: 4.25 | quality: 4.75 | service: 4.5 | selection: 4.75 | food: 3.25
This was my first stop on my trip to San Diego. It was barely noon when we started to head towards the airport in search of the legendary Stone World Bistro and Liberty Station and we got lost a few times, eventually going into a navy base and then navigating through the interesting gated community style location of the brewery.
We walked in and were immediately greeted by a server, instead of getting a table we went for the bar option. Sitting down and taking a look around the place was done up with rocks and water and the stone logo all over, there was a big court yard with fountains, tons of space.
Big tap list, I would say 30+ beers total, some raritys (an '06 Arrogant Bastard) and one offs from the brewery. The el dorrado IPA was my first pint and the thing was fresh and bright with hop aroma. The food menu was a bit pricey so I just went with a BBQ sandwich (which was ok). The next beer was a barrel aged smoked barley wine, which blew me away. There weren't many people there since it was so early so we got our drinks quickly and the bar tender was friendly. I got my AHA discount when the check came and left with some merch from the store.
In all, if you are in SD its worth a trip for sure, I would like to go back when its busier and get the full experience, but the beer was amazing from the source non-the less.
★
1,341 characters
4.5
/5
rDev
+1.4%
vibe: 4.75 | quality: 4.5 | service: 4.5 | selection: 4.5 | food: 4.25
This place had atmosphere to spare. It just feels like you are truly somewhere special (beervana,perhaps?). While I have been to many breweries (AB,Boulevard,Schlafly,Goose Island) and nice bars,I have yet to find a comparison. the decor,beer list,and menu were the products of a lot of thoughtful planning. This is the Willy Wonka Chocolate factory equivalent for beer lovers (though obviously the vast majority of production was in Escondido). My wife and I sat outside in a very elaborate outdoor setting with plenty of lights strung about. There was a fountain that I heard and never saw. Thankfully there were countless outdoor heaters as it was a bit cool. I like that they had a lot of aged offerings from Stone along with plenty of draft options. They even had a good assortments of locals,micros and imports. I ordered the Oude Tart by The Bruery (I knew it was in the top 250 and had yet to see it elsewhere. We started with the hummus which was great,but the crackers were just good. I had the pulled pork & wild boar sandwich. It was great,but the chicken schnitzel and the bacon mashed potatoes my wife had were superb. We finished the meal off with the Arrogant Bastard brownie sundae and it was phenomenal. Service was excellent. Gift shop had lots of glass wear,hats,shirts,soaps made with beers,bottles and growlers to go. Really the only drawback was the frequent low flying aircraft overhead which you had to learn to conversation around.
★
1,457 characters

4.45
/5
rDev
+0.2%
vibe: 4 | quality: 4.5 | service: 4.5 | selection: 4.5 | food: 4.5
Having visited the main location a few days ago I was intrigued to see if some of their other locations lived up to the main one. A bit hard to find, only a very small sign out front hints at what is inside the building. Once we found the entrance we checked out the small store right inside the door, some pretty nice swag and bottles in there. Once we got to the bar area it was pretty similar to the main location, with a bit more plane noise. Atmosphere was pretty laid back but it was mostly dead at lunch time so nothing to amazing. Service was awesome. Our bartender was great to talk to and never let my glass sit empty for more than a minute. Quality was pretty high all around. Beers in the correct glasses and the building itself was beautifully renovated to fit their needs. Selection was even better than the original location. I know they just had their winter storm event a week or so ago so I can only assume I encountered some of the leftovers. I was able to get a StoneWall, one of my long time wants, and a '08 Old Guardian aged in red wine barrels. They also had a few other leftovers but we had other places to be. Food was excellent as usual. I got the pulled chicken and boar sandwich and it was awesome. Also got to try some of the BBQ ribs and they were excellent as well. Prices on beers were pretty good, food was again a little overpriced but it was quality so thats not a huge deal for me. Overall I think I might prefer this place in almost every way over the main location except the overall vibe. I will have to return for dinner next time I am in town and see if it is any better then. Still an awesome place to have a beer and avoid some of the usual crowds that frequent the main location.
★
1,726 characters

4.85
/5
rDev
+9.2%
vibe: 5 | quality: 4.75 | service: 5 | selection: 4.75
I have been to the Stone brewery and this is like a mini version of their beer garden directly in downtown San Diego next to the train station. There is an outside area that has stones and nice chairs and benches in it. The chairs and benches are actually made out of wine barrel staves which I thought was a really nice touch.
What's amazing is that this was a Saturday night around 8:00 PM and this place was nearly empty. I think in total there were 10 people there. I bought a round of beers and then some 22 oz bottles to take back home with me. The cost was on the higher end which is the reason that they were empty I'm betting. Regardless, I would rather pay a little extra for their beautiful atmosphere in the middle of San Diego.
Great spot, go there if you are ever in the train station in San Diego. It is a great spot literally right next door.
★
862 characters

4.6
/5
rDev
+3.6%
vibe: 4.5 | quality: 4.5 | service: 3.75 | selection: 5 | food: 4.5
Stopped by with the wife. Incredible setup, huge, indoor and outdoor. Nothing like it, just beautiful. Massive selection, it was a sour beer day, but I got a Brunch Weasel and Heirloom Pumpkin Barleywine. Had some heavy hitting bottles from Stone and beyond but way on the pricey side. $14 for Brunch Weasel 13 oz. and ) $16 for the Heirloom. The $26 for a 3F Oude Geuze Golden Blend 375 ml was crazy and I didn't pay that, but decided on a $22 bottle (250 ml) of Cognac George! for $22--I was buzzed at that point. Come to bottle share things with others and maybe the hit isn't so bad. They have a retail store and I grabbed a Southern Charred and some Stone Dog Bones here as well for my pup back home. Food was awesome, got the crispy Brussels sprouts and duck tacos. Fantastic. Knocks: Service was slightly slow and a low flying airplane came by every couple minutes sitting outside. The planes really, really hurt what is otherwise an incredible atmosphere. Also way pricey. Overall this is a must visit, just get your wallet ready.
★
1,042 characters

4.88
/5
rDev
+9.9%
vibe: 5 | quality: 5 | service: 5 | selection: 5 | food: 3.75
Stone Brewing World bistro and Gardens in Liberty Station is a gemstone!
The atmosphere is flawless (although the garden in Escondido is superior). The garden area is built on flat terrain and there's nowhere to lie out like in Escondido. However, the ponds and water fountains are a very nice touch. The fire-pits are very nice as well.
Service is perfect, the waiters, bar-tenders and hosts are all great! My first visit was in October when friends and family of the female breed celebrated my wife and our baby (baby shower). The bartender was awesome! My father was a Bud man and now a Corona man, but the bartender offered him beer that accommodated his palate (no IPA's).
That brings me to selection. Stone brews some of the best beer in the world and they also host some of the best. The only problem I had was the food. The food was not bad, but it was not great. This place is great and I was expecting great food to accompany my beer.
Overall this place is awesome.
★
982 characters

5
/5
rDev
+12.6%
vibe: 5 | quality: 5 | service: 5 | selection: 5 | food: 5
I rate Stone so highly because I love their beer so much and I was so surprised how awesome this new location was. Everything was great, the beers were amazing as always and the food was just as good. My boyfriend and I loved our dinner so much that we went back the next day for lunch.
More Reviews here: http://beerbellyblogger.wordpress.com/
★
346 characters
4.05
/5
rDev
-8.8%
vibe: 4.5 | quality: 4 | service: 4 | selection: 4 | food: 4
Was on a beer-centric trip down to San Diego, and had to stop by here for dinner before heading back up to LA. Upon arrival, you just don't realize how massive of a place this is. We were told it seats up to 950 people. Just an awesome area for a huge number of people. The requisite gargoyle decor is around just about everywhere. Very cool spot. Good tap list on hand, all of the popular Stone brews, plus a couple one-offs from the Liberty Station brewpub. Also probably 15 guest taps, which are of good quality. Not an outrageous selection, but very good. Finally, the food was on point. I had the chicken schnitzel which was awesome, and the wife had a steak. Very good quality, and nice presentation. Overall, I would call this a must stop on any San Diego beer trip. I have not been to the location in Escondido, but this one was a good stop.
★
849 characters

4.36
/5
rDev
-1.8%
vibe: 4.5 | quality: 4.5 | service: 4 | selection: 4.5
I am a huge Stone fan and have been to the Escondido location, I really liked this location from a restaurant, architectural perspective. There were many places to hang out and enjoy the great weather while basking in the glow of (as always) an amazing beer selection.
However, if you want that real brewery experience, I would take the trip to Escondido, Liberty Station is a great dinner date, business lunch, or out of town guest hang out. Beautiful place, great beer, and if their food is anything like the brewery in Escondido, I am sure it is outstanding. I just prefer to be around fermenting beer, bottling lines, and the aroma of fresh hops and malt when I drink my favorite craft beer.
★
696 characters

4.53
/5
rDev
+2%
vibe: 5 | quality: 5 | service: 4.5 | selection: 4 | food: 4
A fantastic place to visit. If you're not a beer fan and are just looking for a very nice place to eat this is still a good place.
Food was very good and portions were not lacking. The price is on par for a restaurant of this calibre.
A nice selection of beer, not the most I have ever seen, but it is a Stone restaurant and brewery so lots of Stone.
I wouldn't say it's a textbook "bistro" considering this is a very large establishment. Maybe view it as several bistros in one place. Nice outdoor seating with fountains, fire pits, and lounging areas.
On my trip we had very nice and friendly service.
As one reviewer stated there was no Stone sign on the building, making it a little hard to find. The main brewery didn't have one either.
★
750 characters

4.61
/5
rDev
+3.8%
vibe: 3.75 | quality: 4.5 | service: 4.75 | selection: 5
So Stone builds an 8 million dollar facility but does not put a sign on the building. My GPS told me I had arrived but I didn't see it. With the help of two nice ladies I managed to locate it anyways.
This place is huge! Several rooms with bars and a enermous outside patio. Sun chairs are available in case you want to lounge...
Tons of Stone beers on tap including some that were only brewed there and not bottled. besides Stone there were also other beers on tap and a extensive bottle list.
Once I started talking to the bartender he gave us all kinds of samples of beers he thought we should try as well. Very nive and it put me in just the right mood to buy an expensive T-Shirt and some (reasonbly priced) bottles from the gift shop.
It's sits right under the take off path from San Diego airport and when a plane flies over it does get very, very loud on the patio.
Not a bad place to hang out and have some beers!
★
929 characters
4.45
/5
rDev
+0.2%
vibe: 4 | quality: 4.5 | service: 4.5 | selection: 4.5 | food: 4.5
Just visited with Da Boss earlier today.
Atmosphere was very good, a very large restaurant with several different seating areas indoors and a ginourmous outdoor patio that can seat maybe a couple of hundred. One of the servers mentioned this was the largest seating capacity restaurant in San Diego. It even tops Pelican Brewing up in Oregon which was the biggest brewpub i had been too until today.
Quality was excellent as there are not too many places that serve the grog Stone has (30 listed taps and a bottle list of 100 or so).
Selection of beer mentioned above was pretty awesome. There was the usual Stone lineup mixed in with local San Diego and smaller California brewers. And beyond that there were some wonderful European brews in the mix.
Food was excellent. Da Boss had the Chicken Tiki Masala and i had the Yokisaba noodles. Both dishes were from the hands of professional chefs...well worth the price of admission.
Overall value was a bit pricey...but as the old adage says you get what you pay for. Definitely check this place out!
★
1,053 characters

3.64
/5
rDev
-18%
vibe: 4 | quality: 3.75 | service: 3.25 | selection: 4 | food: 3
There are actually 40 taps and an interesting variety of mostly worthwhile beers. Several Stone products, including three from the brewery just opened at this location, all hoppy. At the bar the servers where not very talkative but quite friendly, and happy to tell you what they know about the beers. No one offered to pour a sample, I noticed. Food seemed very over-priced with tiny portions. The $15 cheese, fruit, and crackers plate had a thin-sliced eighth of an apple and one strawberry carefully sliced in half. I'd eat at the Roseville Cuzhina around the corner, which has plentiful Portuguese food and ten taps.
Aside from the beers, the main attraction is the vast outdoor area with giant rocks, a variety of seating, and landscaping. It was thronged on a Sunday early evening. Indoors is a cavernous succession of rooms. I just wonder who designed this place, and who decided to spend so much money on it? It's just silly and and a strange combination of beat-up concrete and flue tiles, mixed with indoor watercourses and huge random slabs of rock. So swanky it's not what I would think of as a place to taste beer. At least it wasn't noisy, for all the people, with music that played softly most of the time.
I know people are big fans of Stone, but I prefer the many neighborhood bars and restaurants around the area that serve endlessly interesting beers, over this huge corporate place. Our server said they can seat over 600 people, making it the largest restaurant in San Diego, and something like 300 people are employed at this location. There is plenty of parking in the big lot under the giant American flag. The 28 bus goes along Rosecrans from Old Town trolley station.
★
1,695 characters
Stone Brewing World Bistro and Gardens - Liberty Station in San Diego, CA
4.44
out of
5
based on
157
ratings.