Fire In The Hole Raspberry Habanero Red Ale
| Funky Buddha Brewery
BA SCORE
83
good
11
Reviews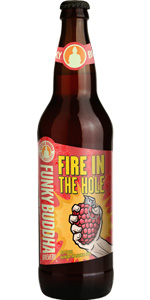 BEER INFO
Brewed by:
Funky Buddha Brewery
Florida
,
United States
funkybuddhabrewery.com
Style:
Fruit / Vegetable Beer
Alcohol by volume (ABV):
5.40%
Availability:
Rotating
Notes / Commercial Description:
Pull the pin, count to four, and get ready to feel an explosion of sweet raspberry and spicy habanero flavor. No need to worry about collateral damage or capsaicin shrapnel since this red ale has just enough malt body to strike a balance between fruity, sweet, and spicy. Making it the jam to your jelly, baby.
Added by RblWthACoz on 10-20-2013
Reviews: 11 | Ratings: 104
4.64
/5
rDev
+27.8%
look: 4 | smell: 3.75 | taste: 5 | feel: 5 | overall: 5
As a big hot peppers fan, this is a very nice beer, it's smooth with a nice taste of raspberry and that lovely habanero kick, I can't get enough of this one, my favorite thing about FB is that you can always get the flavors they promised in their beer.
252 characters

3.42
/5
rDev
-5.8%
look: 4 | smell: 3.25 | taste: 3.25 | feel: 4 | overall: 3.5
Amber brown in color with residual foam/head and minor lacing as it drinks down.
Nose is subtle sweetness, malt, raspberry, and peppers.
Taste is raspberry, green peppers, minor sweetness and spicy peppers on the finish.
Mouthful is medium to light and soft. Carbonation is average to high. Finish lingers.
Spicy beers are an outlier in the beer world and it is very subjective to gauge one better than the other. I have found that spice works better with more body and heavier stouts. This is not a heavy stout. It reminds me more of an English brown. There really isn't much to this beer as is (barrel potential probably would yield something much better) and as is makes this kind of two noted. There are raspberries and hot peppers, that's it. If you are good with it, go for it.
796 characters

3.62
/5
rDev
-0.3%
look: 4.25 | smell: 3.5 | taste: 3.5 | feel: 3.75 | overall: 3.75
This is a hard beer to rate. I knew going in that this would be sweet and hot, but after tasting it I'm not sure it's something I want in a beer. It delivers on it's promise of raspberry habanero, so it's unfair to rate it too low, but at the same time it's probably my least favorite bottle release from Funky Buddha this year. I'm glad I tried it, but I wouldn't buy it again.
The aroma is brown sugar, berry flavored cereal, and slight peppers. The taste is sweet mixed berries, followed by a lingering peppery taste and burn. The mouthfeel is watery thin with moderate carbonation.
593 characters

4.7
/5
rDev
+29.5%
look: 4.5 | smell: 4.5 | taste: 4.75 | feel: 5 | overall: 4.75
Amazing beer. Delicious raspberry smell and flavor. This beer has the perfect amount of heat for me. I want to pair this with food but I have no idea what would go well with it.
177 characters
3.44
/5
rDev
-5.2%
look: 3.5 | smell: 3.25 | taste: 3.5 | feel: 3.5 | overall: 3.5
On tap at Churchville Inn.
First pour from the keg, disgustingly murky rusty water. The bartender gave me a cleaner pour. hehe Mahogany, with a slight haze, and a moderate cap of off-white head. Fruity sweetness in the nose, some caramel malt. Lots of jammy raspberry up front in the taste, and a huge pepper burn on the back end. This was actually pretty good for what it was, but not something I could drink a lot of...especially after consuming my fair share of FB's flavorful stouts and porters.
500 characters

3.61
/5
rDev
-0.6%
look: 3.75 | smell: 3.25 | taste: 3.75 | feel: 3.5 | overall: 3.75
On tap at the Funky Buddha Brewery.
Red-amber body. Excellent clarity; weak head; no lacing
Sweet and hot: probably excellent choice to accompany under-spiced meats and some other foods. Sweet and hot work well together. I kept expecting to tire of this but didn't.
Natural raspberry flavor similar to jam. Moderate heat but limited pepper flavor.
355 characters

2.37
/5
rDev
-34.7%
1 Liter Funky Buddha growler poured into an oversized Funky Buddha snifter. Opened on 8.30.14, reviewed from Tasting Journal.
The beer pours a darker burgundy color, very opaque with lots of sediment floating in the glass. A thick off white head rises, maybe a finger high or so that has great retention and leaves plenty of lace. The aroma is incredibly spicy, plenty of heat with sugary malt with touches of raspberry fruit, but this is so incredibly spicy and hot. The flavors match the nose, huge habañero pepper heat, roasty and vegetal, light raspberry fruit with a touch of tanginess and light sugary malts, but once again, pepper starts on the tongue, washes over the fruit and malts in the mid palate and obliterates the finish with lingering peppery heat. The mouthfeel is really nice, coating, smooth, soft, nice carbonation that finishes lightly dry.
Verdict: Just way too spicy for my liking. There was a bit of balancing qualities with the berries and malts, but on the whole, this was just way too over the top, as is usual with habañeros, beer or otherwise. It was a novel experiment and a quirky beer, fun to try but nothing I'd seek out again, nor would I recommend this.
1,195 characters

3.5
/5
rDev
-3.6%
On draft, pours a cloudy light brown with dark red hues. Not much carbonation, very still.
The smell is sweet at first, raspberries, corn syrup, but then out of nowhere the chilies come out, giving you the full spice. It reminds me of what sweet & sour chicken smells like.
The flavor is more mellow than the smell leads you to believe. Fruity, with faint pepper and chilies. It isn't super hot and doesn't burn your throat, a little fruity finish. Overall, I wanted to hate it, but it isn't a terrible chilies beer.
522 characters
4.16
/5
rDev
+14.6%
look: 4 | smell: 4.25 | taste: 4.25 | feel: 4 | overall: 4
Appearance: Arrives with a a nice head capping the tawny liquid; leaves some stringy lace behind
Smell: Raspberries, with both a sweet and tart edge; a bit of a toasted brown bread character
Taste: Toasted brown bread with raspberry jam; sweet and tart at the same time; finishes with some heat; not really hot like a habanero but definitely warming on the palate
Mouthfeel: Medium body with moderate carbonation
Overall: More interesting than I was expecting as the tartness of the raspberry and the restrained heat from the peppers won me over
551 characters
3.51
/5
rDev
-3.3%
look: 3 | smell: 3.75 | taste: 3.5 | feel: 3.25 | overall: 3.5
Thanks to Callmecoon for sharing this one at Retsinis' tasting.
Pours a murky orange-brown with a foamy beige head that fades to nothing. No lacing on the drink down. Smell is of malt, corn tortilla, raspberry, and chile pepper aromas. Taste is much the same with raspberry and chile flavors on the finish. There is a mild amount of pepper heat on the palate with each sip. This beer has a low level of carbonation with an almost flat mouthfeel. Overall, this is a pretty good beer with an interesting balance between sweet and spice.
535 characters
3.73
/5
rDev
+2.8%
look: 3.75 | smell: 3.75 | taste: 3.75 | feel: 3.5 | overall: 3.75
Overall nice beer full of fruit and spice.
Looks slightly murky , that's a plus for me as I like unfiltered beer. Smells of raspberry and vegetal smelling habaneros. The taste overall is slightly sweet with a touch of tartness and a healthy dose of low heat peppers.
268 characters
Fire In The Hole Raspberry Habanero Red Ale from Funky Buddha Brewery
3.63
out of
5
based on
104
ratings.