Melissa
| Propolis Brewing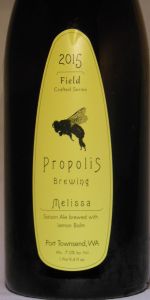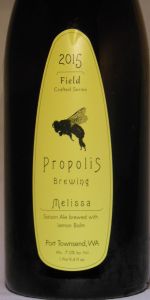 BEER INFO
Brewed by:
Propolis Brewing
Washington
,
United States
propolisbrewing.com
Style:
Belgian Saison
Alcohol by volume (ABV):
7.00%
Availability:
Rotating
Notes / Commercial Description:
None provided.
Reviews: 5 | Ratings: 18
4
/5
rDev
-0.5%
look: 4 | smell: 4 | taste: 4 | feel: 4 | overall: 4
a neat bretty saison brewed with lemon balm. its clear for what it is, radiant golden from the tap with a full inch of airy and lasting white foam, deep and shiny, looks polished in the glass. aroma is the same bretty funk so many of their beers have had, just more mature and brighter here, cleaner, fruity like white wine and citrus, but subtle and neat, maltier than some too, with a honey note and a little richness to it. its hard to appreciate the lemon balm in the nose over all the brett, but there is a dried tea-like herbal component that must be it. the flavor is great, way cleaner than a lot of their other stuff and without much acidity along with the brett, making it more drinkable. its still not super dry, but i like the boldness of the grain in here, simply but significant. the lemon balm is more obvious in the taste too, mostly in the finish, citrusy, fresh, almost medicinal, and adding some vegetal bitterness too. its delicate on the lemon balm but it interacts well with the brett for sure, and is really the signature element of this beer even without being insanely forward. great brett complexion, one of the better propolis beers i have had so far!
1,178 characters

4.35
/5
rDev
+8.2%
look: 4.25 | smell: 4.25 | taste: 4.5 | feel: 4.25 | overall: 4.25
An acute fragrance resembling lemon balm is unsurprisingly dominant upon the nose. There's also hints of tangy wheat, funky oak-like yeast, some sweet-ish grain and spring flowers on the back end. Dat oak funk and lemon balm remains on the nose throughout the drinking experience; I know my mind is playing tricks on me because I keep unconsciously thinking I smell honey or bitter propolis extract every time I stick my nose in for a whiff.
The sensation on the tongue is a trifecta of tart lemon zest, tangy wheat, and oak-like funk. The oak actually becomes more dominant toward the tail end of the palate and gives the illusion of a bone dry finish; there's a brief moment where the malts hint to a little bit of sweetness which the oak washes away. The aforementioned three flavor components are actually apportioned quite pleasantly; the tartness is curbed by the sweetness, which is then curbed by the oak/dry sensation.
Crisp, slightly slick, while sporting a somewhat sticky light body. Sounds counter-intuitive, I know, but the flavors kinda linger on your tongue long after the brew has passed through your throat. It's almost propolis-like in that sense--maybe that's a good thing.
1,195 characters
3.96
/5
rDev
-1.5%
look: 3 | smell: 3.75 | taste: 4.25 | feel: 3.75 | overall: 4
Pours a very effervescent & hazed amber with a pinky of eggshell colored head. Stays hazed, okay lacing & head retention
S: Grassy, earthy & yeasty
T: Follows the nose, honey & lemon, tangerine & coriander up front. Pear, tangerine, grassyness & white pepper
as this warms, plus a a little dryness. Finishes with pomelo, cilantro, honey crisp & golden delicious apple, plus a little warming booze
MF: Light/medium body with lively carbonation
Good take on the style, tasty, drinkable, but bloody pricey
516 characters

4.28
/5
rDev
+6.5%
look: 3 | smell: 3.75 | taste: 4.75 | feel: 4.5 | overall: 4.25
Tulip served on tap.
A: Served a lightly cloudy golden color with a very short lived white head that faded to nothing. No lace. A bit disappointing for a saison, but may be it something in the way it was served.
S: Earthy herbal nose full of saison yeast, a kiss of lemon, and stone fruit. Lightly peppery.
T: Flavor is vinous and reminds me of white wine with delicate flavors of wheat, white grape, and a kiss of lemon flavor that's definitely lemon balm and not citrus. It's like the essence of lemon without any citric acid. Peppery and earthy saison yeast, green apple skins and just a kiss of stone fruit. Flavors are all very complex yet very delicate and smooth. Well integrated, nothing really dominates. Light peppery yeast and kiss of golden fruit lingers in the aftertaste.
M: Creamy and fluffy carbonation, dry and crisp mouthfeel, medium-light body. Just a hint of boarder line tartness, but not really.
O: Phenomenal flavor; awesome saison. Not the greatest appearance for a saison, but everything else is superb.
1,033 characters

4.18
/5
rDev
+4%
look: 4 | smell: 4 | taste: 4.25 | feel: 4.25 | overall: 4.25
Poured into a Propolis tulip. Pours a bubbly, lightly hazy medium golden amber with a big three finger white head constantly renewed by active carbonation, finally leaving thick lacing. Aroma of grainy malt, saison yeast, lemon citrus, slightly earthy and mildly tart. Flavor starts with a grassy biscuit malt, light stone fruit, lightly astringent herbs, saison yeast; getting slightly sweet before drying out to reveal more of the bitter herbs and light lemon citrus, crisp, semi-dry finish with an herbal bitterness. Medium bodied with active carbonation. A nice herbal saison with a light lemon citrus note from the lemon balm (but not as distinct as lemon balm tea), pleasant light honey sweetness in the middle. Great flavor progression and the hint of sweetness in the middle really balances well with the herbal bitterness in the start and finish. I thought this one might be too tart for me because of the ingredients, but the light lemon tartness is incorporated well. Another enjoyable herbal saison from Propolis.
1,025 characters
Melissa from Propolis Brewing
Beer rating:
4.02
out of
5
with
18
ratings