Le Trappiste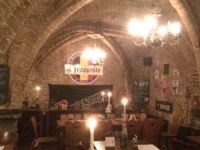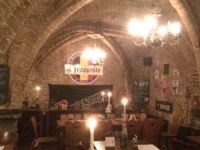 Bar
Kuipersstraat 33
Brugge
, 8000
Belgium
+32 475 45 50 66 |
map
letrappistebrugge.be
Notes:
4.2
/5
rDev
-5.2%
vibe: 3.75 | quality: 4.5 | service: 4 | selection: 4.25
Dropped in late evening on a Friday. Placed was packed and had a bit of a party vibe to it. Very different from other places in town. Selection was nice, nothing crazy. Beers were properly served as expected. Found it to be very loud and just not the kind of place I was looking for.
288 characters

4.03
/5
rDev
-9%
vibe: 4.25 | quality: 4 | service: 4.25 | selection: 3.75
Visited Le Trappiste twice while in Brugge on 11/8 & 11/9 of 2015. Both times the place was virtually empty (which was great). The backdrop is awesome - you head down a set of stone steps into a vaulted room. According to the bartender who was very pleasant and there both times, the cellar used to be a barrel storage space for a cooper back in medieval times. Lots of stone and wood with a very gothic feel. Definitely one of the coolest bar settings I've been in. Seventeen drafts listed - nothing particularly mind-blowing (Leffe Blonde, La Trappe blonde, Delirium Tremens, Brugge Tripel, LaChouffe, St. Feullien, etc.) but were reasonably priced at about four euro on average. They did have bottles of Westy 12 & 8 for pretty much the same prices as the bottleshops in town. Bottle list was pretty extensive, but no wales. Probably my second favorite place in Brugge. Well worth your time if you are in town.
923 characters
3.43
/5
rDev
-22.6%
vibe: 4.25 | quality: 4.25 | service: 1.5 | selection: 4
Nice underground bar with a dark atmosphere. Beer selection was good with about 18 taps including a few non-Belgian options, even some Goose Island. Solid bottle list. I was hankering for a Black Albert, but it was not in stock, so I went with a 12/13 Tilquin. Cheese and sausage was available for snacking.
The downside, as I'm noticing with many many bars here in Belgium, absolutely terrible service. Got my first beer fast enough, and after consuming, waited and waited with an empty glass and money on the counter. Not even a glance in my direction to flag the bartender after 20 minutes. If they really don't want my money, I guess I won't give it to them. Ten minutes later, I walked out without paying and I won't be going back.
738 characters

5
/5
rDev
+12.9%
Amazing! One of my favorite places I've ever visited and surely reason enough to go back to Brugge.
The ambiance of the 600 year old cellar (or was it 800?) is hard to match. This was the last bar I visited on my trip and would have missed it completely if it weren't for the sign out on the sidewalk. I took a peek inside and was thoroughly rewarded. Our group spent the remainder of the evening here until we had to stumble back to our hotel room next door.
The owner was very knowledgeable about his selection and patiently took the time to guide all of us through his menu. The menu itself is one of the best I've ever seen with photos and thorough descriptions, head and shoulders above the simple lists at other bars and great for the uneducated patron.
The service was outstanding. I swore on my way out that this was a place I'd take the time to review when I got home. The experienced also introduced my to my favorite beer, Black Albert. Thank you very much for that!
980 characters

4.93
/5
rDev
+11.3%
vibe: 5 | quality: 5 | service: 5 | selection: 4.75
WARNING: If you stay at Le Trappiste too long, the locals may offer you a sip of their Trappist beer, or have conversations about the history and politics of Belgium, or ask to connect with you on Untappd and Facebook.
We spent 4 days in Brugge and were lucky enough to stumble into Le Trappiste on our first afternoon. We had such a good time talking with Maartin and the friendly locals that we ended up back at Le Trappiste every night.
The bar itself is in a unique arched cellar, had 12 draft lines, 12 'featured' rotating bottles, and a solid menu of other bottle offerings. The selection ranges from Belgian, hard-to-find Belgian, as well as more craft-style beer from around the region (Belgian, Dutch, Norwegian, even some BrewDog from Scotland, etc.). The list may not be "#00 beers!" long, but it is a well curated list. That first night we started with a flight of 5 beers on draft ; the only place we saw flights mentioned on a chalkboard for 3 weeks). Despite having at least a couple beers a visit and sampling from each-other's glasses, we never had the same beer twice.
The locals (and other craft-aware tourists) were very friendly. I'm not kidding in my WARNING: I really was offered a drink from a local's glass (and accepted of course). We gained Untappd and Facebook connections. We were given a short history/politics lesson in the good, friendly sort of way (not drunken rambling that you just wish would stop).
Le Trappiste is definitely the sort of place I'd hang out in if it were in my general vicinity.
1,535 characters

4.78
/5
rDev
+7.9%
vibe: 5 | quality: 4.75 | service: 5 | selection: 4.5
July 2013.
Le Trappiste is a place of which I could say no shortage of great things. For starters, however, I'll mention just this: it's an authentic 13th century cave with exposed brick arches where you'll find not only the usual selection of quality Belgian beers but also rare micro specialties (both on draught and in bottle) from across the UK, Scandinavia, Holland, Italy, Germany and the US.
The same bar of Manchester fame is now only 300 metres from the Grote Markt. Although set in an 800+ year old vaulted-ceiling, brick basement, to sit at the bar in Le Trappiste is just like sitting at the bar in any British local. Bar snacks are put out. The barkeep washes and dries glassware by hand. There are quiet regulars, content to just read the paper over a beer or two, as well as one or two more outgoing patrons only too happy to share their opinions...
Of course, you always have the option of nestling into any one of the cozy, candle-lit corners. Although a considerably large space, its charming, chandeliered (and credibly musty) ambiance is simultaneously accommodating to both intimate dates (I saw a few couples there) or large social parties (we showed up with around 20 people with no issues).
Le Trappiste is somewhat unique for a Belgian beer bar in that it offers a considerable selection of non-Belgian offerings as well. In fact, the explicit concept is to be an *international* beer cafe. I was pleasantly surprised to find not only the requisite selection of lambics and strong, spicy dark ales but also *draught* offerings from the UK, US and Scandinavia. It would be a great selection to find anywhere, but is especially appreciated in a country that tends to (understandably) favour its own brands at the expense of all others...
The beer list, logically categorized by style, emphasizes quality over quantity. Still, with around 100 selections, it's a wonder that there's not a bad offering in there. Whereas many Belgian lists can be redundant, rather than offer 20 different tripels, five or so of the best have been selected (and often with an American, Dutch or British offering included for comparisons sake). Indeed, what sets Le Trappiste apart is this: most things you'll find elsewhere are available here; many things you find here you won't see anywhere else.
And yet, prices are exceptionally affordable! I couldn't understand how or why beers were being sold at such reasonable value (typically a euro over or under what you'd pay retail at the Bier Temple down the road). It was explained to me that, Bruges being a tourists trap part of the year and a Belgian retirement home the other, the aim was to attract year-round business from tourists as well as locals... and the locals won't pay prices they know to be unreasonable.
Last but not least is Martin, the bar's part-owner and proprietor, a man of great knowledge, many languages and unlimited charm. Formally the owner of the popular Manchester-based Le Trappsite, he enjoys this endeavor as a'retirement project'. With a wealth of business and bar management experience, he runs the place with outstanding professionalism and service. Probably my favourite person I met during my travels, I wish him and his excellent bar all the best. Its success (and your patronage) is most definitely warranted.
3,313 characters
Le Trappiste in Brugge, Belgium
Place rating:
4.43
out of
5
with
28
ratings