Toasted Coconut Ale (The Chosen One)
| 903 Brewers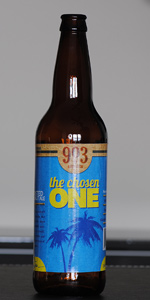 BEER INFO
Brewed by:
903 Brewers
Texas
,
United States
903brewers.com
Style:
Cream Ale
Alcohol by volume (ABV):
6.00%
Availability:
Year-round
Notes / Commercial Description:
This American Ale is sure to surprise your palate with the sweet taste of toasted coconuts. It starts with a sweet biscuit taste and finishes with a hint of toasted coconut.
Added by deadliest on 06-17-2013
Reviews: 8 | Ratings: 53

1.22
/5
rDev
-67%
look: 3 | smell: 1 | taste: 1 | feel: 2 | overall: 1
Aroma - highly chlorophenolic with hints caramelized sugar.
Appearance - average clarity, small ring of krausen around the circumference of the glass, beer arrived to table with no head except for ring. Light amber in color.
Flavor - highly chlorophenolic, malt character is absent, some sweetness in the finish - as if unbalanced by hops, but not sweet enough to cover up the chlorophenolics.
Mouthfeel - too thin even for an American Blonde Ale. Under-carbonated.
Overall - very few beers I will push back, and I pushed this one back. I grew up in the town this beer was brewed in, and I find it to be an embarrassment to Sherman, Texas.
643 characters
3
/5
rDev
-18.9%
Clear dark golden pour with a white one-finger head. Very light aroma with hint of coconut and grain. Very creamy and light bodied. Taste has light and sweet coconut upfront backed by bread and caramel malt flavors.
215 characters
3.72
/5
rDev
+0.5%
look: 3.25 | smell: 3.75 | taste: 3.75 | feel: 3.75 | overall: 3.75
A Color was a burnt amber, minimum head but nice lace.
S sweet coconut maltyness.
T coconut caramel sweet goodness.
M very nice carbonation and mouthfeel is very drinkable.
O very awesome offering from sherman, had on tap in a shaker pint (boo) at Cellermans.
259 characters
3.75
/5
rDev
+1.4%
look: 3.75 | smell: 3.75 | taste: 3.75 | feel: 3.75 | overall: 3.75
Appearance: Hazy medium golden colored, with a large, somewhat coarse off-white head, which soon fades to a sparse scattering of foam on the surface. The carbonation is coarse and rather vigorous.
Aroma: Toasted coconut presents strongly, utterly dominating the aroma. Pleasant grassy and herbal hops are present.
Taste:Toasted coconut, and surprisingly, slightly hot, spicy alcohol dominate the opening taste. Soon after, there are modest amounts of herbal hops, which serve to reduce the sweetness slightly. Late in the taste, the coconut shines. Finishes with a lingering note of lightly toasted coconut and spicy alcohol.
Mouth feel: Smooth, soft, and quite full, very nice.
Drinkability/notes: The slightly higher ABV and over-the-top coconut is wonderful.
Presentation: Packaged in a standard twelve-ounce aluminum can, served in a New Belgium Brewing chalice.
872 characters
3.99
/5
rDev
+7.8%
look: 3.75 | smell: 4 | taste: 4 | feel: 4 | overall: 4
this was one of my favorite beers i had on my texas trip, everything about it is delicious, and while it might take some flack from the purists, i love what they have done with this traditional style. ive long thought the coconut water flavor would be nice in a pale beer like this, and it really is well done here. nothing too sweet, syrupy, heavy, sun tan lotion tasting, artificial or anything, its just right. pale with a little haze, bright yellow still and a full inch of lazy white head on top. it smells really good, the patient lager/ale hybrid yeast aspect of a cream ale over a light pale barley base, but then at the end creeps in that tropical slightly toasty sunny warming fresh fleshy coconut smell, really well integrated. the flavor is like that too, where the cream ale is first and up front, solid as a base beer, and then the coconut comes in subtle on the back end. that aspect is almost more flavorful after the swallow, but its true to the coconut itself, quite mild and nutty, but unmistakable. really easy drinking, smooth and not too carbonated, sort of has a nitro feel to it. we always see coconut overly toasted and super spiked in dark beers and strong ales, so its really amazing to taste its lighter side here, not forced or unnatural, and in a beer thats perfectly dry that i want to drink ten of. about as well done as such a thing could possibly be. loved it.
1,394 characters

4
/5
rDev
+8.1%
By far the most and best coconut flavor of any beer I have had. Maui Coconut Porter is a great coconut porter, but it doesn't have nearly the coconut presence as The Chosen One. I have already had 2 growler fills and am looking forward to their new bottles.
<Edit 10/21/2014> The review above was based on having it on tap. I have since had it in a bottle and my score would be a 1.5. Essentially no coconut flavor. I have experienced this same thing - huge coconut on tap, none in the bottle - over 3 different tries on tap and 3 different bottles.
555 characters

4.05
/5
rDev
+9.5%
look: 4 | smell: 4 | taste: 4 | feel: 4 | overall: 4.25
Quite tasty the first time I had this. Light golden color, nice creamy mouthfeel. The toasted coconut in the background compliments the base beer very well and does not over power it.
183 characters

4.27
/5
rDev
+15.4%
look: 4 | smell: 4.5 | taste: 4.25 | feel: 4 | overall: 4.25
A: Murky golden caramel color. Small amount of off white head with sticky lacing.
S: Big hit of sweet coconut. Biscuity malt smell.
T: Coconut! Sweet bready malt backbone, subdued floral hops fighting for recognition in the background.
F: Smooth carbonation. Perhaps a little too light for the flavor.
O: Very nice! Not sure I would want to have 2 back to back without a change of pace beer between to give me a break from the sweet bready coconut, but a really unique treat from Texoma's new(only?) craft brewery.
529 characters
Toasted Coconut Ale (The Chosen One) from 903 Brewers
3.7
out of
5
based on
53
ratings.