Nano Brew Cleveland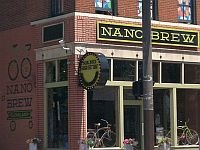 PLACE INFO
Type:
Brewery, Bar, Eatery
1859 W 25th St
Cleveland
,
Ohio
, 44113-3406
United States
(216) 862-6631 |
map
nanobrewcleveland.com
Notes:
No notes at this time.
Added by SportsandJorts on 06-17-2013
Reviews: 13 | Ratings: 49

2
/5
rDev
-46.1%
The food is amazing. The beer list is decent and they have a couple of their own brews on tap and they are pretty good. The service was horrible. Actually, horrible would be a step up. Not only was the waitress inattentive, she was downright rude. When I ultimately had to track her down to pay she got very mouthy and I ended up asking for the manager. And it was't busy at all a few tables and maybe three people at the bar. Do try the food, but don't plan on getting any service.
★
482 characters
3.41
/5
rDev
-8.1%
vibe: 4.25 | quality: 2.5 | service: 3.5 | selection: 4
Stop #415 on my world brewery tour.
Great historic atmosphere and a world-class list of guest taps.
Amusing to take a look at the roughly 10 x 10 cage of the nano-brewery. Not sure I saw a way the can control fermentation temps in the plastic ferment tanks.
Lots of TVs and beautiful people.
Now for the beer. Like their bigger Market Garden Brewery, I find it hard to believe a place can open in the shadow of GLBC and have marginal beers. I got a flight which included an ok kolsch and a porter that had a distractingly low body to it.
I'd certainly come back for the guest taps and the atmosphere. For exceptionally well-made house beer, I'd stick with Great Lakes.
★
677 characters

3.65
/5
rDev
-1.6%
vibe: 3.5 | quality: 3.75 | service: 3.5 | selection: 3.75
They have a decent tap list (~15?) which includes several from their affiliated / house brewery, MGB: Market Garden brewery.
I had a very hoopy IPA, something with Citra, from MGB which was delicious. The rest of the tap list was solid, but I had to remain somewhat sober, and this was the third stop of the afternoon.
The assistant bartender / barback didn't know what he was talking about on several points, and answered several questions inaccurately, to me, and to others. 9he indicated that a MGB brew, Festivus (SP?) was a hoppy IPA, when in fact it was a winter warmer.) But he was super friendly about it. Fortunately the main bartender was knowledgeable and friendly.
Atmosphere is slightly upscale, but not pretentious.
Selection, like I said, is solid.
Didn't try food.
It's slightly spendy for Cleveland, but not over the top, and probably reflects the neighborhood.
Just around the corner from Great Lakes Brewing, which is closed on Sundays (BOO!)
★
975 characters

3.67
/5
rDev
-1.1%
vibe: 3.75 | quality: 3.5 | service: 3.75 | selection: 3.75
I stopped by to try a flight of beers. Overall the experience was good. Small with a laid back atmosphere. I didnt realize that the owner of Nano Brew also owns market Garden brewery. I think Nano Brew is a kind of test kitchen for the bigger brewing system they have over at Market Garden. The staff is friendly and I beleive you can bring your bike in for a tune up.
★
368 characters
3.7
/5
rDev
-0.3%
vibe: 4 | quality: 3.75 | service: 3.25 | selection: 3.75 | food: 4.25
High ceilings and a lot of natural sunlight. Good selection of beers on tap. Wide variety of styles with two or three good examples of each. The beers brewed at the pub are solid as well.
The menu may be a little limited, but there is no reason to get anything other than a burger. Food and beer prices very reasonable. Definitely worth a visit after a trip to the West Side Market.
★
383 characters
3.84
/5
rDev
+3.5%
vibe: 3.75 | quality: 3.75 | service: 4 | selection: 3.75 | food: 4
I checked this place out for the second time before a Gladiators game. The interior of the building is brick with some iron decor. The bar is along the right wall as you walk in. They had about 18-20 beers on tap with two being in house. I tried the hefe which was okay. The place was not that busy, but it was two in the afternoon.
I ordered the schnitzel. It was a tasty dish. It came with German potato salad. My buddy ordered the sliders which he seemed to enjoy. There is a small patio out back. The interior of this place reminded me of the Map Room in Chicago a little bit.
The service was good, but there would have been no excuse not to be considering the meager crowd. It prefer the other establishments in the area i.e. Great Lakes, Market Garden, and Bier Market, but this place is definitely worth checking out. Ohio City is a great area of Cleveland to explore.
★
879 characters
3.91
/5
rDev
+5.4%
vibe: 3.75 | quality: 4 | service: 3.5 | selection: 4.25 | food: 4
Atmosphere: seemed pretty good. i didn't explore all they had to offer. but it had a nice vibe to it.
Quality: i didn't try any of their brews but they had quite a good taplist. (besides the fact that zombie dust ran out a day before)
Service: no real problems, it was a go to the bar to order place though. slight problem with the bills but no big deal
Selection: had some stuff i am not used to seeing since i am from michigan. Zombie dust was out and they had some from the bruery. those were good to see and they had a fairly wide variety
Food: the stoner fries were classic drunk bar fries and fried oreo's were good. seem like a decent pub food menu otherwise.
Overall: probably the best selection of non-homebrewed beers in cleveland that i saw. pretty cool beer destination to check out
★
799 characters

4.03
/5
rDev
+8.6%
vibe: 4.25 | quality: 4 | service: 4 | selection: 4 | food: 4
We had one night in Cleveland, was told by friends in the know that this was a place to check out. Yes, they were right, was not disappointed.
Open and airy, very casual pleasant and comfortable sorta spot. Outdoor area for dining and imbibing in the rear.
They brew their own and have a nice guest tap list. We sat at the bar where the service was friendly, quick and more then "easy on the eyes" if you get my drift.
Burgers were mighty tasty. Gotta love a place that has an "acid trip" burger on the menu!
Great place to relax, watch the game, have a few pints and a tasty bite to eat. Go with your buddies, for a casual and fun date, not so much with the family/inlaws
Had a fun visit, I'd no doubt be a regular if I was local....
★
739 characters

4.03
/5
rDev
+8.6%
vibe: 4 | quality: 4 | service: 4 | selection: 4.5 | food: 3
Love this place. They have a really nice selection of house drafts as well as guest taps and bottles. The wife and I stop in for a beer pretty frequently. The food is nothing special; basic pub-grub. Trivia nights on Tuesdays are a blast. There is a really cool patio in the back, which is a great place to grab a beer when the weather is nice.
★
344 characters

4.06
/5
rDev
+9.4%
vibe: 4 | quality: 3.75 | service: 4.5 | selection: 4
Transcribed from notes dtd Boxing Day, H, 26 Dec 2013.
This seemed to be a logical next stop after Market Garden, especially since it is the same owner and brewer, plus it is on the same side of the street and in the same block. I dig how far Kleveland has bounced back in the last decade!
A short storefront with its opening in the centerline, it had a laminated blonde wood semi-shuffleboard table-like high table directly to the right of the entry. Similarly designed high tables with chairs lined the left wall. The "L"-shaped laminated blonde wood bar ran halfway down the right wall, past the aforementioned table. The brewhouse sat aft of the bar, behind wrought iron, making it just that much more impressive. All of the way aft on the left side was a spiraling wrought iron staircase for brewer's uses, from which was suspended a Dorothy-like bicycle, just before the lavs, off to the right. All of the way aft, a pair of doors led to picnic tables with heaters and a secondary bar. Just as before, there were no takers on this day.
Service: Man, this was a fun joint! The staff was friendly, the customers were amicable and we joked and palyed around until my amicable departure.
★
1,193 characters
4.16
/5
rDev
+12.1%
vibe: 4 | quality: 4.25 | service: 3.75 | selection: 4.5 | food: 4.25
a great stop through spot right in downtown. it has an old restored pool hall sort of vibe, modern meets rustic, charming really. its quaint, a few high top tables is all, and a one barrel brew system, hell yeah! true nano action! the ipa on is sensational, and the other beers are all nice. the guest tap list is also blissful, a destination for beer lovers to get some good stuff flowing. the service was a little uninspired, which is odd for such an esoteric beer place, but I suppose it is tied to market garden, so maybe that's the culprit here. not bad though, and the food is great. sort of farm to table vibe, good burgers if a bit unhealthy. the beers weren't cheap, but quality trumps value here, as is often the case in the beer world. this is a place I am already dying to get back to, I think they will grow beyond nano, but that's another issue. check this place out for sure.
★
890 characters

4.59
/5
rDev
+23.7%
vibe: 4 | quality: 4.75 | service: 4.75 | selection: 4.5
My folks and I were in town for 24 hours before heading to Canton for the Hall of Fame induction ceremony and stopped in at a couple places. This was one of them. They also had probably the best beer I've had all year here. A dry-hopped marzen that they had brewed a single cask of. The beer was hand pumped from the cask that had been resting at room temperature. It was perfect. A little nutty. A little toffee. Well balanced and wonderfully complex. The bartender was friendly and informative, pointing us to a few other breweries in the area. He was fairly knowledgable of the brews he was serving up. The selection was a little give and take. I think they had maybe 5 of there own brews on tap and about 30 or so of everyone else's beers. Though they were good brews. Oberon from Bell's. Some Founders. Left Hand and Great Divide. Boulevard and many more. The place was a little empty and my mother was just dumbfounded at the people ordering Corona's but it was a fun, open environment to consume several awesome brews. We didn't eat but I vaguely remember there being a food menu.
God that Marzen was the best...
★
1,120 characters
4.88
/5
rDev
+31.5%
vibe: 5 | quality: 4.75 | service: 5 | selection: 5 | food: 4.5
Very nice vibe. Great attentive bartender. Great beer selection of house, local and guest brews. In an area saturated with breweries and craft beer bars this place stood out to me.
★
180 characters
Nano Brew Cleveland in Cleveland, OH
3.82
out of
5
based on
43
ratings.