Mad Mex - University City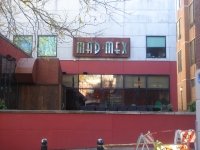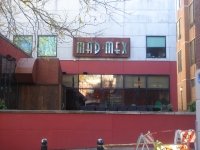 Bar, Eatery
3401 Walnut St
Philadelphia
,
Pennsylvania
, 19104-6228
United States
(215) 382-2221 |
map
madmex.com
Notes:
Reviews: 7
Reviews by GnomeKing:
3.68
/5
rDev
-0.3%
vibe: 3.5 | quality: 3.5 | service: 3.5 | selection: 4 | food: 4
This place is dark and lively, but not at all seedy, with Christmas lights illuminating Mexican masks and similar faux artifacts.
The food is Americanized Mexican--hearty, so no Taco Bell insubstantial grub, but nothing authentic either. Pretty yummy with beer, especially after a few beers.
The beer selection included some locals (like Victory, Flying Fish, and Troegs), some surprising out-of-town American craft beers (including Elysian Dragontooth, Blue Point Toasted Lager, and, less surprising, Stone IPA), and several expected Belgians (like Chimay and Corsendonk). During happy hours (M-F, 4:30-6:30), drafts and wings are half priced.
The bartenders were friendly but overmatched by the size of the crowd. One girl was running around with bills between her teeth. That's on management, not the employees. They're happy to provide samples, but don't expect a lot of beer knowledge: one bartender, who gave me the impression he was a manager, called Victory 10 Year Alt an "imperial stout."
The bar's edge is zigzagged, like a row of teeth. Clever, but it makes for some awkward seating positions. The place has a college crowd, but it's the kind of crowd that likes to sit down and talk. This is not a frat crowd that will be spilling beer on your shoes.In this neighborhood, I think it's your best bet. The White Dog is nicer and has better food, but it's not as good at serving up the beer love.
1,418 characters
More User Reviews:

3.6
/5
rDev
-2.4%
vibe: 3.5 | quality: 4 | service: 2.5 | selection: 4.5 | food: 3
Have been here a bunch of times, mostly for happy hour. The place is a bit dark, the bar somewhat awkward with the weird contortions, but it is quite comfortable. Quality is good; however, you really have to be here for the happy hour special otherwise it's just so-so. Service is come-and-go. Often times, it takes quite a while to get a drink at the bar, but usually it's pretty good. Selection on tap is really good to great - they always have a revolving selection of craft micros which makes this place a good place to frequent to try out new brews (at half the normal price during HH!). I've found the food to be okay. Wings & other "mex" fare is adequate, but I've never done backflips on how great it is.
712 characters

3.98
/5
rDev
+7.9%
vibe: 3.5 | quality: 4.5 | service: 3.5 | selection: 4 | food: 4
This is a great place for really good Mexican/Tex-Mex, craft beers and margaritas. Located in the middle of the University City section of the city it is usual full of a younger crowd. The atmosphere isn't anything special but it's just a fun place to hang out with friends and have some beers and good food. They usually have decent music playing which is always a plus. Sometimes at a place like this the crowd and music can get kind of douchey but thankfully Mad Mex has neither of these elements.
The food is very good here and they give you a healthy portion no matter what you orders. They have a huge selection of burritos, tacos, enchiladas, etc and an amazing blue cornbread. Also, they have a great selection of appetizers and their Mad Mex Super Burrito is bangin'.
There is always a very good selection of craft beer. A lot of restaurants in the area tend to focus mostly on local beers but Mad Mex branches out quite a bit carrying a bunch of Midwest and West Coast beers along with the occasional Belgian or German. I'm always surprised by their draft selection and the bottle list isn't bad either.
One of the best features of this place is their happy hour. Half price drafts and Big Ass Margaritas as well as $25 wings. A great deal and one of the best happy hours in the city.
1,297 characters

4.28
/5
rDev
+16%
vibe: 4 | quality: 4 | service: 5 | selection: 4
The address is a little misleading, being that it is recessed from the street. It took me two tries, but I was finally successful in finding it during Happy Hour (1630 to 1830, weekdays) on a Friday and packed was the operative word! I could barely get to the zig-zag bar, situated just beyond the m.d.s. inside the door, where I was stopped for a look at my ID. Things that make me go "Hmmm."
Inside, the decor was an eclectic mix of modern art, southwestern-themed art, and simple detritus. As to this last, above the bar was a ceiling of weathered wood, from which were suspended Ball/Mason jar lamps, hanging down on hemp line. Bizarre.
This location really struck me as being expansive, especially as I recalled our wee, tiny little place in the South Oakland section of Pittsburgh, mere blocks from Pitt's campus. How ironic that though turned out to be, since just as I was writing that in my notes, I overheard a conversation regarding Fat Head's and Smokin' Joe's on Carson Street in Da 'Burgh and I turned and got involved in the discussion. Yow! PGH in PHL , whoda thunk it?
I got so excited that I ended up talking to both the manager and the general manager about the chain and I eventually talked to the corporate offices for my ASN column. Alex was my wonderful bartender and I hooked her up with a ticket to the fest that I was attending that weekend. This may become my new hot stop when in Philly, especially since it is only four blocks from the Blue Line. I made a note to try again when it would not be quite so busy.
Beer: Eighteen (18) drafts and approximately thirty-five (35) bottles with a high percentage of the total being micros and quality imports. On my visit, they had Avery Collaboration ON TAP! Holy spit! It was explained to me by Wesley, the manager, that they had scored one of only four kegs that had been made available to the area through Shangy's Distributors in Emmaus. My my.
1,925 characters
3.73
/5
rDev
+1.1%
vibe: 4 | quality: 3.5 | service: 3.5 | selection: 4 | food: 4
College Time!!!! Dooo dooo doo do - do do - do doo! You know, even though Mad Mex is basically a college bar (and I'm not in college anymore) I love it! They've got a great line-up of at least 12 beers on tap and the food is good and fairly reasonably priced. I sometimes have lunch there with a friend who works at HUP. The space is nice and it's got a good feeling to it. It used to be cleaner and a little less worn, but its "distressed" character just adds to it's charm. If you're a party animal, stop in on the weekend nights (in college terms that's Wednesday thru Saturday); otherwise a stop for lunch during the week might be best. In the summer the back patio is nice. OK service, great beer selection, good food = good times!
736 characters
3.7
/5
rDev
+0.3%
vibe: 4 | quality: 3.5 | service: 3.5 | selection: 4
Mad Mex is located in the Shoppes at Penn in University City close to The New Deck Tavern & the White Dog Cafe. The interior is all mex'ed out. There is a big zig-zag bar which seats around 20 , with green lights atop with glass jars around them. There is a decent selection here, Warsteiner, Victory Hopdevil, Bud light, Coors light, Yuengling Lager, Yards Love stout, wood chuck cider, Bass, Sierra Neveda Pale Ale, Dos Equis, Hackor Psychor Pils, Red Hook IPA, Sammy winter, Biddingtons, Guinness, Neversink, SN Big foot and a House brew by Stoudts called Big-B. I had a the sn bigfoot first and then I had the Stoudts Big-B, which was decent but nothing special.
A little down the block, there is a decent place called white dog cafe....
744 characters
2.88
/5
rDev
-22%
vibe: 4 | quality: 1.5 | service: 3 | selection: 3.5 | food: 4
Just went the other day for the first time in a couple of years. I'll start with the good news. It was happy hour, so it was half off all drafts, and since they have a fairly good draft selection, I was fired up. Started with a pint of Bigfoot for $2.50. Now the bad news: it was undrinkable.....pure sh*t. It tasted stale, very stale, but it also tasted as if the bartender put a shot of Vodka in it or something. After 2 sips I returned it for a SNPA which was almost as bad (but no Vodka taste this time). These beers were so bad that unsuspecting people who might be trying Sierra for the first time might be turned off forever. I gave up after a so-so Hopdevil.
What a joke, I've never had such bad quality anywhere, ever.
They just seem to focus on the hipster atmosphere and getting a few beers the Penn students have probably never seen before.
Good food, weak bottled selection.
Overall, I won't sacrifice quality for cheap prices, so I won't be going here anymore.
981 characters
Mad Mex - University City in Philadelphia, PA
Place rating:
3.69
out of
5
with
7
ratings