Nordic Blonde
| Bent Brewstillery
BA SCORE
80
good
11
Reviews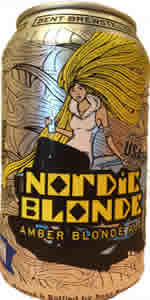 BEER INFO
Brewed by:
Bent Brewstillery
Minnesota
,
United States
bentbrewstillery.com
Style:
American Blonde Ale
Alcohol by volume (ABV):
5.70%
Availability:
Year-round
Notes / Commercial Description:
No notes at this time.
Added by RblWthACoz on 11-12-2013
Reviews: 11 | Ratings: 49

3.54
/5
rDev
+7.6%
look: 4.5 | smell: 3.5 | taste: 3.5 | feel: 3.25 | overall: 3.5
Nordic Blonde pours a hazy bronze color with a huge lacing head. There is a light aroma of caramel. The taste is crisp, nice caramel flavors, with a sweet malty aftertaste. Body is a little flat. Overall, its a no frills, decent beer.
★
238 characters
3.57
/5
rDev
+8.5%
look: 4.5 | smell: 2.5 | taste: 3.75 | feel: 4 | overall: 4
My girlfriend loves this beer and gave ma can to try out. I'm not familiar with the style and tend to gravitate towards other ales and stouts.
Look: a pretty pour with a nice gold color and a white foamy head. This beer had no problem with carbonation
Smell: The smell isn't a strong point. I got a grassy, malt smell almost like a light macro beer
Taste: the taste didn't blow me away initially, but then I noted my glass was half gone already. Malt is the initial item I notice and then about midway feel a touch of some sweetness and a little hop bite. I was happy with the taste.
Feel: The mouthfeel is medium bodied, very subtle dryness at the end. Nice carbonation on it as well
Overall: if I were to rate it via the style, I would put it a bit higher, but a four is still pretty good. I wouldn't seek this beer out, but if it was on tap or at the store it would be a fine selection
★
895 characters

3.14
/5
rDev
-4.6%
look: 3 | smell: 2.75 | taste: 3.25 | feel: 3.5 | overall: 3.25
Pours a dusky strawberry-blonde in color, topped with an off-white head which seems to have a lot of staying power. Minimal lacing as the head drops a couple of minutes later. Clarity is good but hazy.
Nose is... a bit different than what I was expecting. Fruity and tangy but with a touch more diacetyl than I was expecting, so not exactly the clean and crisp beer which the language on the can had me expecting it to be.
Sweet and lightly-tangy on the first sip, with good (ample carbonation) and just a bit of a classic American Pale Ale hop profile shining through at the end. Some biscuit malt character, which I can appreciate. Where's the crispness? There's tanginess and some vegetal character (think: rhubarb) which isn't off-putting as such. Also some smokey character -- not sure where that's coming from, but thankfully it is very far back in the mix. As near as I can tell, the can is fresh (the guy at the packie told me it had just-arrived that day, in fact. It has been kept quite cold since purchase).
This one is round and full in the mouthfeel, and much more in a classic Amber Ale profile (think: 1990s Microbeer era -- this is not a bad thing in and of itself).
Lingering hop bitterness -just a touch- melds or blends with the biscuit malt character, the effect being a dry finish.
This is not bad at all, but I probably wouldn't choose it over a pint of something lighter in body and a bit crisp. Worth a try, eh?
5.7% and 27 I.B.U. according to the can.
★
1,493 characters
4.04
/5
rDev
+22.8%
look: 4 | smell: 3.75 | taste: 4.25 | feel: 4 | overall: 4
L-Orange/oak colored...
S-Grainy
T-Nice bready malt flavor. Not much for hops which is fine with me for this style
F-Lower carbonation works well with the bready malty flavor
O-This is pretty solid. Enjoyable, malty golden ale. A little high in ABV for the style but not much in the way of heat on the taste. Drinks like a sessionable beer.
★
352 characters

3.66
/5
rDev
+11.2%
look: 3.25 | smell: 3.5 | taste: 3.75 | feel: 3.75 | overall: 3.75
Appearance: Gold, with good carbonation but a low, thinning head.
Smell: Toast, caramel.
Taste: Caramel, then tingly citrus/grass, then a more toasty note on the finish.
Overall: Another local beer, in a can, so I had to give it a shot despite blonde ales being pretty low on my favorites list. This is actually a pretty interesting beer, though it is named Nordic Blonde it is more of an amber ale in flavor and color. Pretty tasty, worth a try.
★
455 characters
3.75
/5
rDev
+14%
A clean nose with a touch of spice and light fruit.
Pours clear amber blond with a 1" white foam cap.
Has rich Munich malt flavors but the hops taste a little dull - could be on the old side. Clean and crisp with a dry finish.
Medium high carbonation, medium light body.
★
270 characters
2.7
/5
rDev
-17.9%
look: 3.5 | smell: 3.5 | taste: 2.25 | feel: 3.5 | overall: 2
22oz bottle poured into a pint glass.
A: Clear golden amber. White head settles quickly.
S: Grainy, caramel. Straw. Metallic. Subtle dig of oily hops.
T: Toasty, straw, caramel. Metallic. Sharp hop bitterness builds and imparts an uneasant steely bitterness. Straw/metallic finish.
M: Medium bodied. Moderately carbonated.
O: Somewhat of a chore to drink. The metallic tastes and unpleasant hop tastes got to me fairly quickly, and I'm a very patient drinker.
★
466 characters

2.53
/5
rDev
-23.1%
look: 3.25 | smell: 2.75 | taste: 2.25 | feel: 2.75 | overall: 2.5
I picked this up before hearing about the recently-announced merger of Pour Decisions and Bent. Tasted 18 January 2014.
Pours a very clear pale orange color. Shockingly clear, until I realize that's because there are no bubbles in it. Only a thin layer of whitish head, okay retention, not much lacing.
Smell is a lot like a macro adjunct lager. Super grainy, oddly sweet, and without much to commend it.
Taste is mildly bitter, watery. What else is there to say. There's just not much flavor, other than that dull, rounded bitterness. "Clean", "crisp", and "delicately balanced" - it says all those things on the label, but I'm not finding them. Not very good.
Feel is okay. A little more expansive than I'd like, feels like it's ballooning in my mouth. Despite looking totally flat, it has enough carbonation. Oddly watery and voluminous.
This isn't offensive enough to drain-pour, but it's not good enough for me to ever want to drink it again. And I've had blonde ales that I like, so it's not just a style thing. It's just dull and not very flavorful, and the only flavor is a drab bitterness.
After drinking this, I'm worried about the Pour Decisions / Bent merger. I really hope PDB's beers come through more, as this one's not at all worth drinking.
★
1,275 characters
3.58
/5
rDev
+8.8%
look: 4 | smell: 3.5 | taste: 3.5 | feel: 4 | overall: 3.5
Poured from a 22 oz. bottle into a tall pint glass.
Appearance: Pours a slightly hazy copper golden orange with a lot of rising bubbles. About one finger of white head that fades into a thin patchy layer. Leaves a decent amount of lacing.
Smell: A fairly light, sweet, and bready malt forward aroma with hints of fruit. Pale malt with hints of biscuit, grains, wheat, cracker, caramel, and yeast. Subtle citrus fruit hints of orange and lemon. Slight hint of honey. Hops are very light. A pretty laid back but decent blonde aroma.
Taste: Like it smells, a light and crisp malt driven taste with sweet notes of fruit. Upfront taste of pale malt with crisp notes of biscuit, wheat, grains, cracker, yeast, and caramel. Subtle citrus fruit notes of orange and lemon. Sweet note of honey as well. Very subtle notes of floral hops. A light but decent taste.
Mouthfeel: Light bodied with a moderate amount of carbonation. Crisp and clean with a fairly drying finish.
Overall: An ok brew for the Blonde Ale style. Very light but whats there is decent.
★
1,049 characters

2.42
/5
rDev
-26.4%
look: 3 | smell: 3.5 | taste: 2 | feel: 2 | overall: 2
First time I've seen a bottle from Bent Brewstillery, & being relatively reasonable priced, I felt compelled to pick it up. $4 or so 22 oz. bomber split with my wife.
Pour is light orange with a pretty low bunch of carbonation for a light, breezy brew. Lovely flower-filled meadow on that breeze, pale/mid-winter MN boy malts, gentle sweetness. Not a bad blonde to pick up.
Nordic Blonde goes from seasoned pro in the nose to rank amateur in taste. The floral hops are backed by the lightest touch of bittering before the thing falls apart. Massive sweetness bowls over the light touch that makes up the nose, & there's a boggy muddiness mucking the beer up. To add to the problem, the carbonation goes down the rabbit hole & poof! joins Pluto in the ranks of the suspiciously vanished. Too heavy, too thick. Warming isn't doing it any favors as the subtle niceties begin to die off en masse.
Eh. This one started out nicely, but the deft touch needed for a good blonde is nowhere to be found. Not a good beer; I hope Dark Fatha is better.
★
1,045 characters
3.29
/5
rDev 0%
look: 3 | smell: 3.25 | taste: 3.25 | feel: 3.75 | overall: 3.25
Pours out amber/light orange in color with a tiny white head that dissipated very quickly. Smell is pretty subdued and not very strong. I get light caramel malts and some very light fragrance of sweetness and a little TINY bit of sweet tang to balance things out if you could say that. The smell is quite subdued as I mentioned before. Taste is much like the nose but a little more forward. I certainly taste some earthy malts with a tiny bit of tangy sweetness. After swallowing I can taste a tiny bit of bittering hops that stick in the mouth a tad and don't seem to follow in the throat. Mouthfeel is very thin which would seem to be right on for the style. Overall this is a decent beer but not a style I drink often. It seems done OK for the style. It's not something I would seek out again as it's not really one of the styles that I would typically drink but if it's yours I would give it a try. After drinking a little more and being less critical it actually drinks well. Definitely a session beer.
★
1,007 characters
Nordic Blonde from Bent Brewstillery
3.29
out of
5
based on
49
ratings.