Calhoun's Microbrewery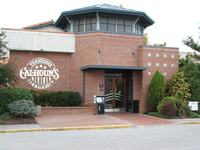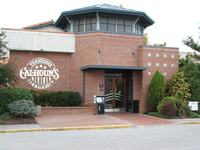 Bar, Eatery
6515 Kingston Pike
Knoxville
,
Tennessee
, 37919-4826
United States
(865) 673-3377 |
map
coppercellar.com
Notes: Brewed at Smoky Mountain Brewery
Reviews: 11 | Ratings: 16

3.99
/5
rDev
+13%
vibe: 3.75 | quality: 4.25 | service: 4 | selection: 3.75 | food: 4
Busy and crowded but what tasty BBQ and beers, I saw being near the river walk was nice to stroll before and after dinner. Nice staff, I most go back and try the other ales
172 characters
3.15
/5
rDev
-10.8%
vibe: 4 | quality: 2.5 | service: 4 | selection: 3 | food: 2.5
I've been to Calhoun's several time and my experience is about the same. Their staff is exceptionally friendly but their food and beer have always left me disappointed.
Food - Had the pulled pork dish with a side of baked beans and spinich maria. The only item that was really tasty was the spinich maria. The pork and baked beans were both very dry.
Beer - Tuckaleechee porter is by far their best offering. In fact, it is an excellent example of the style. But they have taken their best seller off tap and you can only purchase bottles. Didn't like that one bit. I had their "seasonale" IPA and it was terrible. The waiter was obviously told to stress that it was unfiltered beer. Ok great! No, was cloudy as hell. It tasted grainy and flat with no aroma to speak of. Where's my IPA hops aroma?
I don't think I'll be going back simply because the only thing worth going for is their porter which is not even on tap anymore.
930 characters
3.48
/5
rDev
-1.4%
vibe: 3.5 | quality: 4 | service: 3.5 | selection: 3 | food: 3
I have been recently going here every Thursday to have a Smokey Mountains Brew and lunch. This place has a laid-back atmosphere around lunch time. I love the way this place is set up as well, the light from the skylight is very natural and it feels more natural than just your every day restauraunt. The fact that it brews and serves SMB speaks for itself. The bartender is very knowledgable and loves to talk about brews. Great place to go if you are meeting a friend or coworker for lunch. Wish I could say it was fairly cheap. But the food can get a little pricey.
567 characters
3.18
/5
rDev
-9.9%
vibe: 3 | quality: 3 | service: 3 | selection: 3.5 | food: 3.5
Stopped in for an early lunch on a weekday in October, and had to wait too long to get served. We were ahead of the rush, so there should have been more attention. The time lag between ordering and food arrival was also too long. Anyway, the beer sampler was a good choice for me. I did not take notes, but I was not hugely impressed with the selection. All were typical of their styles, with no standouts. My luch of wings were big, well cooked, well sauced (hot) and nicely presented. I was able to buy a mixed 6 pack of Smoky Mountain products, which was a plus. The atmosphere is a little too chrome-and-polish for me. I like a more laid back atmosphere.
I would not be a regular, but I am glad we dropped in. It is worth you while to give it a try.
754 characters

3.58
/5
rDev
+1.4%
vibe: 3 | quality: 3.5 | service: 3.5 | selection: 4 | food: 3.5
Stopped in with some friends one night just to have a couple of beers.
As far as atmosphere goes, it's ok. Seem like a cross between a large chain (i.e. T.G.I. Fridays, Applebees) and a barbeque joint. It has a very Southern feel with lots of farm implements and whatnot decorating the walls.
We just ordered a couple of appetizers, which were good, but I can't comment on the rest of the food. Supposedly they won a "Best Ribs" award like 20 years ago. This seems to be their claim to fame.
The beer was actually better than I was expecting. I had a good APA in the Appalachian Pale Ale, and the Tuckaleechee Porter was a pretty decent offering. However, my wife had the Windy Gap Wheat and the Velas Helles, which both turned out to be sub-par. At only 3.50 a pint though, I was pleased for the most part.
Overall, it's a pretty average chain microbrew spot. The beer choices are standard offerings that are good but not great, and there aren't any exciting or outstanding brews. I'd go back, but more to try the ribs than anything.
1,038 characters
3.35
/5
rDev
-5.1%
vibe: 4 | quality: 3.5 | service: 3 | selection: 3 | food: 4
This was another in a long line of Hops like restaurants that claim to be microbrews, but unfortunately they all just taste the same and have very little to offer in terms of originality. There foods were excellent, and for a rib place it actually is pretty darn good, however for a place that brews its own it is horribly forgettable. Everything just tasted mass produced and slightly watered down. If they had put the same kind of effort they put into their food in the beer it might have been half way decent, Unfortunately it was just average at best. I would skip this place and move on if you could.
605 characters

3.13
/5
rDev
-11.3%
vibe: 2.5 | quality: 3 | service: 3.5 | selection: 3 | food: 3.5
Made this a quick stop while waiting for a friend to get off work. Of course, I pick a BBQ rib joint to hang out--vegetarian. No veggie choices, SURPRISE, but what pieced together from side menus was good.
As for the beer, Calhoun's is a part of a chain of associated restaurants, and the beer tastes chain-ish. The Summer Wheat was light and thin, but the Cherokee Red Ale was a malty Irish Amber with a mild hop bite that was more than drinkable in spite of the racist name. Otherwise, not much except the Tuckaleechee Porter was an adequate beer as well.
Not a place I'd ever return to unless I had a group of carnivore friends like for a fix that happen to have slightly better than mainstream beer.
711 characters

3.8
/5
rDev
+7.6%
vibe: 2.5 | quality: 4 | service: 5 | selection: 3 | food: 3.5
Clahoun's is located on a frontage road off the highway. It would appear to be a steak house or mexican place as the building doesn't fit the normal brew pub look. I was greeted and proceeded to the bar. The bar was off to the corner and not the main focus of this facility. However, I found the service to be exceptional. "Barry" the bartender introduced himself and ask for my name. He must have used my, and everybody elses name at the bar 2-3 times. He was almost too good to be working at this place. However, talking with a few locals it would appear that "Barry's service" was the norm for Calhoun's.
Calhoun's had won an award at the GABF for their light Vienna. However, I don't think it was their best beer. I ended up having 5 good / great beers while there and meeting a TON of nice folks. They were more then happy to talk to a Yankee and they all spoke foundly of Cahoun's. Overall, I feel this place was above average and would go there again. I hope Barry and his band of regulars are there again when I return. ...oh yeah, and they have some really great BBQ too!
1,084 characters
3.58
/5
rDev
+1.4%
vibe: 3.5 | quality: 4 | service: 3 | selection: 3.5 | food: 4
Calhouns, a taste of Tennessee! I visited this location, since it is the 'brewpub'. Well, I think the real focus is the food, the beer is probably a close second.
The first thing that greets you upon entering are sacks of malts from Germany and England. I guess they make cool decorations, or maybe they don't have room anywhere else to store them. Then straight ahead you see some seating the large copper boiler, and fermentation tank. To the left is the square bar, looks to seat about 25-30, and the conditioning tanks. Each one sports the logo of the brew inside. They are not behind glass, you could walk up and touch one if you really wanted to. To the right is a large dining area.
The parking lot was jam packed due to the 3.99 burger special, but we were still immediately seated, despite have to circle the parking lot twice and wait for someone to leave to get a spot.
I tried the Tuckaleechee Porter and the winter warmer. Both were above average and quite drinkable. You can opt for a pint or a 33.8 ounce supermug.
Locals told us this is the place to go to eat, when asked where the best restaurant in town was. I had the ribs and shrimp skewer. The ribs were excellent, I was not disappointed, they live up to the hype. The meat melted of the bone, and into my mouth. Their sauce is truly something special, a little on the mild side, but super tasty. The shrimp were large, and did not disappoint either. They were nice and juicy, not overcooked like you sometimes get off a grill. If ribs is not your thing, they also have steak, catfish, chicken, burgers, ect... on the menu. You'll find something you like here.
I will be back, if I am ever in the region again. For both the beer and the food. So far this is the best food I ever encountered at a 'brewpub'. Perhaps, this should be considered more of a restaurant which happens to brew its own beer. You should not have any reservation about bringing the family along with you. This place has a kids menu, and is family oriented.
2,018 characters
3.8
/5
rDev
+7.6%
vibe: 4 | quality: 4 | service: 3.5 | selection: 3.5 | food: 4.5
Stopped by for lunch before heading out after yesterday's Brewer's Jam. Located on the river, is sets the tone for a traditional Southern Bar-b-cue resturaunt. Caught somewhere between upscale and casual, the prices are reasonable, but the food is terrific. The brews were good but nothing spectacular. They carried about 6 brews. They do not sell a 'sampler', which I found off. I drank a pint of very good porter with a bar-b-cue pork sandwich while overlooking the river. Life is pretty good. The resturaunt takes its motif from nautical architecture with southern charm. Made for a very nice lunch before hittin' the road.
626 characters
3.53
/5
rDev 0%
vibe: 3.5 | quality: 3 | service: 4 | selection: 3.5 | food: 4
Calhoun's is a restaurant/brewpub combination that is known for its food as much as for its craft beer selection. There is a nice, varied menu at Calhoun's that features typical American style cuisine like sandwiches, pizza, main entrees, desserts, etc. Calhoun's is best known for its ribs and it has won a few awards for this menu item. They are quite good for the local area, even if they are not the greatest ribs on the planet, like some have claimed.
Calhoun's brews its own beer and there are usually about seven products to choose from. At any given time, one can expect to find six regular brews and one seasonal on tap- a typical number for a brewpub. The beer brewed at Calhoun's covers several styles, like porter (my favorite among the choices), brown ale, red ale, and so forth. The beers are clean and generally good, although they tend to play it safe at Calhoun's when it comes to brewing. There isn't a bad beer in the bunch, but the corporate management seems to be content with offering only safe, agreeable beer products. This means you won't find an 80 IBU India Pale Ale or a beer brewed with licorice. Calhoun's seems more concerned with sales than anything, so they brew the beers in a conservative, acceptable way.
I like most all of the food at Calhoun's and the service is good, too. One nice thing about Calhoun's is that they always seem to have room for guests. No matter how crowded the parking lot may be, there always seems to be an open table for seating. In the three years I have been visiting, I have never had to wait for a table.
Calhoun's has a few locations but the one featured here is the one where the beer is brewed, so this is the location to visit if you're a true beer geek and want the full brewpub experience. This location also offers t- shirts for sale, bottled Calhoun's beer to go, and growlers of beer to go. It all adds up to a pretty good brewpub with a cozy, comfortable atmosphere, reasonable prices, and quick service.
2,005 characters
Calhoun's Microbrewery in Knoxville, TN
Place rating:
3.53
out of
5
with
16
ratings