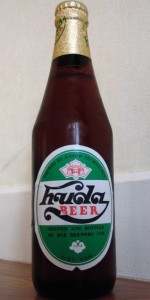 BEER INFO
Brewed by:
Hue Brewery LTD
Viet Nam
huda.com.vn
Style:
American Adjunct Lager
Alcohol by volume (ABV):
5.00%
Availability:
Year-round
Notes / Commercial Description:
No notes at this time.
Added by brc on 04-04-2009
Reviews: 6 | Ratings: 13
Reviews by intoxabroad:
More User Reviews:
2.02
/5
rDev
-18.5%
look: 2 | smell: 1.75 | taste: 2 | feel: 2.25 | overall: 2.25

2.44
/5
rDev
-1.6%
look: 2.25 | smell: 2 | taste: 2.75 | feel: 2.25 | overall: 2.5


2.55
/5
rDev
+2.8%
look: 2.5 | smell: 3 | taste: 2.25 | feel: 1.75 | overall: 3
Can from a minimart in Hanoi.
D+ / AVOID
***
July 7th, 2016:
Brown glass bottle at a bar in Hue (its hometown) for 25,000 dong.
Sharp overcarbonation. Biting pilsner malt backbone. Clean barley. Not too sweet, but it does have an off-putting rice-driven graininess.
Smooth, wet, unrefreshing, light-bodied.
Largely neutral (if not insipid), but inoffensive and free of off-flavours or egregious faults. Yes, it's a simple shallow lager, but its high drinkability is its selling point. Its low price will keep me coming back at least a couple more times, but I'd sooner reach for many other common Vietnamese lagers when in the country.
C- / BELOW AVERAGE
★
661 characters
2.36
/5
rDev
-4.8%
look: 3 | smell: 2 | taste: 2 | feel: 3 | overall: 3
Picked up this bottle at my local Vietnamese takeout place. It's got a label in English on the front (brewed by Danish technology), and French on the back. Surprisingly not skunked with no off flavors.
Pours golden color, clear as water. White head with small bubbles, decent retention at first.
Smells faintly like pilsner malt, with a bit of grassiness.
No bitterness in the taste. It's fairly bland, as expected, but has some apple juice sweetness.
Mouthfeel is watery, but normal for the style.
Drinkable for the masses, though most beer lovers will turn up their noses.
★
589 characters
3.2
/5
rDev
+29%
look: 3 | smell: 3 | taste: 3.5 | feel: 3 | overall: 3
I wonder if Huda sold overseas may suffer from being too long from brew day in Hue, Vietnam. I've been to Hue several times in the last ten years and Huda seemed like a passable drink, nothing special, but no worse than many of the American biggies. Viet beer on see on shelves here--333, Huda, and others--maybe suffer from being over six months old.
★
351 characters
2.68
/5
rDev
+8.1%
look: 2.5 | smell: 2 | taste: 3 | feel: 3 | overall: 2.75
Poured from 450mL bottle into a chilled glass at Phong Nga.
No head on this clear fizzy pale yellow. It smells unpleasantly and forebodingly grainy. Sweet. Skunky.
It actually tastes really nice! Reminiscent of BeerLao, especially in that the rice character is clean and forward. It tastes like fresh purple rice. The end and aftertaste is sweet, perhaps too much so. A weird bite is not quite metallic or minerally, but sulfuric, perhaps from the lager yeast.
It's one of the better beers in Vietnam, but it's not very good.
★
529 characters
2.38
/5
rDev
-4%
look: 2 | smell: 2 | taste: 2.5 | feel: 2.75 | overall: 2.5
Can from a shop in Nha Trang.
A - Pours light golden with a one finger white head that fades really fast. Good carbonation. Bright. No lace, no retention.
S - Grainy, corny, sweet grain, wet paper.
T - Lot's of sweet grain, less corn, pretty clean. Hits you with grain then is gone.
M - Good carbonation, light body, clean.
O/D - A fairly passable lager. Clean and inoffensive. Nothing great, but OK.
★
406 characters

3
/5
rDev
+21%
look: 3 | smell: 3 | taste: 3 | feel: 3 | overall: 3
Hue (bottle)
I am neutral on this beer.
40 characters
2.5
/5
rDev
+0.8%
look: 2.5 | smell: 2.5 | taste: 2.5 | feel: 2.5 | overall: 2.5


2.5
/5
rDev
+0.8%
In Hue, the "official" beer is Huda. Produced in partnership with Carlsberg. Huda is a light, crisp-tasting lager with a small head and a malty nose.
Like all Vietnamese beers, Huda is served cold, often with ice.
This beer is especially well-suited for Hue's spicy, greasy regional cuisine, but on its own its not something I'd seek out or recommend.
ABV is 4.7%
★
368 characters
Huda from Hue Brewery LTD
2.48
out of
5
based on
13
ratings.