Flat Branch Pub & Brewery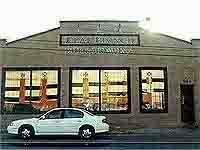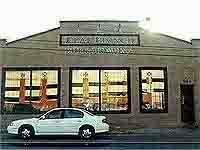 PLACE INFO
Type:
Brewery, Bar, Eatery, Beer-to-go
115 S 5th St
Columbia
,
Missouri
, 65201-4230
United States
(573) 499-0400 |
map
flatbranch.com
Notes:
No notes at this time.
Added by maxpower
HISTOGRAM
View: Beers | Place Reviews
Ratings: 62 | Reviews: 40
3.95
/5
rDev
-2%
vibe: 4 | quality: 4 | service: 4 | selection: 4 | food: 3.5
Nice atmospher in a college town, big bar with plenty of seating.
Good beer with plenty of their own on tap. I have been there a couple of times and would recommend getting a growler to take home and enjoy. I have done this before when having a small party, good way to keep your friends happy.
Service is pretty good and everyone knows their beer and are good at giving you an idea of what to expect. They pour small samples (for a price)if your not sure what you want.
Food is average to pretty good.
505 characters
3.73
/5
rDev
-7.4%
vibe: 4 | quality: 3.5 | service: 4 | selection: 3.5 | food: 4
I stopped by on a trip to Kansas City on a business trip. Was served a sampler that included the extra special bitter, katy pale ale, oil change oatmeal stout, great pumpkin ale, special bitter, and green chili beer. The ESB was pumped from the cask, and was an above average cask ale. All of these choices were good. I recommend trying the green chili beer, as this type of beer is not often found at other breweries. It had a unique pepper aroma with a spicy finish.
I had the "chokes and cheese" for lunch. The chokes and cheese is a cheese and artichoke dip in a bread bowl served with broccoli, carrots, and celery. I was pleased.
I recommend this brewpub to anyone visiting Columbia. And like I said, at least get a sample of the green chili beer.
756 characters

3.88
/5
rDev
-3.7%
vibe: 4 | quality: 4 | service: 3.5 | selection: 4 | food: 4
Only brewpub currently operating in Columbia, MO.
Flatbranch almost always has 12 of their beers on tap. Katy Trail Pale Ale, Oil Change Oatmeal Stout, Honey Wheat, Brown Ale, Green Chili, and British India Pale Ale are there everyday. The other six beers vary, at one time or another they've made just about every style of beer from pumpkin beers to bourbon barrel aged stouts to strawberry lagers to a steam style rye. They sell kegs, growlers, and offer a daily happy hour. The beer is good, some times great. Beer knowledge among the wait staff varies greatly.
The food is reasonably priced and they have a large menu. They offer many items for vegetarians if you are so inclined. Flat branch also bakes their own bread and they brew rootbeer and cream soda.
They have a nice beer garden if you want to grab a beer and a pizza outside. The bar is one of the largest in town.
If you're in Columbia and you like beer, you have to stop at Flat Branch.
958 characters

4
/5
rDev
-0.7%
vibe: 4 | quality: 4 | service: 4 | selection: 4 | food: 4
A nice brewpub in the middle of a huge Midwest college campus that I visited on Labor Day, 2007.
Atmosphere: A lively dinner crowd congregated here on my visit. Ample seating available in both the bar area (a very large bar, for sure), as well as the back dining area, where me and my sister's family ate.
Quality: Pretty decent beers served up at Flat Branch, and possibly the best beers I had of the three brewpubs I visited on my recent road trip through Missouri. In particular, their roasty Irish stout was a dead-ringer for the old bottled Guinness we used to get in America of a decade ago (dryish, but with a distinct sourness that was outstanding and unique). Other very good beers included their wheat and English IPA (right on the money for the style; hoppy, for sure, but in a reserved English way).
Service: We had a good waitress, and although she was responsible for several tables, she tactfully made her way back to our table to check on us from time to time.
Selection: Great beer selection. I tried the six-beer sampler, and I lament the fact that I didn't try at least one of their two cask-conditioned, hand-pumped ales (the English IPA was one of them). I only found out about these as we were exiting the pub. Doh!
Food: Pretty good pub grub. We (me, my sister, my brother-in-law, and one nephew) each had different appetizers, and we were satisified with the quality. I had the caprese salad appetizer, and it was wonderful.
Flat Branch has definitely carved out a nice little respectable niche for itself in the Mizzou-crazy Columbia. They make some damn fine beers, serve good food in a lively and comfortable setting, and it's small wonder they've been around for over a decade now. Kudos and continued success to those folks!
1,756 characters
3.26
/5
rDev
-19.1%
vibe: 3.5 | quality: 2.75 | service: 3.75 | selection: 3 | food: 4
Edit: The beer quality keeps slipping. Most are average. Many are below average.
I can't believe I haven't reviewed this place until now. I've lived in the Columbia area since 2000 and have visited Flat Branch many times.
The atmosphere isn't much different from any other brewpub I've ever been to. Flat Branch doesn't have a bunch of beer memorabilia but it looks like a classic brewpub. Nice flat screens near the bar area playing sports programming.
Service is very good. In fact, on my most recent visit I was having a couple brews at the bar and the bartender brought me a Stout free of charge because a patron made a last minute change in their order. Nice...never waste good beer!
The selection is good because they usually have 10 to 12 beers on tap but not so good because they lack variety (ie. most are low gravity and lightly hopped). Their 8 regular beers are always available. Usually they have 2-4 seasonal brews on tap. On this day they just had 2, because their weizens were gone.
Most importantly the beers are good. I've never had a bad beer here. I've never really have an average beer at Flat Branch either. The Oil Change Stout and the Katy Trail PA are their two most well-known and popular brews and possibly two of their best regulars. The Katy Trail can often be found on tap at other local establishments.
Food is always good, too. The appetizers are very good.
Overall, I'd say I really like the Flat Branch. I don't think I am a biased local, either. I grew up in Kansas and visited many quality brewpubs in Colorado, too. It's worth a stop on a trip through Missouri.
1,607 characters
4
/5
rDev
-0.7%
vibe: 4 | quality: 4 | service: 4 | selection: 4 | food: 4
Middle America's all Caucasian Brewpub
The Flat Branch Brewpub is housed in a 1920's era brick warehouse, with a curved, barrel-trussed roof and, was once a Studebaker dealership. It is a large, cavernous place with a big black granite topped bar, ample seating, and many sizeable windows allowing in plenty of light. A fenced in patio area provides outdoor seating as well, but it was way too cold to attract any customers today.
On tap they offered a Stout, Green Chili, Honey Wheat Brown, British IPA, Pale Ale, Pilsner, Scottish Ale, Red Wheat, and an American Pale. On hand pump they offered an ESB and Irish Red.
I started with the Irish Red ($2.75 for a 10 oz pour) which had a strong malt nose and complex malt flavor. This was followed a sampler of six, 5 oz pours ($5.50) that included the following beers (no substitutes although you can purchase individual samples for a $1.25):
Green Chili - Smells like green chili and is probably the first pepper flavored beer (in this case Anaheim and Serrano peppers) that I would consider drinkable.
Honey Wheat -primarily a chick beer with mildly sweet and definitely wheat-based aromas with a clean wheat finish.
Brown - Went great with the BBQ ribs I ordered for dinner.
British - Good
Katy Trail Pale - Good
Stout - silky smooth, great black malt nose, bitter chocolate and alcohol blend nicely to give this beer a distinct taste.
On a Wednesday, at 5pm, the brewpub had a decent sized crowd dispersed throughout. The music appeared to fade in and out, but never got any louder than the lazy, late afternoon atmosphere warranted. Between 5:30 and 7:00 the place filled up nicely, yet didn't feel too crowded. The four good sized flat screens surrounding the bar were all tuned to NCAA ball games. The clientele ranged in age from college kids to your Grandmother, and, maybe this is a Middle America thing, but almost every one there (except for one or two Asian guys) was about as White as you can get.
I finished the evening with A 10 oz serving of the IPA. This was an interesting beer that nicely balances Clementine-like sweetness against hop bitterness to achieve a pleasantly semi-dry finish. Different, but good.
The Flat Branch is a pretty nice brewpub with good food, good beers and character. If you're crossing Missouri on route 70, this would be a good choice for a stop.
2,376 characters

4.2
/5
rDev
+4.2%
vibe: 4 | quality: 4.5 | service: 4 | selection: 4 | food: 4.5
One of the first places I visited when I moved to Columbia 2 years ago.
The layout is large and open with what they claim is the largest bar in Columbia. It is a huge square bar with a couple banks of taps, two casks and a nice selection of single malt whiskeys. It is very industrial with tall brick walls and big steel rafters. They also have a beer garden or rather an outdoor patio with some potted palnts, which is open when the weather is nice.
The only beer they have is brewed in house, but they always have a nice selection of about 13 beers, a couple of them being rotating seasonals.
Their standards such as the RSB, Oatmeal Stout, Hefeweizen, Pale and such are all at least mediocre offerings with some that are actually quite good representations of the given style.
They also are not afraid to experiment with their seasonals, offering more traditional beers such as a Vienna Lager, Barleywine and Imperial stout, all of which are quite good and branching out to include a pumpkin ale around Thanksgiving which tastes a lot like a pumpkin pie stuffed in a pint glass.
The food is excellent with regular pub grub such as burgers and sandwiches, but also a nice selection of brick oven pizzas.
I went here about once a week for a while when a professor of mine used to treat the entire class to the first round after class to "continue the discussion" in an informal setting.
They also offer growlers, refills are $6 on mondays and $8 every other day.
This is Columbia's original brewpub and is also a smoke free bar which is hard to come by in this part of the country.
1,612 characters
3.73
/5
rDev
-7.4%
vibe: 4 | quality: 3.5 | service: 3.5 | selection: 4 | food: 4
Very nice atmosphere can get crouded bar limits eating area Crowed and busy on weekends. At 3 pm July 1st we had no wait. If there is a croud in town for a MU event expect a crowd. Limited off street parking.
The food is a little pricey. Fish and chips were good. Fresh bread baked on site. Bangers and mash are are house speciality. A well maintained web site will give you a great list of the food and beer. Flat Branch's beers especially Oil Change Stout are well brewed. A chalkboard by the bar lists the day's selection.
Worth a visit for the beer selection of about a dozen ales. A 5 ounce sample serving is available for a dollar. An 18 oz. pour goes for $3.50. I found most were rated average and very typical of the styles. Weather permiting a fenced outdoor beer garden is available. The service is average as is their beer knowledge,
Service is reasonably efficient and prompt.
899 characters
4.2
/5
rDev
+4.2%
vibe: 4.5 | quality: 4.5 | service: 4 | selection: 4 | food: 4
I used to go to Flat Branch quite a bit when I lived in Columbia.
Very nice atmosphere, exposed wooden ceiling, lots of brick, industrial venilation system. Could use more seating. Massive centrally located bar seems to rob the place of eating area, and add an element of chaos with foot traffic through dining room. Long waits on weekends. Bad tv placement, I remember watching a basketball game here sitting at the bar, head turned at an angle and having an aching neck, but who judges brewpubs on tv location?
Great food, cooked with their beer. Bangers and mash are pretty all right. Beer bread served with honey butter is great. Strip steak is okay.
Flat Branch's beers range from peculiar to tasty. Their ESB is a little too sweet, with not enough hops for an ESB IMO. Oil Change Stout is a nice one, very drinkable IPA and porter.
846 characters
3.85
/5
rDev
-4.5%
vibe: 4 | quality: 4 | service: 3 | selection: 4 | food: 5
I've been to Flatbranch 2 times in the last 6 months. I actually went to Columbia the second time because of Flatbranch! The food is spectacular, but do expect to pay more for that. I enjoyed an appetizer of pretzels (have them the german way: ask for butter to spread on them). I had a steak the first time, and it was great. But the second time I had the baby back ribs. Fantastic! The bbq sauce has beer in it and you can kind of taste it. But they are fabulous. We really enjoyed the beer selection, you get a lot of options, and order samples of the ones you want to try. I wasn't that impressed by the pre-set sampler variety they had. Try to go at an "off time." We went in July (it's a college town) and we had no wait. We went again in October (but really one of those baseball teams was playing...) and it was crowded.
828 characters
4.05
/5
rDev
+0.5%
vibe: 4.5 | quality: 4 | service: 4 | selection: 4 | food: 4
Flat branch is a great place to go to whether your out for a nice dinner family dinner, or looking for a place to hang with the guys (or girls).
There is plenty of seating at table or the bar, with a nice selection of excellent brews. The service is great and the people are always quick and cheerful.
The food is spectacular, though a little expensive. Though the great lad back relaxing atmosphere and good beer make up for that. It is a popular place and you should expect a wait especially during peak times.
520 characters

3.75
/5
rDev
-6.9%
vibe: 4 | quality: 4 | service: 3 | selection: 4 | food: 4
The Flat Branch Brewery is a solid brewpub to visit, they have a great selection of decent brews, usaully around a dozen. There is a good sized bar and plenty of seating in the restaurant, and in the warmer months they open the outdoor beer garden. The service is average as is their beer knowledge, the food is regular pub fare that is always good, they even have an in-house bakery. Also have a good single malt and bourbon selection. If you are passing through the area stop by you won't be disappointed.
507 characters
Flat Branch Pub & Brewery in Columbia, MO
Brewery rating:
3.55
out of
5
with
347
ratings