Federal Taphouse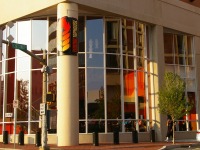 PLACE INFO
Type:
Bar, Eatery
201 N Queen St
Lancaster
,
Pennsylvania
, 17603-3551
United States
(717) 490-6932 |
map
federaltaphouselanc.com
Notes:
No notes at this time.
Added by woodychandler on 06-25-2013
Reviews: 9 | Ratings: 37
3.65
/5
rDev
-2.9%
Finally got a chance to check this place out. Selection is excellent. A wide variety of brewers and styles to choose from. 2 of the 3 beers I had were from in state brewers that I had not heard of before. The atmosphere was ok, it kind of felt more like a restaurant than a bar. Service was very good, no complaints at all, food was good but not great. The prices were a little high, but not outrageously so. Overall it's a place worth checking out if in the Lancaster area.
474 characters

3.75
/5
rDev
-0.3%
Stopped in with the wife and kid during a trip to the outlets. 100 tap list was quality, divided into sections for easy reference. Big selection of hefes, to the chagrin of the wife! So positive wife points. She had a pizza I had the turkey club- both were monstrous portions and above average. Kids portions are also huge. Service was somewhat indifferent by our server, despite being there at a slow time, but the 'host' (whom I presumed to be manager) was very friendly and pleasant.
Will keep it in mind for future visits to the area
546 characters
4
/5
rDev
+6.4%
The food is good and they have 100 beers on tap, always something you'll like. The service is usually pretty good, also, but the atmosphere usually leaves something to be desired. I've never felt like "hanging out" as I do at other local places. I find myself trying to choke down a beer or two and getting the hell out of there. But, that having been said, the beer or two I choke down are always top quality.
410 characters
4.89
/5
rDev
+30.1%
vibe: 4.75 | quality: 5 | service: 4.75 | selection: 5 | food: 4.75
I entirely disagree with a former review on this place (about their food). The food is absolutely fantastic, and I have eaten here numerous times. It is in no way "lackluster". They have a wood fire oven for their pizzas and they have the best burger in the city. I have had nothing but excellent food. Everything is fresh and the presentations and portions are great for the price.
As far as the beer goes, they have 100 drafts, and it seems that their tap list is constantly changing. They are very creative in their choices, and I love trying new things there.
The place is great.
585 characters

3.38
/5
rDev
-10.1%
vibe: 3 | quality: 3 | service: 3.5 | selection: 4 | food: 3
I could write a ton about the lackluser overpriced food, but this is a place you go to for BEER. A simple sheet of paper lists the current offerings, divided into categories. Each beer is listed by type, brewer, ABV, price, and a brief description. Pure 'kid in a candy store' stuff. In the categories of 'porters' and 'brown ales' alone, I had way too many choices. And I thank you for that! They were even nice enough to point out that one of my favorites, Siera Nevada Tumbler had been discontinued by the brewery, making this the last pint I would ever consume.
Majorbuzzkill...
That being said, I'll be off to the Taphouse for Sunday brunch, enduring the pricey, lackluster food... to worship at the glory of the tap list!
727 characters
3.84
/5
rDev
+2.1%
vibe: 4 | quality: 3.75 | service: 3.75 | selection: 4 | food: 3.75
I decided to stop in for some pizza and a pint or two with my wife and brother after a weekend in Philly. We enjoyed some appetizer hummus and had the breakfast pizza with egg and ricotta as well as the fig and roasted duck option. The place is slightly smaller than the harrisburg location but has upstairs also. The food was well cooked and service was friendly but not above & beyond.
I like the selection and menu here, the quality is very good and I will return for a brew if in the area most likely.
507 characters
3.83
/5
rDev
+1.9%
vibe: 3.5 | quality: 3.5 | service: 3.5 | selection: 5 | food: 3
Been there a few times now and feel like I could rate it accurately. The 100 beers are not just local PA brews as mentioned in another review. They hit a very wide variety. Beers from all over and a lot that have not been available in this area previously. I don't know of any other place where I can drink a Firestone Walker Double Jack, followed by a Avery Maharaja and topped off with a SoutherTeir Creme Burlee. All on tap. Can't remember seeing any bottles, but I suspect there was a glass fridge under the taps. Glassware was appropriate for the beer being served. Prices were on the high side - e.g. $9 for a 12oz pour of Maharaja. Most everything is $7+ with the exception of some PA brews which are $6.
Big open building. Big L-shaped wrap around bar lined with taps against opposite wall. Pizza oven located to the side and served up continuously. Another small bar in front of pizza oven is somehow separate from the main bar and you can't transfer your tab if you move. The bar in front of the oven has wait service. They'll make you close your tab at the main bar and reopen again.
The complaint I will make about this place is the atmosphere. It fills up to critical levels on busy nights and a lot of the customers are quite rude and douchey. Most don't know what to get or just get mixed drinks. It's basically a beer bar turned into late night club. I do not like that in my beer bar but I suspect it's quite pleasant at slower times.
Another time, I came with group of friends in the afternoon and was seated at a table that was completely blinded by the sun shining through the huge windows (no shades).
Food was alright - I had some kind of pork sandwich which I wouldn't get again. The wings are interesting. They're baked in the pizza oven with some uncommon seasoning. Wife had salad which did not look or taste too good. The one time I tried the pizza, it was very good. Will recommend and order nothing but the pizzas next time.
Parking - It's attached to a parking garage which I believe is 4 dollars. Park on the street after 6pm for free and free on Sundays. Note, saw my car getting hit by the guy parked in front of me on the street when I was walking out. Guy sped away quickly but no damage to the car. Like I said before, douches...
2,273 characters
3.44
/5
rDev
-8.5%
vibe: 3 | quality: 3.5 | service: 3 | selection: 4
Went once on opening week and I was impressed with the layout. Very open layout. Tons of seating ( although mostly 4 person tables ). The bar is WAY to small. For a place having a 100+ beers on tap they should have made it more bar friendly and less of a sit down restaurant (in my opinion). Beer selection is great most of it is local stuff from Pa region. Hopefully they will rotate a bunch of taps other then just seasonal or it could get boring. Cheapest beer there was Miller High LIfe and that was really the only of the "Big Three" that I could see. Beers are any where from $5 to $6 per.
Note- When setting up a tab they do not print a list of what you ordered that night (at least not mine while I closed at the bar) I ended up being overcharged and didn't realize it until later the next day. So if only doing drinks Cash is probably best.
851 characters
3.28
/5
rDev
-12.8%
vibe: 3 | quality: 3 | service: 3 | selection: 4
After a two year delay we were happy for this place to finally open. The happiness didn't last when we found out that they don't offer beer flights; something I think is necessary when you have over 100 beers. Worse still, when we requested a small taste of something to help in a decision, we were refused and told "we don't do that here". Quite a disappointment.
364 characters
Federal Taphouse in Lancaster, PA
3.76
out of
5
based on
37
ratings.