Locus Publicus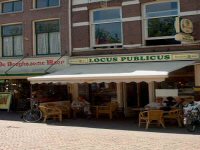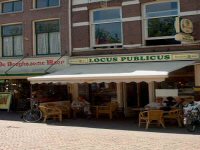 Bar, Eatery
Brabantse Turfmarkt 67
Delft
, 2611 CM
Netherlands
+31 15 213 4632 |
map
locuspublicus.nl
Notes:
Reviews by TheLongBeachBum:
TheLongBeachBum from California
4.08
/5
rDev
+8.5%
vibe: 3.5 | quality: 4 | service: 4.5 | selection: 4 | food: 4
The superb directions contained in Simon Van Tromp's Beer Traveller Guide to South-West Netherlands (pp10) led us to straight to the Locus Publicus without any problems. It is only a very short walk from 't Proeflokaal and 't Kloosters (see BeerFly).
Billed as the first specialist beer café in Delft, it has been in existence for about 25 years. It comprises one long thin room with the bar starting half way down on your right hand side. Tables and Chairs are at the front as you enter, with High Stools at the Bar half way down. An unaltered splendid wood-panelled Brown Café that's screams "you are going to spend some time in here". The bar staff were very friendly and knowledgeable. They aided and directed us, as we perused the bars offerings of around 9 beers on draft, often including Seasonal Beers and/or 'Specials', indeed they had Barbar WinterBok on whilst we were there. The Bottle beer list number varies but it is around 150 to 200. A decent selection, which includes Belgium Beers (incl. several Trappists), many Dutch Beers and other famous World beers. After a chat with the knowledgeable bartender we ordered a brace of 't Smisje Honingbier Blond (6%), this beer is from a Belgium microbrewery called Regenboog. After this we decided to try some Dutch beers. The staff here are very 'serious' about beer, you could be forgiven for thinking that drinking good beer is no laughing matter in here.
Snack's only. Though they are very good value for money and extremely wholesome, including warm broth/soups and sandwiches.
Located on the Turfmarkt, which is very central and akin to a village square, (although it is rectangular in shape) it makes for a very pleasant place to sit outside and enjoy watching the world going about their business, whilst drinking good beer. A serious bar to drink serious beer.
Dec 21, 2002
More User Reviews:

BdM from Netherlands
3.29
/5
rDev
-12.5%
vibe: 3 | quality: 3.25 | service: 3.25 | selection: 3.5
Sep 14, 2018
Dukeofearl from California
4
/5
rDev
+6.4%
vibe: 4 | quality: 4 | service: 4 | selection: 4
My wife and I spent a cold and windy day in Delft in April, 2007, including a chunk of the afternoon at Locus Publicus, and I am just now catching up on review. Just a short distance (3-4 blocks?) from the main markt square, but we got turned around and ended up taking "the scenic route" getting there.
As it was cold, we didn't take advantage of the nice table spots out the plaza, so we were in the cramped and smoky inside at a small table next to the bar. That may not sound great, and the smoke was not fun, but overall, the old-world European vibe was cramped but quite enjoyable.
About 40 beers on their beer list (9 on tap, as mentioned elsewhere), lots of Belgians, some Dutch, and a few others- I had a couple of Dutch brews while my wife had a Guinness half-pint. Very civilized.
I have mixed feelings about the service. It was good, the guy could tell I knew something about beer, and he wanted to talk about it. That was cool. But at the same time he was pushing their high priced Westvleteren on me the entire time I was there. It's cool they have it (I guess), but I didn't want it at twice the price of their next most expensive beer. They had plenty of good stuff without that. He didn't seem to want to let it go that an American travelled all that way and was satisfied with something else.
Anyway, overall a good spot- I could see sitting on the plaza and while the day away here.
Jan 20, 2008
johnnybravo from Netherlands
3.7
/5
rDev
-1.6%
vibe: 4 | quality: 3.5 | service: 3.5 | selection: 4
I've been there a thousand times. A typical 'pijpela' cafe with lots of beers. Nice beerlist but not all of them are always available. Friendly staff, enthusiastic about their beers but not that knowledgable. But they know enough to impress and advice the average costumer and maybe even beer drinker. I really love it in the summer as you can sit outside on the square (which isn't a square but more like a wide street) and watch all the beauties go by. They have about 9 beers on tap. A few regulars like Guinness, Hoegaarden and Jupiler. Always seasonals and a beer-of-the-month.
Dec 13, 2006
texashammer from Texas
3.75
/5
rDev
-0.3%
vibe: 4 | quality: 4 | service: 3.5 | selection: 3.5 | food: 4
very long, narrow place leading back from the street, with low ceilings. it was warm and we found very comfortable seating and all, but it got smoky enough that we felt a little stifled. but good atmosphere with servers and customers if you can handle the smoke. small book of beers offered a good selection; I had a Cantillon Kriek, and I don't think you'll find that just anywhere. really good, simple, appetizer-type food cooked within sight by the bartenders on a hot plate. we had a very friendly server, and enjoyed ourselves enough that it was hard to leave to catch our train.
Feb 10, 2006
Locus Publicus in Delft, Netherlands
Place rating:
3.76
out of
5
with
5
ratings