Aces & Ales - Tenaya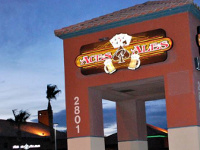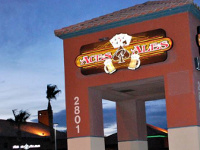 PLACE INFO
Type:
Bar, Eatery, Beer-to-go
2801 N Tenaya Way
Las Vegas
,
Nevada
, 89128-1419
United States
(702) 638-2337 |
map
acesandales.com
Notes:
Bar & Kitchen open 24/7.
PLACE STATS
Reviews:

12

Ratings:

pDev:

9.88%
Reviews: 12 | Ratings: 29

3.9
/5
rDev
-6%
vibe: 3.75 | quality: 3.75 | service: 3.75 | selection: 4.25 | food: 4
Visited this place in 2014, very nice selection of brews, but pretty expensive. Smaller place had some music playing. Had a biker type feel. The food was pretty good as well. Lot's of older Stone brews were available.
217 characters

4.46
/5
rDev
+7.5%
vibe: 4.5 | quality: 4.75 | service: 4.25 | selection: 5 | food: 2.75
The super impressive taps list is mind boggling. The have some seriously rare stuff here and it is expensive but worth it. What they have on tap is very impressive, lots of Stone brewery stuff here and some rare Stone beers on tap. The Service was a tad slow for my taste, they were not too busy, I felt the bartender could have been a touch more attentive. Just my personal preference. The only hang up I have about this place the food. Some items on the menu is seriously over price for the quantity you receive. The food is just okay. Overall a positive experience. I will go back just for the beer not the food.
616 characters
4.7
/5
rDev
+13.3%
vibe: 4.5 | quality: 4.75 | service: 4.75 | selection: 4.75 | food: 4.5
Great locale for beer geeks. Huge tap selection with an enthusiastic and informed staff. They were generous with the samples and advice. Great hard to find bottle selection.
173 characters

4.54
/5
rDev
+9.4%
vibe: 4.25 | quality: 4.5 | service: 4.5 | selection: 4.75
Moved to Las Vegas from San Diego and thought to myself that the days of going to a place for a good selection of brews was kind of over. Wrong I was. I went to this place on their Barrel Aged night and knocked off half a dozen hard to find beers off my wish list. People were friendly, the service was good and I see myself becoming a regular.
344 characters

4.55
/5
rDev
+9.6%
vibe: 3.5 | quality: 4.75 | service: 4.75 | selection: 4.75 | food: 4
Nor many choices for good draft beer So glad we have aces and ales. Good selection of beers a handful of one offs and ok but pricey bottles. Had sold and attentive serv8ce. Enjoyed the appetizers. Will be back.
214 characters

4.25
/5
rDev
+2.4%
Honestly, this place would be very near perfect if it wasn't for the smoke. It's not always smokey, but most of the time it is, and it certainly changes the experience. All the bartenders know their beer here(impressive with 50 rotating taps) and they are continuously changing out the taps. The manager is really awesome, and they host tap takeover days and events at this bar. All and all, a really good place to find good craft beer, and the food is solid here too.
They have a number of bottles(including up to 10 year aged bottles) for sale here and they do a bottle share on Sundays as well if you have some good beer you would like to bring in and enjoy some other good beers.
688 characters

3.88
/5
rDev
-6.5%
vibe: 2 | quality: 4 | service: 4 | selection: 4.5 | food: 3.5
first off, probably the best on tap selection i've seen in a while. tried a dbl ipa's on nitro (forget name) which was a pleasant surprise.
the food selection was ok. had some kind of cheese ball or something. nothing to write home about.
staff was friendly. however, i was a bit turned off by the overall atmosphere. slot machies @ the bar make it uncomfortable to put you elbows down and shoot-the-s__t. not sure if there was a methadone clinic next door or what but the dude w/ the shakes who wouldn't drink at a bar was kinda weird. not sure if everyone was in sportsbooks that weekend or what, but you'd think for the time of day and year it was this place would have been packed.
in the end, typical run of the mill bar w/ a dank-sticky feel, awesome selection and friendly staff. methheads weren't very sociable.
cheers!
831 characters

4.29
/5
rDev
+3.4%
vibe: 3.75 | quality: 4.25 | service: 4.25 | selection: 4.5 | food: 4.5
For those of use from out of town, this is a great place to have some beers we can't usually get. The place is laid out with a bar with video poker on the left when entering, and a dining area with all large high top tables on the right. A bit of an open kitchen here, and the kegs are stored in a giant glass refridgerator in the center of the place. Loads of TVs all showing ESPN or sporting events - great place to watch a game or two. It also has a bit of a warehouse feel to it.
There is 50 beers on draft, and the waitress brought us a beer list immediately after we sat at a table. There is an electronic tap list on a TV screen on the wall too. The beer list covers all styles so anyone would find something they like here, but it still leans towards hop-centric beers. The beers we had were all very fresh, so despite the large tap list, they seem to move.
The food here is very good pub grub. The sandwiches, soups, and appetizers we had were all very tasty. They love to use Arrogant Bastard ale to marinate the steaks, onion rings, cheese, zucchini, and in the chili as it is listed on each of those menu items.
Service was prompt and super friendly. Overall the prices seemed very reasonable, especially after spending some time on the Strip. I can say this was an enjoyable stop and will be back on my next trip to Vegas.
1,341 characters
3.91
/5
rDev
-5.8%
vibe: 3.75 | quality: 4 | service: 3.25 | selection: 4.5 | food: 4
The atmosphere isn't anything to write home about, but it's not horrible either. Dimly lit horseshoe bar with table top gaming, plenty of TVs to catch whatever game is on at the moment, and 2 monitors that display the tap list.
The place is rather new, so everything is still nice and new.
Service can be hit or miss depending on who's working (and I'm a regular too).
50 taps! Only 10 are permenant, the other 40 are rotating.Stuff like Big Bad Baptist, Firestone DDBA, Stone '07 Old Guardian, '09 Alaskan Smoked Porter... all on tap. 'Nuff said.
Surprisingly, the food is really good here. Everything is made fresh, in house. Great burgers and pizza, cheese curds are amazing, and the deep fried Oreo's?! Oh yeah!
As for the discussion below about the price discrepency of a bottle of Abyss, a bottle of '10 Abyss is $40, and the'12 is $25. So they were both right. Anything on tap is $6, but sizes vary depending on what you order. The smallest size is 8.5 oz and the largest is 16oz. They have hoppy hour 4-6, and brews are $4. Good food, great brews. That's why I love this place.
1,090 characters
4.29
/5
rDev
+3.4%
vibe: 4.5 | quality: 4.5 | service: 3.75 | selection: 4.5
Met some fellow beer lovers here to do a trade while I was in town. Very nice beer selection on draft as well as some very cool vintage stuff like abyss. Not sure why one guy said abyss was $40 as I only paid $25 which I did not feel was excessive. Service was just ok but I would rather have a great beer selection over service although the service was not bad. One of the nicest brew pubs I have been too in awhile. It is a bit of a ride if your are staying on the strip. I would like to try the original location next time in town.
534 characters

2.88
/5
rDev
-30.6%
vibe: 2.25 | quality: 2.5 | service: 2.5 | selection: 3.5 | food: 4
This place was a major disappointment. Yes, they have a decent craft brew selection. But you pay a huge amount for a glass that is the size of some places samplers. And $40 for a bottle of Abyss is a bit excessive. I couldn't help but mentally review how much these selections were retail and realize how much they are over charging.
The atmosphere is laid back, with flip flops seemingly the foot wear of choice. It has excessive cigarette smoke and the music can be uncomfortably loud at times. Though watching the drunk patrons playing Air Guitar is an extra fun bonus.
The waitresses have you order by the number on the menu, and have minimal knowledge of beer. They do however know how to duck and doge the grabby drunk hands. It would be nice if a place that bills itself as a craft beer bar to have more knowledgeable staff.
The food was a notch higher than places of this type. So I do give them a good rating there. The cook that evening must be slumming. And the selection of foods does match well with drinking beer. So points there, too.
Overall, the place is a notch above a regular bar, but not nearly as nice as is should be. They make a killing on their beer prices and while their tap choices are fairly good, you pay way too much for these precious drops of brew.
1,285 characters

4.07
/5
rDev
-1.9%
vibe: 4 | quality: 4 | service: 4.25 | selection: 4
I am a huge fan of the original A&A, which is my favorite place in town. I was very happy to see another beer spot on the west side of town. A&A 2 or whatever is about 10 minutes from Big Dogs Draft House and less than two minutes from Tenaya Creek, situated in an office park and surrounded by medical office buildings.
This place is huge, with a u-shaped bar that seats 20-25 (though it is clogged with video poker machines like so many bars here), several large high tops and an equally large dining room on the right. Not gritty like A&A 1, more like a moderately upscale brewpub. Not a good thing or a bad thing, just different.
50 taps with great selections. Heavy on Stone, which seems to be always true at A&A (and again, not a bad thing). A good sized bottle list as well including some vintage FW and Deschutes bottles (not cheap but always a nice option to have).
Service has always been warm and friendly in my experience and this is true at the new place as well.
I have never been at Aces & Ales at mealtime before so I was looking forward to trying some food. Unfortunately the pizza oven was down so an order of beer bites was not to be. Maybe next time.
A worthy addition to the Las Vegas scene.
HV
1,221 characters
Aces & Ales - Tenaya in Las Vegas, NV
Place rating:
4.15
out of
5
with
29
ratings