Le Zageman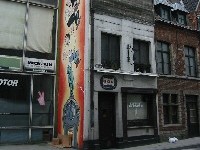 Reviews by TheLongBeachBum:
TheLongBeachBum from California
4.8
/5
rDev
+22.4%
vibe: 4.5 | quality: 5 | service: 4.5 | selection: 5
I've been to some great Bars in my 8 years of travelling Belgium, but I recently went to Le Zageman for the first time & can honestly say I was breathless & stunned. If you want to know what it must have been like to drink traditional lambic beers in a local's bar 100 years ago in Belgium - don't imagine - come here.
The exterior is probably only 18ft wide and has an EKLA Brewery (defunct) sign above the door. Has ~50 beers, but for me this place easily serves the best range (& value) of authentic lambics in Brussels, so it gets a "5". Girardin, Boon, De Troch, Hanssens and Cantillon. Also serves Cantillon Faro on draft (V. Rare). Ask for one and try something different. It is served in what resembles a 1/2-Pint version of an Old Style Dimpled English Mug with handle. The place appears to be run by just one oldish guy who only really speaks French, this is why it closes at 8pm.
On the Thursday night, we even bumped into one Stephen D'Arcy (the well know Belgium Beer Writer & Enthusiast) who was having a quiet Cantillon in here – well until we arrived. We chatted over our Hannsens and Cantillons. Simply heaven.
Thoroughly authentic back street boozer, small inside, cozy and 100% totally genuine. It feels as if you have been whisked back in time as the interior appears to have remained completely unchanged for many years, although it is occasionally added to (note the Malheur Brut bottle in the window). Interior is comprised of a plethora of old, but original & genuine enamel Gueuze & Lambic signs inside, as well as a 1943 Belgium Football League board. Old Photographs, Posters, more genuine Breweriana from defunct breweries, and two very interesting glass display cabinets containing more 'stuff' on the way to the Toilets. Just too much 'stuff' to describe. The bar too is amazing, a very small wooden one man affair. I can't believe places like this still exist.
Mind blowing.
If you are ever in Brussels, you just ***M-U-S-T*** make time to come here, because I have an awful feeling that when the old guy that runs it leaves, retires, or worse – this place will disappear for good into the mists of memories of old farts like me. This really is a hidden back street gem. Lambic drinkers worship this place.
Does not serve food, so bring your own Peanuts. Who gives a F.
Le Zageman calls itself the "palace of amateur gueuze drinkers" according to Tim Webbs Guide. In that case, I graduated with honors during the last week of Nov. '02.
Last Visited: 11/25, 26, 27, 28 & 30 – 2002!!!
Dec 21, 2002
More User Reviews:
Goldorak from Canada
4.29
/5
rDev
+9.4%
vibe: 5 | quality: 4.5 | service: 4 | selection: 4
This place truely is a blast from the past...Part of it is like a sports bar from the 1800's. You had old football (european, of course) pictures, cleats hanging from the ceiling, and even an old board where statistics on each local team was posted. Old lambic breweryana everywhere, and one of the most freaky toilets I've ever seen. Just fabulous.
The Beer list was great for lambic fans, with plenty of selections from Cantillon, Hanssens and De Troch.
The bartender holding up shop, as well as most of the patrons were in their late fifties, some of them obviously taking a long lunch break. I'd probably do the same if I had such a historic place nearby.
Oct 11, 2004

francisweizen from Alaska
4.66
/5
rDev
+18.9%
vibe: 4.5 | quality: 5 | service: 4.5 | selection: 4.5
First off, let me start by saying that I am very suprised at the treatment that the reviewer below recieved! I'm sorry to hear of your misfortune, as you missed out on one of the best and most authentic bars (if not the most authentic) in all of Bruxelles. The atmosphere is simply awesome. We walked here from the grand palace on a quiet afternoon. The atmosphere is amazing! Tons of old woodwork, insanely old posters and trays from defunct breweries. Old radios, and odd appliances, the odd bottle, football league posters, and more! The quality of the draught Cantillon Faro was awesome. You could tell that the publican really cares for his wares! The service was excellent as well. The bartender may only speak french, but when we walked in and straight up to the bar and said "Deux Farrro, Sil vous plait" the bartender poured them very quickly and actually bought them to us (!). We sipped our Farrros and talked for a while, and than we settled the bill (we still had to get to the spiders head for dinner!). Oh yeah, the selection was very good...many cantillons, girardins, and the like. All the traditional lambics a lambic-head like me could want!
As Darren has already stated, do not miss this place, for when it disappears into the mist, you wil surely regret drinking a Farrrro here!
btw, it should be noted that when I asked Jean-Pierre Van Roy if anyone in Bruxelles had the Farrrro on draught, he said... "Zageman!" Truly a legendary place, on all fronts!
Apr 05, 2004
Popsinc from Canada
1.93
/5
rDev
-50.8%
vibe: 4 | quality: 1 | service: 1 | selection: 3
The beer guide said open at 11am. We showed up at 11:50am and the front door was open. I walked in but the lights were still off. The place looked great even though no one was around. Suddenly around the corner a man cleaning the floor says, "10 minutes, 10 minutes."
As we turned the leave the bar, the owner showed up behind us. I said hello and asked him if we should come back in 10 minutes or when do they open. The man raised his hand and made a "get lost" motion and said, "ferme! ferme! (closed)". He was rude and showed us zero courtesy. We even tried expressing ourselves in french but he seemed more irritated then anything.
Here we are, 2 people interested in spending money at his establishment and all he could do was bark at us to leave. If he had atleast been polite or suggested when we should come back, we probably would have. But i made a point of not returning to this guys place. A first class jerk.
Oct 29, 2003
Le Zageman in Brussels, Belgium
Place rating:
3.92
out of
5
with
4
ratings