Mastodon
| Rhinegeist Brewery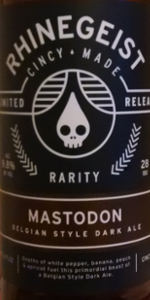 BEER INFO
Brewed by:
Rhinegeist Brewery
Ohio
,
United States
rhinegeist.com
Style:
Belgian Strong Dark Ale
Alcohol by volume (ABV):
9.80%
Availability:
Winter
Notes / Commercial Description:
No notes at this time.
Added by Lukass on 03-01-2014
Reviews: 8 | Ratings: 43

4.12
/5
rDev
+0.7%
look: 4.25 | smell: 4 | taste: 4.25 | feel: 4 | overall: 4
Description: Ruby color, clear, with a slightly off white head and lacing. Smell is primarily dark, sweet fruit: plum, prune, raisin, etc. About what you'd expect from a quad. Taste is similar to the smell with the same dark fruits coming through but also a small hint of something lighter, like banana. The finish has a small amount of hop bitterness and the alcohol is noticeable. Feel is little thinner than I like in a quad but it's not bad. Low carbonation.
Suggested food pairing: Pork and sauerkraut
If you like this beer then you should also try: Westvleteren XII
Overall: 4 (This beer is good and I may or may not have it again) It's a quad and checks all the "quad" boxes but it's not outstanding, just good. I'd probably have it again but wouldn't necessarily seek it out.
793 characters

4.08
/5
rDev
-0.2%
look: 4 | smell: 4 | taste: 4.25 | feel: 3.75 | overall: 4
Pours a very dark reddish amber in color with a loose tan head that dissipates somewhat quickly. A moderate amount of lacing is present.
Aromas of dark fruits dominate the nose, with hints of bread and brown sugar sweetness noticeable.
A hint of caramel and brown sugar is up front on the palate. By mid palate an explosion of dark fruit takes over with Black cherry, Fig, Plum, and red grapes. Finishes with dark fruit sweetness and a hint of heat from the alcohol.
Somewhat dry with a medium bordering on heavy body with low amount of carbonation.
552 characters

3.83
/5
rDev
-6.4%
look: 4 | smell: 4 | taste: 3.75 | feel: 3.75 | overall: 3.75
Aroma is fairly subtle, alcohol, esters of pear, dark cherry.
Flavor is fairly hot, as well, with light caramel malt and a muddled fruit ester finish.
151 characters

3.84
/5
rDev
-6.1%
look: 3.25 | smell: 4.25 | taste: 3.75 | feel: 3.75 | overall: 3.75
Poured into a snifter. Bottle.
3.25 A: Clear deep amber brown color. Two fingers of short lived frothy off-white head.
4.25 S: Boozy plum, prune, raisin, tobacco. Light peppery spiciness. Sugary caramel, banana, hints of bubblegum. Complex and powerful, but lacking the fine subtleties of the Belgian brewers.
3.75 T: Taste is good, but not as good as the nose. It's aggressive with less hidden features. Big raisin and plum with peppery spiciness. Caramel and raisin next. Banana underneath it all.
3.75 M: Heavier medium body. Good moderate carbonation with a light spritziness to it. Mildly boozy with a bitter, more boozy finish. Smooth though.
3.75 D: Decent beer. Not as sophisticated as the best, but just as flavorful.
752 characters
3.98
/5
rDev
-2.7%
look: 4 | smell: 4 | taste: 4 | feel: 3.75 | overall: 4
After their tireless trek through the multitude of American styles, the passport of the tastebuds now lands us in Belgium- at least in taste. The biggest, baddest and darkest of those beers manifest in the aptly named Mastodon.
Deep and devilishly amber, its austere us both hazy and ominous while its shadows hedge on garnet and its head creamy and ecru. Wafts of caramel and brown sugar wash over the palate with a fruity, spicy medley take on the nose.
Strong and lavish, the complex taste unfolds on the palate, heightened by expressive carbonation to lift the sugars and spice cake structures and to embolden the fruits of date, fig, raisin and apple and its balance of cinnamon, peppercorn and soft clove. With the fruit and spices dueling out their playful command, the sweetness and breadiness drift away and allows the taste to trend drying and warm.
Full on both flavor and texture, the beer never achieves the dryness level of classic Belgian varieties, but carries its own dessert-like richness with a finish of brandy-soaked maraschino cherry and candied apple.
1,077 characters

4.58
/5
rDev
+12%
look: 4.75 | smell: 4.75 | taste: 4.5 | feel: 4.5 | overall: 4.5
Great ruby color; light lacing around edge. Beautiful brew to behold. Rich sweet nose with perfume like character with warmth. Taste of dark fruits, plum, raisin, and dates. Light spice reminiscent of some winter warmers, cinnamon, white pepper, and light bittering hops. Light caramel and chocolate malts lend well to the yeast without being overly heavy. Alcohol warming on the front and back of the taste. Excellent beer from a company I was at one time just amused with, but now with their foray into broader styles I am becoming a devoted follower, especially after having Ink Imperial Stout . Cheers.
Had on tap at Country Fresh Farm Market in Anderson.
661 characters

4.31
/5
rDev
+5.4%
look: 4.25 | smell: 4.5 | taste: 4.25 | feel: 4.25 | overall: 4.25
Pours dark ruby with a tan single finger head, pretty clear. Smell is full of sweet dark fruit, plums, black cherry, subtle cinnamon. Taste is sweet, clean malts, black cherry, other dark fruit, belgian yeast, caramel, cinnamon, slight hops presence. Overall this is a really great beer, great sweetness, very drinkable. Not my favorite style but this is a great take on a belgian dark but it's not as dark as I expected, overall another great one from the boys from the Queen City.
482 characters

4.4
/5
rDev
+7.6%
look: 4.25 | smell: 4.25 | taste: 4.5 | feel: 4.25 | overall: 4.5
On tap at jungle jims. $3 pints any day all day simply can't be beat.
Pours a dark ruby hue with a thin light tan head. Lots of dark fruits in the aroma. Raisin, black cherry, and hints of roasted chocolate malts. The taste is outstanding, it's has lots of dark fruits, chocolate, slight bitterness and a very sweet finish. I'm very impressed after having this for the first time. I will seek it out in the future for sure. Great stuff.
438 characters
Mastodon from Rhinegeist Brewery
4.09
out of
5
based on
43
ratings.