Red Rage
| Tool Shed Brewing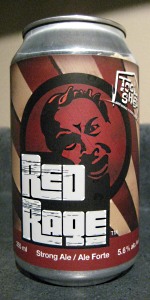 BEER INFO
Brewed by:
Tool Shed Brewing
Alberta
,
Canada
toolshedbrewing.com
Style:
Irish Red Ale
Alcohol by volume (ABV):
5.60%
Availability:
Year-round
Notes / Commercial Description:
No notes at this time.
Added by wordemupg on 08-18-2013
Reviews: 11 | Ratings: 35
4.59
/5
rDev
+11.7%
look: 4.75 | smell: 4.5 | taste: 4.75 | feel: 4.25 | overall: 4.5
Beautiful beer with strong coffee-esque flavours, very malty, dirty and fruity, very hoppy but definitely on the Irish side of Red ales. Easily the most flavourful and best Red Ale or even imperial red ale I've had this far.
224 characters
4.37
/5
rDev
+6.3%
look: 4.5 | smell: 4.25 | taste: 4.5 | feel: 4.25 | overall: 4.25
A- Great head on this beer....very dense, tight bubbles and the pillow like texture remains in tact for the duration of the sample! The color of the brew is yeast hazed and a copper brown with perhaps a tinge of red in the background. Carbonation appears mellow and the lacing is watery but sticky at the same time. Very decent looking overall!
S- Rich malty yeast is the dominant aroma happening here. Creamy buttery notes are also noted and I do smell a slight tart hint. The finish is roasty and slightly bitter from the hops....Earthy!
T- Black coffee was the first thing tasted with hints of toasty nuts, cocoa, and solid roasted barley malt. The chocolate aromas come out rather well and transfer onto the palate, becoming more robust and creamy, most likely due to the suspended yeast. Hop bitterness is there but in a cleansing fashion....awesome flavors overall!
M/O- Creamy texture and solid medium body, with very mellow carbonation! The head remains throughout and provides extra smoothness aftertones! Great flavors, aromas, looks and mouthfeel contribute to this being a very high end version of a Irish Red style Ale! Great job by Toolshed!
1,168 characters

4.37
/5
rDev
+6.3%
look: 4 | smell: 4.5 | taste: 4.5 | feel: 4 | overall: 4.25
This is a great malty Amber Ale. Chocolate and Coffee notes like a porter. Nice bit of hops in the middle!
Much better now that it is coming out of Calgary.
158 characters
4.3
/5
rDev
+4.6%
look: 4 | smell: 4 | taste: 4.5 | feel: 4.5 | overall: 4.25
My first offering from Tool Shed arrived a rich dark ruddy brown with three fingers of mocha colored head that retained its form well. Aroma was earthy hops forward with toffee and dried dark fruits blended with floral aromatics. Wow. Not bad at all. Palate was bitter full-bodied black tea, light roast coffee, a touch of iron and a whiff of smoke. An astoundingly good example of a style that can be insipid and commercial. This was pungent and balanced. Local craft brewery that shows heaps of promise based on this foray.
525 characters

4.18
/5
rDev
+1.7%
look: 4.5 | smell: 4 | taste: 4.25 | feel: 4 | overall: 4.25
355ml can poured into tulip 17/8/13
A clear ruby red with plenty of bubbles feeding a large well sustained three finger light mocha foam that leaves a few partial rings and slowly falls to a table top island that's still there at the bottom, looks great
S coco and coffee are much stronger then the color would let me believe, nutty hard toffee, slightly burnt toast, leafy and herbal, with just a hint of citrus
T like the nose it has a much darker roast flavor then I'd ever guess after looking at it, I've had black beers with less roast, fruity notes come out and just a hint of rind, quite pleased with this new comer
M medium bodied, slightly creamy, just little sticky on the lips with malty roast lingering
O this one hits the spot, lots of dark roast in a beer that's not all that dark, well rounded and went down in no time
I wasn't sure what to expect from the new brewer in town and this met and exceeded my expectations. I'm hoping their other offerings are at this level, I see this working its way into my rotation
1,038 characters
4.13
/5
rDev
+0.5%
look: 4 | smell: 4 | taste: 4.25 | feel: 4.25 | overall: 4
This is a complex and very satisfying Irish Red. Substantial, long-lasting, creamy head and lacing. Very pleasant nose and mouthfeel. The highlight of this beer, however, is the complexity of the flavour. Plenty of toffee, caramel, and coffee with a smoky malt finish. I enjoyed this with grilled local lamb - a match made in heaven. Gingers (and everyone else) should unite to support this great local brewery!
411 characters
4.04
/5
rDev
-1.7%
look: 4 | smell: 3.75 | taste: 4.25 | feel: 4 | overall: 4
It's been a year or so since I've had this, but every time I come back to it I like it more. What's interesting is that this has a lot of "dark beer" flavours but in the context of a surprisingly light, drinkable, sessionable, enjoyable beer.
Pours a ruby colour, capped by some average head that recedes rather quickly. Smell is coffee, crystal malt, chocolate malt. Herbal hops, slightly "Guiness-y," fairly creamy. Love, love, love that coffee flavour.
Taste echoes the smell, and yet in the context of a light-bodied brew that you wouldn't suspect: crystal malt, some brown sugar, coffee, faint molasses, herbal hops, biscuity malt, caramel. Light body, light-ish carbonation.
This is damned *lovely*. The real star of the Tool Shed line-up.
748 characters

4
/5
rDev
-2.7%
look: 4 | smell: 4 | taste: 4 | feel: 4 | overall: 4
A new brewery in Calgary, currently being brewed at Dead Frog. 355 ml can with a paper sticker label. Another new can for my collection, and a couple spares to trade.
Pours a clear, reddish color. Solid foam gives a nice looking head, rings of lace left over from the long lasting foam.
Smell has some nuttiness, sweet caramel, leafy hops.
Taste has lots of roasted malt, even a slightly smoky finish. Touch of citrus hops keep everything in balance.
Medium body and mouthfeel, creamy and smooth, very drinkable.
A nice surprise from this new guy, hope their other offerings also hit the mark.
594 characters
3.99
/5
rDev
-2.9%
look: 4.25 | smell: 4 | taste: 4 | feel: 3.75 | overall: 4
355ml can. Nice to try the newest participant on the Alberta brewing scene.
This beer pours a clear, bright reddish amber hue, with two chubby fingers of loosely foamy, somewhat fizzy pale beige head, which leaves a nice layer of broken bike chain, soap scum lace around the glass as it gently wisps away.
It smells rather strongly of roasted, biscuity caramel malt, a bit of nutty bittersweet chocolate, hints of dry, day-old coffee, and herbal, leafy hops. The taste is more big and in your face (or palate, really) nutty, toasted grainy caramel maltiness, dry coffee, chalky cocoa, a dose of wet ash, and earthy, mildly leafy hops.
The bubbles are quite complacent, and generally understated, the body a decent medium weight, and smooth in a bombarded, but still steadfast sort of matter. It finishes mostly dry, the gritty cracker character of the malt fusing with the sameness in the coffee, cocoa, and earthy hop esters.
Irish red ale is a hard to nail down style, but this offering accomplishes it with a certain aplomb - fairly crisp, biscuity, grainy malt, and a host of supporting, agreeable offsets. A pretty heady, yet still approachable version of the style for this nascent brewer - if they keep this up they'll get a pass straight through to outright respectability.
1,285 characters

3.89
/5
rDev
-5.4%
look: 4 | smell: 3.75 | taste: 4 | feel: 4 | overall: 3.75
Tool Shed Brewing 'Red Rage' Irish red ale @ 5.6% , served from a free sample 355 ml can
A-pour is copper from the can to a clear dark amber in the glass with a small beige head leaving a fine spotty lace along the pint
S-hints of toasted bread , slight hop
T-roasted coffee with a hop bite on the swallow
MF-ok carbonation , medium body
Ov-ok beer
prost LampertLand
369 characters

3.88
/5
rDev
-5.6%
look: 4 | smell: 3.5 | taste: 4 | feel: 4 | overall: 4
That's a straight up good beer. I tend toward the hoppy and this beer brings some hops but throws in some awesome roasted Carmel malt flavour. Usually red also and brown ales bore me to tears. Not this one. Tool Shed is definitely on my radar!
243 characters
Red Rage from Tool Shed Brewing
4.11
out of
5
based on
35
ratings.