Cherry Chouffe
| Brasserie d'Achouffe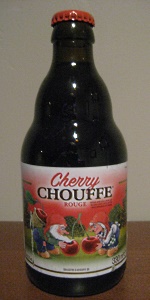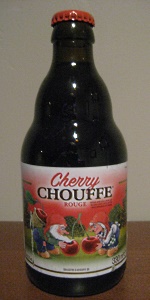 BEER INFO
Brewed by:
Brasserie d'Achouffe
Belgium
achouffe.be
Style:
Fruit / Vegetable Beer
Alcohol by volume (ABV):
8.00%
Availability:
Limited (brewed once)
Notes / Commercial Description:
The gnomes love Achouffe beers. But they also appreciate the juicy cherries that grow in their land of fairies. This year, the CHOUFFE gnomes gathered the cherries and stored them in the brewery loft. The old ceiling collapsed under the weight of the fruit. The cherries fell into a vat of Mc CHOUFFE that was being prepared. The mischievous gnomes said nothing about it. Surprised to discover a glowing red beer with a fruity taste, the Master Brewer finally decided to transfer it to barrels.
Added by desint on 07-21-2017
HISTOGRAM
Ratings: 12 | Reviews: 4

3.77
/5
rDev
+3.6%
look: 4 | smell: 3.75 | taste: 3.75 | feel: 3.75 | overall: 3.75
3.77
/5
rDev
+3.6%
look: 4 | smell: 3.75 | taste: 3.75 | feel: 3.75 | overall: 3.75
4
/5
rDev
+9.9%
look: 4.25 | smell: 3.5 | taste: 4.25 | feel: 4 | overall: 4

3.62
/5
rDev
-0.5%
look: 4 | smell: 3.75 | taste: 3.5 | feel: 3.75 | overall: 3.5
Poured to a Chouffe tulip.
A: Body is purple and a bit hazy. Head is pink and with lots of retention and lacing. Looks good.
S: Aroma is very strong of sugary contents, way beyond healthy levels. It's composed mostly of cherries and almost no yeast nor malty tones.
T: Taste is also overwhelming of sugary contents, having a big prominent profile of cherry but that's not very well balanced here. It looks like cheap candy. It's still drinkable but after a few sips it turns a bit hard to drink.
M: Body is medium. Carbonation is perfect. Alcohol is almost unnoticed even with the 8.0% ABV. Bitterness is really low. Sweetness is too high.
O: Not a very interesting Fruit Beer, but had to try it out because of Chouffe's legacy.
730 characters

3.44
/5
rDev
-5.5%
look: 3.5 | smell: 3.75 | taste: 3.25 | feel: 3.25 | overall: 3.5

3.07
/5
rDev
-15.7%
look: 3.5 | smell: 3.25 | taste: 3 | feel: 2.75 | overall: 3
3.74
/5
rDev
+2.7%
look: 3.5 | smell: 3.75 | taste: 3.75 | feel: 3.75 | overall: 3.75
Grabbed a bottle during a recent trip to France. Had never seen this before, and in fact was told it was brand new/just released.
The beer pours a brownish amber color with cherry red hilights. Head retention and lacing are decent, but really not this beer's strong suit. On the nose there is considerable cherry cough drop flavor, with some underlying brown sugar, light chocolate and light spice as well. It's attractive enough, but the cherry cough drop flavor is a bit much. The flavor profile replicates the nose, and again, while attractive, the sweet cherry flavor is a bit over the top. Muothfeel is medium bodied I guess, and the beer finishes pretty well. Alcohol is well integrated into the flavor profile, and so drinkability is OK.
Shrug. A decent beer for sure, but I was really hoping for a bit of cherry flavor in my L'Chouffe, rather than the other way around. Not sure I need to revisit this any time soon.
936 characters
3.63
/5
rDev
-0.3%
look: 4 | smell: 3.5 | taste: 3.5 | feel: 4 | overall: 3.75
330ml bottle - a bit of a surprise find of late, since we haven't seen anything new from this outfit in a long, long time.
This beer pours a clear, dark magenta colour, with a teeming tower of puffy, finely foamy, and somewhat bubbly pale pink head, which leaves some decent frilly webbed lace around the glass as it eventually subsides.
It smells of candy-like cherries, grainy and crackery wheat malt, a subtle Belgian yeastiness, some free-range simple syrup, and a bit of musty, leafy, and dead floral noble hop bitters. The taste is bready and doughy caramel malt, a lesser crackery wheatiness, cherry cough syrup (children's version), icing sugar, ephemeral yeasty notes, and a still rather muted earthy, musty, and floral green hoppiness.
The carbonation is average in its palate-baiting frothiness, the body a decent medium weight, and more or less smooth, as all that sugar creates a sort of cushioning effect, as such. It finishes off-dry, the still fairly candied cherry element showing some lingering gumption.
Overall - this is not exactly the train wreck that the greater beer-o-sphere appears all-too-ready to deem it. Definitely more sweet than sour, but it's hardly a one-sided show. Simple, easy to drink, and with literally no sign of the 16-proof wowee sauce measure. Yeah, this is d'Achouffe all right, accident or not.
1,349 characters

4.09
/5
rDev
+12.4%
look: 4.25 | smell: 4 | taste: 4 | feel: 4.25 | overall: 4.25
Purchased this one in a beer store in northern France and was told by the clerk it will be only brewed once.
For a fruit beer, it's extremely well done, smooth and not overly sour.
Another big treat from the Brasserie d'achouffe
Cheers
239 characters
3.58
/5
rDev
-1.6%
look: 3.75 | smell: 3.75 | taste: 3.5 | feel: 3.5 | overall: 3.5
3.68
/5
rDev
+1.1%
look: 4.5 | smell: 4 | taste: 3.5 | feel: 3.5 | overall: 3.5

3.33
/5
rDev
-8.5%
look: 3.75 | smell: 3.75 | taste: 3.25 | feel: 3 | overall: 3
Cherry Chouffe from Brasserie d'Achouffe
Beer rating:
3.64
out of
5
with
12
ratings