Siebert Beer Distributors Inc.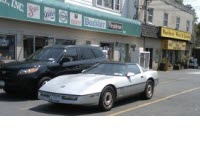 PLACE INFO
Type:
Store
861 Yonkers Ave
Yonkers
,
New York
, 10704
United States
(914) 965-0571 |
map
Notes:
No notes at this time.
Added by Kwak
Ratings: 13 | Reviews: 12
Reviews by r0nyn:
4.15
/5
rDev
+15%
Right off I-87 in Yonkers, Siebert's wasn't that hard to find. The place itself is decently sized and as a beverage store, has a lot of everything. As you enter, BMC stuff is off to the right, sodas and water and the like is off to the right and the craft beer aisle is right in front of you, which made the search nice and easy.
Unibroue stuff is front and center, with all the usual suspects like La Fin, Maudite, Blanche de Chambly, etc. There's a surprising variety of Dogfish Head offerings, many of which I hadn't seen before. Other breweries represented were Troegs, Harpoon, Lagunitas, Ommegang, Allagash, Brooklyn and quite a few others I'm forgetting right now. There's all three styles of Chimay and a few offerings of St Bernardus as well. Quite a few German beers there as well, including stuff from Ayingers and my personal favorite, Weihenstephaner. Everything I picked up and looked at was fairly recent in terms of date, nothing that was unconscionably old. Prices were within reason, not cheap but definitely not overpriced.
One of the nice things about this place is that depending on what you buy, you can get a free glass. I bought some La Fin du Monde and took home a very nice tulip glass that had the logo on it. Same thing with my Chimay Cinq Cents and Troegs Nugget Nectar. There were also glasses that went along with the Duvel, DFH and Lindemans Lambics. The sales associate who informed me of this deal was very polite and courteous. He wrapped the glasses well and bagged my bottles efficiently.
Definitely a nice place to check out if you're in the area. Good, varied selection, nice employees and a great outlet to collect some fancy glassware. Can't wait to go back.
1,705 characters
More User Reviews:
3.91
/5
rDev
+8.3%
vibe: 3.5 | quality: 3.5 | service: 4 | selection: 4.5
Nice selection of Belgians, at very good prices. Picked up two new ones for my beer cellar. Not familiar with other specialty beers but the appeared to be a good selection plus the usual domestic beers.
Note that they no longer give glassware with purchases. Boisterous cashier told me a woman cut her mouth on a chipped glass, so now only for Christmas/New Year's season (maybe).
Esay to find with ample parking. Wine and liquor store next door. Yonkers Racino across the street, if that interests you.
505 characters

4.44
/5
rDev
+23%
vibe: 4 | quality: 4.5 | service: 5 | selection: 4
THE GOOD: Reasonable and affordable prices. Free glassware. Convenient location. Excellent helpful staff.
Can I just say that I absolutely love this place? I dropped in earier today because I had to be in Yonkers for business. I wish it was closer because I live more than twenty miles away. I wish there was a place like this near where I lived. I will definitely return.
THE BAD: The credit card machine didn't work and for that reason I had to limit my purchase to what I happened to have in my pocket.
UPDATE. December 23 2011
I returned to this place almost a year later to see what's changed. Apparently, the company hass changed ownership and the name, but everything else appears to be the same. They do now have a larger selection. The prices are still great.
772 characters
3.88
/5
rDev
+7.5%
vibe: 3 | quality: 4 | service: 4.5 | selection: 3.5
Good-size place near major highways in Yonkers. Lots of staff and a clean and efficient returns operation. Parking is a little weird. Like other reviewers have noted they cater to the 30-pack BMC crowd but also clearly have the BA types in mind. Prices are a bit high -- no bargains but not a total ripoff either. They have some old-fashioned stuff -- Stroh's, Genesee, Ballantine Ale -- that may make you want to buy a cigar and head across the street to Yonkers Raceway and put $2 down on a trotter (harness only -- no througbreds).
534 characters
5
/5
rDev
+38.5%
So I began my yearly trek for at least one six pack of the newly re-released, 2010, Samuel Adams Cranberry Lambic beer late last night and into the early afternoon of today. Not only did none of the beer distributors in New York City or The Bronx have any of it, but none of the large chain supermarkets throughout Manhattan did either. Nearly ready to call it a day, at least till after Thanksgiving, I figured why not try the Yonkers distributors. After two phone calls I found more than I was looking for.
Speaking to Fredy at Siebert I discovered that they not only had one six pack on hand, but instead had one, of three very quick to disappear *cases* there at that very moment. Not only did he offer to put it to the side for me, but after a four hour break between my call and arrival to the store, I saw that it was there waiting for me. Rung up quickly, and reasonably priced (the entire case cost a bit more than three six packs would have in my neighborhood) I left with some excellent, very hard to find beer as well as a new spot to where I'll be returning for all of my beverage needs.
With a friendly, professional staff and an excellent cross selection of domestic and imported beers once you've been to Siebert Beer Distributors you won't need to go anywhere else!
1,284 characters
4.65
/5
rDev
+28.8%
I work in the Westchester area and check out the local beer stores all around. With the exception of maybe DeCiccio's in Ardsley, this is the place to go to find a good selection of good beer....
Its an average size place, and like the other reviews say, the goods are located front and center as you walk in. Theres a ton of other stuff, so if your looking to host a college beer die tourney and grab some filler, you've come to the right place too.
I was there today and picked up an Allagash Grand Cru and a Green Flash Brewing Co (San Diego) Trippel. Theres a slew of Belgian styles, my personal favs. Off the top of my head, Chimay, Ommegang, Unibroue, Allagash, Piraat, Golden Drakon and of course my good buddy St. Bernie... There's also a ton of the American Craft styles, of which I dont recall, but the shelves are filled with them... There's also enough imported goods to keep you well interested too. I can't name them all, but surely will be back to try them...
Like the other reviews said, Judy's interested in talking to you about the beer on the shelf and what she can and cannot get. She's into building a great spot to get great beer and will take your orders and try to help out. I think she actually got St. Bernardus in on my asking.. Anyways, the prices are pretty fair and this place is definitely worth a stop in because you wont be disappointed and youll walk out with something to savor....
1,420 characters
4.05
/5
rDev
+12.2%
There aren't a whole lot of places in the area with a good beer selection, but this is definitely the best I've found locally. Pretty good selection of the common micro's, but not much on new breweries coming in. However, the brewers that they do stock, they tend to have the seasonal and new releases in good time. I stop by every few weeks, and there's always something good waiting for me. I haven't had any problems with old beer, and the prices are reasonable, but certainly not great. They also have a good selection of glassware with certain six-packs, which is always a nice perk.
Nice size self-serve walk-in with a decent amount of the better beers, but obviously the walk-in, as well as the store, is focused on the standard macro's.
All in all, a good store, and the best I've found locally.
807 characters
3.65
/5
rDev
+1.1%
Decent local spot. The stock rotates fairly frequently and you can find most of the usuals here. Decent selection of English (Young's, Sam Smith's, Theakson's, Speckled Hen Etc..) American Micros (Anchor, Brooklyn, Smutty Nose, Dogfish head, Sierra Nevada, Ommegang, Stone, Rogue, Goose Island, ect..) German (Paulaner, Ayinger, HB, Spatan, etc..) Belgian (Pyrate, Chiminay, Corsendonk, Duval, etc..).
A number of selected beers come with a free glass. (off the top of my head Chimay, Paulaner, Brooklyn, and HB come to mind).
Not sure if its worth making a trip for, but if your a local or passing through the area it's definitely worth checking out.
653 characters

4.3
/5
rDev
+19.1%
So I find this place having moved from Manhattan and my fond memories of B&E beverages. Benny at B&E made me feel like family and so does Judy and her staff. A more than adequate selection of stuff. It is not a big place and like any beverage store the majority of space goes to what pays the bills.
That being said, the place has beer from all the locals like Brooklyn and Bluepoint. They also have the harder to find Captain Lawrence, and Southampton. Germans like Paulaner, Erdinger and Spaten are here in bottles and baby kegs ( no Schneider or Weihenstephaner unfortunately ) Belgians galore like St Bernardus, Orval, Delirium, Affligem, Leffe, Duvel etc. American ones too Ommegeng and Allagash. West coast majors are well represented in Stone, Sierra Nevada, Anchor and Rogue. There's Magic Hat, Dogfish et al. What space they can devote to the good stuff they do. Basically 80 percent of what your looking for. If they don't have it they will look into it/order it for you. Did I mention they have glasses quite often. I rebuilt my collection thanks to them. Of course I did buy a lot of beer in doing so. Just like I did at B&E with Benny. Now I have Judy. A nice beer home base in Yonkers. I like it!
1,213 characters

4
/5
rDev
+10.8%
This decent sized beer distribution point is located only about 5-7 mins off of the Bronx River Parkway, across the street from Yonkers Raceway. The good stuff is located directly ahead as you enter. A large two sided rack area is well stoked with plenty of BA worthy brew. They have all the good stuff you would expect to find at the typical decent stops in the area. Nothing amazing, but plenty of worthy elixirs. Of course: Stone, Avery, SHPTN, Bklyn,Omme, Weyerbacher, Blue Point (including 2 growler choices) etc, Nothing crazy in the import side. Solid stuff and plenty of it, didn't see any dust and prices seemed to be in line. Very friendly owner behind the counter is always a plus.
692 characters
3.35
/5
rDev
-7.2%
Day 31.
Some concern raised by a neighboring beerfly guide over the inconsistancy of reviews here. A total of two written; one recent glowing review, and the other a lot older and considerably less positive. As I'm in union strike exile 4 and change weeks now literally a mile farther up Yonkers Avenue, I can swing on by after work and see what's what's what's what here...
Doesn't look like much, and that's fine because I don't need my beer to be living a good comfortable life while I'm slaving at work all day (dammit!!). Macro cases piled everywhere to both ends of the store and up to and around the 2 sided center micro rack just inside the doors. Roughly 2 and a half dozen micro choices, mostly the standard locals and regionals (Southampton, Blue Point, Riverhorse, Victory, Weyerbacher, Stoudts, Harpoon, Otter Creek, Magic Hat, DogFishHead, Atlantic, Shipyard, Smutty, Long Trail) and a handful of the obligatory other coastals and halfway theres (Flying Dog, Mojo, Lagunitas, Avery, Goose Island). Small selection of bomber 22's (Stone, Rogue).
Very little on the import side worth noting. Belgians Kasteel, Delirium, Piraat, Chimay, Duvel, Affligem. A little English, a little German, some Unibroue.
Decent enough place for a sixer or two if you're barbecue bound, I suppose, as there's nothing really else local beerwise. Not as good as the better review but not as bad as the worse review.
1,411 characters

1.3
/5
rDev
-64%
just to warn people everything in this place is old . I bought a six of S.A. wiess didnt check the date till I got home It was dated till 2002.
not a verry good beer place un less you ar looking for bud and corona!
the craft beer shelf was small and dusty.
but they had the coors light up to the celing.
306 characters
Siebert Beer Distributors Inc. in Yonkers, NY
3.61
out of
5
based on
13
ratings.