Alphabet City Beer Co.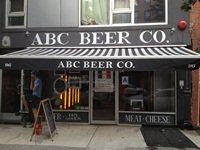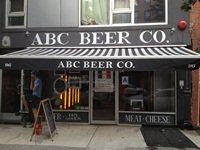 Bar, Eatery, Beer-to-go
96 Avenue C
New York
,
New York
, 10009-7055
United States
(646) 422-7103 |
map
abcbeer.co
Notes:
Recent ratings and reviews.
| Log in to view more ratings + sorting options.
Ratings by paulish:

Rated by paulish from New York
4.5
/5
rDev
+2.3%
vibe: 4.5 | quality: 4.5 | service: 4.5 | selection: 4.5 | food: 4.5
Dec 02, 2021
More User Ratings:

Reviewed by Irrover from California
4.62
/5
rDev
+5%
vibe: 4.25 | quality: 4.75 | service: 5 | selection: 4.25
Friendly tap room that has a small beer store with many of the local beers in stock. 12 Taps with a good range of styles (not all IPAs). If the taps don't excite you (or you have drank through your favorites), you can buy any can or bottle in the store for a $3 "corkage" fee. Mike the bartender is very knowledgeable and helpful.
Nov 04, 2021
Reviewed by dbrauneis from North Carolina
4.07
/5
rDev
-7.5%
vibe: 4 | quality: 4 | service: 4.25 | selection: 4
I really enjoyed the vibe of this place - there were a lot of folks in the place when we visited (on either side of dinner on a Friday evening) and the place definitely had a vibrant energy. There were enough folks in the place to get the taps to change a couple of times when I was there. Decent tunes playing and it was at a pleasant volume which still allowed for conversation. The front third of the place is a beer shop with the remaining two thirds of the place being more of a bar.

Beers were well poured, using proper glassware, at a good temperature, and with an appropriate amount of head. They offered both half and full pours of most of the beers available as well as filling growlers for some of the offerings.

Service was friendly and attentive though did noticeably slow as the place got busier during the evening - at one point I had to wait for glassware to be cleaned in order to get another beer.

A very nice selection considering that they did not have a ton of taps - good representation of local brews and a nice mix of styles (APA/IPA, Stout, Sour, etc).
Dec 13, 2015
Reviewed by slander from New York
4.44
/5
rDev
+0.9%
Not to be confused with the brewery of a near same name with a location in the neighborhood that doesn't actually, whatever. 'cause it's been on my radar for some time, but when do I ever get out as far east as this avenue, see? And they open at noon, which is now...

A beer store first and foremost, there's a table just inside the door with glassware, some featured 6 packs, and holders for 'make your own'. Above it sits the coooooooolest chandelier piece; circular with beveled mirrored glass at alt lengths and different sized bulbs. 6 door cooler to one side with bottled goods and 2 doublewides to the other side with shelved dry provisions; pickles, pasta, peppers, paste and other things that don't start with 'P'.

Having pushed in past the beer store piece, we set up at the bar; straight stained stainless steel topped with a wood trim, painted panel base, and foot box. Seating for 7 on fabric stools a-swivel. A pair of T towers with 6 taps each on the bar; their handles of wood blocks with binder clips attached holding sheets listing beer, origin, ABV, date tapped, and prices in shorty (pint) & growl (shorty/full). All of them done up like this except for the ACBC Easy Blonde handle. Brick wall barback with a mirror slanted on center. Boxed shelvings back lit with glassware and narrow horizontal mirrors above also slanted (so that I may take in my awesome). Stainless steel countering below with food prep (bewareth the slicer), and a cheese showcase up front the bar.

To the rear, there's a giant, and I mean a GIANT, fucking tree table with seating for like, I don't know, a million or something. The story is that they got it cut down from the even bigger bitch it was. Witz says it's 15 feet long. I say more. I suspect they built the place around it. And you know what? It's got giant fucking benches. Leather cushy chairs alongside, plus a pair of shorty couches with a small wood table, slight benchings in the rear corner, a small piece with jenga and books for the reading if you can, and a baby backyard space.

Concrete floors and wood plank ceilings on rafters wide, with alt heights squared triangular copper drop lamps over the bar. A row of hairdryer glass lamps over the table and wall mounted lamps on extending arms back there, too. The walls to the rear done with wreathes done leafy & sprucey, with little pine cones, and a framed mirror. Display shelving runs below bar counter space on a wall of colored panelings, and the tap list is printed on blocks, 2 each, next to them. Checkerboard piece leaning upright for the set up and play, and a slight display of brewerania cans. Sprawling potted plants in the front windows.

12 taps; ½ of them local (Rockaway Brewing ESB, Other Half Pale Ale, Barrier Imposter Pils, Peekskill Simple Sour, Bronx Rye Pale Ale, Doc's Hard Apple Cider), the other ½ craft from nearish (ACBC Easy Blonde, Allagash Interlude) and far (Left Hand Saw Tooth nitro & Deep Cover Brown Ale, Rogue Dad's Little Helper & X2PA). I drank the Other Half Pale Ale, Barrier Imposter Pils, Peekskill Simple Sour, & Bronx Rye Pale Ale (they were shortys). Beers were in good goddamn shape.

Ed, who always needs something to bitch about, did not like the lighting citing that it was 'too in his face and too bright'. Get over it, Ed. They do a food menu. I would totally hit that grilled cheese. And they sell meat, they sell cheese, they sell bread. Very much so like. Real good tunes today; Wilco, Tallest Man in the World, Fleet Foxes, My Morning Jacket. Eli tending; both he and his food partner in crime are good shit. Good collection of the local wares and they always have a cider line on tap. We'll be back. I'll be back for Jeff's 40th, anyway, and it's right next door to Bob White's so I'm sure we'll see it again during Monday dinner night Zum-White-ACBC soon.
Aug 30, 2014

Reviewed by amano_h from Oregon
4.43
/5
rDev
+0.7%
vibe: 4.5 | quality: 4.5 | service: 4.75 | selection: 4
I think every neighborhood should have some place like ABC Beer Company; a small scale bottle shop with 4-5 carefully though-out rotating taps with great beers and service.

Despite occupying such a small lot, ABC carried almost everything worth carrying -- including a few six-packs of most-likely skunked Bell's Hopslam from January of this year. Jabs about beer freshness (or lack thereof) aside, past the small collection of bottles is a large yet cozy drinking area where you can enjoy your libations upon the Game of Thrones-esque wooden table with all your hipster/beer snob friends; the notable selections of the day when I went was Sixpoint 3Beans and Firestone Walker Sucaba, latter of which you almost never see on tap unless you're at the Firestone Walker Brewery in Paso Robles, CA.

Overall, an awesome place to kill a few hours on a warm NYC afternoon; I don't know how I would have felt about it had the place been crawling around with hipsters like previous reviews have indicated, but my friends and I had a great time here.
Jul 15, 2014
Alphabet City Beer Co. in New York, NY
Place rating:
4.4
out of
5
with
14
ratings