Arrow & Loon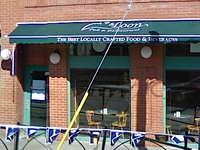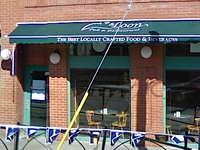 PLACE INFO
Type:
Bar, Eatery
99 Fifth Ave
Ottawa
,
Ontario
, K1S 5K4
Canada
(613) 237-0448 |
map
arrowandloon.com
Notes:
No notes at this time.
Added by the42ndtourist
PLACE STATS
Reviews:

10

Ratings:

pDev:

16.71%
HISTOGRAM
View: Place Reviews
Ratings: 12 | Reviews: 10
Reviews by woodychandler:

4.78
/5
rDev
+21%
vibe: 4.5 | quality: 4.5 | service: 5 | selection: 5
Okay, Goldorak, you had me a little concerned after your recommendation of The Manx, but this place more than redeemed you.
Three (3) cask ales (!), including Session Dry Hop, Wellington Arkell Best Bitter, and Sergeant Major Pale Ale. Effin heaven! A sign above the handpumps read "Fresh & Natural Draught REAL ALES – Unfiltered, Unpasteurized, Uncarbonated, Unreal!" Indeed. Then, the bartender pulled a pitcher of the Session Dry Hop for someone. OK, at that, point, I knew that I had arrived!
The rest of their selection was really diverse, including a lot of Canadian products with which I was unfamiliar, but suffice to say an additional eighteen (18) taps to go with the three handpumps.
Aesthetics, eh? How does a marble-topped, slatted-wood bar grab you? No? I up the ante with two separate tables in the middle of the room, shaped to look like the feather end and the tip end of an arrow, respectively. Still not? I'll raise you an outdoor seating area with awning and iron fence to keep patrons separate from pesky pedestrians. No? My last raise – a great location on the northeast corner of Bank and Fifth Streets, easily accessed by several bus lines. Ah, now you fold. 'Bout time. By the way, the washrooms were all of the way aft, just past the English-style dartboard to the right. On the opposite side of the wall from the bar area was the restaurant area, with its attendant tables and chairs. There was also another fenced-in patio area, this one inside of the courtyard, allowing for year-'round seating. Be sure to ask for Rob the bartender.
1,579 characters
More User Reviews:

3.88
/5
rDev
-1.8%
vibe: 4 | quality: 4 | service: 4 | selection: 3.5 | food: 4
3.71
/5
rDev
-6.1%
vibe: 3 | quality: 3.5 | service: 4 | selection: 4
I was here a few years ago when I hung out in the Glebe more often but went back last night to meet up with some friends.
The draw to this place is OCB beers, and they have a good selection of them. Tried to order the Nickelbrook Headstock IPA on cask but it was out. They seem to post online when they tap something, but there doesn't seem to be one tapped all the time unfortunately. I had three beers, Mad Tom, Beau's Nightmarzen, and the Mill Street Cobblestone Stout and my bill came to 16 bucks before taxes.
As per the atmosphere, the patio was nice but construction all along Bank Street forced buses to be going down Fifth Avenue and thus causing alot of noise. Otherwise the interior was typical of a plain old pub, with nothing all that special going on. Some TVs in the bar portion of the place showed the Sens game with the audio on. There is an area more geared towards dining on the other side of the bar as well.
Service was friendly, partially knowledgable, and quick. I knew what I was getting so I didn't have to ask many questions. My friends got nachos of which I didn't try, but apparently the salsa wasn't all that good.
In terms of beer selection there were about twenty beers on tap, all Ontario, and some harder to find ones too, especially in Ottawa.
So good for beer if there's something new you wanna try.
1,341 characters
2.3
/5
rDev
-41.8%
vibe: 2 | quality: 2 | service: 2 | selection: 3 | food: 2.5
A "mall-pub" at best.
A couple of less usual beers and an expanded pub menu but the atmosphere is really lacking. I came with high hopes and left knowing that so far (I am visiting here) Pub Italia is the only place for nice beers in a nice atmosphere in Ottawa.
Servers seemed to be overwhelmed (there was a hockey game on however) even though it was not too croweded.
Hard to beleive this place currently holds a "A" rating. I gave a 3.0=- average rating as there were a couple of not so usual selections;
Wellington County, Griffon Dark for example.
553 characters
3.78
/5
rDev
-4.3%
vibe: 4 | quality: 4 | service: 3.5 | selection: 4 | food: 3
One of the better choices (read: only choices) for beer enthusiasts in the nation's capital.
Went there to watch a hockey game with my girlfriend who lives at nearby Carleton University. Location in the Glebe, a nice area, but this place is thankfully empty of trendy types and yuppies unlike, say, the Manx which is always crawling with them.
Atmosphere, has a real neighbourhood pub feel, which is nice. Staff all seem really friendly. Our waitress wasn't a beer person, like another reviewer I got the "are you sure? It's really bitter... and warm!" but the fellow working the bar and his friends (who seemed to work there as well) all seemed to know their stuff.
Beer selection was clearly presented on menus at each table, which I love (nothing worse than squinting at a blackboard or handles). 20 or so local breweries, good showing from Wellington and McAuslan with a scotch irish on their too. A couple other decent brews like steamwhistle.
Can't comment too much on the food, we had some nachos and they were burnt, but it was a quiet night. No complaint about the prices. Craft beer prices were especially good for this neck of the woods. I hope to make it back here sooner rather than later.
1,209 characters
4.13
/5
rDev
+4.6%
vibe: 4 | quality: 4 | service: 4.5 | selection: 4 | food: 4
I was very glad I was able to make it to the Arrow. They have a small selection of bottled beer. But I came for the taps, and they had many. The best part of course is the real ale! There was three different casks on when I went. I tried 2 the Sgt. Majors IPA and the Session Dry Hop , both were amazing but the Sgt was my favorite. The have a very good looking bar with a cozy patio and great atmosphere, It was around 3pm when I went and it was rather quiet and laid back. Great service. Me and my girlfriend had some nachos ( we were not that hungry) which we both enjoyed. I wish we had some bars like this were I am from.
626 characters
4.15
/5
rDev
+5.1%
vibe: 3.5 | quality: 4 | service: 4.5 | selection: 4.5 | food: 3.5
I happened to be in Ottawa for a wedding and hit this place up because of the positive reviews of the establishment on the Beer Advocate website. I was not disapointed.
The Arrow & Loon is located on a commercial/shopping strip just outside of Ottaw's central business district. It is located on the first floor of one of the neighborhood's newer buildings. The bar area was pretty small with lots of windows, which I generally hate in a bar, but was willing to look past thanks to the central tables shaped like the fletching end and the tip of of an arrow.
The selection at this bar was great. They had four cask offerings including the Ontario based Scotch Irish Brewing Company's Sgt. Major's IPA and the Wellington Brewery's Arkell Best Bitter. They also had a full range of other Canadian breweries including many offerings from the Quebec based McAuslan Brewing. I was impressed and had an enjoyable time tasting beers that can be tough to get in the US.
the service was excellent. Jenny and Nicole were great hosts and like any Canadians worth their salt knew beer.
The Arrow & Loon offers typical pub fare. I had a chicken wrap, which was fine.
Food and beer prices were both reasonable.
1,215 characters
3.55
/5
rDev
-10.1%
vibe: 2 | quality: 4 | service: 2.5 | selection: 4.5 | food: 4
With the Québec liquor stores on strike, I'm making more and more trips over to our nation's capital to load up on hooch. This time, I decided to try out the Arrow and Loon, which was in our way as we raided the LCBO warehouse on Bank street.
Location is, as mentioned before, not great. In a hip little neighbourhood, that's fine, but parking must be murder. We were lucky enough to be there on a Sunday afternoon and got a close enough spot, but I wouldn't want to see this area on a saturday night, or an evening when the Renegades play (local Canadian Football team).
Speaking of football, the playoffs were on and showing on the giant screen in the bar section near the street, where the nice long bar with all the taps can be found. The place was relatively deserted. A few arrow-shaped high tables can be found, but we sat on a regular table because we wanted to eat.
Tap selection was really good, 20-ish with plenty of local representation from Wellington, Scotch Irish and Steamwhistle. Like a lot of places I've noticed in town, McAuslan seems to rule the micro scene with an iron fist, and was one of the only non-ontario micros available. 3 Beer engines were up and running, one from SI and two from Wellington. The beers I've sampled seemed pretty fresh.
Service was decent, but not overly friendly and/or knowledgeable about the beer. When I ordered a Corporal Punishment, the reaction I got from the waitress was "You know it's bitter, right?". And she screwed up my bill.
Food was excellent. I had the Bison chili with a side of onion rings, my girlfriend went for the duck confit with a cranberry and St-Ambroise reduction, served with grilled veggies. Not bad for pub grub! And not too expensive too.
So come here for the Beer, stay for the food, forget the atmosphere.
1,807 characters
3.53
/5
rDev
-10.6%
vibe: 1 | quality: 4 | service: 3.5 | selection: 4 | food: 3.5
This little pub is situated in the Glebe, which is one of the nicest area in Ottawa. The only major problem with the Arrow and Loon is that the location is in a mini-mall and lack ambience. But the ambience is compensated by good choice of regional beer on taps and cask ale. Staffs were not very knowledgeable when I was there but very helpful though. Food is quite good and cheap for the Glebe. Overall, this is the place to stop in Ottawa in order to have a pint of fine regional brew (Scotch Irish, Wellington, Muskoka, St-Ambroise, Steam Whistle).
552 characters

4.35
/5
rDev
+10.1%
vibe: 4 | quality: 5 | service: 4 | selection: 4 | food: 4.5
An excellent ale house in Ottawa, ON. 15-20 beers on tap with three beer engines dispensing real ale, via cask all day long. The quality of all of the ales was exceptional. The taps and casks at this pub we're extremely fresh! The service was nice, and the waitresses we encountered all had a big smile on their face, but when we ordered food at lunch time (the place was pretty empty) it did take a bit to get served. The selection is nice, as I mentioned above, but they could have some more Canadian and/or US micros on tap. Oh, the food was quite exceptional and reasonably priced. Try there unique veggie burger (home made?) or the excellent roasted portabello and OKA ( a canadian chees) quesadillas. An excellent place to have a session, for sure, oh, and they have an awesome dart board to boot.
803 characters
4.22
/5
rDev
+6.8%
vibe: 4.5 | quality: 4.5 | service: 3.5 | selection: 5 | food: 3
One of the best ale houses i have found in Ontario. Has a great selection of Ontario and Quebec beers including 2 or 3 real cask ales on tap.
In a modern building at the corner of Bank and 5th. A long walk from downtown or a reasonable bus ride. ( You pass the Clocktower Brewpub on the way)
Part of a small chain called the Neighbourhood Pub Group.
355 characters
Arrow & Loon in Ottawa, ON, Canada
Place rating:
3.95
out of
5
with
12
ratings