Brasserie O'Neil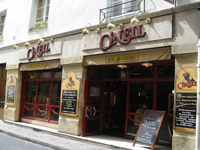 PLACE INFO
Type:
Brewery, Eatery
20 rue des Cannettes
Paris
, 75006
France
+33 (0)1 46 33 36 66 |
map
oneilbar.fr
Notes:
Opening hours:
Getting there: Metro line 4 St.-Germain-des-pres/ 10 Mabillon; Bus lines 63/ 70
Added by BeerGlassesCollector
Ratings: 14 | Reviews: 11
Reviews by tomthumbsblues:
4.5
/5
rDev
+21.6%
vibe: 5 | quality: 4.5 | service: 5 | selection: 4 | food: 4
This brewpub is situated on a small street near St. Sulpice. We only actually found it by accident while walking around the neighborhood one afternoon. We took a picture of it, and decided to come back another day.
We happened to get there early and were the first ones seated for lunch. Inside the place is very cozy, probably because of all the wood and brass. My girlfriend and I sat at a table on a platform near the fermenting tanks and other brewing equipment. We were able to get a good view of the whole thing up there. The items of the menu covered typical French lunch fare. She got a lunch special and I got something off the menu and the Amber beer. We both ordered some kind of thin-crust pizza type thing, which was more like a toasted open-faced crepe with toppings. She got one with ham and onions and cheese, mine was peppers, onions, mushrooms and cheese. They were very good, but I felt maybe a salad or some fries should've accompanied them, and I thought they might've been a bit overpriced too.
The beers were listed on a chalkboard near the entrance. The names, the ABV and some other numerical info was listed as well.
The waitress was very nice and the service was speedy. I was very taken with the atmosphere of the place. The bartender chatted with regulars and as I said before, it was very cozy. The bathrooms were clean and pretty easy to find. Overall, I was very satisfied with Brasserie O'Neil. I would definitely go back and I recommend it to any one traveling to Paris. It's nice to see good beer is valued in Paris, not just wine and Kronenberg.
1,590 characters
More User Reviews:

3.75
/5
rDev
+1.4%
vibe: 3.75 | quality: 3.75 | service: 3.75 | selection: 3.75


3.4
/5
rDev
-8.1%
vibe: 3.5 | quality: 3.5 | service: 3.5 | selection: 3 | food: 3.75
Frog & Princess didn't open until 5:30 pm, so I wandered around to find Brasserie O'Neill. It's happy hour, which means 40 cents off per La Chope (big mug) of beer. Honestly, I'm not sure what sort of beer I'm going to find in France after a week in Brussels, so I'm hopeful in ordering a mug of L'Ambree. Amber ale is the only explanation on the menu.
L'Ambree is an amber ale that looks, not surprisingly, light in the glass, almost watery. Gentlemen beside me ordered the blonde, which looks very watery. However, the taste is more robust and has a decent mouthfeel. Caramel and fresh bread in the nose with a very light hop spice if you dig for it a little. Light caramel pervades the taste that's followed by a minor hop at the end. Not a beer to travel a long ways to drink, but a perfectly adequate amber ale that's cleanly brewed.
I assumed that if Belgians were nervous around hops that French would be terrified. But, part of the hopping in L'Ambree is from the fact that the area around Brasserie O'Neill and the Frog & Princess is an expat British neighborhood with a lot of dress shops and pizzerias. The bartender here is clearly French, but the person that helped me at the Frog & Princess was assuredly an expat working at a British styled pub.
Brew kettle is right in the front window of the bar with copper piping bringing the steam through the bar to the roof I suppose. From the piping, my guess is that the mash is a floor lower. The bar was empty when I showed up, but filling up with a Friday night, after-work crowd. Dark wood and brick bar, not dissimilar to many British or Irish pubs.
Not everyone in the bar seems to be drinking the amber, so I'm going to take the hint and try the La Brune. On a the back of the menu, I found more detailed descriptions. La Brune is listed as as an ebony ale; in the mug, it's more of a dark brown with ruby highlights from the evening light. Tan head drops quickly with no lace over a clean, mild roast and malt nose. Thin mouthfeel but enough substance for a brown ale rather than the description's stout label. A brown ale with stout-like qualities, again, is a perfectly fine ale, though it's not going to impress many beer geeks.
On the menu, flammekueches looked good, but the bartender was going off shift, so decided to eat my first crepe of the trip on the corner stand, a grand marnier soaked piece of heaven. Brasserie O'Neill is an ok stop if you're desperate for a full pint, happen to be nearby or need a meal with English translations (more or less). In my case, I'm a glutton for punishment sometimes and just have to drink it myself. Today the beer is fine and I got to watch some heavyweight 100+ kg Olympic judo in the process. Oddly, the experience comes with some inner city rap and hip hop.
I returned later in the week with my wife and two nieces to try the Flammekeuches. But first, I ordered the La Blanche to drink this time. Fluffy white head over a hazy orange wheat beer. Head falls away quickly over a strong orange peel and spice nose. Not complex, but it has a pleasant aroma. Fruitiness continues in the taste with a slight carbonic bite. Again, not fabulous but brewed cleanly, a comment with which my wife agreed from a sip while she drank her draft of brune.
Flammekueches are a pastry dish from Alsace that means "baked in flames." I had the Gratinee, which is the Classic (creme fraiche, onions and bacon) plus Gruyere cheese. Minus the bacon, of course, as I'm almost a vegetarian. Comes to the table looking like a thin omelet with burnt edges. Digging in, it is a light pastry crust with the sweet onions counterpointing the slightly sour taste, which I assume is the creme fraiche. Excellent and wish I had time to try this local cuisine again.
While completely eclipsed by Brewberry on our last day in Paris, Brasserie O'Neill served the purpose of a beer geek in need while touristing in Paris. While no where near world class, some local flavor and an easy visit to a unique Parisian neighborhood makes it worth the effort.
More at http://pintsizedrevelations.blogspot.com/2013/05/o-maitre-artisan-brasseur-aka-brasserie.html
4,145 characters
3.78
/5
rDev
+2.2%
vibe: 4 | quality: 5 | service: 3 | selection: 3
Nicely appointed place in the vein of a corporate microbrewery. High-end finishes, spacious, clean, etc. I had the the Ambré, which was just alright/unremarkable. The indoor wall draught menu had *Noel* written on either side of "Ambré" so I was expecting to get something seasonal, which it was not. They were out of any "special" beer. Service was distracted, repeatedly making cheesy shots for a couple small groups and taking cigarette breaks with friends making it hard to leave after just one beer and this was only around 8pm on a Monday. Wasn't inspired to return.
574 characters
3.78
/5
rDev
+2.2%
vibe: 3.5 | quality: 3.5 | service: 4.5 | selection: 3.5
Stopped in for a couple of beers while the wife was purse shopping in Paris. Located in a high pedestrian traffic area with lots of stuff going on.
No outdoor cafe style area but a couple of tables are close enough to the street to give it an outdoor feel. The interior is dark and cozy with lots of wood. There's a 13 seat bar that runs the length of the front part opposite the copper brewing equiptment. Unusual for me to see a bar this big in France.
The menu offers small and large versions of la blonde, la blance, l'ambre, la brune, and the chalboard mentions a special beer which they didn't have (they also were out of the brune). I had the blonde, blanche, and amber with the blance being the best.
A worthy stop for local made beer - just don't go in with the expectation of authentic artisinal brewing.
820 characters
3.78
/5
rDev
+2.2%
vibe: 3.5 | quality: 3.5 | service: 4 | selection: 4
Visited March 09. I thought I would add a review particularly because there is no smoking indoors anymore.
Classic brewpub look, with brewing equipment up front, and a homely bar in back. There is plenty of bar stool space and lots of table seating. Looks clean and new, nice but not a particularly special ambiance. It was quiet for afternoon happyhour, where the special was a 50cl for the price of 33cl (about 3 euros). Didn't try food, and neither did anybody else there between mealtimes, although they say food is available nonstop noon-midnight. They were serving blanche, blonde, brune, and ambrée. On the board there is room for bock/speciale, but these weren't available when I visited. Most people were getting blonde or ambrée. The ambrée claims to be made with 'grilled malt'. The beers I tried, blanche and brune, were fine if not exciting. It's a decent place for a beer at an unbeatable price for Paris.
923 characters

3.8
/5
rDev
+2.7%
vibe: 4 | quality: 3.5 | service: 4 | selection: 4 | food: 3.5
Visited in 2004.
Located in the 6th arrondissement, close to the place St-Sulpice and full-St Germain des Près, O'NEIL is the first micro-brewery has opened its doors in Paris.
Born fifteen years ago Brewery O'NEIL has the outstanding propose to pure malt beer-made and of good quality.
Each beer (pale, white, brown and amber) is 100% barley malt and hops, except the white is also returning to its composition of malted wheat.
Entering, you'll be greeted by huge hot beer in copper, all shiny. Copper, a substance associated with hot ingeniously elm that reigns supreme here. And for even more authenticity and heat, walls that are not covered are themselves in stone. A welcoming atmosphere, warm, intimate because of the human scale of the place and the lighting.
769 characters
2.63
/5
rDev
-28.9%
vibe: 3 | quality: 3 | service: 2.5 | selection: 2 | food: 3
My wife and I stopped in here one afternoon in Paris on a recent vacation. I was curious to see what a French brewpub (in Paris) would be like. Even though it was late afternoon, it was kind of dark and somewhat smoky inside. Our waitress seated us in the corner, but somewhat near the door. As a result we were pretty much out of sight and (from what I could tell) out of mind. It took quite some time to get a beer and food. The beer was okay, but relatively uninspired.
Overall, I found it disappointing in general, but not absolutely horrible. If France has any good brewpubs, perhaps they're near the Belgian border. If/when we return to Paris, we probably won't be stopping in here. My advice would be to just go the Academie, you'll have a better time (I think) and be able to drink truly inspiring French beer.
821 characters
3.79
/5
rDev
+2.4%
vibe: 4.5 | quality: 4 | service: 4 | selection: 3
Checked this place out the same day I visited Frog and the Princess, which is about a block away. This place is the better of the two by far. It was packed with a young crowed, everyone was enjoying themselves, and everyone was French (Frog and the Princess seemed aimed at English speakers). There was a great pub feel to this place (okay, maybe it was a little too smoky) and I was lucky enough to snag a table while many people were left standing.
The beer selection was pretty average and truthfully I was a bit disappointed they didn't even name their beers. The six choices are Blonde, Ambree, Brune, Blanche, Bock, and Speciale. I was with a couple people who weren't interested in finding the most creative selection so we just got a pitcher of the blanche. I enjoyed it thoroughly.
Definitely worth stopping in. If you can, get there before 20h00, when the prices go up!
885 characters
3.75
/5
rDev
+1.4%
vibe: 4 | quality: 4 | service: 3.5 | selection: 3.5 | food: 4
As I came back to Paris recently and had a chance in terms of proximity (I was at Rue Bonaparte) to go out around the St.-Suplice/Mabillon area, I paid O'neil a visit.
The summer stroll down the rue des Canettes is interrupted by a completely open scene of what looks from outside a bit more like a warehouse. The place boasts the tanks right at the door, and the inside is considerably dark due to the whole reddish black sort of deco, it has, from a place seemingly more tavern-like than other nearby places (see: Frog and Princess).
Inside then, the bar faces the tanks directly and there's a small corner of stool seats that is the only bit actually facing the street. places around here seem to not take advantage of the beautiful scenery. further in, two floors of seating, the upper one overlooking in a balcony fashion the ground floor. we sat up there, and were drooling over the reeeal hot waitress downstairs, when we were struck by the presence of our waiter.
Bit mediocre service, because the waiter acted a bit indifferent and rough to our early request, although mellowed down as pitcher after pitcher of their witbier went down.
I personally thought it was a good beer, but, brewpub and all, they only have 3 beers available year round, which seems a bit scarce in terms of variety (Frog and Princess can have 5-6 available and some 2-3 rotational, 2 seasonal). Still, it was good.
We ordered dinner, and give my friend's recommendation I asked for the chili con carne, not-so-mexican classic. it was pretty good and generous in size, which pleased us two big eaters.
Nice experience again, although with little time/choice I'd take the frog any day.
1,686 characters
3.4
/5
rDev
-8.1%
vibe: 4 | quality: 3 | service: 3 | selection: 4 | food: 3.5
Located in the Saint-Germain area of Paris, the Brasserie O'neil offers a nice stop for the beer amateur tired of the expensive cafés of the neighborhood. The atmosphere is chill and rustic with a wooden decoration, little light, and some copper elements. You can either sit on the front, or in the back on a little mezzanine. The bar itself is quite long and offers a few seats too. Service varies from a waiter to another, but remains overall good for Paris. The beers are tasty, although not exceptional, and served at very good prices for Paris and for the neighborhood; 4 or 5 of them on the menu, all of them deserve a try. The food is standard brasserie food, with tartes flambées, steaks, etc. The tartes flambées my friends got seemed alright, and my steak with Roquefort sauce was pretty good (the fries were tasty too).
Among my favorite spots in Paris. Friendly and unpretentious.
November 2005: went there yesterday, the waitress was a dick and the beer was flat. So I just lowered the grades for now.
1,022 characters
4.53
/5
rDev
+22.4%
vibe: 4.5 | quality: 5 | service: 4.5 | selection: 4 | food: 4.5
O'Neil's is quite simply the best place to get a beer in Paris. Upon spying the restaurant, you can tell right away that you have discovered something special: the brewing equipment is next to the entryway and visible from the street. If you enter on a weeknight, you will find a quiet, low-lit ambiance with people smoking and talking over pitchers of la brune. On the weekends they turn up the music and the establishment fills to overflowing with a more youthful crowd. Now they don't stock any outside beers, but this is not a problem because their beers are excellent: typically very smooth, beautiful to look at, extremely drinkable, and more sweet than hoppy. Breathe them in, take a sip and let them linger on your palate the way you would a fine wine or an aged scotch. If someone in your party doesn't like beer (hard though that may be to believe), recommend one of the excellent beer cocktails to them.
Individual glasses of beer are served in two sizes: un demi, which is half a pint (or 25 cL) and une chope (40 cL). Prices for these are between 3-5 €, slightly less for the blanche, slightly more for the brune. Their prices are very competitive, a little less expensive than you would find in some of the more "chic" bars of Paris (but you'll never find beers of this quality elsewhere!). The last time I was there (june 2004), you could still get a chope for the price of a demi before 8 p.m.
The restaurant section is excellent: they serve classic French bar cuisine, such as boudin (a kind of sausage--don't ask more than you want to know), but their specialty is flammekueche (which is like a thin-crust pizza without the sauce). If you want dessert, the mousse au chocolat is one of the best in Paris--rich and dark and creamy.
All in all, O'Neil's is a great place to take a visiting relation or a French friend who doesn't believe that beer can be just as good as wine.
1,902 characters
Brasserie O'Neil in Paris, France
3.31
out of
5
based on
32
ratings.