El Rojo Red Ale
| Griffin Claw Brewing Company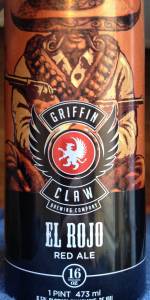 BEER INFO
Brewed by:
Griffin Claw Brewing Company
Michigan
,
United States
griffinclawbrewingcompany.com
Style:
American Amber / Red Ale
Alcohol by volume (ABV):
6.50%
Availability:
Year-round
Notes / Commercial Description:
No notes at this time.
Added by TheBrewo on 12-08-2013
Reviews: 13 | Ratings: 141
2.84
/5
rDev
-24.1%
look: 3.25 | smell: 2.25 | taste: 3 | feel: 3 | overall: 3
This beer comes from Griffin Claw Brewing Company in Birmingham, MI
Served in a 16 oz can in to a standard pint glass. Served at around 41 degrees, not very cold. El Rojo is a Red Ale, and when poured it pours slightly hazy, with an amber red color. It could have been how I poured it, or how shook up the can was, but the head did not have great retention making the beer seem a bit flat. The smell is not extremely appealing as it smells like a mix of iron and malt. The taste is much better than how it smells, exemplifying biscuity malts with hints of of toffee, caramel, and subtle hops. Overall a well balanced beer as far as taste.
The overall drinkability I would list as simply okay. I am not sure I could drink more than one of these beer in a sitting.
764 characters

3.63
/5
rDev
-2.9%
look: 4 | smell: 3.5 | taste: 3.5 | feel: 4 | overall: 3.75
Pours brownish red/ Amber. Thick, medium, light tan head. Lasts a bit.
Smells malty, caramel, hints of hops, roasty.
Taste roasted malt, caramel, light earthy hops. Slight sweetness. Finish is semi-sweet with bready linger. Medium body and smooth medium carbonation.
268 characters

3.63
/5
rDev
-2.9%
look: 3.5 | smell: 3.5 | taste: 3.75 | feel: 3.75 | overall: 3.5
A - pours a chestnut brown with reddish tint. Creamy mocha head that quickly disappears.
S - Malted milk balls, bread dough, grainy.
T - Caramel, malt, chocolate. Very malt forward met with some bittering hops. Malt dominates, but good drinkability and good mouth feel.
O - Decent brew that is worth a look.
314 characters
3.66
/5
rDev
-2.1%
look: 3.5 | smell: 3 | taste: 4 | feel: 3.75 | overall: 3.75
I don't usually go for a red ale, but decided to buy some for family members that like reds and decided to try one. I was pleasantly surprised by smoothness and really enjoyed this beer.
187 characters
3.71
/5
rDev
-0.8%
look: 3.5 | smell: 3.75 | taste: 3.75 | feel: 3.5 | overall: 3.75
Had on tap at the Detroit Zoo, served in a clear plastic cup. Not optimal, but will serve. Pour produced a thick, creamy layer of off-white head. Nice hang time. Color is hazy garnet. Aroma is sweet caramel malts, very pleasant. Taste is the same, with some bready and nutty notes. Solid brew to style.
302 characters
3.75
/5
rDev
+0.3%
look: 4.25 | smell: 3.5 | taste: 3.75 | feel: 4 | overall: 3.75
Griffin Claw El Rojo.
Was heading back from picking up my copy of the new Assassins Creed at the midnight release and decided to stop by a newer gas station in my town trying to get into the craft game. Didn't even stop in for the beer, but I noticed a selection of singles I had never had and simply couldn't resists. Usually Griffin Claw does a solid job with their beers and I'm hoping this one is pretty good as well.
Look - Hard pour from the pint into a pilsener glass. Pours a deep amber hue with a massive, very frothy and very bubbly off white head that leaves immediate stick and layers upon the top of the drink quite nicely. Carbonation appears to be pretty damn low, which isn't a bad thing for the style in question. Head retains very well throughout the drink and some sticky lacing is surely apparent.
Smell - Very hardened caramel candy forward. Smells like...a candy your grandma kept in an old cookie bin for a few years. Really isn't a whole lot else to say about the nose. Isn't complex, but it does smell quite solid. On to the next.
Taste - Starts and remains very, very sweet. Like biting into a fresh...something very, very sweet. Caramel heavy but also with a certainy and slight fruityness that I cannot quite finger...ahhh there it is. Beer tastes like a well baked cherry pie. With emphasis on the malty, bread aspect. Hop level is kept to a minimum in this brew. Bit of a sourness as you continue into the drink, and even a smidge of must. Very...unique to say the least.
Feel - The body is moderate in nature and very creamy due to the thick froth remaining amongst the top of the drink. Carbonation is low to moderate and the beer swallows a bit tougher than you may expect though not offensive in any way. Flavors develop a bit more and become almost cherry frosting like in nature.
Overall - A perfectly fine and very unique red ale out of griffin claw. Will admit that it isn't my favorite brew, but it reminds me oddly more of a malt forward christmas time winter warmer. If you like malt forward, high sweetness red ales this beer will be sure to tickle your pickle for more than a nickle. I'd surely have again, around a fire in Northern Michigan on a later November hunting trip..
2,227 characters

3.76
/5
rDev
+0.5%
look: 4.5 | smell: 3.5 | taste: 3.75 | feel: 4 | overall: 3.75
I picked up a can of Griffin Claw's El Rojo Red Ale a couple days ago for $2.09 at The Lager Mill. This is the last of the three new Griffin Claw beers that I picked up to try, the IPA and Pale Ale were both solid and i'm interested to see how this one turns out, so lets see how it goes. No visible canning date, but it just showed up recently so I think it's fairly fresh. Poured from a tall 16oz can into a imperial pint glass.
A- The can looks pretty good, it's a got bandito looking guy and it and it goes well with the name, i think it's fairly eye catching. It poured a redish brown color that took on more of a ruby color when held to the light with two and a half fingers worth of tan head that died down to a thick ring that stayed till the end and it left lots of patchy rings of lacing behind. This is a very good looking Red Ale, I have no complaints at all.
S- The aroma starts off with a slightly higher amount of medium sweetness followed by a good amount of malts showing up first imparting some grainy, toasted malt, caramel malt and some light bready aromas with the caramel malts seeming to stick out the most along with some sweet malts. Up next comes a pretty fruity aroma which I think it from the yeast, it's very noticeable. Towards the end comes slightly earthy and spicy hops. The aroma is nice and I think it's fairly unique for the style.
T- The taste seems to be fairly similar to the aroma and it start off with a slightly higher amount of medium sweetness followed by the malts showing up first and imparting all the aspects that I got in the aroma with the caramel malts still sticking out the most. Up next comes that same fruity yeast that I picked up in the aroma that still sticks out a good deal. On the finish there's some light earthy and spicy hops that impart a medium amount of bitterness with a sweet, caramel malt, and fruity yeast aftertaste. This was a pretty nice tasting beer and I think the fruity yeast makes it stand out.
M- Smooth, clean, a little crisp, a little creamy, on the thicker side of being medium bodied that's on the border of being full bodied with a good amount of medium carbonation. The mouthfeel was pretty good and it worked well with this beer.
Overall I thought this was good beer and it was nice and somewhat unique example of a Red Ale, it was heavy on the caramel malts with just enough bitterness to balance it out and the fruity yeast made it stick out, I enjoyed it. This beer had nice drinkability, it was smooth, clean, a little filling and the taste did a good job at holding my attention, I could drink a pint or two of this in a row, but it might start to become too filling after that. What I like the most about this beer was how unique it is, it would be hard to confuse this with most Red Ales. What I liked the least about this beer was the aroma, it wasn't bad but i thought the sweetness was a little overpowering. I would buy this beer again, I don't think I would buy it often, but I would pick some up once in a while. I would recommend this to anyone who likes the style. All in all I was happy with this beer, It's not the best Red Ale I have ever, had but I did find it unique for the style and that made it memorable for me. Good job guys, this was a very solid and unique Red Ale, keep up the good work.
3,307 characters
3.78
/5
rDev
+1.1%
look: 4 | smell: 3.5 | taste: 4 | feel: 4 | overall: 3.5
16 ounce can into pint glass; no canning date, but was released recently. Pours slightly hazy deep ruby red color with a 1 finger fairly dense light khaki head with good retention, that reduces to a thin cap that lingers. Light spotty lacing clings on the glass. Aromas of caramel, toast, toffee, biscuit, orange peel, pear, apple, brown sugar, floral, grass, slight pine, and floral earthiness. Nice and pleasant aromas with good balance of hop and malt notes; with solid strength. Taste of caramel, toffee, toast, biscuit, orange zest, pear, apple, brown sugar, floral, grass, slight pine, and floral/toasted earthiness. Minimal bitterness on the finish; with lingering notes of caramel, toffee, toast, biscuit, orange zest, pear, apple, brown sugar, floral, grass, and floral earthiness on the finish for a good bit. Very nice balance and robustness of malt flavors with a fair amount of hop presence; with zero cloying flavors after the finish. Medium carbonation and body; with a fairly creamy and very smooth mouthfeel that is nice. Alcohol is well hidden with only a small warming present after the finish. Overall this is a very good amber ale. Good robustness and balance of malt and moderate hop flavors; and very smooth to drink. A nicely enjoyable offering.
1,269 characters
3.86
/5
rDev
+3.2%
look: 3.75 | smell: 4 | taste: 3.75 | feel: 4.25 | overall: 3.75
From BeerAdvocate Magazine #88 (May 2014):
Toast, Caramel, Savory
The brewers intention here is a full on malt bomb, brimming with toasty grain and a thick caramel backing this is quite the Red Ale even though our palates are not being assaulted by hops. Exceptionally clean and easy to quaff back for a slightly bigger brew.
STYLE: American Red Ale | ABV: 6.5% | AVAILABILITY: Year-round
392 characters
3.87
/5
rDev
+3.5%
look: 4 | smell: 3.75 | taste: 4 | feel: 3.75 | overall: 3.75
Had on-tap for $3 a pint during Happy Hour at HopCat.
Appearance: Red/brown. Seems to be clear. Off-white, maybe sand colored head. Great lacing.
Smell: Caramel. Quite a lot of caramel, with a slight hop spiciness.
Taste/feel: Like the smell with the sweet caramel sorts of flavor, but the hops are more prominent in the taste as they give a nice little earthy bitterness without making this become one of the seemingly ever-popular Red IPAs. For being what should be a pretty simple/basic sort of beer, this tasted pretty good. My second beer from Griffin Claw after Screamin' Pumpkin, and I've liked both.
610 characters
3.88
/5
rDev
+3.7%
look: 3.75 | smell: 3.75 | taste: 4 | feel: 4 | overall: 3.75
We pop a can, pouring a brew of near scarlet red into our Great Lakes pint glasses. It puts up a two finger head of dirty khaki colored bubbles, showing excellent retention. Lacing is clingy and thick, laying down in mountainous patterns. No haze or sediment is noted, and carbonation appears to be highly active. The aroma gives strawberry and apricot fruity sweetness, roasty amber, pale, and caramel maltiness, tinny coffee metallics, floral cherry blossom and dandelion, cotton candy sweetness, lemon, vanilla sugars, basement mustiness, plastic foams, warmth of freshly baked brown breadiness, soft cinnamon and clove spice, and floral hops. Our first impression is that the flavoring is nicely rich and malty, with pleasant sweetness of grain to carry it through the entire tasting. As we sip, the flavoring opens with brown and toasty red malts, brown sugar sweetness, cooling vanilla bean, tinny and irony metallics, stone ground mustard, beet and spinach vegetals, lightly bittering grassy hops, and grape soda cloy. The middle comes to a peak with the first suggestions of fusel booziness, cereal and heavily roasted pale grain, sticky caramel sweetness, tannic green tea dryness, wet and sloppy yeasty coin, herbal hop freshness, lavender, white pepper, and dried dogwood bark. The end comes washing through with dust and must, champagne grape sweetness, light banana esters, fresh brown breadiness, newspaper inkiness, fried papaya and pineapple fruitiness, rye and wheaty graininess, coppery metallics, plastic phenols, and a final twinge of carrot, peanut dust, and grassy, herbal hoppiness. The aftertaste breathes of stomach acidity, bitter grassy, herbal, and lightly piney hops, pale and caramel grain, wheat flour, dry water crackers, cranberry and strawberry flesh, sea saltiness, continued brassy metallics, soaps, slick parsley essence, and burnt leathery smokiness. The body is medium to thick, and the carbonation is solidly medium, with good prickle to the hard palate. Each sip is soft enough, with nice slurp, smack, froth, and foam. Cream is lesser, as is brightness to the finishing pop. The mouth is left wet, bitterly puckered, and mildly astringent. The abv is appropriate, and the beer drinks back easily.
Overall, what we enjoyed most about this brew was its flavoring. The aroma seemed a bit cheap and phoned-in, with hearty grain throughout, but not enough hoppy goodness, or balance in any form really, to even it out. The flavoring on the other hand just ran with the savory quality of the malts, irregardless of the other notes involved. This suited it well, as sips never became a burden or overbearing. The sip, too, contributed to the glug and pull of the thing as well, helping to definitely round out the experience. As always, we love to support a local brewery, and as this is the first roll out of their cannery, we were very, very excited to sample their stock, and were not let down. Finally, their designs are amazing, and the time and effort they put into them has not gone unnoticed, and will undoubtedly aid revenue in sales outside the brewery.
3,099 characters

4
/5
rDev
+7%
look: 4 | smell: 4 | taste: 4 | feel: 4 | overall: 4
This is an excellent Red Ale that borders an a Brown Ale. It has a smooth, slightly sweet flavor. More malts than hops here. There is a mild hop flavor, but very little bitterness. The malts have a nice caramel flavor with a bit of toastiness. Smooth and tasty. The smell and mouth feel are right on par with the flavor. It looks great in the glass too, it retains a 1/2" head and it a nice reddish amber. I like that it comes in a can also. Great job, I'll be adding this to my regular rotation.
496 characters
4.36
/5
rDev
+16.6%
look: 4.5 | smell: 4 | taste: 4.5 | feel: 4.25 | overall: 4.5
Poured a bright amber-brown-red with a faint hint of haze. Two-finger tan, creamy, persistent head, that settled in at 1/16th inch. Hop, spice and caramel nose. Medium body, great lingering malt notes with suggestions of toast, sweet biscuits, the woods, and some citrus and pine. Totally moreish! Well-balanced hops and malt, leaning into the malts. Some light, yet distinct lace forms. A definite re-purchase.
411 characters
El Rojo Red Ale from Griffin Claw Brewing Company
3.74
out of
5
based on
141
ratings.