Licorne Black
| Brasserie de Saverne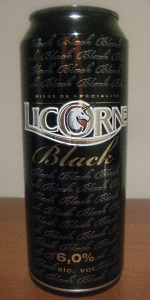 BEER INFO
Brewed by:
Brasserie de Saverne
France
Style:
Euro Dark Lager
Alcohol by volume (ABV):
6.00%
Availability:
Year-round
Notes / Commercial Description:
No notes at this time.
Added by Dentist666 on 12-12-2012
Reviews: 8 | Ratings: 22
2.83
/5
rDev
+15.5%
look: 3.5 | smell: 3 | taste: 2.75 | feel: 3 | overall: 2.5
500ml, sexy textured black labeled can, the first offering from this French brewery to broach Alberta's beerscape in quite a while, I'd say.
This beer pours a clear, dark bronzed brown colour, with one chubby finger of puffy, finely foamy, and somewhat creamy tan head, which leaves but a few disparate instances of pillowy cloud form lace around the glass as it quickly blows off.
It smells of bready and doughy caramel malt, reduced store brand cola syrup, a hint of wispy smoke, sugary black licorice, and no real sense of hop bitterness, at all. The taste is more semi-sweet, barely grainy caramel malt, candy-bar toffee notes, free-range dark sugars, muddled generic black orchard fruit, a waning touch of vanilla and licorice, and still nothing in the way of off-setting hoppiness.
The carbonation is quite tame and ineffectual in its down-low frothiness, the body a sturdy enough medium weight, and mostly smooth, a sort of expected candy-like character carrying through at this juncture. It finishes well off-dry, the varied malt and fruit essences still not seeing anything in the way of counterbalance.
Overall, this comes across as one simple-ass, lop-sided, and pandering to the sugar-craving masses affair. I mean, I had my tongue-scraping sensors go off barely after popping the tab on this mo-fo, and remain on high alert ever thereafter. Yeah, not bad-tasting, sure, but not good, either.
1,411 characters
2.68
/5
rDev
+9.4%
look: 3.5 | smell: 3 | taste: 2.25 | feel: 3.5 | overall: 2.5
Modest starting head that settles to rim bubbles. A couple of spots for lace. The color is brown where light can pass--definitely not black.
Very mild smell of dark and dry malts.
The taste is far sweeter, almost as if there were corn syrup added. I find this distracting and disappointing. However, it is better than most offerings in France. Full bodied and low carbonation. The lingering aftertaste is cloy and sweet, like the aftermath of having a hard candy.
467 characters
2.14
/5
rDev
-12.7%
look: 2.5 | smell: 2.25 | taste: 2 | feel: 2 | overall: 2.25
Very sweet black beer, no evidence of any roast grains. As mentioned previously, like "A rum and coke" gone flat. Mouthfeel is light/watery, not much lingering aftertaste. Aroma also is overly sweet (sugary).
208 characters

1.81
/5
rDev
-26.1%
look: 3 | smell: 2 | taste: 1.5 | feel: 1.5 | overall: 2
Pours dark brown beer with ordinary 2-finger golden head. Not very good aroma: too liquory, caramel and cardboard. Taste is sweet and repulsive, like weak alcohol was mixed with synthetic ingredients, neither good malts, nor hints of real hops. Rather low carbonation, absolutely failed beer.
292 characters

2.21
/5
rDev
-9.8%
look: 2.5 | smell: 2 | taste: 2.25 | feel: 2.25 | overall: 2.25
Licorne Black a dark lager which has all the attributes of a dull lager + a chocolatey taste. This beer is quite thick and overly sweet. No balance. Not bad but wouldn't call it a beer
184 characters
1.69
/5
rDev
-31%
look: 3.5 | smell: 2 | taste: 1.25 | feel: 1.5 | overall: 1.75
dark reddish color, almost opaque, not very firm head
smell is somewhat chemical, strong malts and some barley as well
taste is can be best described as pepsi crossed with orange juice with the add of some plain alcohol: sticky artificial sweetness and citric acids .... in a blind tasting I highly doubt I would have considered this being any kind of beer ...
really not sure why this brew gets exported ....
412 characters
3.09
/5
rDev
+26.1%
look: 3.25 | smell: 3 | taste: 3 | feel: 3.25 | overall: 3.25
Euro dark Lager, for the style I'm not going to be picky, bought the 3pack but not going to buy again, at least I tried, but France has much better to offer
156 characters
2.9
/5
rDev
+18.4%
look: 3.25 | smell: 2 | taste: 3.5 | feel: 2.75 | overall: 2.75
A confusing beer. Looks ok and then you taste it. What?! It's a lager!! And then the sweetness kicks in. What the *#$§ is going on here. Then the 6% alcohol washes over you and your palate adjusts and you think, it's really not that bad. Get one for the novelty. Don't get two.
278 characters
Licorne Black from Brasserie de Saverne
2.45
out of
5
based on
22
ratings.