Cuvee 't Smisje 10th Anniversary Ale
| Brouwerij Smisje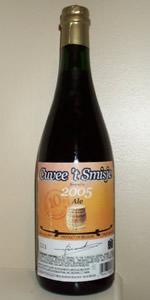 BEER INFO
Brewed by:
Brouwerij Smisje
Belgium
smisje.be
Style:
Belgian Strong Pale Ale
Alcohol by volume (ABV):
10.00%
Availability:
Limited (brewed once)
Notes / Commercial Description:
No notes at this time.
Added by BeerAdvocate on 09-26-2005
This beer is retired; no longer brewed.
Ratings: 11 | Reviews: 10
Reviews by Chinookie:
4.38
/5
rDev
+6.1%
look: 4.5 | smell: 4 | taste: 5 | feel: 4.5 | overall: 3.5
Picked this one up at Wilbur's in Fort Fun, CO in Dec. 2005 and had it aging in the cellar (on its side; I know, I'm a heathen). Consumed 3/17/2008 (again, heathen; that's St. Paddy's Day!)
Poured into bulbous red wine glass. Thin but lingering head, syrupy, slightly cloudy, amber appearance with small bubbles.
Aroma was sweet/sour, slightly floral, sugary.
Almost thick mouthfeel. Sweet, rich, woody, buttery, golden raisin, brown sugar; some vanilla cream in the finish with a lingering woody bitterness.
I only had one bottle, so can't compare my aged one to a fresh one, but if you still have one of these, it's a gem now. I could see it getting better with another year or so.
687 characters
More User Reviews:
4.17
/5
rDev
+1%
look: 4 | smell: 4.5 | taste: 4 | feel: 3.5 | overall: 4.5
A great unique beer, 2 years old that had funkiness and a good sourness. Malt and yeast in the nose. Medium cloudy, pale appearance. Lacey. Initially sweet yeast that gives way to controlled sourness. Pineapple mastery.
A rare one, found in New Joisey.
252 characters

4.2
/5
rDev
+1.7%
look: 4 | smell: 4 | taste: 4.5 | feel: 4 | overall: 4
Retired.
A: Pours a hazy caramel orange color. 10% abv.
S: Sweet orange and caramel malt on nose.
T: Rich caramel, fresh oranges. Very creamy texture with some earthy hops. For flavor there is some dark caramel, cherries and dried apples along with some spicy hopping. There is also some warm oranges detected. Warm and complex flavors provide a nice lasting fade with a spicy alcohol tang. A beer worth savoring to the very finish and should be drunk slowly to fully appreciate its range.
M: creamy, spicy with some alcohol hints
D: nice drinkability and worthy of a recommendation.
590 characters
4.42
/5
rDev
+7%
look: 4 | smell: 4.5 | taste: 4.5 | feel: 4 | overall: 4.5
The beer after it's decapping and cork removal from the 750ml green bottle sets a winsome somewhat hazy orange, the head creamy white and the size tremendous, as it slowly evaporates, the residual lace forms a thick blanket to conceal the glass. Nose has hints of sour dough bread, sweet malt, citrus like in its crispness some what flowery from the hops, start is sweetly tart, nice grain presence, top is moderate in feel. Finish is personable in its acidity, the hops delightfully spicy, dry and lingering after taste, and a fine drinking beer worth a sample.
563 characters
3.92
/5
rDev
-5.1%
look: 3.5 | smell: 4 | taste: 4 | feel: 4.5 | overall: 3.5
Presentation: 750ml green glass flask with dimpled base. Impressed corked and sealed with a large brass colored crown cap, all of this is sealed neatly onto the upper 2" of the bottles neck with a gold colored fragile plastic sleeve. Main label has an orange background with the words "Cuvee 't Smisje Brewed in 2005" above a single lone upright wooden cask. A red circle in the form of a seal has the words "10th Anniversary" just to the left of the cask. The lower quarter of the main label has a white band which contains all the usual Government nanny sate bollocks and warnings, but more importantly is has the number "001" stamped onto it. Listed at 10% Alc./Vol. For some reason the reverse of the bottle has the number '1772' written in white ink.
Appearance: Utterly brilliant clear copper-orange body has a nice collection of streamers to break the placid appearance. A soft carpet of dense dirty white foam builds into a 2" deep head which settles slowly down to a ¼" covering with a thicker halo ring around the edges. Some smattered and wispy lacing is ably supported by medium strength carbonation. The head disappeared quickly sadly.
Nose: Damp bread mixed with sour yeasty dough and some crushed wholemeal flour. Malty throughout, has a lightly hopped character and with some floral tones. Finishes with a really spiced- malt dimension as it reaches room temperature.
Taste: Malty start, herbs and spices, chewy soft middle with a freshly proving dough feel, rising and airy, yet sticky to the touch. After some time I get a residual sweetness in the latter quarter, but it has a sour mash aspect to it. Candy sugar maybe!? The alcohol sneaks through in the finish, a soft warming hint of vanilla infused oak aged whisky with a little 'backdraft' up the nasal passage that reminds you politely that this is 10% ABV.
Mouthfeel: Lovely soft carbonation and delicate creamy feel male way for a whisky soaked oak finish with a touch of warming alcohol, but only just.
Drinkability: Took me a while to get into my stride with this one. Pretty damn drinkable for a 10% though once I did, but too, well, just too boring, maybe I really mean predictable, to keep at it for more than a couple of Glasses.
Overall: Tasty stuff, it gets much better as it warms though, let this breathe a little once out of the fridge to get the best from it - nevertheless I still found it to be a little boring, rather one dimensional so to speak. A solid enough brew, but far from exciting, it's just missing that something special and I cannot put my finger on what really. I expected much more for a 10th Anniversary Ale.
2,647 characters
4.13
/5
rDev 0%
look: 4 | smell: 3.5 | taste: 4.5 | feel: 4.5 | overall: 4
Very spicey aroma with a nice earthiness to it. Very farmhouse-y. Nice pale malt aromas and a hint of alcohol. Some estery fruit aromas and maybe a little bit like hay. Interesting.
Amber and slightly cloudy. Big thick lasting head with some fine carbonation bubbles rising on the sides of the glass.
Big rich malty ale. Pretty pronounced honey flavors. Fairly well bittered but mostly a malty offering. Has a little bit of vinuous (brett?) complexity. It's very light and in the background. Has some peach fruit flavors and a nice toasty biscuit-like aftertaste.
Pretty big bodied and filling. Carbonation level is nice so it seems lighter on the palate than it really is. Not warming on the palate or alcoholic in flavor but it is warming in the stomach after you've had about half a glass.
Very nicely made beer. Has some classic Belgian Strong Ale characteristics with nice complexity. Another solid beer from Danny. Congrats on 10 years.
954 characters
4.32
/5
rDev
+4.6%
look: 4 | smell: 4.5 | taste: 4.5 | feel: 4 | overall: 4
I had been eyeing this one for a couple weeks. The price, $12.99 a 750, kept me at bay as there were other beers I wanted to try, but when I saw the last one on the shelf the other night at my favorite store, I said screw it and took the plunge.
Corked and capped green 750 bottle #209 poured into a tulip. Purchased at Merchant's in Dearborn.
Slightly hazed amber with an off white head that stands a couple inches and falls to a thin layer of foam in a few minutes. Thick sheeted lace.
The nose is sweet and spicy with some dark cherries, leafy hops and red apples. A bit musty and doughy with some sugars and a bit of lemon zest. It has that "freshly baked fruitcake" smell that I like so much.
Malty upfront with the same spicy sweetness from the nose. Turns bitter in the middle with some citrus that is slightly puckering with some sugar. The finish is an interesting mix of sweet with some puckering and a hint of wood. Ghostly pepper from the alcohol. Very nice.
The mouth is moderate and a bit puckering. Not as much carbonation as something like a Duvel or Lafin du Monde, but just enough to keep it lively.
Expensive but worth it, I'm glad I took the plunge. Give this one a try
1,208 characters
4.75
/5
rDev
+15%
look: 5 | smell: 5 | taste: 4.5 | feel: 4.5 | overall: 5
There's no way a beer could look better than this in any aspect. First of all it comes in a lovely dimple bottomed green bottle that's individually numbered (this is #221) and hand signed...yes, I closely inspected the signature to that of my friend's and there are some definite subtle differences. It poured a slightly cloudy golden color with a nice frothy head, which had great retention and left great lacing.
The aroma is of floral hops, appricots, apples, spices, maple, rustic earthy tones, and more of a malty nose as it warms. An exceptional nose for this style.
The taste shockingly starts off a bit sour but not too bad...not sure if it's getting past its prime or if it's intentional (alright, after looking at other reviews, maybe it's intentional). Once you're past the sourness, it has a nice balance of malt and hops. The alcohol presence is very well masked (even while it warms)...hard to tell it's 10%. The flavor itself is sort of difficult to describe...honey like sweetness, granny smith apple and Orval-like gentle sourness, and some wonderful tea flavors...I'm not sure how else to describe it but what comes to mind is a good tea. It has a slight sour aftertaste but nothing annoying, which is nice.
The initial sourness subsides substantially over time making this a very enjoyable beer. This would make an exceptional session beer if this wasn't a hand signed exclusively numbered beer and wasn't 10%. It might be just a touch over carbonated but otherwise it's a peculiar and interesting beer that will make your mouth very happy. As far as being a Belgian Strong Pale Ale, I would consider this even better than any of the top beers of this style (Duvel, La Fin Du Monde, La Chouffe, etc), which is huge because I absolutely love those beers. It's definitely a must try if you can get your hands on one.
1,842 characters
2.89
/5
rDev
-30%
look: 4 | smell: 2.5 | taste: 3 | feel: 3.5 | overall: 2.5
Orange color, with a large, filmy white head. Very dull and bland aroma, completely devoid of any characteristics worth describing...maybe slightly whiskeyish....Flavor is pleasant, but just like the aroma its very, very dull. Very mild orange and tangerine flavors, with a hint of whiskey.
290 characters
4.47
/5
rDev
+8.2%
look: 4 | smell: 4.5 | taste: 4.5 | feel: 4.5 | overall: 4.5
Pours with moderate carbonation. Sunset orange in color. Aroma is malty, with grassy hops. A sourness lurks.
Taste is fresh and aggressive. The slight sourness is balanced by the malt and the yeast. Tastes like it could have been oak aged for a short time. Mouthfeel is good, and viscous for the style. I'd have another if I wasn't so tired.
345 characters
Cuvee 't Smisje 10th Anniversary Ale from Brouwerij Smisje
4.13
out of
5
based on
11
ratings.