't Smisje Great Reserva
| Brouwerij Smisje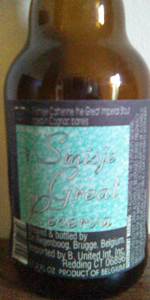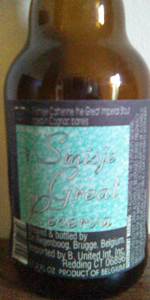 BEER INFO
Brewed by:
Brouwerij Smisje
Belgium
smisje.be
Style:
Belgian Strong Dark Ale
Alcohol by volume (ABV):
10.00%
Availability:
Limited (brewed once)
Notes / Commercial Description:
Catherine the Great Imperial Stout aged in Cognac barrels.
Added by Gueuzedude on 01-03-2009
This beer is retired; no longer brewed.
HISTOGRAM
Ratings: 38 | Reviews: 27
3.7
/5
rDev
+4.5%
look: 3.5 | smell: 3.5 | taste: 4 | feel: 3.5 | overall: 3.5
A: The beer is cloudy brown in color and has a small head that's off white in color. Despite a very light amount of visible carbonation in the rising bubbles there is a good amount of head retention.
S: There aren't a lot of cognac aromas in the nose, which has more notes of chocolate and oak.
T: The cognac flavors are more pronounced in the taste and particularly stand out in the finish. There is some bitterness and notes of oak and pepper.
M: It feels light- to medium-bodied on the palate. The limited amount of carbonation makes this feel a bit thin and there is some alcohol burn.
D: The beer is easy to consume when it is sipped, although I'm not sure if I would have this again because I thought there would be a larger presence of cognac.
750 characters

3.48
/5
rDev
-1.7%
look: 4 | smell: 3.5 | taste: 3.5 | feel: 4 | overall: 3
11.2oz bottle poured into a Brooklyn snifter. Classified here as a Belgian Strong Dark Ale, but the label proclaims it is an Imperial Stout aged in cognac barrels...we will see which it is.
A - Pours a very dirty dark brown with huge and obvious wisps of yeast swirling through the glass. Three fingers of dense tan head with oustanding staying power - pretty impressive for a 10% beer - a small amount of lacing left behind on the glass. The overall muddiness of the appearance detracts a bit here.
S - A bit fruity up front almost Grand Marnier like, a bit of lemon, some woody bite around the edges. Raisins, licorice, prunes, some alcohol round things out. Very unusual...some smells in there that definitely are unique in the beer realm.
T - Boozy, alcoholic in flavor up front. Strong woodiness throughout. A sharp bitterness in the middle with some unusual sourness on the edges. Still get some orangey citrus in this sourness. After the swallow some sweet caramel flavors creep in. Not at all what I was expecting out of this.
M - Medium/full bodied with medium carbonation too. Alcohol warmth and unusual combination of fruity flavors fills the mouth completely. Sweet caramel on the finish lingers into the aftertaste.
D - A very unique offering. Not entirely sure how I feel about this one...but leaning towards not liking. Not a drainpour (at least if you go in open-minded), but definitely not an easy drinker either. Don't think I'll be trying this one again. Glad to give it a shot, but this one is a bit out there for me.
1,542 characters

3.46
/5
rDev
-2.3%
look: 2.5 | smell: 4 | taste: 3.5 | feel: 2.5 | overall: 3.5
A - Very cloudy, opaque medium brown. Maybe a hint of red in color. The head is off white and creamy, but not huge. This does not look at all like an imperial stout, more like a cloudy abbey ale.
S - Aroma like nothing I've smelled before and tough to describe. A mix of wood, smoke and something organic. The organic note is not sour like a wood-aged gueuze, but more like a "stinky cheese" in the background. None of the roastiness or alcohol I was expecting from an imperial stout.
T - Again, not like a imperial stout. Strong bitternness and alcohol burn are up front, then lots of wood and smoke. No roast coffee notes. Fairly one-dimensional, centered on the smoky wood flavor.
M - Mouthfeel a bit thin.
D - Unique, but too one-dimensional and over the top with smoke and wood for me (and usually I'm a big fan of both in a strong beer).
847 characters
3.56
/5
rDev
+0.6%
look: 4 | smell: 3 | taste: 3.5 | feel: 4 | overall: 4
Editors note: I am going to be elaborating on this beer from notes, but here are some things to keep in mind.
1. Bottle says it is Catherine the Great imperial stout aged in cognac barrels but looks nothing like an imperial stout and pours out nothing like an imperial stout colorwise or headwise, massive head very lacy, does the barrel really impart these kinds of changes, I don't think so and it's listed as a Belgian Strong Dark Ale on the site. What gives?
2. For being aged in cognac barrels I don't really pick up on it at all, really more of a slightly sour, woody almost oxidized smell versus the sweetness I am used to from barrel aging.
3. Tastes is difficult to explain, lots of wood character, lots of oak mixed with a bit of funky sourness, grassiness and sweet grainy malts, finish is quite fruit and lingers for a long while after the beer is past. Feel and tastes nowhere near 10%.
4. A beer clouded in mystery, not quite sure what to make of it besides the fact that it is really like nothing I've encountered, certainly not what I was expecting but also not a appointment either.
1,103 characters

3.75
/5
rDev
+5.9%
look: 3.5 | smell: 3.5 | taste: 4 | feel: 4 | overall: 3.5
Served in a Dogfish Head snifter.
Pours a dark, nearly opaque black-brown with a half-finger of bibbly, very light tan head that leaves little lacing behind. The smell is almost entirely wood, though some notes of smoke, brandy, coffe, and dark malts are also hanging around in the background. The taste is a bit if a step-up: the brandy and wood are still in good abundance, they allow the dark malts, figs, molasses, and brown sugar to share in more of the spotlight. The body is almost heavy, with light carbonation and a generally smooth feel. The relatively high ABV and thickness and the prevalence of the wood, though, keep the drinkability from climbing higher.
670 characters

4.2
/5
rDev
+18.6%
look: 4 | smell: 4 | taste: 4.5 | feel: 4 | overall: 4
Reviewed from my notes. The notes are based upon a 6oz pour from one of a trio of bottles shared among the patrons of the Lion's Pride last night. The Great Reserva is a version of the Catherine the Great aged for six months on cognac barrels. It has a dark brown color and a single finger of light brown foam. It is translucent, with a very dark center, but I can see some light sneaking in around the edges. It is most important to note that this does not look at all like I expected a big barrel-aged stout to look. Smisje can make a world class stout that doesn't look anything like it's American counterparts. There is a slightly funky, sweet smell. I didn't pick up on as much of the cognac as I thought I would. The flavor has some sweet toffee malts. I can taste some of the cognac, but again, it's not excessive. The amout of alcohol is very good and doesn't overwhelm or distract. It has a medium body (again, not like most big stouts I'm familiar with) and medium carbonation. There is plenty of alcohol and carbonation in each swallow to tickle my tongue. It doesn't have much mouthcoating; it is more of a cloud of estery vapors that I can feel after I swallow. I certainly wouldn't call this a session beer, but for a high ABV Belgian stout aged in cognac barrels, it is remarkably drinkable. If you are lucky enough to see a bottle of this beer, buy it!
1,368 characters
4.32
/5
rDev
+22%
look: 4 | smell: 4.5 | taste: 4.5 | feel: 4 | overall: 4
Sampled today at Max's during 72 hours.
The beer pours a slight hazy brown color with good head retention and lacing. The nose is impressive, with coffee, chocolate, vanilla and smoke. This is a very fine smelling beer. Flavors replicate the nose, with the spice and smoke balancing the sweetness very nicely. Both the nose and the flavor profile are hugely impressive, with a boatload of flavor. Mouthfeel is medium bodied, with a long finish. Alcohol is well disguised, and this beer is remarkably drinkable for its abv.
Another very nice effort from the folks at Smisje.
576 characters

3.66
/5
rDev
+3.4%
look: 4.5 | smell: 3.5 | taste: 3.5 | feel: 4.5 | overall: 3.5
Appearance - a nice amber iced tea color, lots of pale mocha foam. Graduations of rings hit the glass as the head falls and holds at a quarter-inch.
Aroma - a nice sugary sweetness balanced with a good Belgian yeastiness.
Taste - mild malt influence. The abv heat is in force pretty quickly. The swallow has a mild tartness and bitterness. Some yeast on the swallow, the flavors working out together better after some warming.
Mouthfeel - a moderately crisp brew yet quite smooth. Not oily slick or anything but creamy and fulfulling.
Drinkability - a stiff nightcap, not quite as much flavor as I'd hoped for given the strength. Not a bad bottle of suds though.
666 characters
4.32
/5
rDev
+22%
look: 4 | smell: 4.5 | taste: 4.5 | feel: 4 | overall: 4
I really didn't know much about 't Smisje, and almost passed on the great opportunity until I went to my favorite brew shop and the sales associate very excitedly told me 1) ONE case was imported to the entire state and 2) It's aged in Cognac barrels. My only regret was not buying a second bottle.
I was a bit hesitant to buy it initially, because it was a ridiculously hot summer day and I didn't want an extremely dark and heavy imp stout that I usually associate with the winter time. However, I was informed that Belgium Imp. Stouts aren't typically like their American/Russian counterparts, and they are actually pretty translucent and lighter brown in color.
12oz bottle into poured into a snifter.
As now expected poured in a dark brown, with a noticeably burnt sienna/red accent. Poured a nice thick, creamy beige head which left lacing all the way down to the bottom. The head settled to a neat 1 finger thick.
On the nose the aroma of the alcohol of the cognac definitely shined through with hints of vanillay-oak and dark chocolates.
On the Palette, the cognac is certainly a featured element which lends it sweet to a semi-sweet, luxurious caramel a hazelnut. I also detect a hint of tart berries. The stout wasn't overloaded with bittery hops, which really let the intricacies of this brew reveal themselves. Sip slowly, because there is much to experience. There is an appreciated mild and cutting alcohol burn that lingers in your throat, but I enjoyed it as if I was drinking a cognac.
This was extremely smooth, and in terms for imp stouts light and silky.
Sipping on this beer on a late summer night, was one of the most relaxing beer experiences I've had in a long time while drinking a beer. I must find more.
1,739 characters
3.62
/5
rDev
+2.3%
look: 3.5 | smell: 4 | taste: 3.5 | feel: 3.5 | overall: 3.5
Poured a bottle into a oversized wine glass. Heavily carbonated, filling up to the top with white foam on top of a dark murky brown. The lacing is pretty good as the foam sits on the sit of the glass nightly. It has a spice of alcohol that stings slightly. Good fruit notes, grapes likely from the cognac. Some yeast and earthy aromas arise as well. It tastes slightly and alcoholic. It is fruity, mostly grapes, with some dryness, a bit of woodiness, and bitterness. This beer could benefit from a little bit of age, but I actually enjoy the alcohol heat in this beer. The mouthfeel stings a bit from the cognac and there is a little acidity. Definately a sipper
663 characters
3.12
/5
rDev
-11.9%
look: 4.5 | smell: 2.5 | taste: 3.5 | feel: 3.5 | overall: 2.5
a-ruby brown. Brilliantly clear with a huge khaki head.
s-slight peaty smoke. Not as impressive as the taste. rum soaked cherries. No hops.
t-Firmly bitter. light smokey phenols. A bit of alcohol. Almost like scotch.
m-Prickly carbonation. Slight alcohol burn, but ok for style. Some toasty malt.
d-I couldn't do more than one of these in a night. Good beer, but a lot going on. Between the phenols and alcohol, i can't have another.
440 characters
3.91
/5
rDev
+10.5%
look: 4.5 | smell: 3.5 | taste: 4 | feel: 4 | overall: 4
Pours a cloudy dark brown with a big, frothy crème head. Nose is a tangerine or apricot kind of thing with the expected dark sugar tones. Flavor is oddly smoked, like a rauch. Kind of that meaty and bacon thing you get from the German styles. But there's also that Belgian ale character at the same time. Feel is full with carbonation. Liquid is typical. A nice hearty ale. Interesting and different types of character, but a good one to drink.
445 characters

3.9
/5
rDev
+10.2%
look: 4 | smell: 4 | taste: 4 | feel: 4 | overall: 3.5
A soft, careful pour in to my 25cl tulip glass still sees my glass filling up with four fingers of head and then an additional finger rises above the rim of my glass threatening to over flow. The head is a tan color with a varied, rocky surface. The beer is a dark amber, well brown color that shows a lightly hazed, red color when held up to the light. The aroma is fruity, quite spicy and actually quite nice. I think that a lot of the rich fruitiness is derived from the Cognac barrels; notes of cherry, a touch of strawberry, sweet currant notes and a nice, concentrated raisin note. Pepper like spice, some clove, and some woody allspice as well as a tannic black tea like character add complexity to the nose, which is otherwise quite fruit dominated.
Spicy and well carbonated peppery notes greet my tongue up front. The beer softens a bit as it rolls across the tongue with a touch of cocoa and a dark fruitiness. Brandy soaked raisin flavors, concentrated plum, and some complex fig notes seem to capture the fruit flavors here. There is a touch of chalky, cocoa and toasted caramel character to the finish of this beer. The toasted character also takes on a wood-like note as well as adding some nuttiness to the flavor. I like how light bodied this beer is for a 10% abv beer; there is just enough heft to this beer, but it is far too quaffable to be safe. The nutty flavors really become quite a bit more pronounced as this beer warms up a bit. There is a touch of tartness here as well, it boosts the fruit character a bit and reminds me just a bit of tamarind.
This beer has seriously mellowed compared to the non-barrel aged version, the roast character plays a much lesser role here and the off-flavors of the base beer are not to be found here (thank goodness). This is actually quite tasty and I really like the boosted fruit character that the Cognac barrel added to this beer.
Purchased: Plaza Liquors, Tucson AZ
1,941 characters
't Smisje Great Reserva from Brouwerij Smisje
Beer rating:
3.54
out of
5
with
38
ratings