Smiske Nature-Ale
| Brouwerij Smisje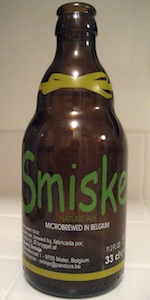 BEER INFO
Brewed by:
Brouwerij Smisje
Belgium
smisje.be
Style:
Belgian Pale Ale
Alcohol by volume (ABV):
7.00%
Availability:
Year-round
Notes / Commercial Description:
No notes at this time.
Added by DeanMoriarty on 09-28-2010
Ratings: 12 | Reviews: 6
3.88
/5
rDev
+6.3%
look: 4 | smell: 3.5 | taste: 4 | feel: 4 | overall: 4
33cl brown bottle at Waagstuk in Antwerp.
Rich orange golden color, massive head.
Smells of herbal hop, taffy, star fruit, green peppercorn, birch bark.
Dry, yeasty, medicinal, refined honey, bubble gum, wild herbs, craker maltiness, estery.
A serious beer even at 7%. Very lively, wakes the palate up. Very pleased to run into this ale.
343 characters
More User Reviews:

3.97
/5
rDev
+8.8%
look: 4.5 | smell: 3.75 | taste: 4 | feel: 4 | overall: 4
3.15
/5
rDev
-13.7%
look: 3.5 | smell: 3.5 | taste: 3 | feel: 3 | overall: 3
33cl Dumpy bottle, well in date, poured into a 'Hoegaarden Grand Cru' badged stemmed tulip.
The sediment stayed in the base of the bottle, so the glass held a dull golden bodied beer with a large white head on top: loads of carbonisation bubbles rising through the almost clear body.
Belgian yeasty aroma, some sweetness in there too.
The taste is a little too clean and clinical to me, no honest farmhouse feel to the flavours, no bits to get into, not your regular Belgian craft/country brewed beer at all.
This is obviously well made and lovingly cared for, but it defeats what I love about going to Belgium, finding and bringing back beers that challenge the tastebuds and enhance my beer enjoyment.
707 characters
3.9
/5
rDev
+6.8%
look: 4.5 | smell: 4.5 | taste: 3.5 | feel: 3.5 | overall: 4
Pours a clear, copper color. One inch head of a white color. Great retention and great lacing. Smells of sweet malt, alcohol, yeast, slight dough, hint of pale malt, and a hint of hop. Fits the style of a Belgian Pale Ale. Mouth feel is sharp and crisp, with an average carbonation level. Tastes of slight roasted malt, slight grass, slight sweet malt, slight nut, hint of pale malt, and a hint of caramel malt. Overall, good appearance, aroma, and blend. The hop presence in the body was undetectable.
502 characters
3.55
/5
rDev
-2.7%
look: 3.5 | smell: 3.5 | taste: 3.5 | feel: 4 | overall: 3.5
Both rich and zesty, Smisje's Nature-Ale offers champagne-like spritz with the malty body of Amber Ales, sheading a light on what's both beer and wine.
The pour delivers a rather murky rust color of browns and reds, but lathers into a creamy and substantially firm egg shell white head that has no problem retaining the session and leaving mild lace behind. The dull appearance of the liquid is in direct contrast to the lively head character.
Bold and delicate aromatics continue to play the game of what's malty-rich and what's dry effervesence. Lemons, apples, under rippened berries, white grape, and figs give a fruity, nearly winey tart note just before the malty components of breads or bread dough, light toasty, sorghum, and biscuit. Spicy with both yeasty white pepper and hoppy herbal and earthy notes- all give a complex and varying scent with each visit to the glass.
Malt sweetness makes a first early impact with the candied sweetness of powdered sugar, thin caramel, fresh baked breads/bread crust, and a touch of brown sugar. The short-lived sweetness disolves easily into a fruity, spicy, earthy mix from the bold yeasty esters of apples, pears, apricots, figs, and berries; and then the spicy white pepper, clove, and cumin heat; and finally the grassy and tea-like hop flavors that develop into a late spicy bitterness- all this along with the dainty white wine notes of cider and grape.
Medium but expansive with the first draw as the carbonation erupts from the tongue, then ushering in an early peppery-dry mouthfeel that seems to evaporate from the palate well before the finish. Warm and whimsy are the final impressions as the beer allows for an effortless taste of fruit and spice in aftertaste.
A very solid Belgian Pale Ale that likely suffers from a bit of age as more stale bread character and reduced hop aroma and flavors don't carry the zip and refreshment that many of these do fresh.
1,924 characters
3.97
/5
rDev
+8.8%
look: 4.25 | smell: 3.5 | taste: 4.25 | feel: 3.75 | overall: 4
Very smooth; earthy aftertaste (as the name hints); overall very good beer
74 characters


3.81
/5
rDev
+4.4%
look: 4.5 | smell: 3.5 | taste: 4 | feel: 4 | overall: 3.5
11.2oz bottle poured into a goblet. "04/2013" on the cap, which I'm assuming is the best by date.
A: Hazy orange body. Massive head with tons of lacing.
S: Apples, spices, and alcohol.
T: Fruitiness and spicy phenols up front. Bready malt in the middle. Herbal hop bite on the back end. Peppery alcohol throughout.
M: Light as air with tons of carbonation.
D: It drinks light, but the strong alcohol presence makes it kind of difficult to put down. An OK Belgian otherwise.
478 characters

4
/5
rDev
+9.6%
look: 4 | smell: 4 | taste: 4 | feel: 4 | overall: 4
Picked this up at de Bier Tempel beer shop in Brugge after asking for a Westvleteren Blonde (which they had just ran out of that day) - the store manager recommended it, saying he felt it was an even better representation of a true Belgian blonde/pale ale than Westvleteren. Poured it from a 33cl bottle into a Brouwerij 't Ij branded stemmed tulip glass.
Smiske (pronounced smish kuh)
A: Pours a tan/orange hue with a thick creamy head that left thick fluffy lacing in its tracks. Some dark sediment poured at the very end leaving a mark on the head.
S: Sweet banana liquor with hints of spice, black liquorish and yeast.
T: Very similar to the smell but real strong liquor flavor that throws it a little bit off balance in my opinion. It doesn't state the ABV on the bottle, but it must be quite higher than most beers of this style - what made me give this a 4.0 in flavor was the hop flavor that is very prominent and helps round out that intense liquor flavor. Not sure of the type of hops they use for this one, but they're real nice and floral - super tasty.
M: Medium-bodied but somewhat on the lighter side of medium-bodied, very well carbonated and super smooth.
D: Pretty easy drinker and if I had more, I would drink them all. My only gripe and what might cut me off after a few is the strong liquor flavor - it's a bit overwhelming.
1,354 characters
Smiske Nature-Ale from Brouwerij Smisje
3.65
out of
5
based on
12
ratings.