Farmhouse Ale
| North Brewing Company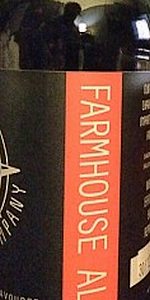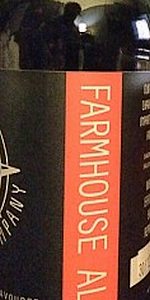 BEER INFO
Brewed by:
North Brewing Company
Nova Scotia
,
Canada
bridgebeer.ca
Style:
Saison / Farmhouse Ale
Alcohol by volume (ABV):
7.50%
Availability:
Year-round
Notes / Commercial Description:
No notes at this time.
Added by doopydoogle on 10-18-2013
HISTOGRAM
Ratings: 13 | Reviews: 7
None found.
More User Reviews:
4.28
/5
rDev
+7%
look: 3.75 | smell: 4.5 | taste: 4.25 | feel: 4.25 | overall: 4.25
As per my commitment to beer advocacy, I write this first review for the Brewing Company known as Bridge:
Nashvillian Yazoo growler poured into a Founder's tulip:
A - Dark, cloudy orange-amber with almost red hues. A fine lacing remains after a creamy but light head dissipates.
S - Quite lovely and complex. Apples, citrus, figs, spice, sour ale funk, candi sugar, melon, tangerine, vanilla, banana. The aroma keeps opening up with each swirl.
T - Rich and powerful. Strong banana upfront with some fruit and estery flavors. These sweeter flavors, however, are quickly walloped by a strong bitterness that doesn't have any pronounced flavors but really jumps out at you. A little off-putting at first. The second sip reveals the belgian yeast flavors with some malt coming to the front and a subtle sour almost citrusy flavor, possibly the result of the hops. The third sip, and a little warmth, reveals the beers deeper character, with rich, pronounced alcohol and an almost chewy belgo-funk. Pretty rad stuff!
M - Rich and creamy, explosive carbonation that covers the palate. Despite it's most inevitably high calorie count, the hop content gives the beer an almost dry finish similar to a champagne.
O - Complex, eccentric, and quite unique for the style. I've had many farmhouses, and this one falls in that category, but the strong bitter and richness might put this beer more in the Belgian IPA category for me. I'm not the brewer, so that's not my call, but a great brew nonetheless.
It's most non-heinous to have a solid Belgian-style brewery around. Keep up the work good peeps!
1,597 characters

3.92
/5
rDev
-2%
look: 4 | smell: 4.5 | taste: 3.5 | feel: 4 | overall: 4
Picked up at Harvest Wines in Dartmouth. Poured from a 650 ml bottle into two oversized wine glasses and shared with my Dad.
A: Reddish brown and cloudy.
S: Candied fruit, banana, a little bit of funk.
T: Sour, boozy, and bitter.
230 characters
4.25
/5
rDev
+6.3%
750ml bottle from the brewery. Aroma has hints of clove and vanilla (candied fruit according to the description). Pours a cloudy amber with minimal head. Has a medium sweet taste. Medium body, creamy texture, average carbonation, with a slight bitter finish. Definitely my type of brew. Can't decide if I like this or the Strong Dark Belgian better.
351 characters

3.75
/5
rDev
-6.3%
look: 3.75 | smell: 3.75 | taste: 3.75 | feel: 3.75 | overall: 3.75

4.2
/5
rDev
+5%
look: 4.5 | smell: 4.5 | taste: 4 | feel: 4 | overall: 4.25
New microbrewery in Halifax specializing in Belgian inspired ales and focusing on becoming a "zero-emissions" brewery. The head brewer said this was a cross between a Biere de Garde and a Saison.
This beer looks great in my tulip. The body is a rich marmalade orange. Its haziness prevents me from seeing any sings of carbonation but the two fingers of frothy cream coloured head that forms on top lets me know that carbonation isn`t an issue.
A very pleasant soured fruit note is the first thing that hits me. Grape skins, plum, and a pinch of sticky raisons. A lemony acidity is present as well. All of this sour fruit goodness is countered very nicely with a fresh doughy character. The breadiness has an almost dusty quality to it which I've come to associate with a lot of Belgian styles. Even as the beer warms there's no sign of its alcohol content. The nose is both complex and very well rounded. I think I`m going to enjoy this one.
The sour character comes in soft and unobtrusive and almost immediately pairs with a boozy note which, relative to the rest of the body, is fairly pronounced. The fruit comes after the first wave of flavour, being composed of grape skins, plums, and a touch of candied cherries. This melange of fruit is tailed by a sweet booziness that, if anything, helps to accentuate the rest of the flavours.
The texture of the beer itself is light and fluffy. It`s the booziness that gives it weight where it sits on the middle of the tongue. The restrained level of carbonation works perfectly for this beer.
A great offering from this new up and coming brewery that I think attests to the skill of the brewers at Bridge. What`s even more is that it`s unique in its home province`s beer scene and that`s something I`m sure a lot of locals enjoy. I bet their Belgian Strong Dark Ale is killer! Can`t wait to try more of their stuff!
1,878 characters
3.75
/5
rDev
-6.3%
look: 3.75 | smell: 3.75 | taste: 3.75 | feel: 3.75 | overall: 3.75

4.04
/5
rDev
+1%
look: 4 | smell: 4.25 | taste: 4 | feel: 3.75 | overall: 4

3.96
/5
rDev
-1%
look: 4 | smell: 4.25 | taste: 3.75 | feel: 4 | overall: 4
Poured from a 750mL growler into an oversized wine glass.
A: Hazy golden-red with a big beige head. Certainly on the darker side of the spectrum for this style. A thin layer of head remains after several minutes, and some lacing clings to the sides of the glass.
S: Spicy, bready, yeasty, and fruity. A little bit of sourness is in there with the fruity smell. Nicely balanced aroma.
T: Flavours that are recognizable as coming from the Belgian yeast. Prunes, with some nice spice underneath. Some bready notes as well. Not big on the funk factor which is kind of too bad. After a few sips a little bit of tartness becomes apparent. Just a little bit of sweetness at the finish.
M: Medium body. Slightly bubbly on the underside of the tongue. I think the carbonation is just about right here; present but not overwhelming.
O: I reviewed this beer as I was drinking and I had to keep putting my ratings up as I went. It certainly grew on me over the course of just a single glass. I'd still love to have more farmhouse funk, but this is a good strong belgian ale, and probably one of the better offerings from North Brewing.
1,128 characters
4.4
/5
rDev
+10%
look: 5 | smell: 5 | taste: 5 | feel: 5 | overall: 2
I usually don't care too much about appearance, but this orange, almost red clouded beauty really caught my eye. It was so interesting that you get so many different fruit notes throughout this beer. The nose carries the most prominent notes of tartness with hints of raspberry and a tiny bit of funk. Other citrus and mild fruit notes sneak through the nose as the beer progresses. The Belgian yeast comes through strong in the front of the mouth with a ruby sweetness that spills over into more sugary fruit notes like strawberry and maraschino cherry as the profile progresses. The alcohol is very subtle, but definitely noticeable in the back. Also loved the carb, which was just a tad heavy and perfect for this style. The sweetness carried a bit too far into the back for my liking, but overall and complex and amazing ride.
832 characters
4.05
/5
rDev
+1.3%
look: 3.75 | smell: 4.25 | taste: 4 | feel: 4 | overall: 4
3.69
/5
rDev
-7.8%
look: 4 | smell: 3 | taste: 4 | feel: 3.75 | overall: 3.75
The color is a lovely dark orange color. There's a little bit of head, which lingers. I can't smell anything. The taste is fruity. There's a little bit of bitterness at the end. It feels more like a Barleywine than a Saison to my mouth, but I like Barlywines, so I won't take much off for feel.
299 characters
Farmhouse Ale from North Brewing Company
Beer rating:
4
out of
5
with
13
ratings