Penny Lane Pub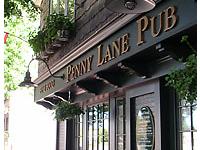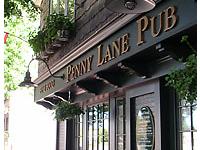 Bar, Eatery
421 E Franklin St
Richmond
,
Virginia
, 23219-2205
United States
(804) 780-1682 |
map
pennylanepub.com
Notes:

VeganUndead from Virginia
3.12
/5
rDev
-18.3%
vibe: 4.25 | quality: 2.25 | service: 4 | selection: 2.75
Went in for a pint, great vibe and service. Most of the selection is harp, Guinness, etc which makes sense. One IPA on tap, Lagunitas. Couldn't finish the pint, a very old keg and a very dirty tap line. Great place to watch a match but be very careful what you drink
Oct 25, 2015
jjboesen from Maryland
3.93
/5
rDev
+2.9%
vibe: 4 | quality: 4 | service: 3.5 | selection: 4 | food: 4.5
Penny Lane is a convivial British pub situated on a corner in downtown Richmond, and a few convenient blocks from the Capital Ale House (See My Review). You can't miss it: look for the Beefeaters standing guard - or at least images thereof - and the Union Jack signage above. [Incidentally, the picture shown is from the previous location.]
Enter the quaint courtyard, with bubbling fountain; pass the doors on the left, through a foyer, and step up to the bar, adorned with baskets of complimentary crisps (potato chips to you Yanks). On tap, Penny Lane offers the usual, but welcoming, array of brews: Fuller's Harp, Stella Artois (How did the AB-owned Belgian lager get here?); also on tap is a personal favorite, Old Speckled Hen, a wonderful British ale that is always a great find. As for the food [Pause for generic crack about British cuisine.], you can never go wrong with bangers and mash. I didn't.
Wander around the place; upstairs is another bar complete with dart boards and pool tables; there is a small private dining area - called a "snood." The walls are festooned with everything relating to Britannia, making for a museum of English kitsch. There is much memorabilia dealing with some chap named Lennon, who, in the Sixties, sang with some group named after an insect. Just kidding; everybody knows about these lads from Liverpool who once sang: "Penny Lane is in my ears and in my eyes."
Aug 25, 2010

GJ40 from North Carolina
3.93
/5
rDev
+2.9%
vibe: 4.5 | quality: 4 | service: 4 | selection: 3.5
Penny Lane is a well done English pub in downtown Richmond. The entryway has a nice open courtyard area with plenty of seating and a comfortable atmosphere. The main area is a large bar and a typical decor of sport and beer paraphernalia including a great collection of soccer scarves.
They have 10+ on tap including the usuals such as Guinness, Fuller's ESB, Smithwick's, Bass, etc. It's not a craft beer bar but they've got the stuff that helped get us there. I had a Fuller's ESB and a Fuller's Porter. I think they were around $5 each which isn't bad for an Imperial pint.
The guys behind the bar are helpful, outgoing and enjoy talking soccer.
I had a great night at Penny Lane. Don't go looking for craft beer but if it's a fun pub experience you're looking for, Penny Lane is the place for that.
Mar 21, 2010
apbarwood from Virginia
3.63
/5
rDev
-5%
vibe: 5 | quality: 4 | service: 3.5 | selection: 3 | food: 3
The atmosphere is great. Very English pubby with Beatles music playing most of the time (although for a band with such a huge catalog they seem to only have about 20 songs on repeat a lot of the time). The beers are pretty much what you would expect from a traditional British pub in the US. They've got the standards like Newcastle, Guinness and Bass along with lesser known brews like Fullers, Smithwicks, Belhaven, etc. Nothing really amazing but good beer nonetheless. The food is traditional British pub grub for the most part so it's not exactly haute cuisine but then again it's a pub so you can't complain really. The happy hour deal is pretty cool too, essentially you get your third pint free between 4 and 7. Or if you go with a friend for a quick bite you can each get a half pint before you hit the road. If I had a compaint it would probably be the size, particularly late at night when the close off most of the restaurant it can get jam packed but that's not a big deal really. Also, some of the staff can be a bit surly which I kind of find endearing but some may be turned off by it. It's worth a try at the very least but it's become one of my favorite spots in Richmond.
Aug 17, 2009
SaCkErZ9 from South Carolina
3.58
/5
rDev
-6.3%
vibe: 5 | quality: 4 | service: 3.5 | selection: 2.5
As I was walking around downtown, I saw this place and decided to give er a go.
This may be the best atmoshphere I have come across. Now, being a nonsmoker, all of the smokiness is a huge turnoff, but outdoor seating makes up for that.
As one walks in, there is an outdoor atrium area that lines the street and is the perfect place to have a couple of beers. Open air, beer, window shoppers; doesnt get much better. The indoor area is smoking and is loaded with smokers. I couldnt stand all of the smoke so I chose the atrium area and was very satisfied.
Aside from the atrium, not much going on here. Service was nice. 4-7 is happy hour where one receives a token for each beer purchased before 7pm. Redeem these tokens for free beer later (two tokens equal one free beer).
Selection was typical pseudo English pub with only 10 drafts. Not a bad place to stop for a beer or two but I wouldnt make this the only destination in Richmond.
May 27, 2009
constrc from Massachusetts
3.38
/5
rDev
-11.5%
vibe: 3 | quality: 3 | service: 4 | selection: 3.5 | food: 3
Wow... Open the door and step into Liverpool...
Terry the pub owner is a great ol Brit.. and this bar screams old english pub...
The beers on tap are great english / irish / euro beers, although I think I saw a Bud tap...
A great place to go just to catch up on soccer tourny's or enjoy an afternoon pint and conversations with the crew.. The place can get crowded Thursday / Friday nights. Upstairs they have pool tables and darts.
Not a fancy place by any means, but its got personality..
If you're in town looking for a 'real' english pub, stop in here and talk with Terry...
Mar 20, 2008
gus from Virginia
3.93
/5
rDev
+2.9%
vibe: 4.5 | quality: 4 | service: 4 | selection: 3.5
Stopped in to try a few english pints with a local friend. (He has been to the old place,before it was moved) Good atmosphere, really liked the downstairs, reminded me about pubs overseas when i was in the service. A somewhat limited selection of beers, all good english and scotish beers, but all were pints. Did not try the food. A really good place to relax and enjoy a good cigar along with a few pints. Upsairs consisted of dartboards and poker tables. I will be comming back and visiting this pub.
Feb 09, 2008
hchinaski from Virginia
4.03
/5
rDev
+5.5%
vibe: 4 | quality: 4 | service: 4.5 | selection: 4 | food: 3
One of the first places i ever regularly visited when i became of age (the 7th st. location), PLP is still a destination for many in the area.
New digs on 5th and Franklin make the downstairs look nearly identical to the old place, save for the dart boards, which are now upstairs.
The vibe is different, depending on when you visit, and whether you hang out upstairs or down. Big happy hour/dinner crowd from the surrounding business district, especially when the General Assembly is in session Jan/Feb. Upstairs is a younger crowd destination after dark, dartboard and pooltables are usually taken. 5 taps upstairs, Guiness(naturally) Newcastle, Harp, a cider, and what else i forget. Not quite a full bar, but lotsa liquors if that's your thing.
Downstairs is more of a beer-fly/regular vibe, and where the other taps are located. Pretty good stuff outta England, Fuller's ESB, London POrter and London Pride, which is always good there. Strongbow cider, Guiness of course, Harp, Newcastle, Twisted Thistle IPA, a domestic or two, maybe bass.
Being a regular-driven spot, service is always good, especially at the bar. Prices may be a little high, but keep in mind you are getting Imperial pints, so they're really not so bad.
Haven't eaten much there other than the fish n' chips, which is kinda hard to mess up, but im not really impressed with English food otherwise. Great place to go for a soccer match (world cup is always packed, and they will open up early to accomodate futbol fans of big EPL and world cup matches).
I like PLP, and will visit a couple times a month, just be wary that downstairs plays The Beatles all the time, especially if Terry is there
!!
Oct 04, 2007
CharlieMopps from Virginia
3.79
/5
rDev
-0.8%
vibe: 4.5 | quality: 4 | service: 3.5 | selection: 3.5
The only food I've tried here were eggs and a bit of tea for an early World Cup match this past summer, so I'm not much help in that department. The atmosphere is probably one of the best parts about Penny Lane, with its Liverpool supporter's pride evident as soon as you walk in (just ignore the other weak club scarves hanging near the bar), and the solid wooden bar with plaid walls and various kitsch tacked about. The atrium seems a bit ritzy, but adds a nice touch which you don't really see at many pubs, let alone restaurants. The bar itself feels like a comfortable place due to the room's closed-in ambience, which for some can be a good or bad thing. Mostly Beatles on the speakers, but they mix it up now and again. The service is great if you've grabbed a stool at the bar, and the bartenders there know how to pour a great pint. I've only had draft selections, and they carry some standard import favorites of mine (Belhaven and Fuller's Porter). May not be the place to go if you like a whole lot of variety or harder to find beer in one sitting, but has good standbys to savor. If you like the English Premier League, it's a great place to catch a match on Saturday and enjoy a nicely poured imperial pint. Or, if you just get out of work downtown, hit happy hour and rack up the hay-pint tokens.
Sep 13, 2006
flood from West Virginia
4
/5
rDev
+4.7%
vibe: 3.5 | quality: 4 | service: 4 | selection: 4 | food: 4.5
Stopped in for dinner. I am a big fan of bangers and mash - not having a local source in my town. The atmosphere was definitely english, football on the tele, old wood pub style bar, english accents, and memorabilia everywhere (a lot of beatles stuff with audio to boot). The place is extremely smoky smelling (however didn't really notice a alot of smog inside) - don't know if that is by design or not. That is about the only drawback.
The have a decent selection (4-5 on tap beers each upstair and down - didn't ask about bottle selection since I am a draft man) - I had a Belhaven draft in an imperial stout glass - good pour and tasted excellent - sometimes Belhaven is hard to find on tap and prices were extremely reasonable. The bangers and mash of course were tasty and hit the spot.
I will definitely return to use my free beer tokens.
This place is also a Upromise stop so if you have kids you get some money back.
Apr 07, 2006

nriech from Virginia
3.95
/5
rDev
+3.4%
vibe: 4 | quality: 4 | service: 4 | selection: 4 | food: 3.5
This is a good place to take out of towners and to relax on your own occasionaly. The staff doesnt seem to care if you hang out and watch some "football" and sip your beer. As others have said the beer selection is a bit shallow, I didnt even see Legends but I guess they arent English. There is a nice spot upstairs with darts and pool tables with another bar. Theres a nice happy hour which is from 5-7. Every pint gets you a wood pog. Turn in 2 pogs for a pint for a penny. You can turn in the pogs at any time which is nice. The food was ok. I would reccomend the curry chicken, order it spicy. Also the baked brie with Grand Mariner sauce was excellent. Also they have cider on tap which is sometimes hard to find and nice for the ladies. Terry, the owner, is a hoot. Be sure to read the articles on the wall as you enter about him working in the same club as the Beatles played in.
Feb 13, 2006
altctrlsdelete from North Carolina
3.2
/5
rDev
-16.2%
vibe: 3 | quality: 4 | service: 3 | selection: 2 | food: 4.5
I had the pleasure of dinner and a pint with OFS at the new Penny Lane Pub tonight. I accidentally went to the old location first; luckily, you can spit from the old location to the new location.
I was a bit disappointed in the atmosphere, of which I expected there to be tons. Walking through the semi-enclosed patio into the bar, my first impression was that this was an upper-middle class pub/restaurant trying really, really hard to be an English pub. I've never had the pleasure of visiting an English pub for comparison, but Penny Lane made me feel like I was in England as much as Applebee's makes me feel like I'm in a nice restaurant. Aside from trying too hard, I enjoyed the atmosphere. I thought the way they hang all of the beer glasses behind the bar was a nice touch. Very clean place too -- which I think detracted from the atmosphere. It just doesn't have that cozy "lived in" feeling I was expecting.
The other thing I wasn't ready for was the lack of selection. I was hoping for some more esoteric or harder to find English beers to be available on draught. The best they had to offer was a Belhaven Scotch Ale on nitro, which wasn't bad. But I was longing for something else to entice me to stay, and it wasn't there.
The food was delicious, and was my favorite thing about the place. I might go back again just to eat there.
Mar 27, 2004
OldFrothingSlosh from Pennsylvania
3.2
/5
rDev
-16.2%
vibe: 3 | quality: 3.5 | service: 3 | selection: 3 | food: 3.5
I finally had a chance to make it to the new location for Penny Lane Pub. Sadly, I wasn't able to hit the old location to give a comparison. Fellow BA altctrlsdelete and I deicded to stop by for a pint and dinner.
Entrway leads to a multi-table open-air section, which is starkly contrasted by the bar area, which is where we sat. Low overhanging beams with all sorts of "stuff" hanging from the ceiling. Glass mugs are everywhere. Lots of "British"-themed decorations. I believe there was another section or two behind the bar area, but I didn't check that out.
Tap list is fair. Nothing macro, but nothing out of the ordinary: Guinness, Harp, Bass, Boddington's, Bellhaven, Legend, Murphy's to name a few. I had a Bellhaven via the nitro-tap and it was OK.
Lots of good food choices, inspired by the Home Island. I had the fish-n-chips and Matt had the bangers and mash. Everything we saw being brought out of the kitchen looked good and the serving size was on the big side.
Service was average. Out waiter was not too talkative and stopped by only once to see how we were doing.
Prices were high, in my opinion. $5 for a pint of beer on a Friday before 7PM? Happy Hour, anyone? Food prices were just a little higher than other pubs in the area.
Overall, I like Penny Lane. There isn't much, however, to keep me coming back. Commercial Tap House and Captial Ale House have a far better selection and the food is better at CAH. Still, worth checking out if you are in the area.
Mar 27, 2004
keifffff from Virginia
4.8
/5
rDev
+25.7%
vibe: 5 | quality: 4.5 | service: 5 | selection: 5 | food: 4.5
The new Penny Lane is now open! Been there a few times and each time gets better. The new location is the old french quarters restraunt on Franklin and 5th Streets. It has an enclosed open air porch in the front, which will be great in the warmer months, with a water fountain. Terry has enclosed the patio with plastic sheeting and has placed patio space heaters to warm the area up a little.
When walking thru the main entrance into the pub, its almost like dejavu. Looks just like the old place, but larger. There is also an upstairs pub with pool tables, dart boards, and other games. A very nice place. Terry O'Neil had to relocate due to city plans of razing his old block for a Federal Courthouse, but I think the new location is a huge upgrade. Will frequent "Liverpool" numerous time to come.
Jan 16, 2004
NeroFiddled from Pennsylvania
4.06
/5
rDev
+6.3%
vibe: 4.5 | quality: 4 | service: 4 | selection: 4
Unfortunately, the N. 7th St. location is now closed. The only thing that remains is the beautiful, lit, Union Jack sign to the left of the doorway. The entire entranceway is gone and the windows are boarded up. There are plans to open up at 421 E. Franklin (on the corner of 5th and Franklin) but it hasn't happened yet.
Oct 04, 2003
Penny Lane Pub in Richmond, VA
Place rating:
3.82
out of
5
with
30
ratings