Raspe

Side Project Brewing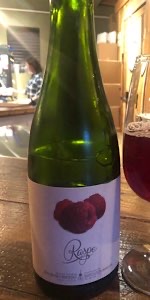 Rate It
Beer Geek Stats
| Print Shelf Talker
Style:

ABV:

6%

Score:

Avg:

4.41

| pDev:

8.39%

Reviews:

9

Ratings:

From:

Avail:

Rotating/Seasonal

Wants

Gots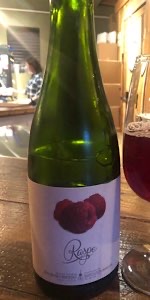 Notes: American wild ale fermented and aged in Chambourcin (red wine) barrels with red raspberries.
Alieniloquium from Florida
2.6
/5
rDev
-41%
look: 3 | smell: 3 | taste: 2.5 | feel: 2 | overall: 2.5
375 mL bottle. Red with no head. A few bubbles. Smells of raspberry and raspberry acidity. Tastes sour, then raspberry, then more sour. Aggressively sour. Really sour raspberries. Low carbonation. It's a genuine raspberry flavor at least. But it's way too sour.
Feb 15, 2021
Erikd212 from California
3.68
/5
rDev
-16.6%
look: 4.5 | smell: 4 | taste: 3.25 | feel: 4 | overall: 3.75
Poured a deep red color with a medium head that dissipated quickly.
The nose smelled of tart berries.
The taste was on par with the nose. Tart raspberry on the younger. A bit on the acidic side which made this hard to enjoy.
Jan 02, 2021

hops_for_thought from New York
4.08
/5
rDev
-7.5%
look: 4 | smell: 4 | taste: 4.25 | feel: 3.75 | overall: 4
Poured from a bottle (blend #2) into a Belgian glass
L: pours a completely opaque darker ruby red, with a truly minimal head that fades immediately. Surprised at the color of this beer, expecting something clearer with a red tint. Bottle was stored vertically in my beer fridge for ~2 weeks do don't imagine it's sediment but could be wrong (looking at other reviews guess is the color)
S: great tart ale aroma with a very nice and assertive raspberry note. Healthy amount of oak with a bit of that lactic funk. Has that raspberry sorbet aroma, with a bit more bite. Funk builds as it's warmed in the glass, as does the sharpness of the fruit and overall nose
T: follows the nose well, nice and tart with an impressive amount of raspberry flavor. Acidity is a bit elevated, especially once it's warmed. Get raspberry, lemon, slightly spicy note, bit of doughy character toward the medium/long finish. As the raspberry fades get more of a lacto sour note, very nice yogurty aftertaste
F: light+/medium- body, medium- carbonation, moderately drying, elevated acidity once warmed get that tingly uvula feeling
O: a very flavorful wild ale that delivers great raspberry character but could use a bit more complexity and a bit less acidity
Oct 17, 2020

SierraNevallagash from Maine
4.54
/5
rDev
+2.9%
look: 5 | smell: 4.75 | taste: 4.5 | feel: 4.5 | overall: 4.25
375ml bottle - Blend 2 - poured into a red wine stem at 40°F.
Pours an almost unbelievably deep, saturated, opaque scarlet red - like a raspberry itself, or a glass of Hollywood blood. A thin pink collar adorns the still, lifeless surface. Beautiful.
Nose: I can smell the oak from a mile away. Mature, musty, woody wet oak, topped by an almost laughable amount of jammy raspberry. There is so much raspberry here, it genuinely gives the impression of preserves, or a barrel full of smashed raspberries. Bright, jammy, and saturated. Tons of funk, with lacto tang and minerality, some acetic sharpness, and some musty bretty nuance. Wet hay, old barn, goozie iodine and bandages, musty attic, cellar stone, dead leaves, fresh rain, forest floor, and this oddly comforting smell of fresh autumn air. It's something else, but these raspberries just sing.
Palate: Immediately, the raspberries just come to life, dancing over the palate in sweet, ripe, jammy divinity. Many Side Project beers are criticised for their potent acidity - not this one. The sourness is there, but it's balanced and tasteful, kept in check by the sweet berries. It's sour, but not puckering or vinegary at all. The oak makes no attempt to hide itself, displaying woody, splintery notes of old wine cask, sawdust, and a hint of vanilla, cinnamon, and exotic spice. Some very pale grain threads beneath the oak and fruit. Lactobacillus adds a zippy minerality, a hint of yogurt, and stone, while brett shows some overripe blueberry, grape skin, and plum pit. Beneath this, some complex microflora funk emerges, with wildflowers, wet hay, and that notoriously hard-to-describe funk note. The ale begins to dry out, and the oak and brett come to the forefront, washing out the raspberry, and lending wet wood, exotic spice, cinnamon, sasparilla bark, vanilla, and finishing seedy and dry, with an exhale of Burgundy red wine.
Mouthfeel/Body: Raspe boasts a medium-light body. The ale itself it light, mellow, and vibrant, however, the fruit is so intense, that the residual fructose actually lends the slightest bit of weight, and maybe even a kiss of sweetness on the lips. Effervescence is fairly lively, and very fine, but slightly shy of champagne. Finishes dry, with added drying oak.
Overall: It takes a very special beer to just leave you in awe. This leaves me in awe. I've had other fruited Side Project ales, but this breaks the mold. Less sour, more fruit, jammy, plenty of funk and complexity, even drawing some real framboise lambic inspiration. Do not sleep on this one. Get a fresh bottle, drink a fresh bottle, and thank yourself.
Aug 27, 2020

Sabtos from Ohio
4.26
/5
rDev
-3.4%
look: 3.75 | smell: 4.5 | taste: 4.25 | feel: 4 | overall: 4.25
Opaque brick red, as opposed to Fencerow's deep almost purple-blackish red, with a short bubbly pink head that fizzles out quickly and audibly.
Doing a side by side with Blend 3 Fencerow, the difference is surprisingly drastic. Fencerow comes across more like a berry wine, as a deep, rich and almost pastry sweetness pairs with dark oak and red wine. While Raspe, on the other hand, is immensely seedy, fruity and more tart and crisp, with a more old school framboise or Gambrinus herbal vinousness.
Raspe also has a lighter oak and mild funk presence, while feeling a little thinner and slightly more acidic, finishing semi-dry.
This is really enjoyable, while also putting into perspective just how much I love Fencerow.
Aug 30, 2019

Stevedore from Oregon
4.31
/5
rDev
-2.3%
look: 4.25 | smell: 4.5 | taste: 4.25 | feel: 4.25 | overall: 4.25
375ml bottle, blend 1, sherry glass. Medium reddish purple body, one finger white head, mild retention, thin lacing. Smell is big jammy raspberry, tart fruit and light oak, light red wine dryness. Really nice jammy nose. Flavour is a bit more acetic and tart than the nose, but plenty of raspberry fruit tartness and flavour. Medium bodied, good carbonation, fair bit of raspberry lingering on the finish.
Feb 25, 2019
StonedTrippin from Colorado
4.63
/5
rDev
+5%
look: 4.5 | smell: 4.5 | taste: 4.75 | feel: 4.25 | overall: 4.75
exquisite beer, as good as anything i have had from these guys, and a leader of these heavily fruited little bottles, although i have liked them all. its still insanely sour, side project has really gone that way lately, but there is an insane amount of fruit on this to go with it, like more raspberry than raspberry, its amazing, and really almost drinks like a juice concentrate or something. while the bacterial sourness is a lot, i think the lighter, more mellow tartness inherent in the raspberry works well with it, its not overrun, its both of them together. this is blood red in color, inky and think, its almost shocking from the bottle how dense the color is, really sexy, intimidating even, even in a tiny little glass. the nose is awesome, as fruity as it is, i definitely get some wood and wine and lambic funk and maturity to it, not just juice but really incredible wild beer too. real sour, but there is cool brett here too, heaps of oak, and this sunny summery intense raspberry concentration that just rules. the absolute essence of the fruit, its purest form here, accentuated nicely by the red wine barrels. overall just amazing, i wish it was a little less sour, but its hard to critique something this epic! sensational beer, my god!
Aug 11, 2018

Luscious_Malfoy from Illinois
4.44
/5
rDev
+0.7%
look: 4.5 | smell: 4.25 | taste: 4.5 | feel: 4.5 | overall: 4.5
poured from a 375mL bottle with roughly 2 years of aged on it into a perennial wine glass. pours a dark crimson red with tiny white bubbles. no head or foam to speak of. smells of funky red jammy raspberries. get a little of that burnt rubber / band-aid shell but it's kept in check pretty well. taste is pure jammy raspberry with slight oak, funk and acidity. mouthfeel is full. nice amount of carbonation that plays with the acidity. not my favorite fruited 375 but it's damn solid. it's a red raspberry showcase and while it's not as complex as Framboise du Fermier, it's just as tasty in its red raspberry deliciousness.
Jul 06, 2018

sandstd1 from Maryland
4.27
/5
rDev
-3.2%
look: 3.75 | smell: 4.25 | taste: 4.5 | feel: 4.25 | overall: 4
L: little head, deep raspberry red. Floaties.
S: moderate raspberry l
T: strong red raspberry takes the front seat over tartness.
F: medium
Overall preferred the other sp fruited sours a bit over this but ok
Jul 02, 2018
Raspe from Side Project Brewing
Beer rating:
96
out of
100
with
98
ratings