Jammy

Side Project Brewing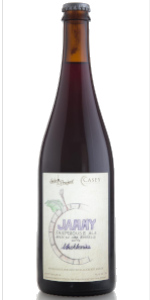 Rate It
Beer Geek Stats
| Print Shelf Talker
Style:

ABV:

8%

Score:

Avg:

4.51

| pDev:

5.1%

Reviews:

13

Ratings:

From:

Avail:

Rotating/Seasonal

Wants

Gots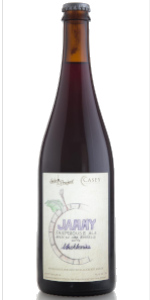 Notes: Jammy is a collaboration brewed with our friends at Casey Brewing and Blending in Glenwood Springs Colorado. Our shared admiration of layering fresh, local fruit into our tart Saisons provided the inspiration for our second collaboration. Jammy is a Saison that was fermented and aged with mixed cultures from both Missouri and Colorado in French Oak wine barrels for 8 months on Missouri blackberries before being naturally conditioned in this bottle.
Alieniloquium from Florida
3.73
/5
rDev
-17.3%
look: 4 | smell: 3.5 | taste: 3.75 | feel: 4 | overall: 3.75
750 mL bottle. Deep red. Smells of deep berry, earthy notes, and vinous acidity. Tastes of sharp blackberry. Earthy and oaky behind it. Pretty sour, but doesn't hit the nose or ever turn acetic. Medium body with low carbonation. I don't know if "Jammy" is the word I'd use to describe this, but it's a nice blackberry sour.
Apr 10, 2021
John-Galt from Texas
4.49
/5
rDev
-0.4%
look: 4.75 | smell: 4.5 | taste: 4.5 | feel: 4.25 | overall: 4.5
Blend 3
Would have loved to do a side by side with the Casey Jammy.
Looks spectacular with great head retention.
Smells like a handful of blackberries.
Tastes as the name denotes, blackberry jam, with some funk and oak along side. Not too tart.
Overall a wonderful beer.
Jan 10, 2021

pmarlowe from Virginia
4.38
/5
rDev
-2.9%
look: 4.5 | smell: 4.5 | taste: 4.25 | feel: 4.25 | overall: 4.5
Blend #2.
A: Pours a deep, wine-like purplish red with a finger of fizzy pink-colored head. Fizzles out pretty quickly, leaving a ring. Nice effervescence. A few swaths of lacing.
S: Blackberry, redcurrant, fig, and an undertone of earth and funk.
T: Moderately tart blackberry, tart cherry, and a hint of earth and white pepper. Though not super complex, the fruit and a light sweetness offsets the moderate tartness, making this pretty drinkable.
M: Medium body, lightly creamy, with medium-high, somewhat sharp carbonation.
O: Jammy is spot-on as a descriptor for this beer. Delicious as a sour beer with loads of dark fruit, but missing the complexity that a larger Brett contribution would impart.
Mar 24, 2019
brandoneast from Texas
4.18
/5
rDev
-7.3%
look: 4.5 | smell: 4 | taste: 4.25 | feel: 4 | overall: 4.25
So happy to have tried this batch #1 Jammy! I enjoyed it - however, I was expecting it to be more 'jammy' from beginning to end. Quite tart and acidic
Jan 30, 2019

Sabtos from Ohio
4.24
/5
rDev
-6%
look: 4 | smell: 4.25 | taste: 4.25 | feel: 4.25 | overall: 4.25
Hazy reddish-magenta with a fuzzy off-white lumpy pinkish head that quickly settles to sparse film.
Jammy features super fresh seedy blackberry, both wildly herbal and very juicy with a nice tartness, a crisp tingly carbonation and a lightly sticky, paper dry finish. Aroma adds accents of red apple at times, but there is just tons of blackberry expression here, wow!!!!
Batch 2
Dec 09, 2018

amano_h from Oregon
4.6
/5
rDev
+2%
look: 4.5 | smell: 4.5 | taste: 4.75 | feel: 4.5 | overall: 4.5
Smell : Stilton cheese wheel. Blackberry jam. Sour grape skin. Light acetic tartness. Damp oak. Leather. Dirty sock funk. Yoghurt. ⠀⠀⠀⠀⠀⠀
⠀⠀⠀⠀⠀⠀
Taste : Lightly-carbonated Danon Blackberry Yoghurt. Charcuterie board of assorted blue and mild goat cheeses. Costco fruit gummies with jam in the middle.
⠀⠀⠀⠀⠀⠀
Feel : Medium-bodied. Sharp. Vinous. Slight creamy initial mouthfeel. Moderate sizzling carbonation.
⠀⠀⠀⠀⠀⠀
Overall: Not quite what I thought this beer would be, especially since Side Project was involved in its conception. The cheese funk-yoghurt dichotomy is a force majeur that presides over the entire drinking experience; the cheese simmers down midway while the yoghurt intensifies as the brew gets warmer. In more familiar Casey fashion, the fruit is just one half of the blackberry yoghurt melange as opposed to the headline; unlike with CFP where the fruit dominates the aroma and flavor, the blackberry complements the funk almost effortlessly. The easiest way to describe it would be that the beer is like one of those yoghurt packets with fruit jam in the middle: the yoghurt is dominant until you dunk the spoon into the tub and mix the fruit around, except in this case mixing the fruit equals giving the beer time to breathe. Again, unusual yet delicious.
Jul 10, 2017

Harrison8 from Missouri
4.65
/5
rDev
+3.1%
look: 4.5 | smell: 4.5 | taste: 4.75 | feel: 4.5 | overall: 4.75
Pours a murky burgundy-red with a finger of deep pink head foaming on top. Good head retention with no lacing left behind. Aroma is blackberry - loud and proud. It's juicy, and tart. Flavor profile is blackberry still, but with an edition of oak. The blackberry notes are fantastic, almost like a blackberry puree, or jam, but with a tongue-twisting tartness. Mouth feel is smooth and still, with a medium-thick consistency. Overall, it's juicy, and tart, with notes that deliver in every aspect.
Served from 750mL bottle at Side Project. Stem glass. Reviewed from notes.
May 05, 2017

bnes09 from Illinois
4.48
/5
rDev
-0.7%
look: 4.5 | smell: 4.5 | taste: 4.5 | feel: 4.25 | overall: 4.5
Ruby red color with a good amount of haze. Lighter than expected considering the fruit involved. Delicate head and lacing lets you know this is a beer. Clean, lightly tart aroma with berries at the forefront. Berry flavor dominates. Acetic acid. Lightly funky and mild wood notes. Well balanced.
Apr 30, 2017
StonedTrippin from Colorado
4.35
/5
rDev
-3.5%
look: 4.25 | smell: 4.25 | taste: 4.5 | feel: 4.25 | overall: 4.25
this is one of the better blackberry wild beers i have ever had, but for me, its still a step behind how good the casey version was, they seem so radically different to me, a product of more than the age effects of the time gap between that one and this one i would think, the yeast seems entirely different. a deep concentrated berry color, almost looks like red wine, even more so when the head settles after a moment. aroma of straight fresh blackberries, smashed up but not cooked or sugared or preserved in any way, just smells like the fresh fruit. very little malt in the aroma here, but i get a nice tangy funk as well, sweeter than some of their other fruited beers, less sour. the flavor is great too, the blackberry really stands out, its sweet but its natural, almost too concentrated for the oddly subtle yeast flavors to completely be appreciated. this is bretty and woody, but its not overly nuanced from a wild yeast standpoint, and tastes far less complex and mature than the casey one did to me. there is a light pucker, but we didnt find this one to be super sour. the berries are really incredible, but it almost drinks like juice as much as it does beer. would have been cool to have both versions side by side. impressive use of this tricky fruit, stronger too than many of the others, great beer.
edit: i just had blend two, on tap, and i think i liked it better, still super intense fruit, darker still in color, but now more sour and evolved on the yeast side so it appears more balanced. maybe just that this is fresher than the first one was when i had it, but i think its slightly improved for the better. red wine abounds as well, and so much blackberry, its outrageous!
Apr 22, 2017
rabbott2 from Illinois
4.93
/5
rDev
+9.3%
look: 4.75 | smell: 4.75 | taste: 5 | feel: 5 | overall: 5
SP version of the bottle drank at SP on 3/28/2017
I am going to start with the overall first because this one is very tough for me to not give 5s across the board. I guess to go relatively speaking I had to barely downtick look and smell. This is most definitely one of the best beers I have had and I will be doing what I can to get my hands on a bottle or two or hopefully drink it again at SP.
L-beautiful deep dark red, almost purple. Minimal head, but nice lacing. Almost syrupy looking.
S-I didn't get a ton of boldness on the smell. Definitely some barrel and fruits, but not quite the explosion of notes as in the taste.
T-flavor explosion! bursting notes of blackberry, red wine (i would guess something medium bodied like a malbec or pinot noir barrel but im horrible at that), and oak. Those are the key flavors to pinpoint but there is a nice level of complexity here too with some earthy tones, grass, and lemon. I should have taken better notes.
F-amazing! Berry Jam is a legit description. There is the perfect balance of tartness and crispness to this, and the bottle says it's a saison, not a wild ale. I would say that it is perfectly molded right between the two and that adds to the complexity of the flavors and feel. AMAZING AMAZING AMAZING
Mar 31, 2017

Stevedore from Oregon
4.52
/5
rDev
+0.2%
look: 4.25 | smell: 4.75 | taste: 4.5 | feel: 4.25 | overall: 4.5
750ml capped bottle. Served in a Side Project stemmed glass, and side by side with the Casey version. Pours a darker purple body, somewhat opaque, one finger thick white head, great retention, not much lacing. Smells of rich blackberry jam, touch of lemon, moderate lactic acidity, oak and red grape skin. Nice red vinous character, honestly made me think this was a super jammy and sour pinot noir. Works great, and the smell fits the name. Jammy indeed. Flavour is similar to the nose, and it translates reasonably well. Jammy blackberry, tart blackberry skin, touch of lemon citrus, moderate lactic acidity, oak, and the red vinous notes are a bit less apparent. Mouthfeel is medium bodied, a touch undercarbonated, but it makes it so easily drank- I didn't realize it but I finished my glass of this well before I finished the glass of the Casey version side by side. Full depth, nicely bodied all the way through. Slight preference to this as while the nose and flavour were simply continuations of each other, it did the name justice a bit more so than it's counterpart.
Mar 26, 2017

YodersBeerEmporium from Iowa
4.83
/5
rDev
+7.1%
look: 5 | smell: 5 | taste: 4.75 | feel: 4.75 | overall: 4.75
Lucky enough to get a pour of this from a friends bottle! Smells like berry jam and the taste is equally jammy! Great fruit in this one and nice and sticky! Would love to split a bottle if it is on site again soon!
Feb 14, 2017
gibgink from Missouri
4.37
/5
rDev
-3.1%
look: 5 | smell: 4.75 | taste: 4.5 | feel: 4.25 | overall: 3.5
Shared with my wife at the Side Project Cellar on 2-10-17. Pours a very nice velvety shade of purple with the typical fluffy white head that is typical of almost all Side Project brews. Smells of funk and wood, with a background berry. Very strong sour dominates initially, gut that does subdue either as it warms, or as my palate gets used to it. A berry flavor is then exposed, with the wood from the barrel also being detected.
My overall rating is not a reflection the beer itself, but more of the experience, so take it as that. The cellar itself was packed, so my wife and I ended up trying to enjoy the beer standing up with the bottle sitting on the small v-shaped outcropping right before the step. Couple that with the price point of the beer itself, and the fact that the bartender seemed a little irritated that I chose not to tip, yelling "thank-you" in what I took as a condescending tone to my back as I was walking the beer and 2 glasses to my wife. I mean, dear God lady, I just paid you $45.00 for a single bottle of beer that I will now try to "enjoy" with my wife while standing cramped up against a triangle and hand railing.
Feb 13, 2017
Jammy from Side Project Brewing
Beer rating:
98
out of
100
with
171
ratings