Punchdown Pinot Noir
| Side Project Brewing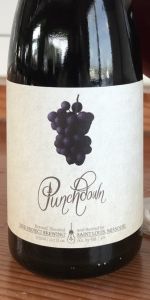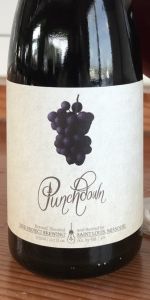 BEER INFO
Brewed by:
Side Project Brewing
Missouri
,
United States
sideprojectbrewing.com
Style:
American Wild Ale
Alcohol by volume (ABV):
9.00%
Availability:
Limited (brewed once)
Notes / Commercial Description:
Punchdown is our Missouri Wild Ale that is aged on Missouri Red Wine Grapes. For the first blend, released back in June of 2015, we used Chambourcin grapes from Charleville Vineyards. For the 2017 harvest, not only did we want to use Missouri Red Wine Grapes in one batch - Chambourcin specifically, from Noboleis Vineyards in Augusta - we also wanted to experiment with our favorite red varietal, Pinot Noir, in a separate Punchdown that we are calling Punchdown Pinot Noir! Punchdown Pinot Noir is a beer/wine hybrid, where 51% of the liquid is Missouri Wild Ale and the remaining 49% is Pinot Noir that was co-fermented with our Missouri Wild Ale. We sourced our hot weather Pinot Noir directly from S & L Vineyards of Lodi, California, for its herbaceous tones to provide balance to our bright acidity. The final result of the California Pinot Noir in Punchdown is a more delicate red wine expression than Missouri Chambourcin, with bold notes of fragrant red berries, red flowers, sangria, smoked herbs and bright citrus acid. We are incredibly excited about our expansion of Wine Grapes in our Missouri Wild Ales and hope that you enjoy our marrying of Pinot Noir and our Punchdown.
Reviews: 8 | Ratings: 27
4.6
/5
rDev
+5.7%
look: 4.5 | smell: 4.5 | taste: 4.75 | feel: 4.5 | overall: 4.5
this is exquisitely good, pinot noir games to 49% of this one, crazy how much fruit that is, and how wine-like it makes this beer, but equally impressive is how beery it stays, their incredible wild culture on full display, less acidic than a lot of their beers have been going lately, and i am thankful for that. there is a beautiful deep ruby red color on this, tons of carbonation, and an insane lightness for its strength and flavor intensity. this hits my mouth in a crazy way, it grabs my full attention, even my subconscious, and pulls it to the grape, skinny and tangy, fleshy and sweet, red wine and even port richness to it, and a ton of oak, it sets into my tongue almost before the beer even hits my lips, its instant, and its unrelenting, full force fruit all the way through this. its also packed with oak, cool vanilla and earthiness there, as well as enough wheat to keep this feeling like beer, although it is a bit light in body for what it is, some of that broken down by the acidity, which ramps up as it progresses. notes of macerated black cherry, plum and prune, and very high end pinot noir wine. i have had a lot of these high grape wild beers of late, and this stands above all of them. really incredible liquid, shockingly highly carbonated too. special beer, a highlight in the side project portfolio for me.
1,336 characters

4.35
/5
rDev 0%
look: 4 | smell: 4.5 | taste: 4.25 | feel: 4.25 | overall: 4.5
375ml bottle, cap, pinot noir blend, Side Project stemmed glass. Dark purple body, looks darker than a typical pinot noir wine, one finger white head, fair retention, no lacing. Smell is rich pinot noir flesh, dry tannin, grape skin, oak, light lemon, more tannins. It's a fairly tannic aroma, which I expected and welcomed. Flavour has more acetic acidity, a moderate level and one that is fairly standard for Side Project. Raspberry, pinot noir, a touch of spicy currants, seedy blackberry, tannins, oak, a bit of vanillin. Nice complexity to it; dry tannic vanillin finish that blunts the acidity some. Mouthfeel is medium bodied, appropriately carbonated, good vanillin slickness and tannins on the mouthfeel, overall standard SP dryness and acidity for their 375's.
770 characters

4.36
/5
rDev
+0.2%
look: 4 | smell: 4.25 | taste: 4.5 | feel: 4.5 | overall: 4.25
Clear burgundy pour with a finger of pink head that immediately disappeared.
Big grape notes, sour, very wine like nose.
Taste follows, huge wine grape taste, oak, tart, acidic.
Very dry, lower carb level, rich, smooth texture.
Overall a good sour, a bit more wine than I prefer but very well put together.
307 characters
4.34
/5
rDev
-0.2%
look: 4 | smell: 4.25 | taste: 4.5 | feel: 4.25 | overall: 4.25
Poured a bright translucent burgundy red color. It topped off with a bit of foam that immediately disappeared. The aromas were heavy on the red wine with strong note of grapes with a touch of leather. A bit one dimensional with a whole lot of grapes and funk. The taste is likewise similar, starts out insanely sour with very little tart. The vinous red wine quality comes in and lingers around till the finish. Taste mostly grapes and bits of berries. A touch of leather at the finish. The mouthfeel is light bodied, not overly carbonated which I appreciate. Overall: intense sour with a heavy red wine essence. Its a 9% beer but taste like a 5%.
647 characters

4.18
/5
rDev
-3.9%
look: 4.25 | smell: 4.25 | taste: 4 | feel: 4.5 | overall: 4.25
Very wine and grape forward, with hints of olive, lighter wood, flowers, to go with tart plum, cherry and of course more grape. I know this is side project, so everyone is going to go crazy over this one, but honestly the taste is great but not legendary. Feel is smooth, well crafted and deep as usual for s.p., and the smell is aromatically full with the wine and sour flavors. Glad I got a bottle and enjoyed it, but slightly overrated
441 characters

4.15
/5
rDev
-4.6%
look: 4 | smell: 4 | taste: 4.25 | feel: 4 | overall: 4.25
This pours a beautiful garnet red with a thin pastel pink-red chain around the glass that dies to a slick, wine-like surface.
Aroma exhibits a really peppery red wine oak that does indeed have attributes of vinegar, albeit inoffensive, as well as a strong char.
The flavor manages to maintain a nice tart sourness that surprisingly isn't too acidic, as red grape is thoroughly accented by notes of blackberry and a very present charred woodiness, all via a crisp body that finishes chewy dry.
494 characters
4.14
/5
rDev
-4.8%
look: 4.25 | smell: 4 | taste: 4.25 | feel: 3.75 | overall: 4.25
I will say upfront that I did not seek this beer out, but as happenstance got to try it at a Side Project release. Pours a very dark red. The lack of carbonation, alongside what I can describe as a sheen gives it the appearance of wine. There is a hint of fruit on the aroma, but funk takes over. Initial taste gave me a bit of "non-buyers" remorse, as there was a lot of beer flavor in the first sip. The other sips however were dominated by wine flavors, and finished pretty flat. Overall, glad I tried, and happier I did not buy more.
543 characters
4.48
/5
rDev
+3%
look: 4.5 | smell: 4.5 | taste: 4.5 | feel: 4.25 | overall: 4.5
Poured ~42F and let warm to RT
Look: Cloudy burgundy with white foam along the edge of the glass
Smell: tannic and funky
Taste: sharp sour grape taste on the front with a pleasant sour-tannic finish. Complexity and dark fruit flavors are discernible as it warms: Cherry, plum, blackberry.
Mouth feel: Soft with medium low carbonation.
Overall: Great hybrid! Alcohol is exceptionally hidden. I prefer it at closer to cellar temps. I hope to see more of this style from Cory!
475 characters
Punchdown Pinot Noir from Side Project Brewing
Beer rating:
4.35
out of
5
with
27
ratings