Side Project Brewing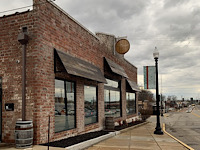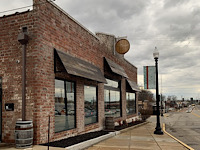 PLACE INFO
Type:
Brewery, Beer-to-go
7373 Marietta Ave
Maplewood
,
Missouri
, 63143-3101
United States
|
map
sideprojectbrewing.com
Notes:
Side Project Brewing was founded by Cory and Karen King in St. Louis Missouri. Side Project focuses on producing only barrel-aged beers with an emphasis on Saisons, Wild Ales, and spirit barrel-aged beers. Passion and experimentation drive the creation of these rustic to aggressive ales. Barrel and open fermentation pay tribute to the old-world production methods of most of our styles and ingredients are sourced as locally as possible from Missouri and Illinois farmers. Always unfiltered, unpasteurized and bottle-conditioned.
Their taproom and beer bar is here:
http://www.beeradvocate.com/beer/profile/37522/
Reviews: 3 | Ratings: 26

1.93
/5
rDev
-58%
vibe: 1 | quality: 3 | service: 1 | selection: 2
This seemed like a nice, quaint little spot. There's not a lot of space, but it has a cool peekaboo view of the production area, displaying their beautiful foeders and all, but unfortunately that's the extent of what's positive about this place, as they chose to argue very disrespectfully with a customer coming in from a short walk trying to order a single in-house bottle.
We walked in with a happy, pleasant demeanor after taking pictures of ourselves outside with the sign in the background. The girl behind the counter spots us coming in, welcoming us by loudly declaring directly to the two of us that they're closing in a half hour and they can't open any bottles this near to closing time. This is before she even knows what we want to order--must be a tradition! She continues to explain that she doesn't want anyone chugging Derivation in 15 minutes, with an irritated tone of voice and demeanor.
We assure her that we don't want Derivation, and that staff at the Cellar down the street told us the plum Fermier was available here and worth a try, so we were excited to do so. Despite her rudeness, I delivered this in a pleasant fashion--I thought, surely she's working hard or has a reason to act this way. She then straight up asks, "why are you arguing with me?!" All right, seriously? I plainly say hey, it's your money, and walk away with an unforced smile, as it's funny at this point. Unprompted and practically to my back from a distance behind the bar that now seems absurd, she asks why I'm being so aggressive.
I'd already given up on the idea of trying this beer, and was walking away without further dialogue, so I found this very offensive. Still, I calmly turn around and ask if she is going to kick everyone out at 7PM, because if not we can slowly drink a saison in 20 minutes without chugging it, while also managing to behave ourselves. She goes and puts a hand on her manager and acts as though I came in on a mission to personally attack her, all while I look on in amazement. So with a smile and a shrug, I again turn and walk away.
I'm not sure who hurt this girl, but I didn't need this kind of guff, so that was that and my wallet lost no weight.
But now that I think about it, if you want to close a drinking establishment so damn early on a Saturday night, putting your eager to leave staff in that kind of position--having to to turn people away when the evening hasn't even gotten started--while also preventing people from ordering from your menu a half hour before closing, maybe you should not bottle any of your beers in such large format, since the size seems to be the excuse you use to not sell. Here's a thought: maybe keg more, eh?!
Whatever, it's no longer my problem--I won't be back to this location again, and wouldn't recommend it to anyone else. If this is okay behavior for a manager to witness, then it must be acceptable to the ownership and the business overall. This also gives me pause in even re-visiting the much lower key, less high strung Cellar location. There's plenty of other stuff to do in STL, and this is an experience I'd rather avoid re-living.
3,141 characters
4.55
/5
rDev
-0.9%
vibe: 4.25 | quality: 4.75 | service: 4.75 | selection: 4.25
so cool that they have their own brewery now. for a long time, as i understood it, they were getting wort from perennial, or making it there, or whatever, but their own space is up and running and its awesome, just a stones throw from the cellar. the place is cool, brick and wood, sort of rustic and old timey feel, minimalist and natural, not unlike the vibe in the cellar, just a bit more expansive. it was packed when i was there, but the couple of bartenders were on top of it, i waited no more than a minute each time my glass was empty before i was attended to, and everyone was so cool and friendly. i dont know why i half expected a pretentious vibe just based on their beers and they hype they all carry, but everyone was down to earth and cool as can be. love when that happens. they had a good mix of side project and shared stuff on tap and a few bottle selections, not an enormous list to choose from by any means, but it covers all the bases. obviously the beer here is incredible, the shared stuff is totally keeping up with side project labels so far too, no quality gap between them at all. with this great new facility, i expect side project to continue to set the standard in american wild ales and barrel aged strong ales, and i look forward to continuing to support them, some of the best beers in the country will be coming out of here... a must stop if you are anywhere near saint louis!
1,411 characters

4.68
/5
rDev
+2%
vibe: 4.75 | quality: 4.75 | service: 4.5 | selection: 4.75
Really cool vibe; very modern tasting room with finished wood, barrels, hanging chalkboard listing the options for on-site bottles and drafts as well as the to-go stuff. The folks are great and super friendly; I get the sense that if you go often, they'll take the time to learn your name, as my friends who are local are on a first-name basis with the staff there. Service is great, prices are a bit higher than typical, especially for the on-site bottles, but considering the quality of beers (Derivation bottles, black label wilds, and so on), I think it's about right. Glassware is chosen specific to the beer, and there is always water available. You can also walk into the back and see the brewery, which of course has ropes to keep you going into the brewery proper, and you can even play darts there if you like. The selection is always phenomenal for visitors to St Louis, with many rare and sought-after beers, and there's usually something you would definitely love to take home. Every visit I've made to SPB, I've come out with a very light wallet, but it's worth it.
1,079 characters
Side Project Brewing in Maplewood, MO
Brewery rating:
4.45
out of
5
with
7,565
ratings