Departed Spirit

Three Taverns Craft Brewery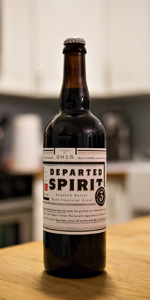 Rate It
Beer Geek Stats
| Print Shelf Talker
Style:

ABV:

10%

Score:

Avg:

4.14

| pDev:

7.73%

Reviews:

11

Ratings:

From:

Avail:

Rotating/Seasonal

Wants

Gots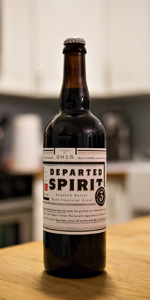 Notes: Eight-year-old bourbon barrels made the perfect environment for aging Theophan the Recluse, our Belgian-style Imperial Stout. The barrel's departed spirit left an indelible mark, infusing our stout with traces of bourbon, notes of vanilla and the rich character of the wood.

1BrewBacca from Georgia
4.5
/5
rDev
+8.7%
look: 4.5 | smell: 4.5 | taste: 4.5 | feel: 4.5 | overall: 4.5
Looks: Almost black. No transparency when held up t the light. Pours a thick tight creamy brown head that slowly dissipates. Lacing hangs on the side of the glass.
Smell and Taste. Boozy bourbon with vanilla notes. Slightly tart.
Feel: It's a stout, should be heavy and it truly is almost to he point of being oily.
Overall: Very good strong stout. It appears at some point 3 Taverns decided to bump the ABV up a notch. I indulged in a 2020 release and the label states 11% ABV. All the better. Enjoy.
Feb 23, 2021

BrewsOverHoes from Georgia
4.21
/5
rDev
+1.7%
look: 4 | smell: 4.25 | taste: 4.25 | feel: 4 | overall: 4.25
Pours a deep dark chocolate brown, lighter hues around the edges of the glass. A minimal and very quickly dissipating mocha head. Notes of roasted malt, oak/vanilla, bakers chocolate, subtle notes of espresso, definitely getting the base beer more as it warms, dark sugars and some of the Belgian yeast peeking though, with a nice alcohol bite on the finish. Mouthfeel is maybe a touch thin, if I had to nitpick. Otherwise, lovely work from my hometown brewer.
Dec 24, 2020

jvgoor3786 from Arkansas
3.75
/5
rDev
-9.4%
look: 3.75 | smell: 3.75 | taste: 3.75 | feel: 3.75 | overall: 3.75
I'm reviewing a 750 ml, 2016 version allowed to warm for 15 minutes out of the fridge. The beer pours a deep brown a huge, fluffy tan head that disappated quickly leaving almost no lacing.
The smell has tons of dark fruits up front. Underneath is some dark chocolate the peeks through and then roasted malts and bourbon, but you need to hunt for them under the bright (dark) fruit smell. I'd have guessed this was a quad from the first, quick smell.
The taste is an unusual mix of dark fruits, dark chocolate, and bourbon. Each element seems to be fighting for dominance. The dark chocolate comes through strongly in the middle after the dark fruit up front. The end had a bitter, lingering finish.
The mouthfeel is low carbonation and very smooth, but it's a bit thin for the style.
This may be my first time with a Belgian-style stout. This one seems to be having an identity crisis where the Belgian aspect and the stout fight against each other rather than compliment each other. All that said, it's got a very complex flavor I enjoyed.
May 21, 2017
JamesBondGA from Georgia
4.66
/5
rDev
+12.6%
look: 4.5 | smell: 4.75 | taste: 4.75 | feel: 4.5 | overall: 4.5
Pours a dark brown, not quite black in color with a slight head. the first thing you smell is the vanilla then the bourbon hits the air. Same thing will come thru upon tasting. Vanilla comes thru in the front end, then the bourbon comes thru very proudly on the back end. Very tasty, highly recommended.
Sep 02, 2016
JebBeerFish from New Hampshire
4.1
/5
rDev
-1%
look: 3 | smell: 4.25 | taste: 4.25 | feel: 4 | overall: 4
A: Very dark brown, 1/4 head on gentle pour.
S: Dark chocolate, Bourbon.
T: Dark chocolate, bourbon, vanilla and maybe a touch of coffee. Flavors are nicely presented and well combined.
O: My first Three Taverns brew. A well made RIS. Would like to try it fresh on tap.
Jun 19, 2016
JISurfer from South Carolina
3.68
/5
rDev
-11.1%
look: 4.25 | smell: 4.25 | taste: 3.5 | feel: 3 | overall: 3.5
I don't know, this one was kind of meh. Looked and smelled nice, but taste wasn't there for me. Couldn't put my finger on it, I guess I would of liked a little more chocolatey, maybe a little more deep smokey char of the barrel, instead of "woody", if that makes sense. Mouthfeel was a bit too thin for me, I like them more viscous. Wasn't bad, but wasn't anything I would get again. Glad I tried it though.
Jun 11, 2016

TheDole from Georgia
3.74
/5
rDev
-9.7%
look: 3.5 | smell: 3.75 | taste: 3.75 | feel: 3.75 | overall: 3.75
2016 vintage. Virtually zero carbonation, par for the course with 3T BA beers. Base stout has a very tough time keeping up with the oakiness of the barrel. Mouthfeel was on the watery side for a 10% brew.
Apr 01, 2016
BeerDawgs from Georgia
4.29
/5
rDev
+3.6%
look: 4.25 | smell: 4.5 | taste: 4.25 | feel: 4 | overall: 4.25
A 750 ml 2015 editions
L - Pitch black with 1/2 a finger of tan head
S - bourbon, vanilla, brown sugar, molasses
T - Sugary sweet, subtle bourbon notes, dried fruit,
F - Medium body and carbonation. Oily slick
O - A tasty bourbon aged stout, well balanced and not too boozy. Tasty!
Oct 03, 2015
StraightNoChaser from Georgia
4.46
/5
rDev
+7.7%
look: 4.25 | smell: 4.5 | taste: 4.5 | feel: 4.25 | overall: 4.5
look: A nice Impy stout Dark brown, nearly opaque, little light coming through this guy. Creamy mocha head that leaves waves of lacing on the glass, recedes pretty quickly.
smell: Fat nose with roasty fudge, dark fruits,vanilla and bourbon notes.
taste: wow, decadent and fat like the nose. all those flavors. Not quite the richness of a BCBS but almost. The bourbon is enough to make this an adults of adults beverage but not over the top. Damn fine brew.
Aug 28, 2015

lupercmda from North Carolina
4.03
/5
rDev
-2.7%
look: 4.5 | smell: 4 | taste: 4 | feel: 4 | overall: 4
Poured deep black opaque color with minimal carbonation. Smell is mainly of the bourbon with a little vanilla notes. Has a definite bourbon up front taste which predominates over the other aspects of the beer. Thin mouth feel. I think this may mellow with age as was just a little too much bourbon taste.
Aug 16, 2015

ThickNStout from Georgia
4.27
/5
rDev
+3.1%
look: 4.25 | smell: 4 | taste: 4.25 | feel: 4.5 | overall: 4.5
750mL bottle from Green's (Atlanta, GA). 13.99. 2015 edition, released 05/15. Served in a Three Taverns abby goblet.
Pours jet black with a little more than a finger of khaki head. The froth is slow to fade but eventually recedes to a thin, persistent layer with a healthy collar that deposits a few sizeable swaths of lace.
Aromas of sweet bourbon, dark fruit, caramel, chocolate, oaky vanilla and a hint of coconut.
The taste follows but really expands upon the nose. Bourbon, dark chocolate, fruit skins, charred oak, heavily roasted malts, black coffee, cherries, earth, caramel, licorice, mild vanilla, brown sugar, smoke, a faint vegital bitterness, some fruity yeast notes and a fitting dose of alcohol. The sweet barrel notes both balance and compliment the robust, roasty flavors of the base stout and the booze heat is just enough to remind you to slow down a bit on this one.
Creamy, full body with some fairly assertive carbonation. Roasty, bittersweet finish laced with bourbon, espresso, vanilla and dark fruit.
Three Taverns continues doing some mighty fine work with their big, dark beers. I like the layers of sweet balance imparted upon Theophan the Recluse through barrel aging and consider this a great example of how barrel aging can truly elevate a beer. It's good to see this made the transition from draft to bottles this year. Departed Spirit is a Georgia local that is well worth a try.
May 15, 2015
Departed Spirit from Three Taverns Craft Brewery
Beer rating:
91
out of
100
with
56
ratings