Midnight Snack

Three Taverns Craft Brewery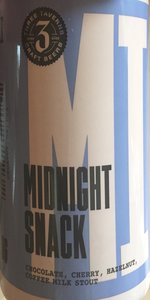 Rate It
Beer Geek Stats
| Print Shelf Talker
Style:

ABV:

8%

Score:

Avg:

4.18

| pDev:

8.85%

Reviews:

10

Ratings:

From:

Avail:

Rotating/Seasonal

Wants

Gots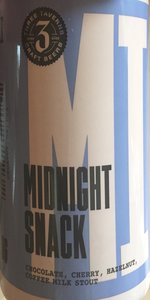 Notes: Midnight Snack is an 8% chocolate, cherry, and hazelnut, imperial coffee milk stout. Bursting at the seams with decadent rich dessert flavors and finishing silky smooth; you don't have to sneak into the kitchen after everyone goes to bed for this one...

1BrewBacca from Georgia
4.13
/5
rDev
-1.2%
look: 4 | smell: 4 | taste: 4.25 | feel: 4.25 | overall: 4
Look: Dark, almost black liquid with a caramel brown head that quickly melts to a thin ring around the glass. Oily sheen lacing on there sides.
Mostly chocolate and tart cherries. Milk sugar makes it sweet and smooth to drink.
Feel: As the look would suggest, mouth feel is somewhat oily.
Overall: A little bit too sweet for my taste but outside of that, an excellent beverage.
Jul 03, 2021

larryi86 from Delaware
4.3
/5
rDev
+2.9%
look: 4 | smell: 4.5 | taste: 4.25 | feel: 4.25 | overall: 4.25
12 oz can poured into a tulip
A- Black with a small mocha head
S- Chocolate, hazelnuts, some cherries, touch of roasted coffee, caramel.
T- Chocolate/fudge, hazelnuts, touch of dark fruits, some roasted coffee, some cherries, touch of caramel.
M- Smooth, medium to full body.
O- Everything come together nicely and this is very easy to drink.
Feb 18, 2021
ChainGangGuy from Georgia
4.1
/5
rDev
-1.9%
look: 4 | smell: 4 | taste: 4.25 | feel: 4 | overall: 4
Appearance: Pours a deep, melancoly black with about an inch of creamy-looking, dark tanned foam.
Smell: The snack smacks quickly of filberts, cold coffee and chocolate squares with some spiced vanilla and lightly tangy-scented cherry cordial amidst the cooked sugars and roasted malts.
Taste: Roasty coffee grinds with a curdled milk milkiness, then, some bakers chocolate, vanilla cream given a little dusting of finely-ground spice. Fairly potent nutty character throughout. The cherry, instead of taking over the flavor, adds a thin layer of tart fruitiness. All of the flavors harmoniously intermingle throughout the smooth, roasty finish.
Mouthfeel: Medium-plus. Medium carbonation. Smooth, creamy mouthfeel.
Overall: Certainly better than the Morning-whatever stout. It's not unpleasantly sugary, the flavors are all present, pronounced but sort stay in their respective lanes, so you get a bit of everything without getting overdone by anything.
Oct 11, 2018
strohme2 from Michigan
4.04
/5
rDev
-3.3%
look: 4 | smell: 4.25 | taste: 4 | feel: 3.75 | overall: 4
12 ounce can, dated 82218. Poured into tulip.
Pours just a hair lighter than black. Minimal head, recedes so quickly leaving a tiny ring around glass. Coffee, cherry, vanilla, maple are all present on the nose. Cherry cordials with coffee are the dominant flavors I'm getting. Some roast too. Vanilla and hazelnuts are there at the end but they are very light. Creamy but thin mouthfeel. Good beer, amp up the body and it'd be amazing.
Oct 06, 2018
Buck89 from Tennessee
4.08
/5
rDev
-2.4%
look: 3.75 | smell: 4.5 | taste: 4 | feel: 3.75 | overall: 4
Poured into a snifter. Viscous opaque brown on the pour with a modest tan head. Probably the biggest aroma I've experienced with a milk stout. The hazelnut and chocolate was apparent as I poured. Closer inspection revealed a dominant nuttiness followed by milk chocolate and sweet cherries. The taste was as predicted: roasted grain with potent hazelnut, salt, milk chocolate, faint cherry and faint coffee. The overall feel was a bit thin, which surprised me. A sweet finish with a slight warming. Overall a nice beer that delivered as advertised.
Sep 27, 2018

CanConPhilly from Pennsylvania
4.41
/5
rDev
+5.5%
look: 4.25 | smell: 5 | taste: 4.25 | feel: 4 | overall: 4.25
L - 1-finger mocha head atop a pitch black body.
S - tons and tons of chocolate, coffee, and hazelnut. A little cherry. I love smelling this.
T - chocolate-covered cherries dipped in a coffee liqueur. Fudge, some peanut butter (I guess hazelnut butter technically), roast, a hint of booze. Cherry is more prevalent in the taste than in the nose. Not sour though...just a little tart. Low bitterness. Moderate-low sweetness. Low booziness.
F - medium body and carb.
O - this is one tasty stout. With all these ingredients this could have been a mess, but the final product is well constructed and alluring. The nose in particular is amazing.
Sep 23, 2018
Labguy64 from Georgia
4.7
/5
rDev
+12.4%
look: 4.5 | smell: 5 | taste: 4.75 | feel: 4.25 | overall: 4.5
On draft @ TacoMac Decatur. Quickly deminished chocolate head. Strong hazelnut coffee nose with a little chocolate. Taste of coffee first with a hint of hazelnut. Light mouth feel with a sweet finish. Delishous dessert beer
Sep 14, 2018

ThickNStout from Georgia
3.94
/5
rDev
-5.7%
look: 4.25 | smell: 4.5 | taste: 3.75 | feel: 3.5 | overall: 3.75
12oz can from Bullock's (Woodstock, GA). 14.99/ 4 pack. Canned 8/22/18. Served in a Three Taverns teku. Enjoyed 9/10/18.
Pours black with a finger and a half cap of mocha head. The froth shrinks back to a few surface wisps and minute rail, leaving only a couple dots of lace.
Smells rich and indulgent. Caramel macchiato, hazelnut, cherry and a little cooked sugar. Quite nice.
Flavors of coffee, milk sugar, roasty malt, a hint of Nutella, some dark fruit skins and burnt caramel. The coffee isn't bad but has an almost gas station coffee quality that holds back some of the desired richness.
The body is lighter than anticipated with fairly low carbonation. The aftertaste mixes old coffee, caramel and some vague chocolate covered cherries.
Three Taverns has reprised their coffee milk stout. For my tastes Midnight Snack is certainly on the right track but the body seemed thin for the style and the cherry and hazelnut flavors were a bit restrained. That said, it is quite tasty and I'm glad I have a few more to enjoy.
Sep 11, 2018

weeheavybutdieting from Georgia
3.35
/5
rDev
-19.9%
look: 4 | smell: 4 | taste: 3 | feel: 3 | overall: 3.25
A - A nice midnight black color (see what I did there?) A finger width or less head that disappeared almost immediately.
S - Certainly has a very coffee forward aroma, I was hoping to get more of the hazelnut and cherry notes up front.
T - I like hazelnut, coffee, milk stouts. I think I was hoping for a little more of a tart cherry to offset the heavy richness of the other flavors. It missed on that, more of a mid-palate "hint", so there was a little lack of balance. I was left wondering, "What would this taste like as a sour, coffee, hazelnut, cherry milk stout?" Think of something like D9's sour milk stout but with more of the chocolate coffee offerings.
M - About as flat as a carbonated beverage can be. It was flat enough that I was left wondering if it was on purpose or not. This is where the beer really missed for me. With all of the heaviness of this beer it really could have stood for more carbonation, or at least going the nitro route.
O - Close on most accounts. If a couple of items I noted like the cherry flavor and carbonation were tweaked it might be there.
Sep 02, 2018

Team_Jott from Georgia
4
/5
rDev
-4.3%
look: 4 | smell: 4 | taste: 4 | feel: 4 | overall: 4
Nice hazelnut coffee headnotes. Despite strong color, light coffee flavor, raspberry midtones, savory. Refreshingly devoid of burnt flavors (for being a stout). Reminiscent of the snack cake peanut butter bars if hazelnut was subbed in.
Aug 26, 2018
Midnight Snack from Three Taverns Craft Brewery
Beer rating:
90
out of
100
with
14
ratings