Cooter Brown
| Jekyll Brewing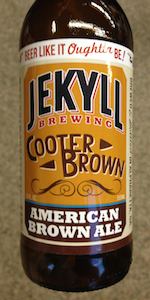 BEER INFO
Brewed by:
Jekyll Brewing
Georgia
,
United States
jekyllbrewing.com
Style:
American Brown Ale
Alcohol by volume (ABV):
6.00%
Availability:
Year-round
Notes / Commercial Description:
No notes at this time.
Added by Zach136 on 09-09-2013
Reviews: 13 | Ratings: 107

3.33
/5
rDev
-14.2%
look: 3.5 | smell: 3 | taste: 3.5 | feel: 3.5 | overall: 3.25
12 oz bottle served in a snifter.
A: Pours clear dark brown with a small tan head that soon reduces to a partial coat.
The aroma is a bit weak and earthy for style. A suggestion of an offensive musty component seems to come and go.
The flavor is better. It seems like an average brown ale until the finish and aftertaste where a more generous portion of hops becomes evident.
379 characters
4.03
/5
rDev
+3.9%
look: 4 | smell: 4 | taste: 4 | feel: 4.25 | overall: 4
16 ounce pint - $6.00 at Hop Alley in Alpharetta, Georgia.
Appearance: Displays a dark brown body, though there're some amber-gold hints at the edges. Foamy, faintly beige head.
Smell: Heavily toasted bread, there's a thin edge of coffee roastiness. Minor cocoa powder, faint caramel. Lightly fruity, low herbaceous hop notes.
Taste: Falls in the middle ground between toasty and roasty, with inclusions of lightly sweet chocolate and caramel. Soft fruitiness, a little raisin and cooked apple. Light herbal hops with sufficient bitterness to balance. Drying, toasty (oh, but still a bit roasty) on the finish.
Mouthfeel: Medium-bodied. Medium carbonation.
Overall: Solid, likable brown ale.
696 characters
3.37
/5
rDev
-13.1%
look: 2.5 | smell: 3.5 | taste: 3.5 | feel: 3.25 | overall: 3.25
Pours a clear, dark brown color. 1/5 inch head of an off-white color. Slight retention and poor lacing. Smells of sweet malt, hint of roasted malt, slight yeast, hint of hop, and a hint of alcohol. Fits the style of an American Brown Ale. Mouth feel is sharp and crisp, with a high carbonation level. Tastes of sweet malt, yeast, slight roasted malt, hint of hop, and a hint of alcohol. Overall, weak appearance, but otherwise average beer.
440 characters

3.79
/5
rDev
-2.3%
look: 4 | smell: 3.75 | taste: 3.75 | feel: 4 | overall: 3.75
L: Poured from a bottle to a pint glass. Had a medium brown color with ruby tints and a cloudy consistency. There was an inch of off white foamy head that lasted a good amount of time. Excellent lacing.
S: A pretty good aroma of malt, a hint of chocolate, and nuttiness.
T: Tasted of the typical brown ale nuttiness, roasted malt, a little bit of chocolate, and some caramel in the finish. A decent enough flavor with some nice additions to the style (the chocolate and caramel). Subtle and surprisingly sweet.
F: A well-carbonated beer with a smooth, light finish. Medium-bodied.
O: This is a solid, likable American brown ale. Not a stunner, but definitely wrothwhile.
675 characters
4.07
/5
rDev
+4.9%
look: 3.75 | smell: 4.25 | taste: 4 | feel: 4.25 | overall: 4
32 oz - counter pressure filled growler - poured into a BHB snifter.
A - Deep brown with salted peanut hues. Thin beige head with OK lacing.
S - Fresh coffee, roasted peanuts and light chocolate notes. Light grassy hop notes. Really smells amazing.
T - Slight burnt toast, hints of your typical dark malt flavor profiles like chocolate and toffee in there with a moderate hop bitterness.
M - Light and drying finish that makes this a super drinkable beer. I made the mistake of saying that Cooter is poundable -- free joke for everyone out there in BA land.
O - An solid, drinkable brown ale. Would recommend.
626 characters

3.43
/5
rDev
-11.6%
look: 3.25 | smell: 3.25 | taste: 3.5 | feel: 3.5 | overall: 3.5
Poured from a 12 oz brown bottle into a Shaker pint glass. No freshness date. Received as a gift from good friend Erinn.
A: Opaque dark brown with 1/2 finger of beige head with average retention and some spare lacing.
S: Chocolate with some dark maltiness and a dash of coffee with herbal hopping.
T: Solid flavor for the style with toffee, caramel, milk chocolate, and black coffee with subtle herbal hops bittering. Bitterness is low-medium.
M: Medium bodied with higher than desired carbonation which detracts somewhat from what could be a creamier feel.
O: A pretty run of the mill brown ale.
601 characters
4.5
/5
rDev
+16%
look: 4.5 | smell: 4.5 | taste: 4.5 | feel: 4.5 | overall: 4.5
Poured from the tap into a pint glass. The appearance is a clear dark brown with a small tan head. The aroma is roasted malt. The taste is surprisingly full of hops that go well with the malt.
195 characters

3.92
/5
rDev
+1%
look: 4 | smell: 3.75 | taste: 4 | feel: 3.75 | overall: 4
From the 12 oz bottle in a pint glass via a friend from work---Thanks Randy!
This toasty beast pours a brown with light cola highlights and a very nice head of
dissipating off white foam that subsides to a thick ring, thin sudsy layer, and features
some very nice sudsy lacing. Nose of toasted malts, chocolate, and nutty malts
with a touch light coffee. Flavors hit the right notes for the style with a deeply roasted
nutty malt flavor that has light notes of dark cocoa and hints of light coffee bitterness with
a subtle herbal hop on the rear of the taste. Very nice mouth feel with medium carbonation
that is lightly crisp, medium body, and a malty finish. Overall a fantastic little brew from a new
brew to me and the little lady.
Cheers!
751 characters

4.19
/5
rDev
+8%
look: 3.75 | smell: 4 | taste: 4.5 | feel: 4 | overall: 4
Pours an opaque brown producing 3 fingers of frothy, tan, somewhat lasting head that leaves thin rings & streaks of pasty lacing. Aroma is dark malt, toast & a little roastiness, semisweet cocoa & an earthy mustiness. Taste is full & robust fronted by unsweetened cocoa, toasted brown bread, hints of roasted nuts, brown sugar & raisins, finishing & bitter with roast & burnt hints. Aftertaste is burnt bread, caramel & bitter cocoa finally fading to little more than char & bitterness. Mouthfeel is medium-full bodied with moderate carbonation, creamy, with a moderate prickle & dry in the finish & aftertaste. There is an earthy note that is unique in this brew that I do not remember encountering in this style previously. A different & interesting brown ale.
763 characters
3.99
/5
rDev
+2.8%
look: 4 | smell: 4.25 | taste: 4 | feel: 3.75 | overall: 3.75
12 oz bottle poured into snifter.
A: pours a reddish brown body, 2 finger light brown frothy foam head, stringy lacing
S: burnt roasted malt, brown sugar, pecan, toasted nut
M: medium body, slight tingy from carbonation
T: roasted malt, some char, spicy, some brown sugar, slight creaminess, tartness, and a light dry finish
O: great session brew, good flavor profiles, minimal resin in the finish
399 characters

4.02
/5
rDev
+3.6%
look: 4.25 | smell: 4 | taste: 4 | feel: 4 | overall: 4
Purchased at the Lilburn Package Store on RTE. 29.
Pours a very dark brown with a full tan/coffe, sticky head that also shows some heavy side glass lacing.
Aroma: Burnt dark chocoalte and cocoa, caramel, heavy roasted malts.
Taste: Roasted malts, chocoalte and caramel. Not much from the hop side but toasty malts are solid. A little too much sweetness.
Mouthfell: Smooth, dry on the tongue and aftertaste.
This was an enjoyable beer. Not worthy of its $10.00 a six pack price, which frankly lowered my enjoyment.
513 characters

3.96
/5
rDev
+2.1%
look: 3.75 | smell: 4 | taste: 4 | feel: 3.75 | overall: 4
Poured a small ring head and a dark brown in appearance. Not much lacing. First thing in the nose was roasty followed by malts. The tongue was also had a roasty coffee type followed by a mellow malt. Mouthfeel was medium. Overall really enjoyed this offering however it reminded me more of a porter than a brown ale. As I enjoy porters and stouts moreso than brown ales, it was cool for me. My second time purchasing a Cooter Brwon six pack and will do again.
459 characters
3.76
/5
rDev
-3.1%
look: 3.5 | smell: 3.75 | taste: 3.75 | feel: 4 | overall: 3.75
Appearance - deep copper brown hues bordering on dark brown in low light, 1 finger of creamed coffee colored head
Aroma - light caramel, some toasted grain, black malt character
Taste - bready, toasty, mild caramel with smoothe roasted character. Low hop flavor that is grassy and mildly spicy, black malt character in the finish with notes of coffee. Dry finish with lingering black malt roastiness
Mouthfeel - low but sifficient carbonation, smooth mouth coating medium-full body, finishes with slight silky noir coating linger
Overall - very good, very drinkable beer, the black malt like character makes it seem a little more like a robust porter but very good brown ale for drinkers seeking roastiness
712 characters
Cooter Brown from Jekyll Brewing
3.88
out of
5
based on
107
ratings.