Sierra Blanca Imperial Stout
| Sierra Blanca Brewing Company (Rio Grande)
BA SCORE
82
good
53
Ratings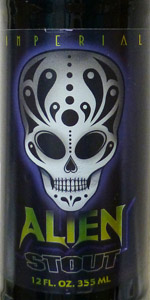 BEER INFO
Brewed by:
Sierra Blanca Brewing Company (Rio Grande)
New Mexico
,
United States
sierrablancabrewery.com
Style:
Russian Imperial Stout
Alcohol by volume (ABV):
7.20%
Availability:
Rotating
Notes / Commercial Description:
This beer pours a deep, dark brown with a light tan head. Aroma is malty, roasty with coffee notes and some very light aroma hop. It has a roasted coffee and chocolate taste with a sweet finish.
20 IBU
Added by SeanChouffe on 11-28-2004
Reviews: 9 | Ratings: 53
3.33
/5
rDev
-5.9%
look: 2.75 | smell: 3.5 | taste: 3.5 | feel: 2.75 | overall: 3.25
Appearance - Pours dark cola brown with a half finger of tan head that fizzes away nearly as quickly as it pours; not a good sign. End result is a near barren surface with a broken ring of suds around the edge. Virtually no lacing.
Smell - Chocolatey aroma with lesser notes of caramel and light roast.
Taste - Follows the nose. Milk chocolate, caramelized brown sugar sweetness, faint hints of plum. Light roast and grain notes emerge as the brew warms. Finishes with light roasted grain and the chocolate sweetness.
Mouthfeel - On the lighter side of medium-bodied with moderate, fizzy carbonation. More soda-like than imperial stout. Probably the weakest aspect of this brew.
Overall - A less than impressive imperial stout with decent flavor. Sweet label, but that's about all it has going for it. Not terrible, but I wouldn't buy again; there are simply too many amazing impy stouts to give this one another go.
920 characters

3.54
/5
rDev 0%
look: 3.5 | smell: 3.75 | taste: 3.5 | feel: 3.25 | overall: 3.5
Pours a nice black from a 750ml bottle. Not much of a head. Nice smell of dark roasted malts and fruit. There are two different tastes. The initial taste is of mild carbonation with a nice sweetness and then you can taste the alcohol. Finish is good. I could drink the whole bottle. I was very surprised that I liked this beer as I was not expecting much.
355 characters

3.1
/5
rDev
-12.4%
look: 3 | smell: 3 | taste: 3.25 | feel: 2.5 | overall: 3.25
A - Dark chocolate with a creamy, tan one inch head. Minimal lacing.
S - Roasted malts and chocolate.
T - Milk chocolate up front and some light hops on the finish. The balance is good for what's there, but it's not that complex either.
M - Thin and watery with light carbonation. Pretty disappointing.
O - Just okay. Not terrible, but nothing great.
355 characters
3.5
/5
rDev
-1.1%
look: 3 | smell: 3.5 | taste: 3.75 | feel: 2.75 | overall: 3.5
Pours mahogany with a fast fading mocha colored head. Average head retention & lacing
S: Coffee, dark fruit,
T: Mocha, carob, coffee & roastyness up front, some vanilla. Dryness, woody hops & figs as this warms, more coffee & a bit more vanilla. Finishes with mocha, roastyness & coffee
MF: Kind of thin, some what prickly carbonation, become thicker & warmer towards the end
Cool label
Had this years ago on draft, thought it was better then, although I don't remember any coffee in it. Not bad, but not as good as Santa Fe's Coffee tilted offering
556 characters

3.52
/5
rDev
-0.6%
look: 3.75 | smell: 3.5 | taste: 3.5 | feel: 3.5 | overall: 3.5
Quite lovely very black brew with a foamy cap. Decent carbonation on the tongue. Light mouthfeel for anything called a RIS, but it seems appropriate for this brew.
Moderately malty, lightly hopped, but pleasantly flavored. A little chocolate and chalky taste. Slightly sweet, but very pleasant. Hints of chestnuts and fruit cocktail. A tart touch. Faint bitterness in the aftertaste. A light-weight stout but it has it's modest charms.
From the 12 oz bottle bought at Jubilation Fine Wines in Albuquerque. Definitely one of Siera Blanca's better beers.
555 characters

3.7
/5
rDev
+4.5%
look: 4 | smell: 4 | taste: 3.5 | feel: 3 | overall: 4
Skinny swing top 750mL bottle.
Pours a nice dark, black colour, with a tan head of a good finger, leaving spongy lacing. The aroma is quite roasted, with a cocoa powder note, and a nice roasted coffee aroma. Slightly nutty taste, roast, mild bitterness, some light coffee, and a bit of chocolate covered fig-fruitiness. The body of the beer is medium, could be thicker for sure. It's creamy, carbonation is soft. Overall pleasant.
There's no booziness, which would be expected at 8.2%, making it somewhat weak for a RIS. I'd call this tasty, though definitely more of a beginners RIS with it's mild and approachable nature. A nice offering though from Sierra Blanca, all things considered.
692 characters

3.21
/5
rDev
-9.3%
look: 4 | smell: 3 | taste: 3 | feel: 3.5 | overall: 3.5
Had this on tap at the Holiday Inn bar on I-25, nice little tap selection there. Pours near black with a short cap of tan head, very nice lace all the way through the glass.
Nose is loaded with dark chocolate and roasty malts. Pretty clean and is low on the fruit and yeast. Little bit of sweetness as it warms along with a touch of mocha.
Roast dominates the taste with a light sweetness. Less chocolaty than it smelled and the yeast shows up here with a little bit of strawberries and dark bread. Mouthfeel is a little thin and the beer could use a bump in creaminess. Not a bad brew overall, but in a loaded style category this one falls right around average.
664 characters

3.93
/5
rDev
+11%
look: 4 | smell: 3.5 | taste: 4 | feel: 4.5 | overall: 4
Medium light brown head settles into a nice lacing above a clear really dark reddish brown colored beer.
Light aroma of dark fruits and roasted grain malts with hints of coffee coming through.
Dark roasted malts with chocolate and a hint of coffee coming through, the darker fruits are trying to make an appearance but it's not working out in there favor.
A dryish aftertaste with some dark roasted malts and light chocolate hanging around.
A decent tasting stout with a nice lasting aftertaste, that I seem to enjoy on this chilly day.
540 characters
3.8
/5
rDev
+7.3%
look: 3.5 | smell: 3.5 | taste: 4 | feel: 3.5 | overall: 4
Pours a deep dark brown with a light tan head. Retention and carbonation are low and the lacing is sticky. Aroma is malty roasty with coffee notes and some very light aroma hop. Flavor is sweet at the start with a dry finish and a lingering rasted taste. Taste appears more complex as you delve into the beer. Lots of roastiness and caramel rolling around with some lingering roasty hoppiness. Palate is medium bodied with low effervescence and that lingering roasted finish. IMHO: not intensely complex, but one of the more full bodied/high gravity beers coming out of New Mexico. It's a good start and a nice change. Go for it Sierra Blanca.
644 characters
Sierra Blanca Imperial Stout from Sierra Blanca Brewing Company (Rio Grande)
3.54
out of
5
based on
53
ratings.